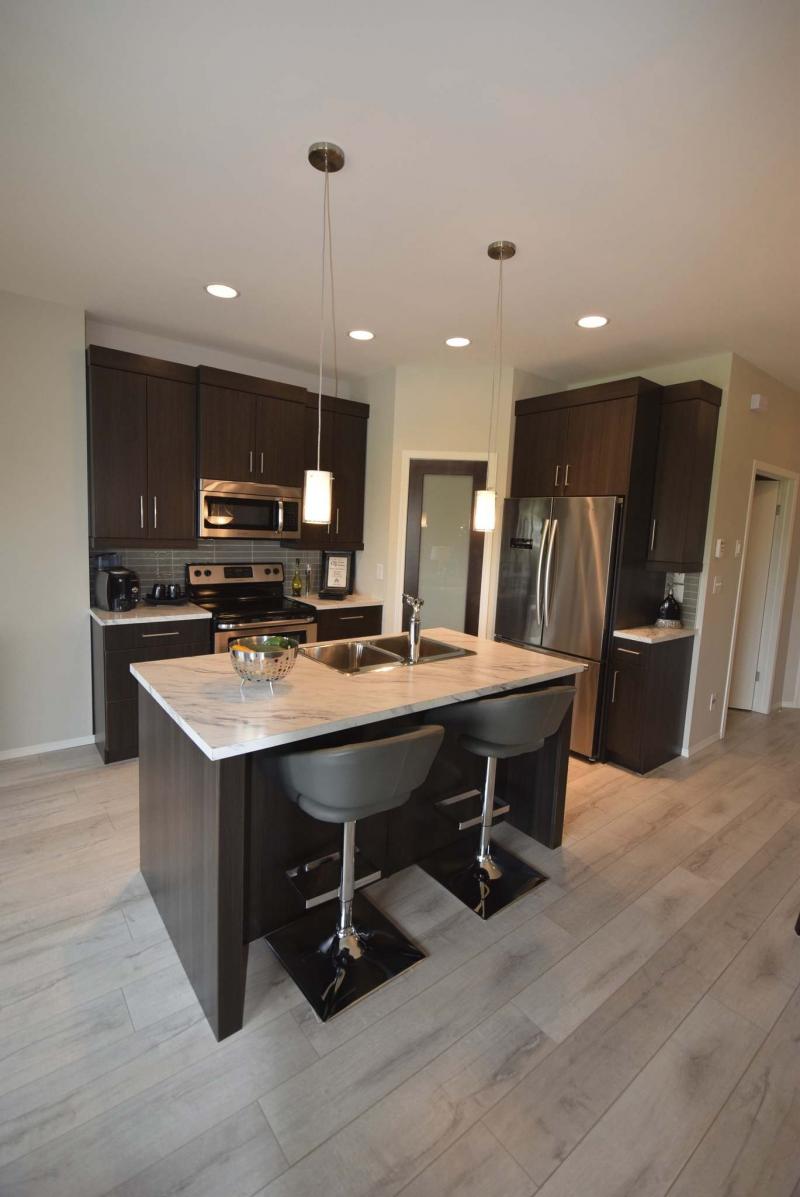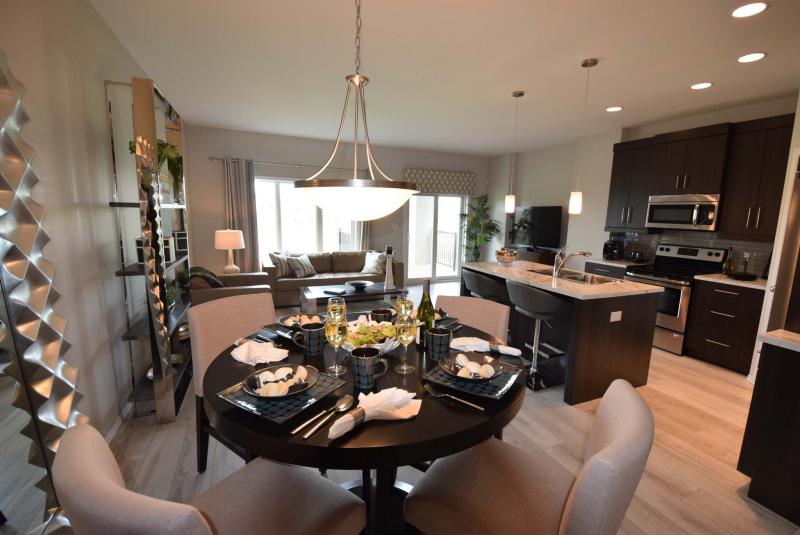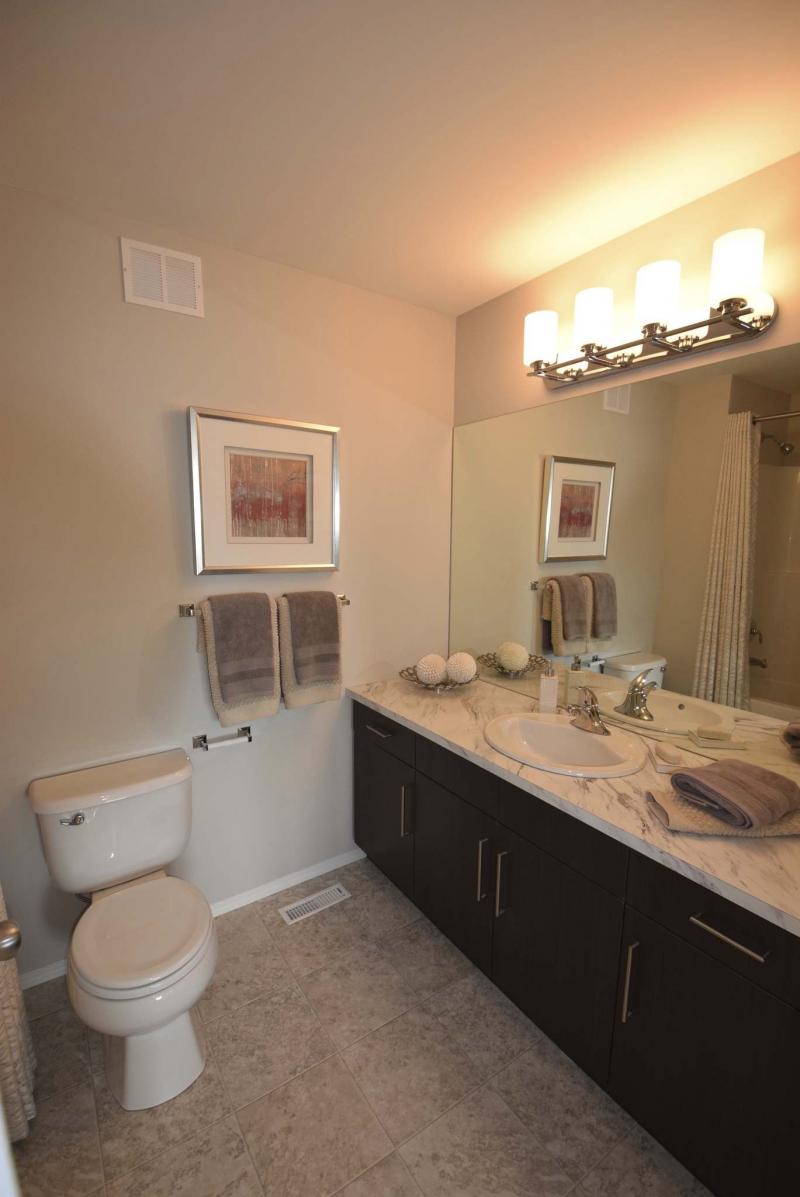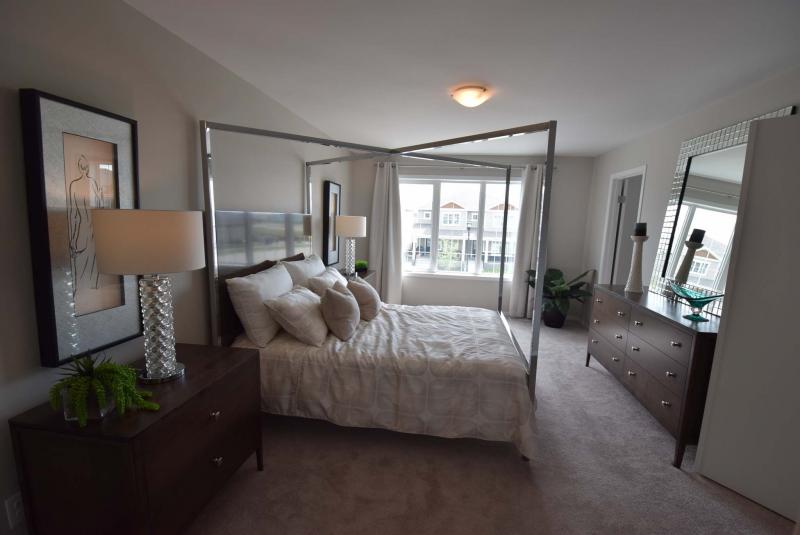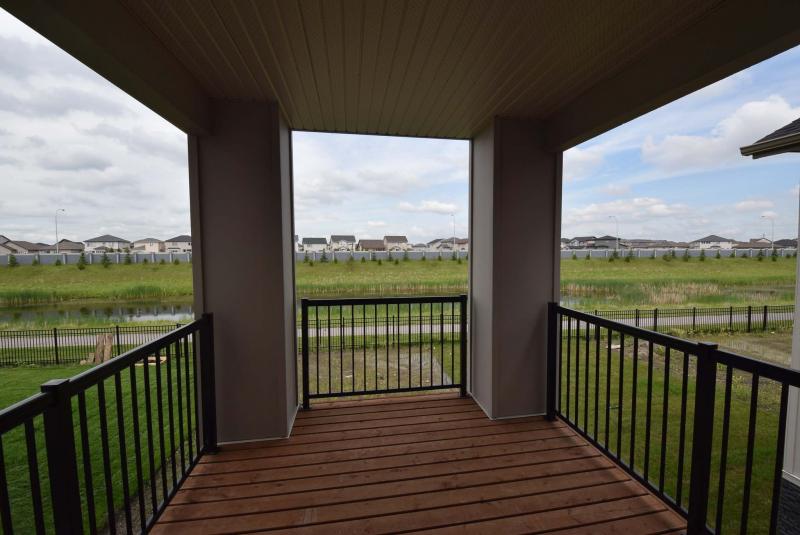 These days, when people think of a 1,700-square-foot home, they consider it to be on the small side.
Furthermore, that perception increases when they learn that the home isn't a bungalow. In most consumers' minds, there's no way a two-storey home could be nearly as livable.
It's a good thing the design team at Hilton Homes didn't heed such sentiments. Their show home in Bridgwater Centre at 180 Park West Dr. — a 1,700 sq. ft., attached two-storey design — is not only eminently livable, but also offers affordable luxury in the form of a walk-out basement — and more.
"These homes have sold extremely well for us," Hilton Homes' Spencer Curtis says. "They provide a great, affordable living option that incorporates a lot of really nice features into the design. In this location, you can still get a home with a mix of high-end and standard finishes for just over $409,000. We wanted to show what we could do by combining those finishes with a functional floor plan that included a walk-out basement."
And while there aren't many of the homes left on Park West Drive, more are coming to a different location.
"We have another 20 homes coming in Bridgwater Trails — they should be ready for spring possession," he adds.
"Like these homes, there will be no growth fees included in the price. The look will be a little different with garages placed side-by-side, rather than apart. The best news is that prices will start at around $350,000, which will continue to make these homes a very affordable living option."
Make no mistake about it — the show home at 180 Park West is no tiny, space-challenged home to which high-end features have been added to give it a luxurious feel. Hilton's design team — thankfully — didn't ignore the fact that families require a practically designed home that will function well amid the myriad demands that daily life places on it.
"Our first priority is to always build a home that's functional," he says, adding that a timbre frame/cultured stone exterior with Hardie board siding and bronze garage door gets the home off to a striking start. "With this home, our goal was to make every inch of available space on each floor count. You can have all the luxury in the world, but it won't matter if the home isn't livable."
While the main living area exudes a luxurious feel — it's derived from rich finishes such as wide-plank Sapphire laminate flooring, rich-looking cappuccino Chilagoe cabinets, a taupe tile backsplash and smart taupe laminate countertops — an intelligent layout is what truly makes the area shine.
"We went with a wide-open floor plan to maximize the feeling of space," Curtis explains. "A generous foyer merges into a hallway that takes you into a bright great room with a nice-sized dining area, island kitchen and a big living room. There's a visitable powder room between the kitchen and dining area, and tons of light pours in from large, well-placed windows — and sliding patio doors on the rear wall off the kitchen."
Turns out, those sliding doors lead to a rather amazing spot.
"We wanted to make sure there was additional space off the kitchen to barbecue and visit, so we put in an elevated (and covered) 10 x 12-foot deck that overlooks the wetlands behind the home. Back inside, the island seats two, and the dining area can seat four to six guests. A corner pantry adds function to the kitchen, while the powder room is a handy feature for entertaining."
Meanwhile, access to the home's upper level is provided by a generously wide (four feet, to be exact) staircase. A quick tour through the upper level reveals an area that features three (unexpectedly) large bedrooms, four-piece bath and second-floor laundry room.
"The second floor measures in at about 1,000 sq. ft.," Curtis says. "That generous square footage comes from the fact that we were able to build over the garage."
Again, the floor plan is superb, with the secondary bedrooms (placed to the rear) separated neatly from the master suite by the laundry room and main bath. The area is bright thanks to large, well-placed windows in the bedrooms. As should be the case, the master suite is a private, well-appointed space.
"It's huge, bright and comes with a beautiful ensuite and large walk-in closet with a window. It's everything that mom and dad could want."
Not to be overlooked is the walk-out lower level, which features a structural wood floor, three windows — and sliding patio doors that lead to a covered patio with wetland view.
"There's about 550 sq. ft. of livable space that can hold a bedroom, bathroom, rec room and storage space," he says. "There will be a choice of a cement or structural wood floor in the homes in Bridgwater Trails. The structural wood floor will be about a $3,500 upcharge."
Curtis says the quality, style and livability built into the homes on Park West Drive will continue in Bridgwater Trails. "We did our best to set a high standard for this area, and will do the same there. These homes are an affordable option that offer excellent livability, style — and value."
lewys@mymts.net
The Details
Builder: Hilton Homes
Address: 180 Park West Dr., Bridgwater Centre
Style: Two-storey attached with walk-out basement
Size: 1,700 sq. ft.
Bedrooms: 3
Bathrooms: 2.5
Price: $409,279 (Including lot, appliances, window coverings, GST; no growth fees)
Contact: Kim Fyles, RE/MAX Executives Realty, 204-987-9800