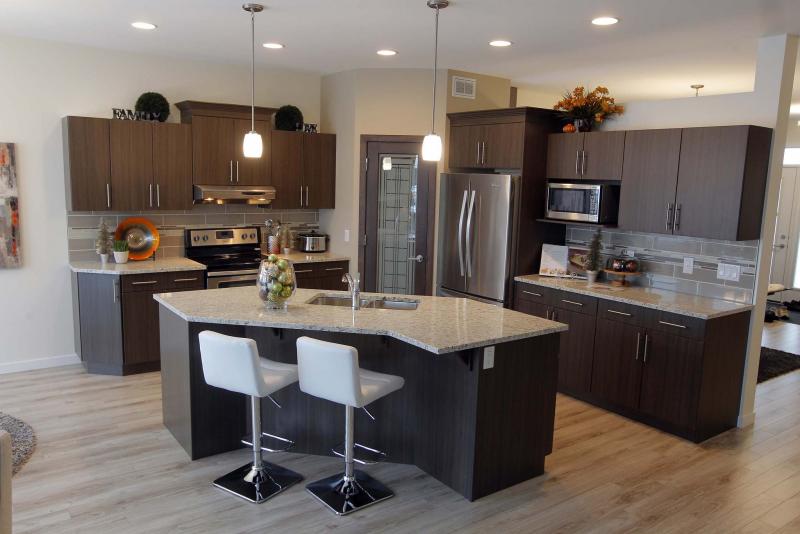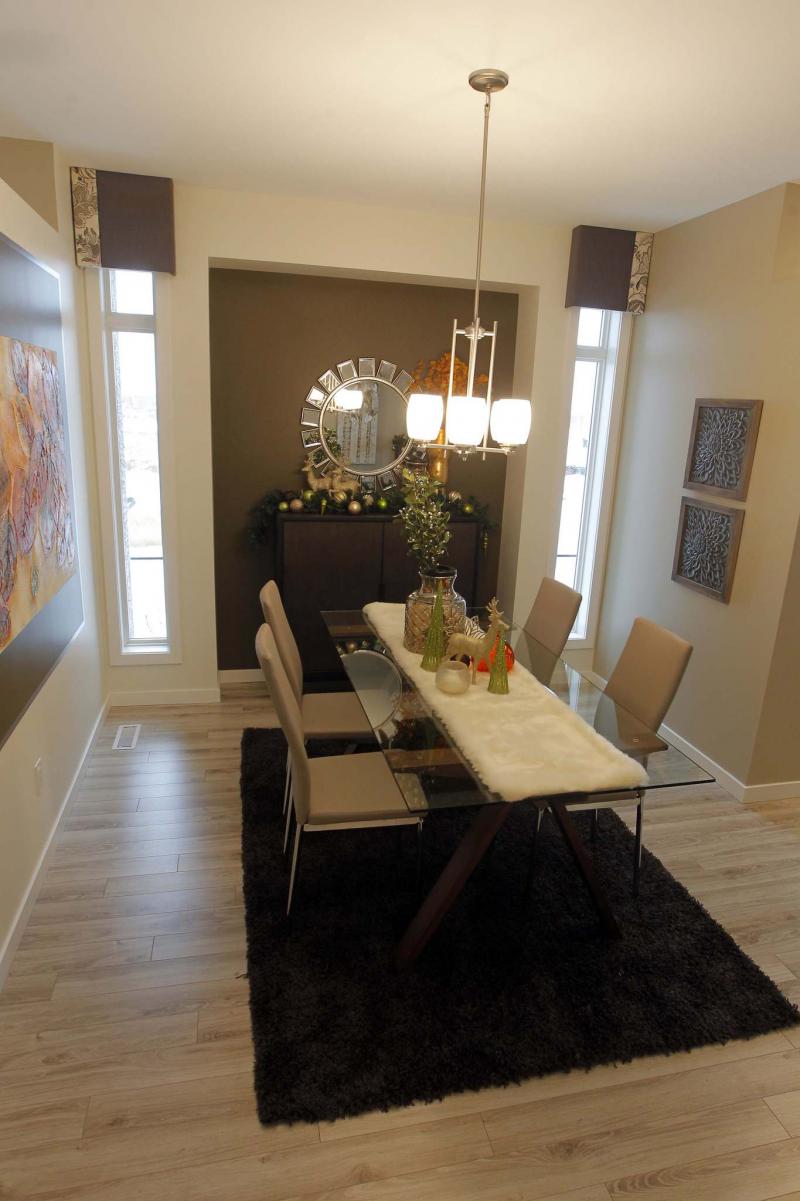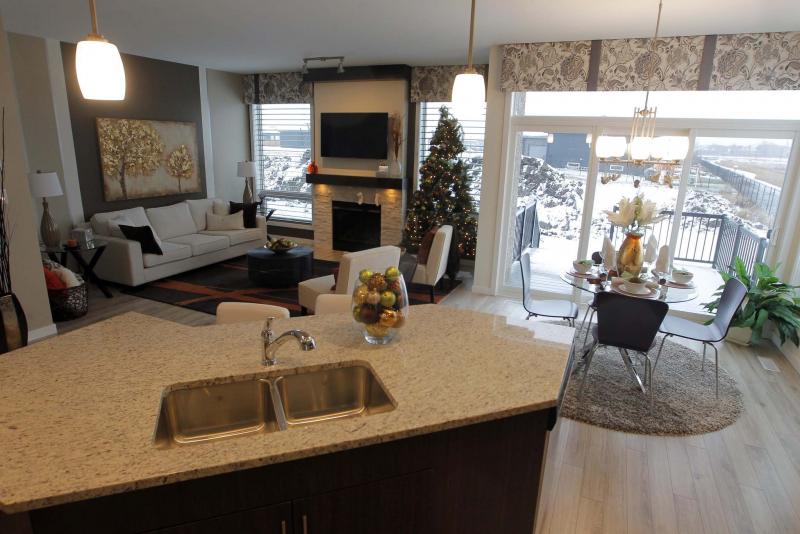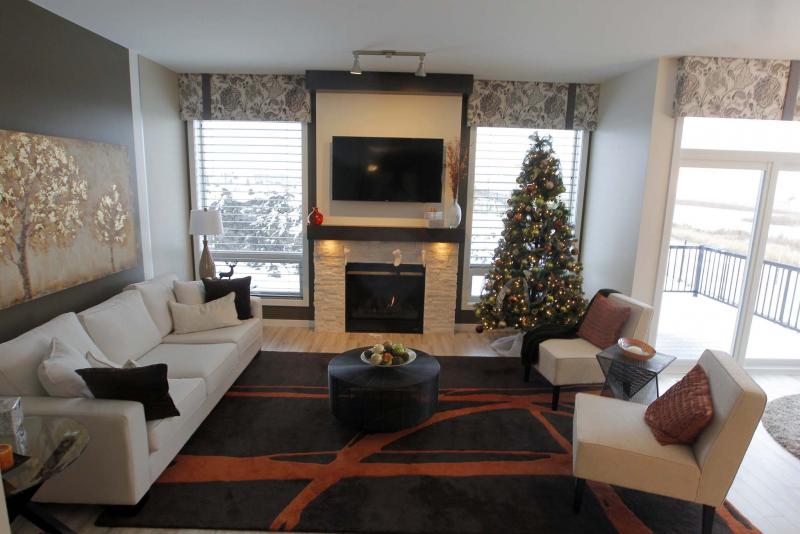 Empty nesters have three prerequisites at the top of their wish list when they downsize: space, style and location.
Space is often the No. 1 priority. That said, it's followed closely by style and location. Viktoria Fazekas, of RE/MAX Professionals, says the bungalow condominiums in Randall Homes' newest condominium project — Lakeside Estates in Oak Bluff West — deftly balances those three must-have design features.
"The first thing you notice is the floor plan," she says. "There's lots of space and everything flows so well — there's just no wasted space on both the main and lower levels."
Next, comes the style, adds Fazekas' sales partner for Lakeside Estates, stablemate Michael Dubienski.
"While the front of the home is functional — it features an angled foyer with formal dining room to the right and wing to the left with den/bedroom, (huge) laundry room and four-piece bath — people come around the corner from the dining room into the great room, and say, 'It's so beautiful,' " Dubienski says. "They just don't expect it."
"What people don't expect," Fazekas adds, "is the fact that the great room comes standard with beautiful laminate plank flooring, granite countertops and glass tile backsplash in the kitchen, as well as painted, rather than stippled, ceilings. The value offered by those standard finishes is excellent."
At the same time, those beautiful finishes — including a smashing, angled island with seating for two at a recessed eating nook — are complemented by spacious surroundings.
"There's all kinds of room to move in the great room, highlighted by the fact that there's nice separation (a wide aisle) between the island and side wall," Fazekas says. "The ceilings are also nine feet high, which adds to the feeling of space."
There's another design feature at the rear of the great room that hasn't gone unnoticed.
"The home's back wall is basically filled by glass — a triple patio door behind the dinette area (which easily seats four) that leads to a big composite deck out back, as well as large windows either side of the (optional) fireplace in the living room," Dubienski says. "All kinds of natural light pours through the windows and you not only get a gorgeous lake view, but you also get beautiful sunsets in the evening."
The front of the home is just as functional and well appointed as the spectacular great room.
The formal dining room — though separate from the kitchen — is only steps away, featuring a cantilevered buffet niche with vertical windows either side. The den/bedroom is generously sized and is next to a spacious four-piece bath with deep soaker tub, while the laundry room — which contains a door that leads to an attached double garage — is absolutely cavernous.
"Many couples still like to have a formal dining room," Dubienski says. "Some of the plans — there are two choose from — have one, while others don't, but it's a great option to have."
Because both homes — indeed, the units feel more like a home than a condominium with their abundance of space, light and tasteful finishes — are good-sized bungalows (more than 1,400 square feet, and just shy of 1,600 sq. ft.) and they both come with huge basements.
"You get just under 1,400 sq. ft. of space to develop in the 1,445-sq.-ft. home, while you get about 1,500 sq. ft. of space downstairs in the 1,595-sq.-ft. home," Fazekas adds. "That space can either be fully developed into a big third bedroom, huge rec room, four-piece bath, storage, or partially developed to leave plenty of storage space. The basements also come with a high ceiling and three huge windows that let in lots of natural light."
Meanwhile, the home's piece de resistance is the master suite, which is discreetly tucked away away in its own private spot off the great room.
"It's a bright, generous space that features a nicely appointed ensuite with vanity with dual sinks, a big, maple-trimmed mirror, five-foot shower and very spacious walk-in closet. There's also a pocket door that can be used to close off the ensuite to make it an ultra-private retreat," Dubienski says. Finally, there's the complex's location, which has much to offer on two levels.
"First of all, the condominiums — there are nine in all (six are corner units) — are located on the interior of the development in a quiet area nestled in next to walking paths," Dubienski says.
"Second, Oak Bluff West is only seven minutes from the Kenaston strip and all its stores, restaurants and services, a short drive to Pembina Highway and about 22 minutes from River Heights. You're central to pretty much everything."
Most importantly, empty nesters won't feel as if they're taking a step down in terms of the quality — or functionality — of their accommodations.
"The units feel so much like a home with their function, space and style, you won't feel like you're downsizing," Fazekas says. "The value, style and location that these condominiums offer is simply superior."
lewys@mymts.net
Details
Builder: Randall Homes
Address: 18 Big Sky Dr., Oak Bluff West
Project: Lakeside Estates Condominiums
Style: Bungalow-Style Semi-Attached Condominums
Size: 1,445 sq. ft. to 1,595 sq. ft.
Bedrooms: 2
Bathrooms: 2
Price: From $416,900 to $479,900 including net GST
Contact: Viktoria Fazekas, RE/MAX Professionals, 204-250-771 or Michael Dubienski, RE/MAX Professionals, 204-981-4101