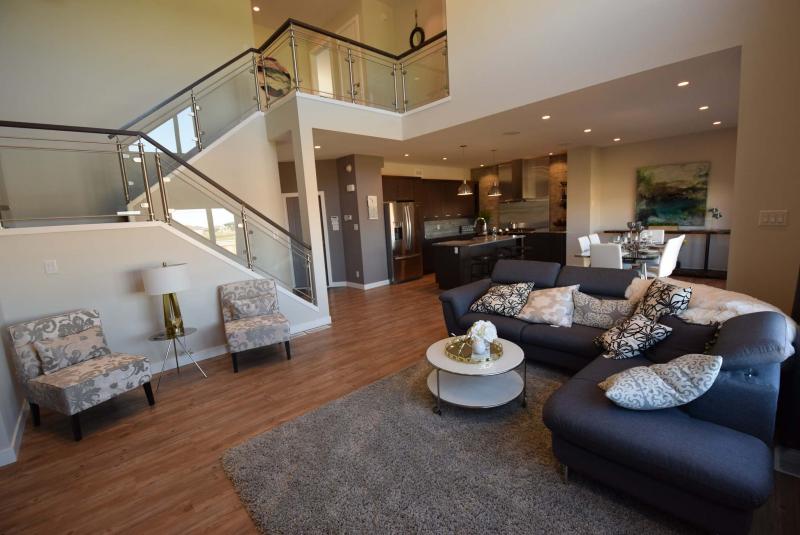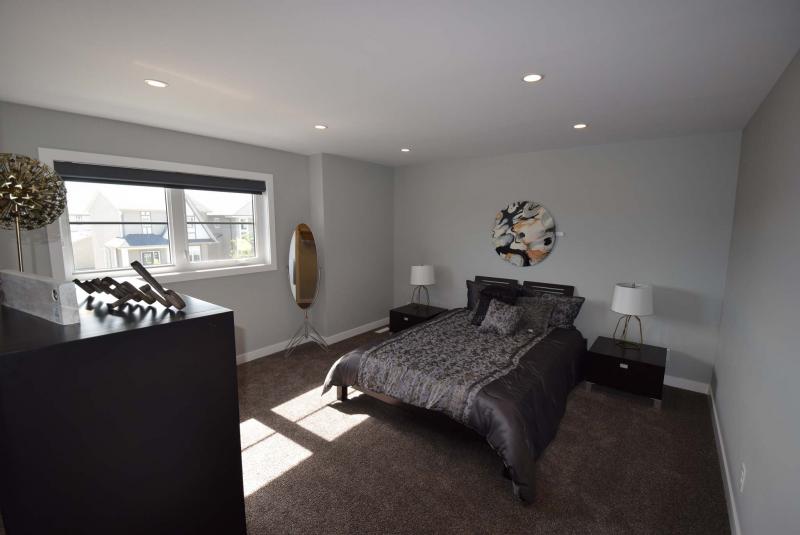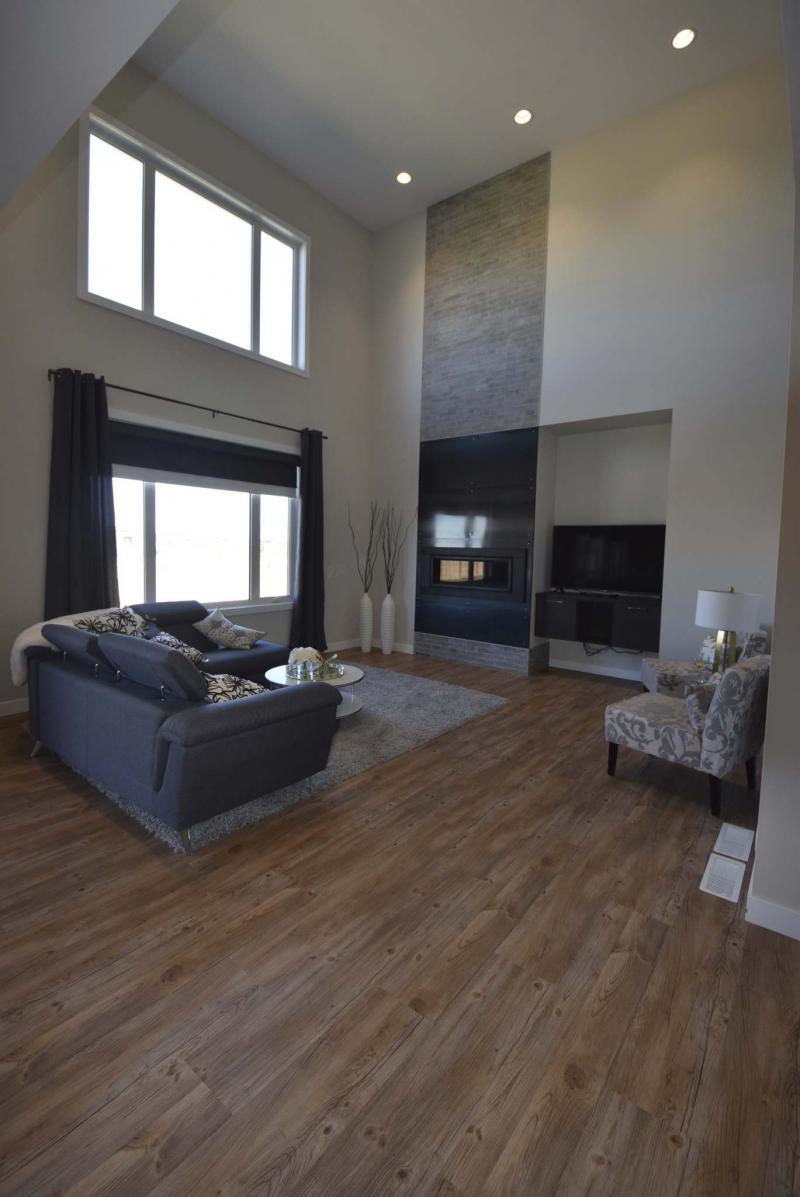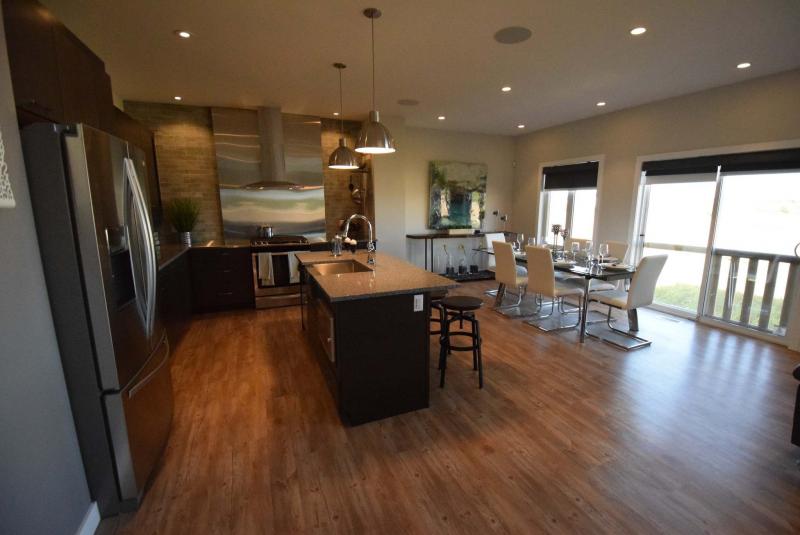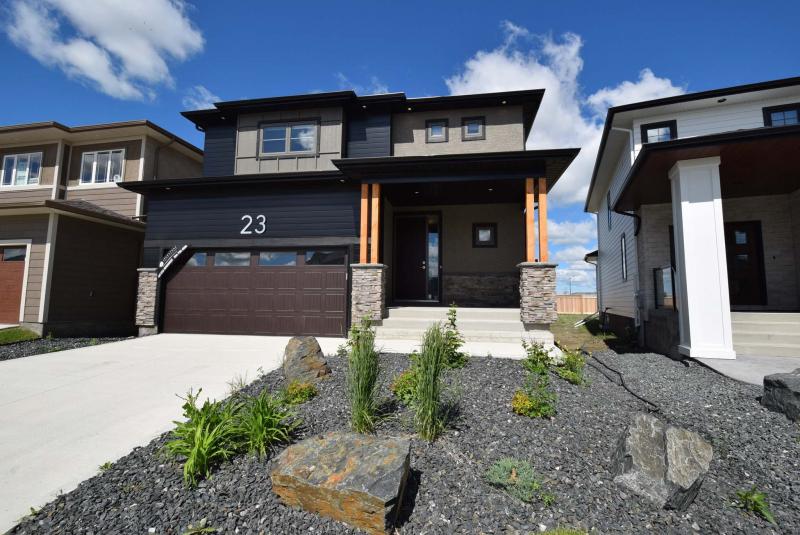 It's something that home designers acknowledge when they begin to conceive a new home design: they're not going to reinvent the wheel.
That said, designers can implement some novel design tweaks here and there to give a home a different feel, whether it be in a stylistic or ergonomic sense. The Vantage's unique yet functional design starts with its exterior, says Signature Homes' sales manager, Jeff McArthur.
"Our design team went with a blend of modern siding designs, mixing masonry, timbers and acrylic stucco to give the home a captivating exterior," he says. "The idea was to create a modern yet warm look that would be carried on inside the home."
Because the 1,819-square-foot, two-storey home is a show home, there's plenty of style to be found inside — about $90,000 worth of upgrades, to be exact. However, while the interior finishes are admittedly striking, so too is The Vantage's floor plan, which serves as a logical counterpoint to all that well-placed panache.
The home starts off with a wide, deep foyer that sports a striking, yet practical taupe vinyl tile floor (great looks and easy to maintain). Meanwhile, ergonomics are excellent — there's enough width to accommodate a bench to sit down and take your shoes off without negatively impacting aisle width. The foyer — due to its considerable depth — also houses a walk-in coat closet and powder room with smashing white spruce countertop.
At the same time, the foyer isn't so wide that you see the whole great room; you can see just a sliver of it, which makes you curious to see more.
What you see upon entry to the area is, well, rather captivating. First, there's the spacious chef's kitchen, which not only contains an island with an under-mounted industrial style double sink (a novel design feature), but a stainless steel countertop either side of the range.
"For the show home, we decided to go with a mix of quartz and stainless countertops," McArthur says. "We also added a stainless wall insert behind the range to go with the stainless countertop to add a modern, industrial flair to the kitchen. Stainless appliances add to that feel, while (taupe/grey) quartz countertops and cappuccino maple cabinets add in some nice warmth."
That warmth is necessary for another reason: the great room's bright interior. That brightness comes from a wealth of glass: a wide patio door behind the huge dining area (which can seat six to 12 guests) and floor-to-ceiling windows in the adjacent family room.
"Everyone who's visited the home has really liked the naturally bright great room as well as its warmth. To make sure it didn't feel too bright, we put in high-end (six-inch-wide) oak laminate plank flooring that adds just the right amount of warmth and texture. It's also a great choice for it's durability and affordability — it wears better than hardwoods, and isn't as expensive."
The great room is then capped off by a family room that's chock full of style and function. There's room-a-plenty for furniture, while a 17-foot-high ceiling makes a big space even bigger while allowing for placement of the aforementioned floor-to-ceiling windows.
"The focal point of the area — which is open to the second floor above — is a (dark grey) steel and (taupe) tile gas fireplace with a cantilevered TV niche next to it," he says. "The area is also modernized by a staircase bordered (and opened up by) tempered glass with stainless steel posts, while cappuccino maple railing adds a nice bit of warmth. Light from the two huge windows just floods the family room and second floor."
Upstairs, a wide landing makes for effortless flow. Each of the three bedrooms is, in a word, huge, while the main bath is a long, deep space that features a taupe vinyl tile floor, deep soaker tub with vinyl surround and rain shower head and cappuccino maple vanity with taupe/grey quartz countertop and soft-close drawers and doors.
A thoughtfully designed master suite then finishes of the second floor in what's proven to be the Vantage's calling card: functional style.
"First, our designers cantilevered a part of the rear wall to add flair to the home's design. It not only makes a perfect place for a huge window that lets tons of light into the bedroom, but also makes room for a window seat that's tucked away so it doesn't take away room to move," explains McArthur.
Then, there's the design of the walk-in closet and ensuite, where a single doorway leads to the two spaces.
"The idea here was to open up the (right-hand) wall coming into the bedroom for a dresser or chair. The entrance to the two spaces can be closed off by a barn-style door on rollers; the walk-in closet is at the front, while the (three-piece) ensuite is at the back. That way, whoever get up early can close the barn door and the door to the ensuite so they can shower and get dressed without disturbing their partner."
Best of all, The Vantage can be easily modified to become a four-bedroom home — and price tag for a version that includes maple cabinets, high-end laminate plank floors and quartz countertops is sub-$475,000, including lot, piles, driveway, GST and growth fees. That represents excellent value for a family's hard-earned buck.
lewys@mymts.net
Builder: Signature Homes
Address: 23 Del Monica Rd., Bridgwater Trails
Style: Two-storey
Model: The Vantage
Size: 1,819 sq. ft.
Bedrooms: 3
Bathrooms: 2.5
Price: $553,900 (Including lot, growth fee & GST)
Contact: Jeff McArthur, Maximum Realty Ltd., 204-299-5232 or Lyle Korsunsky, sales agent, 204-792-4600