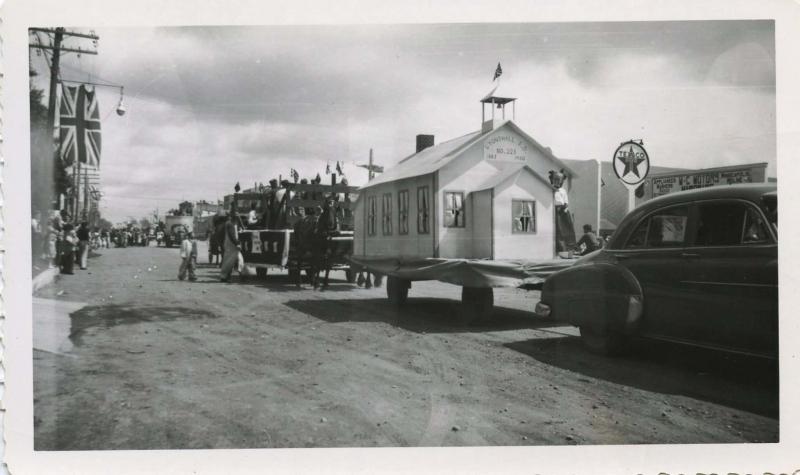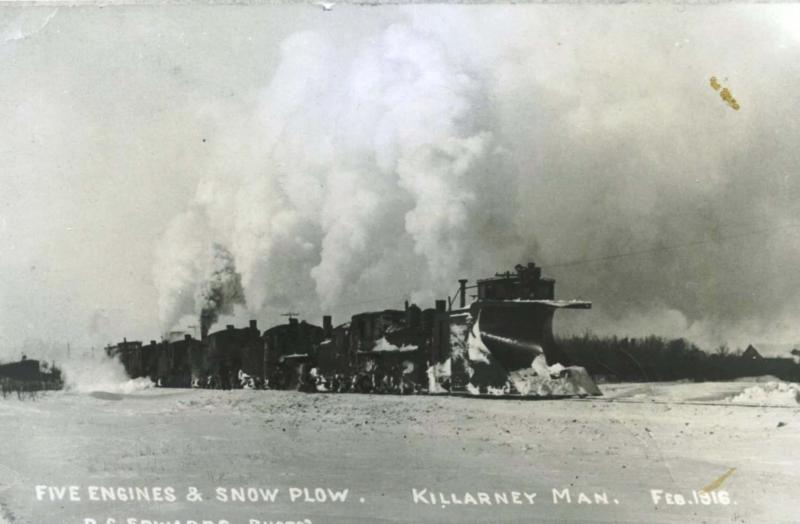 Back when I was a kid in the 1950's, growing up in my hometown Killarney, Man., the railroad played a huge part in moving people and supplies to keep everyday life up to speed.
Those big steam locomotives were always such a thrill to watch pull up to the station, huffing and chuffing as if alive. People, parcels, packages and animals loaded and unloaded and the engine hissed away till it was time to pull out and head to the next town.
And of course, following its departure, we'd check to see how good a job it had done of flattening those pennies we left on the rails. It was a great time to be a kid.
Understandably, keeping the rail lines open and the trains moving was a big priority back then, so when blizzard conditions of the type we experienced earlier this week in Manitoba threatened to bring all modes of transportation to a halt, the railroad folk looked skyward, said, "Ya call this a storm?" and brought out the big guns.
Now this, my friends, is a plow. Imagine what it must have been like to be pushing through sometimes feet of snow at full steam screaming across the prairie day or night — and not one Tim Horton's to pull through for a coffee anywhere. Imagine the tsunami of snow and steam coming back at you in those engines. Such adventure!
No cell service on this monster.
And hey, look: here's a picture of a whole town with a parade going on without one cellphone in the mix. Good thing, because nobody'd be watching the parade.
I love this pic, taken in Killarney back in the '50s, because it's perhaps the only one I have that has my Dad's business in it, M & C Motors, which along with being a hardware store, was also a dealer for Texaco, Ford and Studebaker cars, as well as Minneapolis Moline farm equipment. There were service bays at the back where I loved to watch the mechanics work their magic.
It was in front of this store, on a day when there was no parade, that Dad gave me my first big-boy bike — a Schwinn balloon tire two wheeler. It was green and white. The most beautiful bike in the entire world. He plopped me on the seat, gave me a push (I could already ride a two wheeler) and launched me into my Born To Be Wild phase.
I wasn't quite "leader of the pack" material yet, though. The bike was too big for me, so after I rode around in circles for a bit I rode back by Dad and said, "Can you stop me the next time I come by. I don't know how to get off."
He said, "Laurie, that's your bike now, and if you're going to ride it, you'll have to find a way to stop on your own. You'll figure it out."
Gulp. So I just put on the brakes, stopped, stuck out my leg and fell over. Perfect. I refined my dismount till I was as good (I thought) as Roy Rogers hopping off his horse Trigger. I can still look down and see (in my mind's eye) the tread pattern on that front tire. Put a lot of miles on that old Schwinn. Wish I still had it.
Home certainly offered different entertainment options back then than kids have now. The only electronic toy I can remember was my electric train set, which was very cool and could be set up to fly off and smash into things. The unadventurous kids just ran it around and around on the track. Boring!
The next big electronic thing to come into the house was television and we had one of the first — if not the first — in town, because Dad sold them out of his store. He installed rooftop aerials on hundreds of local town and farm houses. We Mustards have always loved heights and climbing as high as we can. I still do.
There were certainly no video games or iPhones to play on. I spent a lot of time playing games such as Snakes and Ladders and creating things with the "mechano set." We couldn't wait to get our "allowance" (25 cents) and go take in a movie at The Gaiety Theatre downtown on Friday nights.
However, please note I'm not one of the generational types that's stuck in "it was way better back then" mode. Nope, it was just different.
I will tell you one thing that kids have today that is WAY better than back then. Allergy medication. I just about sneezed my head off till I started smoking — in Grade 12, for a role in the school play and with my teacher's permission. Imagine. But that, friends, is a whole other story. Have a great weekend.
Comments or feedback, love to hear from you!
lmustard1948@gmail.com