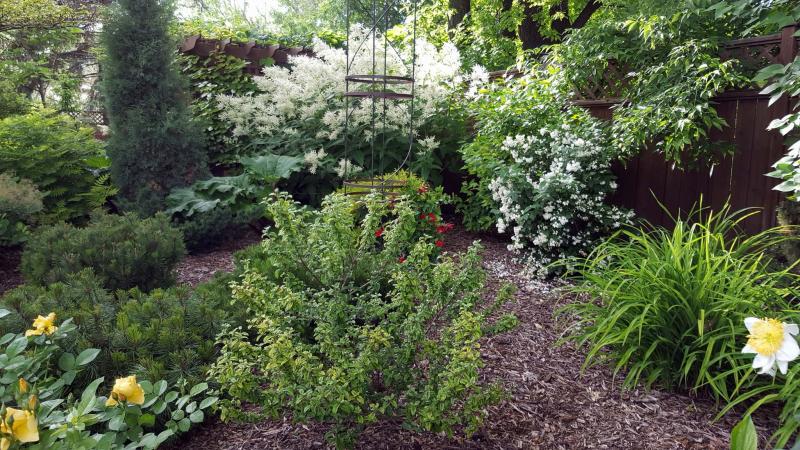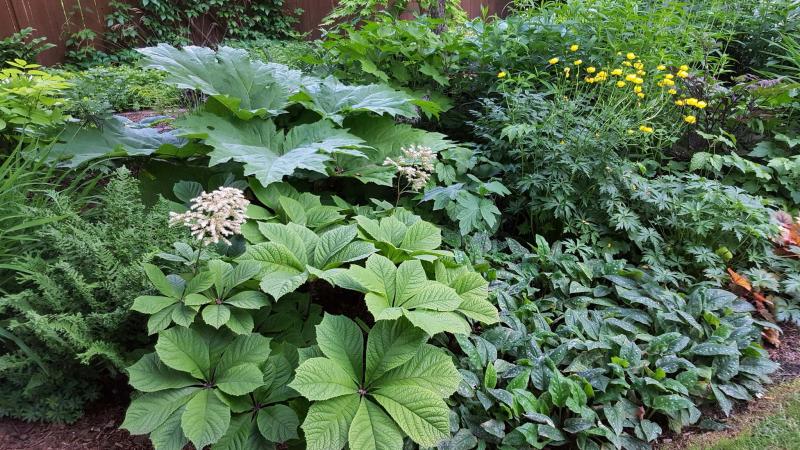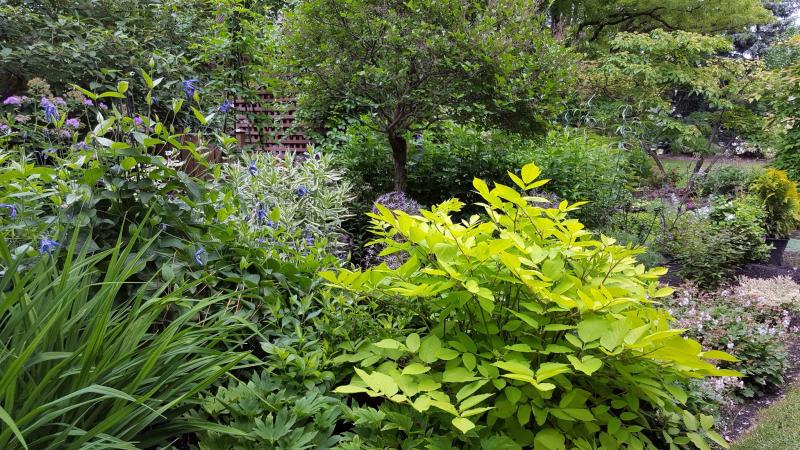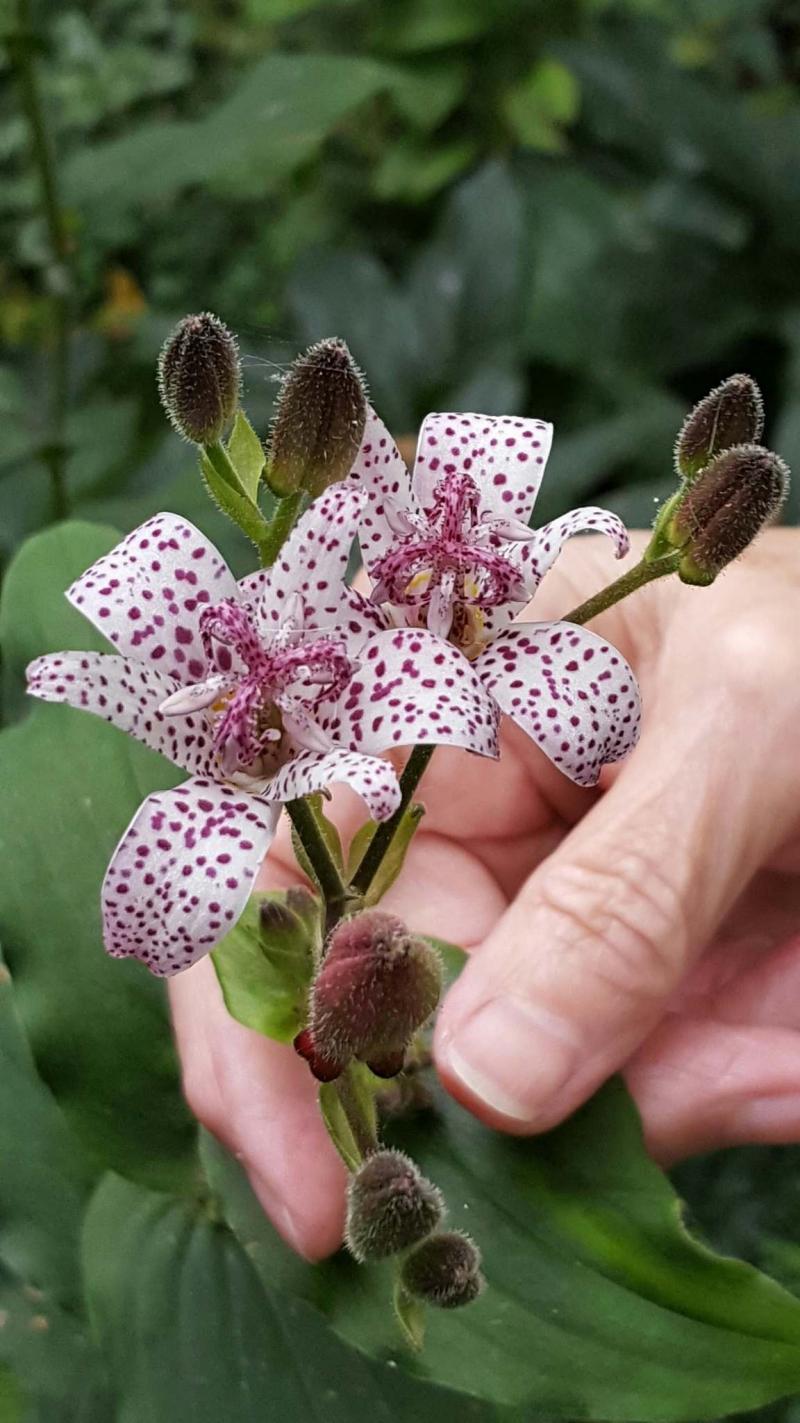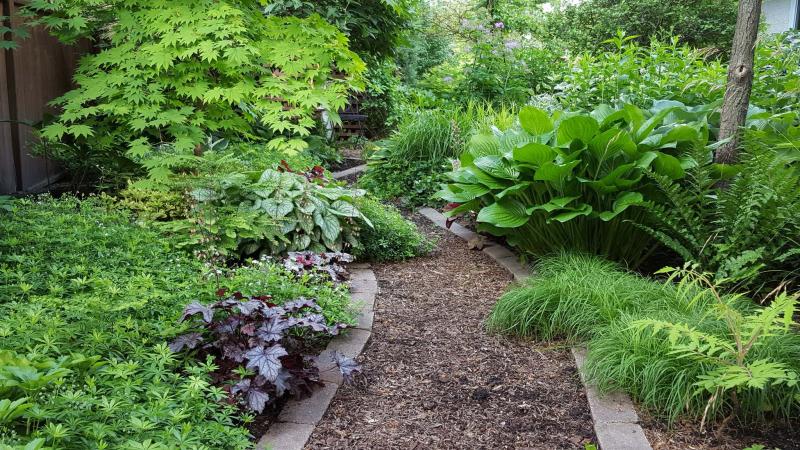 A stroll through Karen Loewen's garden takes time. A single visit would hardly be enough to explore all the mysteries of her spacious property located in Steinbach. Loewen is a discriminating plant collector with a taste for the unusual. She has cast her net far and wide over the years to acquire the most garden-worthy plants for her woodland garden.
What makes a plant garden-worthy? For Loewen, the answer lies in texture that adds depth and mood. Of great importance to her is how an individual plant looks and transitions as the season progresses.
One example might be Paeonia obovata Sakhalin Alba, a little-known species of peony that is also known as the Japanese Forest Peony.
Unimposing in size (50 centimetres tall and wide), this part-shade Zone 5 herbaceous peony has broad, bold green oblong leaves that emerge burgundy-reddish in early spring.
The cup-shaped single blooms are pure white with a cluster of yellow stamens. Later in the season, Paeonia obovata produces a substantial bean-like seed pod that opens to reveal hot pink seeds with showy, blue-black seeds for a spectacular finish. Loewen says it is one of the most delicate peonies for the woodland garden. She grows it in a sheltered location out of harm's way from icy spring winds.
A fearless gardener who grows numerous Zone 4 and Zone 5 plants, Loewen is not easily swayed by trends and recognizes, even relishes, the value of a restrained colour palette. Loewen has visited many historic, public and private gardens overseas — Great Dixter, Hidcote Manor, The Lost Gardens of Heligan — and several in Canada, most recently Les Jardins de Quatre-Vents in the Charlevoix region of Quebec.
"It's usually the shaded areas of these gardens that I find most memorable and inspirational," says Loewen, who also appreciates the serenity of Asian-inspired garden designs, so deceptively simple yet complex.
An observant gardener, Loewen discerns, indeed desires, the subtle and dramatic differences in form and texture found not only between uniquely different species of plants but also between cultivars of the same species.
Why have only one type of Rodgersia or just one Actaea (commonly called baneberry or bugbane)? By growing several different varieties of a species, Loewen gains a greater understanding of the unique characteristics that each one has to offer.
In one grouping, Loewen has combined Rodgersia aesculifolia — a Zone 3 foliage plant with massive palmately compound leaves that can measure up to 45 cm across — together with giant, architectural Rheum palmatum ornamental rhubarb. These plant extroverts have been expertly paired with the contrasting forms and textures of Pulmonaria Mrs. Moon lungwort, Trollius Lemon Queen globeflower and the decidedly handsome Dryopteris male fern.
Travel further along the continuous herbaceous border and you will find Zone 4 Rodgersia pinnata Chocolate Wings with chocolate-bronze divided leaves. In summer, it produces plumes of deep pink flowers and, in fall, attractive claret-coloured seeds. Yet another variety, Zone 5 Rodgersia podophylla has burgundy-coloured palmately compound umbrellas up to 50 cm across.
Rodgersia prefers fertile, evenly moist soil, which Loewen achieves with annual additions of compost (the only fertilizer she uses). To help conserve moisture in late July or early August, she adds a layer of the previous year's leaves, now crumbly and partially decomposed, to the soil surface. She also mulches with bark chips. To prevent evaporation, Loewen plants closely and uses groundcovers. Soaker hoses provide a slow, steady drip directly to plant roots.
Loewen says she can't resist any plant that has large leaves. Another favourite specimen, Darmera peltata (umbrella plant), is a 100 cm, Zone 5 plant with large, lobed leaves on long petioles. The clusters of soft pink flowers appear in early spring before any leaves develop.
Finely textured plants also appeal to Loewen. Drifts of Epimedium (commonly known as barrenwort or fairy flower) have a cascading effect at the front of the border in areas of dappled shade and are repeated throughout the garden.
Foliar combinations include several different fern varieties such as Dryopteris Cristata Angustata, which is crested at the tips, and Dryopteris filix-mas, which has frilly, undulated edges. Loewen is especially fond of Asplenium scolopendrium Hart's-Tongue fern, a splendid fern with shiny, strap-shaped leathery green fronds.
In another area of the garden, the heart-shaped, bright chartreuse leaves of Sun King Golden Japanese spikenard are a brilliant accent next to the fine textures of a Palibin lilac standard and Physostegia variegata Obedient plant.
Another texture that is important, Loewen says, is that of ornamental grasses. Loewen refuses to grow Karl Foerster feather reed grass if only because everyone else does — instead, she opts for sedge grasses such as Carex muskingumensis Palm Sedge, a clumping Zone 4 variety with narrow, pointed green leaves. Loewen loves the wonderful airiness of the scented panicles of Prairie Dropseed (Sporobolus heterolepis) and finely textured mounds that turn a burnt orange in fall.
In one corner of her property, a mulched pathway divides two beds planted with shades of greenery. A low Zone 5 sedge, Carex caryophyllea "the Beatles," planted at the edge of the pathway on one side, is aptly named. Its fronds of finely textured, dark green leaves form a dense mop-head of foliage. Opposite, a drift of Sweet Woodruff (Galium odoratum) is punctuated with Silver Scrolls Heuchera and Jack Frost Brunnera. The scene is framed by a beautiful accent tree, Zone 4 Korean Maple (Acer pseudosieboldianum), which has palmate leaves that turn vivid yellow, orange and scarlet in fall. Elegant Hosta plantaginea, a variety with exquisitely scented white blooms that don't open until late in the afternoon, makes a bold statement.
In fall, exotic orchid-like Tricyrtis hirta Japanese toad lily is a delightful study in detail with purple spots on white to pale lilac blooms. Kirengeshoma palmata is another highly valued plant in Loewen's fall garden for its generous, deeply lobed maple-like leaves, which are smooth and shiny. Pendulous yellow bell-shaped blooms appear in September and carry on into October. Classified as Zone 5, it has a reliable presence in the garden thanks to a protected location where it receives adequate moisture during the growing season and reliable snow cover in winter. Prior to the onset of winter, Loewen mulches tender plants with a layer of flax straw.
Mature evergreens and tall cedars form the backdrop to Loewen's garden. The layered effect is almost that of a walled garden, an enviable asset that provides added protection for tender plant varieties. Small- to medium-sized trees are strategically placed throughout the understory. These include Catalpa, a pair of Pagoda dogwood trees lovingly shaped to show off their horizontal, tiered branching to great advantage, compact evergreens such as weeping white spruce and yew, and a stately pear tree, Mountain Frost Pyrus ussuriensis.
In spring, Loewen's pear tree is covered in white flower clusters and, in fall, the leathery oval leaves turn an impressive burgundy. Nearby is Pucker Up Red Twig Dogwood, flanked by the graceful forms of Snowbelle Mockorange and Persicaria polymorpha. The heavily textured foliage of Pucker Up also transitions to burgundy by late fall.
This lovely garden is defined by numerous textural components and enchanting seasonal transitions.
colleenizacharias@gmail.com