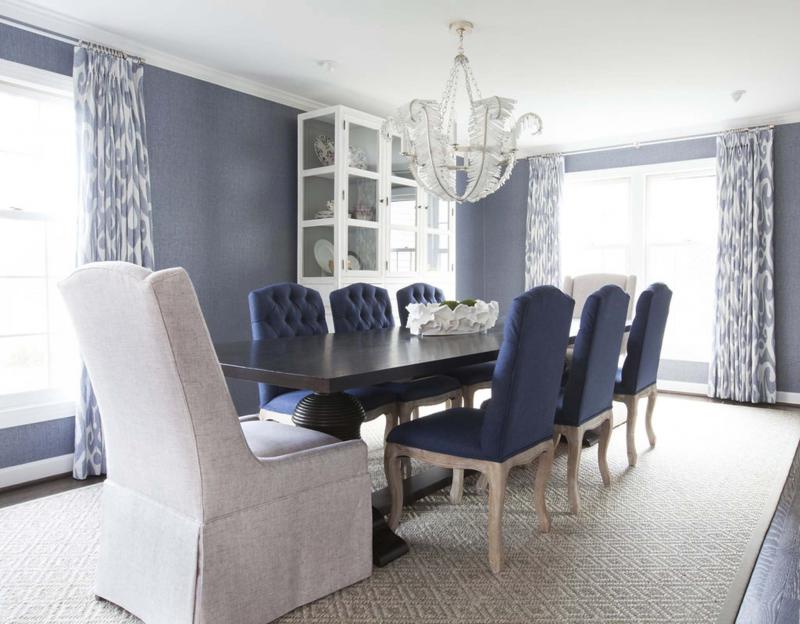 The official start of spring is only days away. And if you are like me, you can't wait. As you welcome this season of new life into your heart, do the same in your home. I asked Molly, one of our talented young designers, to share some simple but powerful ways to add a touch of spring to your decor. Here are five spots in your home she said are just waiting for a spring break.
Your dining table
This spring, Molly's colour crushes are blue, green and white. Favourite spring accents? Flowers!
"They add a finishing touch to a space," she says. Our design team at Nell Hill's brought all of Molly's favourites together on this lovely spring table, decked out for Easter.
Once you have used linens and dishes to create a base for your seasonal table, you can easily trick it up for spring holidays. All it took to get this table ready for Easter was topping each place setting with an adorable egg cup holding a faux egg. I'm crazy about the spring chick salt and pepper set.
Your mantel
Blush pink is hot this year, Molly says. "It's very romantic and adds a feminine aspect to your decor, without going overboard," she points out. Our design team featured it in a fresh but simple mantel treatment at Nell Hill's. The oversized abstract painting in the background gave us lots of pastels to draw from. I like to decorate with glass accents year-round, but in the spring and summer, glass is the perfect pick for a mantel that is light and bright.
Your bed
Molly is a master at pattern play, pulling together a mix of textiles to create a work of art on a bed or piece of furniture. One of her favourite places to welcome spring is through bedding. When she creates a bed design, she often starts with a neutral base so you can easily change the look of the ensemble just by swapping out the pillows. This spring, it's all about soft pastels and romantic touches. One of her favourite beds at Nell Hill's has a gold trellis headboard, which sets the scene for the interesting mix of patterns, all in soft, subtle tones.
Navy is one of Molly's favourite neutrals because it looks great with just about every colour you pair it with. For one inspiration bed at Nell Hill's, Molly wanted a design that told its story in pattern and texture, keeping the colour palette tight. For spring, store your duvet away and instead use a romantic bedspread. For a bit of colour, Molly rested a navy matelasse quilt at the foot of the bed. If floral isn't your thing, try adding paisley to your bedding.
"Pillows are a way to bring your personality in," Molly shares. "A lot of people are afraid to mix styles, but even adding little touches like a Greek key tape is unexpected and makes your bedding less cookie-cutter."
Furnishings
"I think every room needs a little green," Molly says. Jewel tones and patterns that mimic natural elements are showing strong, so Molly added an arresting malachite pillow to the trio jazzing up our blue striped Chesterfield sofa. A sofa with a classic style can be made to look fresh and new when upholstered in a bolder stripe and amped up with a mix of pillows that reinterpret classic patterns, like an oversized botanical.
"To me, the best spaces combine traditional elements with modern accents," Molly adds. "Bringing in a few bold pillows is a fun way to add a touch of modern to a space. I like that it is unexpected and mixes things up, making you think outside the box."
Side tables
Imagine what a great day you'll have if you start every morning by drinking in a cheerful spring display on your bedside table. To give your night stand a recharge, start by taking a long look at your bedside lamp. Is it time to update and refresh? I really like the clean lines of contemporary lamps, which come in a variety of colours.
To create this sweet and simple scene, we used books as risers, a stage for an old-fashioned clock. A crystal decanter filled with cool water paired with a pretty drinking glass are ideal bed companions for the warmer months. A loose bouquet of sweetheart roses ties up the display with a sweet bow.
— Tribune Media Service