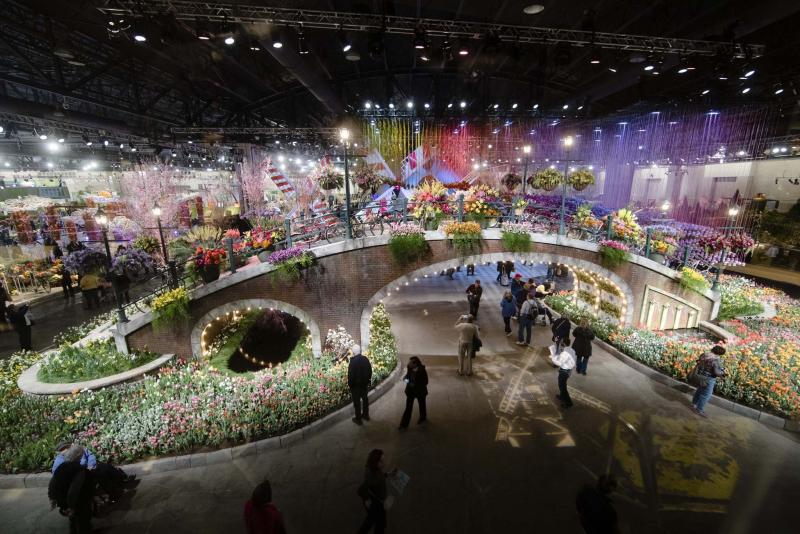 This may be a first: the venerable Philadelphia Flower Show, which seeks to anticipate spring through floral sleight of hand, is coinciding with the real thing this week.
The largest and oldest flower show in the United States is a week or two later than normal this year, while nature has declared the actual spring well underway, evidenced by the arrival of the Japanese cherry blossoms.
But this March hasn't been a gentle shift from winter into spring, more akin to a bloody tussle between the seasons, with high temperatures edging 26 C one day and plunging well below zero another.
The prospect of a pesky snowstorm is the latest twist.
The precocious blossoms are the collateral damage in this battle royal, along with our own notions of what constitutes spring, and when.
The flower show offers shelter from this psychological storm as the hundreds of thousands of flowers unfurl gently until Sunday in designed gardens and floral displays in the artificial environment of the Pennsylvania Convention Center in downtown Philly.
The calm spectacle is tempered even more by the 2017 show's homage to the Netherlands, whose phlegmatic citizens have a singular ability to feel passionately about plants without showing it.
They are also particularly skilled at raising and selling them. Ton Akkerman, the agricultural attaché in Washington, points out that 77 per cent of the global bulb trade comes from Holland.
"For cut flowers, it's 44 per cent," he said.
"And we are 10 times smaller than California."
And so the expected 250,000 visitors to the show will wander through gardens of tulips coaxed into bloom. About 30,000 alone feature in a central display that replicates one of those high-arched brick bridges over Amsterdam's canals.
At a preshow gala Friday, Akkerman's ministry presented the city with its own tulip variety, an alluring blood red, fringed bloom unveiled as "Philly Belle."
But since the Pennsylvania Horticultural Society — the show's organizers — last themed the show around Holland a generation ago, the plant world in the Netherlands has moved way beyond just the iconic tulip and the bulb trade.
The country is at the heart of a landscape design movement called the Dutch Wave, with landscapes of lots of grasses and perennials and, yes, bulbs, woven together in gardens of naturalism and sustainability.
Bart Hoes, one of the marquee landscape designers at this year's show, offered his take on a small urban garden, incorporating flowering perennials with vegetables, and a pergola designed to capture rainwater for garden irrigation.
Next to a little greenhouse, he positioned a black bike. The greenhouse speaks to cold Holland's need for hothouse cultivation, the bicycle to its pedal-friendly flat terrain.
"We have to save the Earth somehow. It all helps," says Hoes, who is from a country with 17 million people and 23 million bicycles. (And almost 25,000 acres of commercial greenhouses.)
The sustainability kick seems to extend to the Dutch themselves: Hoes is trim, rosy-cheeked and a youthful 59 years old.
At another exhibit nearby, his compatriot Nico Wissing is supine in a cradle that forms part of a broad ribbon of woven willow branches that wanders and spirals over much of his exhibit, Reconnection.
Two arms of this sculpture emerge from a basketweave bench. The other arm of wicker floats across the display to a woven bird's nest just less than two metres across. Its cushions invite one to stay a while and perhaps lay an egg.
"Give yourself somewhere to be in your garden," he says. "That's my take-home message, come and learn how to divide up space."
Wissing is another trim 50-something Dutchman immersed in the contemporary zeitgeist of ecological landscape architecture. He works on large-scale projects back home, including office parks and hospitals, but in his Philly show garden, he has created a playful woodland of moss and snowdrops, and of yellow lupines blooming in the shadow of Japanese snowbell trees.
The wicker sculpture was made by a Dutch artisan named Piet-Hein Spieringhs and took almost two weeks to fabricate, Wissing says. It suggests a strand of DNA, he says, and then mentions he started working in a nursery when he was eight and "people who know me say I have green DNA."
He also designed a giant structure called the Ecodome, a nine-metre-high geodesic sphere made of metal arches and fabric and set up nearby to showcase Holland's green industry.
All the flowering plants for the show were forced into bloom in greenhouses in the greater Philadelphia area. Many had to be stored in coolers to arrest growth as February turned unseasonably warm.
The central exhibit incorporates traditional Dutch references — Delft tile under the bridge arch, an inverted field of abstract tulips mirroring the real fields of tulips and windmill sails reconfigured as illuminated sets. The horticultural society's Sam Lemheney, who worked with Wissing for almost two years to create the display, says the Dutch have a long history of working with rather than against nature. This is the country, after all, where renewable wind power was used to drain and reclaim the land centuries ago. "When you think of the windmill, it was very ahead of its time," he says.
No one at the show has a better perspective on the contemporary Dutch embrace of ecological horticulture than Carrie Preston, 40, who grew up in the New Jersey coastal town of Fair Haven but has spent the past 18 years in Holland as a plant-driven landscape designer.
"I went there because they're renowned for horticulture. Holland, as far as the nursery industry is concerned, is second to none," she says.
Her exhibit, with 20,000 diminutive bulbs of anemones and species tulips, replicates the type of gardens around old brick manor houses in northern Holland, where bulbs have naturalized and spread through the years. The garden is framed on two sides by an arbour fashioned from chain-link fencing, as a synthesis of Dutch formality and American utility.
She says the Dutch have a different take on naturalism than other Western garden makers because so much of the landscape is more cultural than purely wild. In creating a naturalistic garden "they'll add a modern element to it, they're comfortable with that," she says.
But enough of this serious stuff, because back in the Ecodome, a winsome fellow named Jens Baan from a nursery called Koppert Cress is offering samples of novel greens developed for adventurous chefs in trendy restaurants.
From an array of clamshell containers, he takes the leaf of one plant and folds it around the fleshy stalks of another, named "Salty Fingers."
"This is what we call the vegetarian oyster," he says. The flavour is authentic.
Baan, who is 34 and from Haarlem, is wearing orange pants and a white blazer decorated with embroidered plants. We move on to a magenta orchid flower that tastes like a sweet endive. He takes long tweezers and presents part of a yellow flower that he calls "Szechuan Button."
He waits until a visitor tries it before describing its effect: "It's like putting a nine-volt battery next to your tongue, but it builds up so much saliva it cleanses your palate." The recipient, shocked and salivating, is left speechless.
— Washington Post