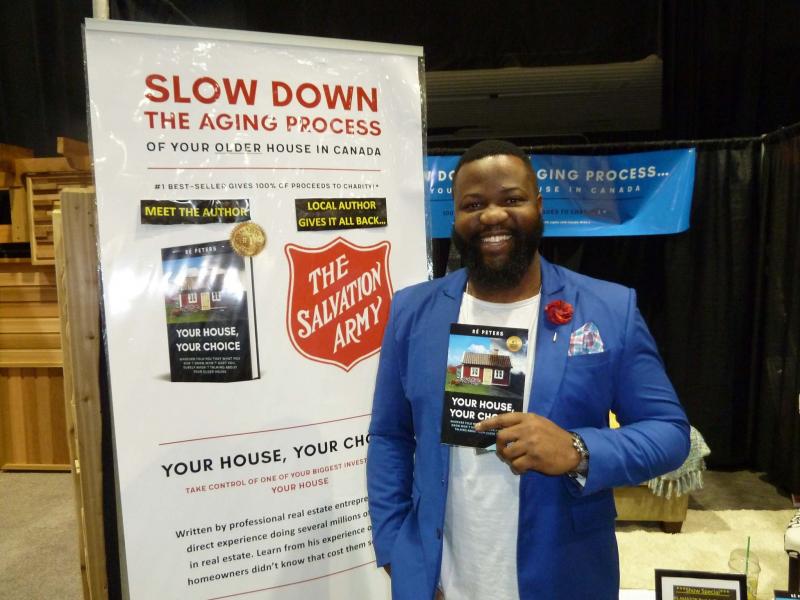 If you're a home owner, allow me to direct you to the most valuable book you'll ever own. The title: Your House, Your Choice.
Allow me to also inform you that by purchasing this book, you are not only helping yourself, but the Salvation Army as well, because 100 per cent of the net proceeds from the first HALF MILLION of these books sold is being donated to that organization
And that's a wrap. See you next week.
Oh yeah, about the book...
While attending the Winnipeg Home and Garden Show at the RBC Convention Centre a while back, I stopped in front of the booth of Re' (pronounced Ray) Peters, whose concept caught my interest.
His sign had me at: "SLOW DOWN The Aging Process," 'cause hey, I'm 68.
Then I saw the last line, which said, "of your older house in Canada."
Ah. OK. The man with the very friendly smile shook my hand, gave me his card, introduced himself and the chat began.
"So the proceeds from the first half million of your books sold is going to The Salvation Army, why are you doing that?," I asked.
"Well, I believe in giving back, and when I first moved here from Nigeria in 2003, I got most of my clothing and furniture from the Salvation Army," Peters said.
"They were very helpful and supportive.
"Because of the business I'm in (Peters is a real estate entrepreneur who has specialized in purchasing distressed properties since 2008), I decided that not only did the homeowner need this information, but I could make the book exponentially more valuable by using the sale of it to help the Salvation Army help the poor and homeless in Canada get back on their feet."
Then he paused, laughed, and added: "Besides, for some reason I have an unreasonable enthusiasm that we can sell this many copies!"
Ah, an "impossible dream" type of guy... I can totally relate. So buy the book, folks, and help this angel get the job done.
By the way, the book is loaded with good stuff every homeowner needs to know.
As detailed on the back cover: "In these pages you'll discover how to identify and slow down the aging process of your house; ways to protect your house with simple maintenance; how to successfully deal with contractors (including a way to save money on renovation costs); things to know about choosing a good real estate agent (things that you've probably never heard about); how to deal with potential buyers like you've done it a thousand times before; and much more."
You know what this book does, in my oh-so-humble opinion?
It gives you a ton of knowledge about preventing your home from falling into disrepair and degrading in value and makes you very streetwise about how not to get ripped off by the many shoddy practices such as those exposed by Mike Holmes over the years.
It educates and empowers you, the bottom line being it can both save and earn you money depending on how you use the excellent information contained within.
I did contact the Sally Ann to get their feedback on the mission Peters has taken on. Major Rob Kerr, divisional secretary for public relations and development for our area offered a glowing testimonial.
"Re' is a very compassionate man who definitely wants to make a positive difference in people's lives," he said.
"We are extremely grateful he has so generously designated the proceeds of this book in support of the Salvation Army."
For further information on Your House, Your Choice, or to purchase the book, check out re-peters.com
Comments or feedback, love to hear from you!
lmustard1948@gmail.com