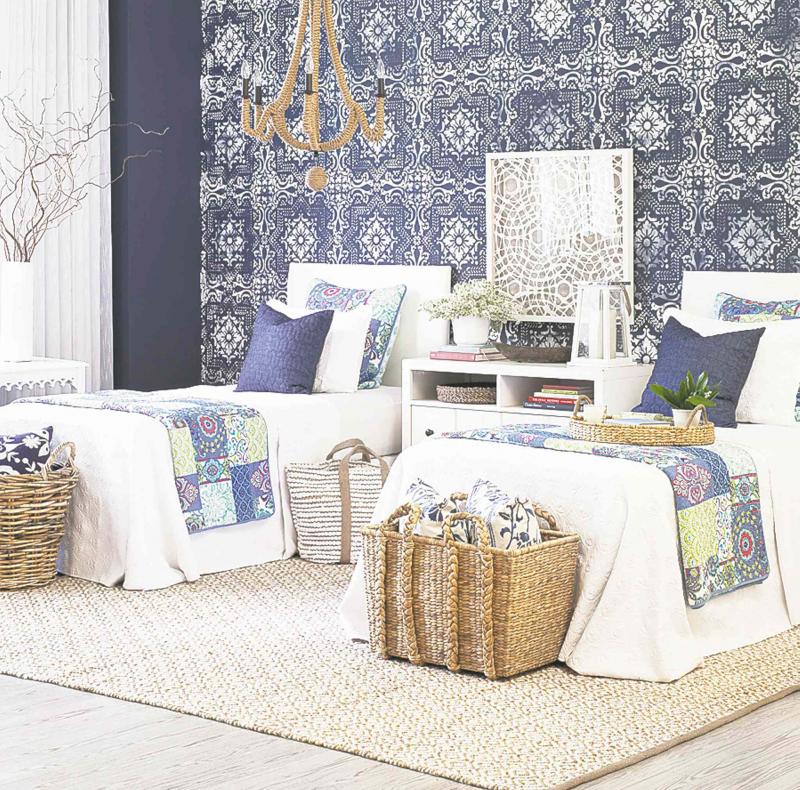 QUESTION: After painting my twins' bedrooms this summer, I decided to change up their bedding and am thinking about duvets. Can you give me some advice on selecting the best type? Neither of the girls has allergies, so down is fine, but is that the best? Also, what size do you recommend for twin-size beds if you want them to drape to the floor?
ANSWER: Autumn is a perfect time to feather the nest, so to speak, and cosy bedding is one way to ward off the seasonal chills. People are often surprised to hear that depending on their fill, duvets can be appropriate all year long. Comforters and duvets come in a variety of fills and quality and that will affect the cost.
-- Down: This is one of the most popular fills due to its light weight and warmth. Experts suggest top-quality down is sourced from the pure white Siberian goose. Less-expensive fills mix feathers and down together. These mixes are often heavier, yet offer a lower insulation value, so don't let weight fool you. From best to worst insulating properties, your down choices are Siberian or Hungarian goose, goose feather and down, duck feather and down and finally, duck feather alone.
-- Polyester fill: Due to their lower cost and hypoallergenic properties, these duvets run a close second to down. They are lightweight and resist settling, but are less effective at regulating body temperature. Some people buy polyester duvets for the summer months, but they prevent the body from breathing and cooling off, making them less than comfortable on a hot night. Also keep in mind these products are not biodegradable and cannot be recycled.
-- Wool fill: Alpaca wool-filled duvets are gaining popularity due to their wicking ability, making them a popular choice for menopausal women with hot flashes. They are effective for all seasons. Similar in price and comfort to a quality goose-down duvet, they can be found in boutique bedding and sleepwear stores.
-- Hypodown: This is a blend of Syriaca floss, taken from the common milkweed, and white goose down. Syriaca is naturally hypoallergenic, so it suppresses the allergic tendencies associated with goose down, allowing more people to enjoy down's benefits. Studies show this combination is more breathable and durable when compared to pure down.
Duvet and comforter labels will indicate the fill power. The higher the number, the better the quality of fill: 800-plus equals superb quality, 700-plus is excellent quality and 600-plus indicates good quality.
Once you've selected your fill, choose the casing. Natural casings offer the greatest breathability. Although synthetic covers are less expensive, they will not regulate body temperature well. For best results, look for covers made of cotton, silk or bamboo.
Check the care tags, as some duvets are machine-washable -- if your machine is big enough -- whereas others are dry-clean only.
Regarding the size for your daughters' beds, you would be best to measure the bed and include side measurements to the floor.
Mattresses come in a variety of depths and this will affect the length of the duvet.
Although some twin-designated duvets are designed to be oversize, you may find a double or full-size more appealing.
QUESTION: I am looking for some quick weekend projects that will increase my home's curb appeal.
ANSWER: Here are some of my favourite ways to add personality to a lacklustre home front:
-- Paint the front door a vibrant colour that accentuates your home with a splash of sass. Think of red, yellow, plum, black. What colour would make the house pop?
-- Replace lights. Make sure the style is compatible with your home design and select fixture sizes that balance its scale.
-- Add interest around the front step. Select a grouping of garden urns and fill them with seasonal flowers or greenery to keep the look fresh. Add furniture items such as a bench, chair or accent table.
-- Consider adding landscape lighting to boost nighttime curb appeal.
-- Improve your address signage with clear and creative options. This is more than visually appealing; it is also extremely practical.
-- If you want to get more ambitious, consider adding a water or stone feature.
Leanne Brownoff is an Edmonton business consultant with vast experience in interior design.
-- Postmedia Network Inc. 2013