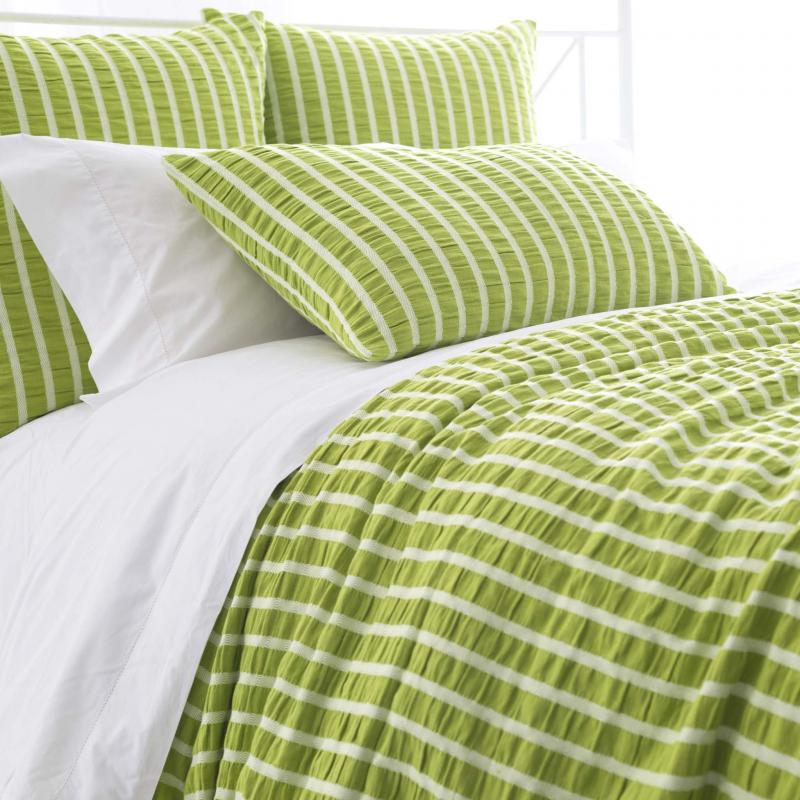 QUESTION: Can you tell me if it is possible to wash a duvet (a good-quality one with goose down) and then dry it in the dryer? In the past I had it dry cleaned but I don't care for the chemical scent afterwards.
— Marian
Answer: The safest bet when laundering any item is to adhere to the care label instructions which may specify dry clean only. If you choose to wash and then dry the comforter at home, you will require a large capacity washing machine. Stuffing a duvet into a smaller machine can damage the machine as it becomes unbalanced during the process. Many people have great success by handwashing a duvet in the bathtub, draining the water and loading the duvet into the dryer. Or washing the comforter in the washing machine and drying it in the dryer. Wash and dry the textile as usual. During the drying process, open the door and move the item around so that it dries evenly. The duvet should be completely dry before removing it from the dryer so that the feathers fluff properly.
Question: How can I stop my sneakers from squeaking when I walk?
— Phyllis
Answer: Most of the squeak comes from the insole of the shoe. Remove the insole and sprinkle the bottom with baby powder; this should take care of the noise. If the squeak remains, figure out where the squeak is coming from and spray that area with WD-40.
Question: Recently when I was cleaning our gas fireplace, some soot from the imitation logs landed on our grey carpet. I tried removing it, but there is still a spot. What can/should I have done to remove the soot stain? Any suggestions would be appreciated.
— Barney
Answer: In a spray bottle, combine 1 cup water and 1 tsp. dish soap. Liberally spray the carpet. Blot with a white cloth. Liberally sprinkle baking soda onto the stain. Spray with white vinegar. Dab with a white cloth. Repeat until the stain is gone.
Crispy and delicious homemade french fries:
1. Preheat oven to 425 degrees Fahrenheit
2. Scrub Russet potatoes to make homemade fries that hold their shape.
3. Leave peel on or remove — it's your preference.
4. Cut into french fry shapes. Soak in a bowl of water for 30 minutes.
5. Dry on a towel.
6. Microwave potatoes for four minutes on high. Blot with a towel to dry. Sprinkle with vegetable oil to coat.
7. Place an empty baking sheet in the oven. Leave 10 minutes and remove from oven. Do not add season at this point.
8. Place potatoes on the pre-heated baking sheet in a single layer.
9. Cook in the oven for 20 minutes or until golden brown. Flip french fries halfway through cooking time.
10. Remove from oven and, while hot, sprinkle with salt, pepper and Parmesan cheese (optional).
Note: Every user assumes all risks of injury or damage resulting from the implementation of any suggestions in this column. Test all products on an inconspicuous area first.
Reena Nerbas is a popular motivational presenter for large and small groups; check out her website: reena.ca. Ask a question or share a tip at reena.ca.