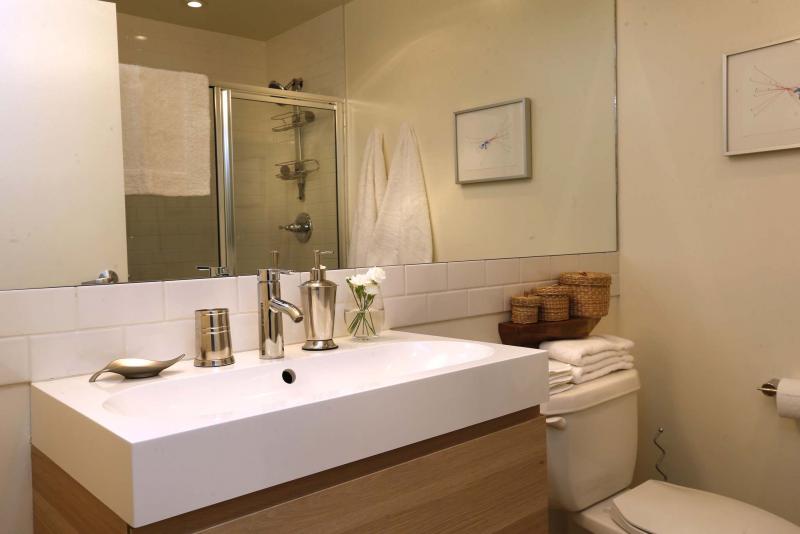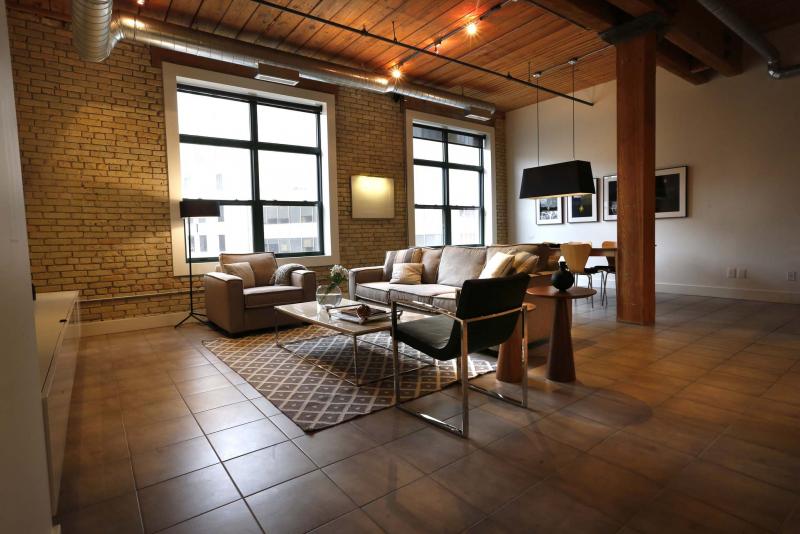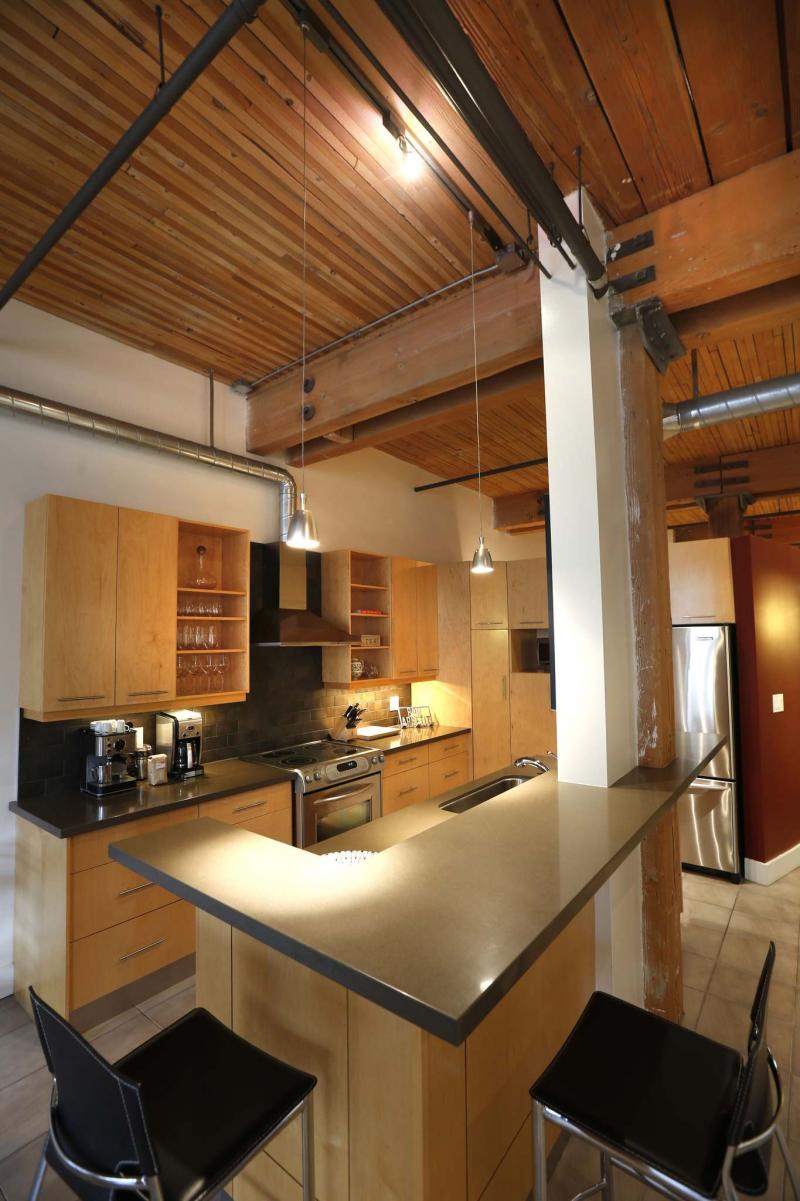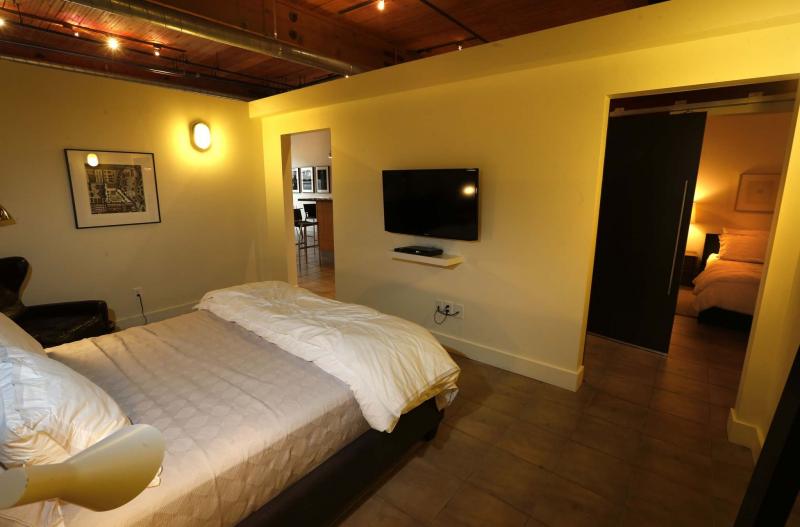 Back in 1905, construction began on a brick warehouse at 181 Bannatyne Ave., just east of Main Street.
When work was completed in 1907, the end product — which, incidentally, was designed by C.H. Walker — was a six-storey building with a stylish, simplified Romanesque Revival-style facade that featured a stone front and huge windows.
For years, the building thrived as a warehouse, due in large part to its proximity to a railway spur track — and, of course, the busy Main Street business district. However, times change. Over the years, a once-vibrant area declined, and the warehouse, no longer viable, fell into disuse.
In 2005, A & S Homes — seeing the building's potential to create unique housing in the historic Exchange District — repurposed the building, performing a masterful conversion that filled the former warehouse with a collection of unique loft-style condominiums, giving it the moniker of The Lofts on Bannatyne.
And now, one of those unique, character-filled units is for sale, says RE/MAX Executives Realty's Sherri Baldwin.
"It's an absolutely stunning suite," she says. "Not only is it in a great location in such a wonderful, historic area, but it's a tastefully-decorated unit that's exceptionally clean and very well-kept. Best of all, its open-concept floor plan features a perfect mix of old and new design elements."
Let's start with the suite's open-concept layout, which feels exceptionally open due to the fact that ceiling height throughout the unit is in excess of 11 feet.
Add in a pair of massive (south-facing) windows on the back wall that are set off in yesteryear style by original exposed brick, and you have a naturally bright suite (made even brighter by track lighting placed at regular intervals on the ceiling above) that's endowed with modern function.
At the same time, well-preserved and well-spotted design features tie the unit masterfully to its proud past, while infusing it with touches that give it a contemporary feel. In other words, the best of both worlds from a design perspective.
"The suite is filled with gorgeous exposed brick, barn wood beams and posts, exposed ductwork and soaring, fir-lined ceilings that link it to its turn-of-the-century origin," Baldwin says. "At the same time, the suite is also filled with features that give it the efficient, modern function that people are looking for."
Those features include a sleek, modern kitchen that comes equipped with a huge island with raised eating bar, tons of natural maple cabinets, taupe Silestone (quartz) countertops, oversized stainless steel (under-mounted) sink, bronze subway tile backsplash, European stainless range hood and newer stainless appliances. Ceramic tile flooring also runs throughout the entire suite.
There's also a huge formal dining area off the kitchen (next to one of the huge windows on the suite's rear wall) that currently holds a table that seats eight, and a huge living room (set next to the other window) that features a stylish, built-in entertainment unit — plus plenty of room for a desk or sitting area on an interior wall directly across from the brick-and-glass laden rear wall.
Baldwin added that the unit's expansive square footage — along with its high ceilings and open-concept layout — gives it a spacious, house-like feel.
"At 1,710 feet, the suite is larger than most. The living room is huge (at 18.5 feet by 15 feet), the dining room is quite spacious (12 feet by 8.5 feet) and the kitchen is even 14 feet by 12 feet. No matter where you are in it, you never feel as if space is lacking."
Head back toward the front of the condo, a closer inspection of the spaces in that area reveals two large bedrooms. The master suite checks in at a spacious 15.5 feet by 10.5 feet, while the second bedroom — located on the opposite side of a sufficiently-wide hallway — is plenty big at 13.75 feet by 9.58 feet. Once again, both spaces feel larger due to the high ceilings.
"I love the master suite — there's all kinds of space and light, and it also has a nicely renovated three-piece ensuite with (five-foot) glass/tile shower, rift oak vanity, tile floor and pedestal sink. The walk-in closet is also absolutely huge," she says.
Finally, there's the front portion of the home, which features a foyer demarcated by a curved wall that leads you stylishly into the suite's interior. That interior is prefaced by a foyer surrounded in functional, contemporary fashion by a laundry room (left) and three-piece bath, storage room and coat closet (right).
"Having in-suite laundry is a great feature, as is having a second bathroom — it's close to the second bedroom and is easily accessible by guests if you're using it as a guest bedroom. The layout and design of this unit is absolutely fantastic."
She added that the suite comes with another very desirable amenity.
"It comes with an indoor parking spot, another great feature. This is urban living at its best in a gorgeous, livable suite that's walking distance to downtown, shops, offices, restaurants, shops, theatre, concerts, The Forks, MTS Centre — and so much more."
lewys@mymts.net
Details
Location: 302-181 Bannatyne Ave., Exchange District
Year Built: 1907
Style: Loft-style condominium
Size: 1,710 sq. ft.
Bedrooms: 2
Bathrooms: 2
Condominium Fees: $485.56/month
Price: $439,900
Contact: Sherri Baldwin, RE/MAX Executives Realty, 204-947-9800 or 204-979-7650