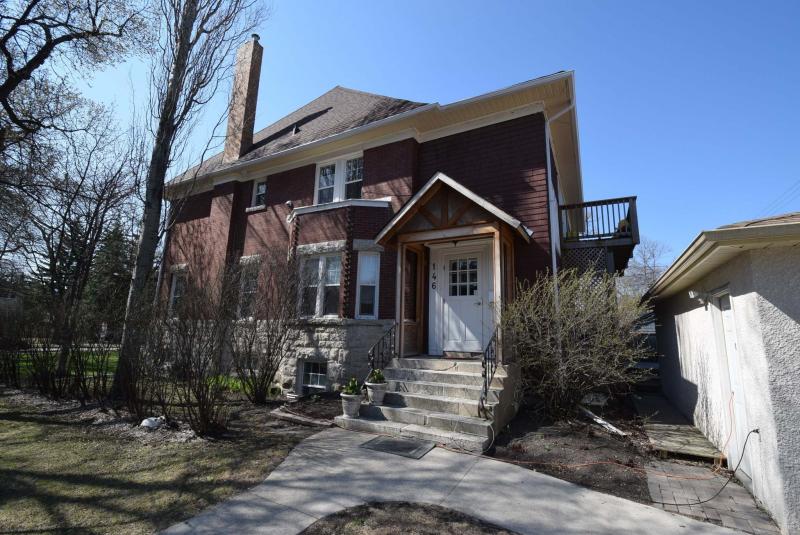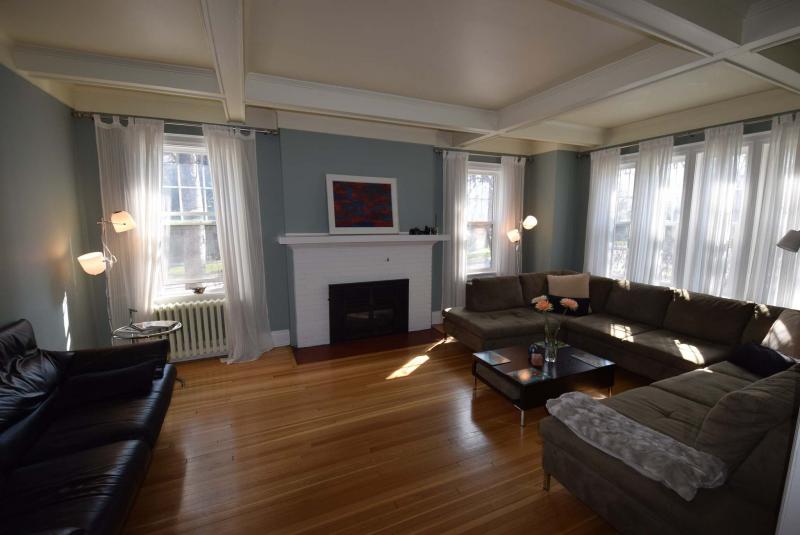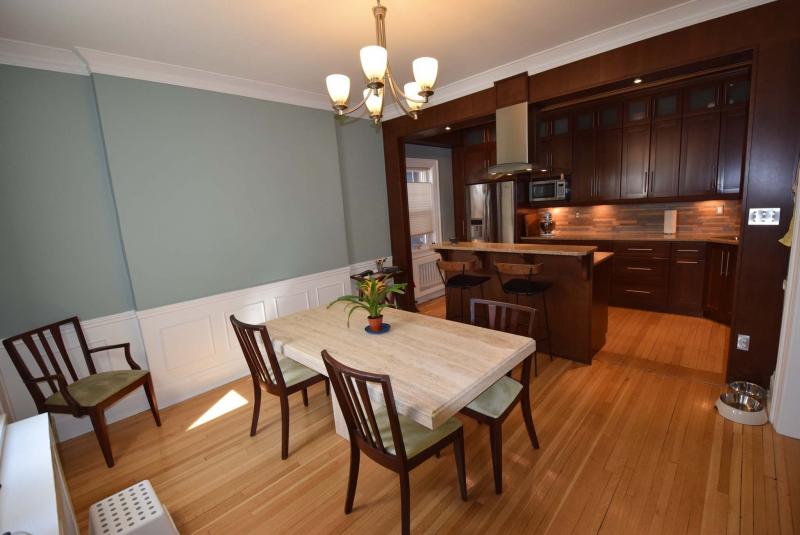 It's a home that RE/MAX Executives Realty's Debra Ann Kaminsky refers to as rare on two counts.
"First, it actually has two addresses," she says of the 4,200-square-foot Crescentwood classic, which was built in 1913. "There's actually one (side) entrance on Wilton Avenue, and another (front) entrance on Yale Avenue. The home was a single-family home, but at some point in time — we're not exactly sure when — the home was turned into a duplex."
She adds that the home is rare in a second — and very good — sense.
"Few homes in this area have been restored to this level. The outgoing owners carefully renovated the two suites to bring back the natural character that was part of the home's original design. It features a wonderful combination of classic and modern design features."
Classic features include beamed ceilings, 10-inch baseboards, ornate crown mouldings, original (refinished) oak hardwoods, brass and crystal doorknobs — even a stained glass artwork feature piece in the foyer's hallway in the main floor suite that can be negotiated into the sale.
And while the oak hardwoods, high baseboards and stained glass artwork catch your eye the moment you walk in the main floor's front door (which is fronted by a quaint covered porch), your eye is then drawn to the left, where the kitchen is situated.
Turns out, it is not a cramped, dated space that takes you back to the home's inception. Rather, it features a fetching combination of contemporary and classic design motifs.
"Both kitchens — not just the main floor kitchen — have been upgraded beautifully with granite countertops, raised breakfast bars, cherry wood cabinets, tiled backsplashes, built-in cooktops and stainless steel appliances," Kaminsky says. "And the main floor bathroom is gorgeous with its travertine tile floor and walls, tempered glass/tile shower and beautiful vanity."
As might be expected of a home built more than 100 years ago, 269 Yale/146 Wilton features a centre-hall floorplan. While such plans can be unwieldy in smaller homes, no problem here, as the home is, shall we say, expansive at more than 4,000 sq. ft. in size.
Consequently, the sitting/living room across the way from the kitchen — which is set in another generous space that also includes a large dining room, with picture window on its front wall — is big enough to hold a ton of furniture on either side of its entrance, yet not so big that it loses the cosy, intimate feel that such spaces are known for.
Kaminsky says there's another feature that lends a distinct livability to both suites.
"There's a ton of huge (newer, tri-pane) windows that let in all kinds of light, making for a naturally bright spaces on all three levels of the home. Even if you don't have the lights on, it's bright inside."
The main floor and basement — the latter contains another rare feature, (original) hardwood floors — offer a total of four bedrooms, plus two baths. There's also an office on the main floor, along with a rear entrance that leads to a backyard deck. Downstairs, there's also a beautifully done rec room, as well. Both bedrooms also have legal-sized windows.
Head upstairs via the side entrance (146 Wilton) and you find the same synergy of classic and modern design features — and great attention to detail.
Ornate oak staircases and original hardwoods co-exist in perfect harmony with modern features: a kitchen with breakfast bar, granite countertops, cherry cabinets and stainless appliances next to a spacious, tastefully-finished dining area that's adjacent to another special space," Kaminsky says of the designated (2013) Century Home.
"There's a beautiful sunroom surrounded by windows off the dining room with patio door that leads to a balcony (or elevated deck). There's also a remodelled bathroom and wonderful sitting/living room on the second floor, plus two more large bedrooms on the third floor. The master suite on the second floor is an amazing space, too. It has both a four-piece ensuite and walk-in closet, another feature rare for a home this age."
Not surprisingly — due to the owners' exceptional attention to detail — both floors also possess another modern convenience: in-suite laundry rooms. Other modern amenities include speakers placed through all three floors and modern lighting fixtures.
The home — which is zoned R-2 to qualify as a legal duplex — has also been upgraded in another key area, she adds.
"To the best of their knowledge, the owners state that they don't know of any knob and tube wiring in the home, so there shouldn't be any issues in that regard. Each suite is also separately metered to track utility costs, and the newer windows should also help keep energy costs at a very reasonable level."
Kaminsky says those looking to invest in a vibrant — and viable — rental property should take a serious look at 269 Yale/146 Wilton.
"It's in a great, central location, and with all the upgrades and character, there's basically been a lineup around the corner when the suites have come up for rent. The main floor can generate $2,000 or more per month, and the second and third floors combined can generate $2,500 to $3,000. This is an exceptional, unique property that has so much to offer investors — and those that choose to make the wonderful suites their home."
lewys@mymts.net
Details
Location: 269 Yale Ave./146 Wilton Ave.
Year Built: 1913
Style: 2.5 Storey Duplex
Size: 4,200 sq. ft.
Bedrooms: 6
Bathrooms: 5
Price: $769,900
Contact: Debra Ann Kaminsky, RE/MAX Executives Realty, 204-477-4444
Open House Sunday, May 7 from 2 p.m. to 4 p.m.