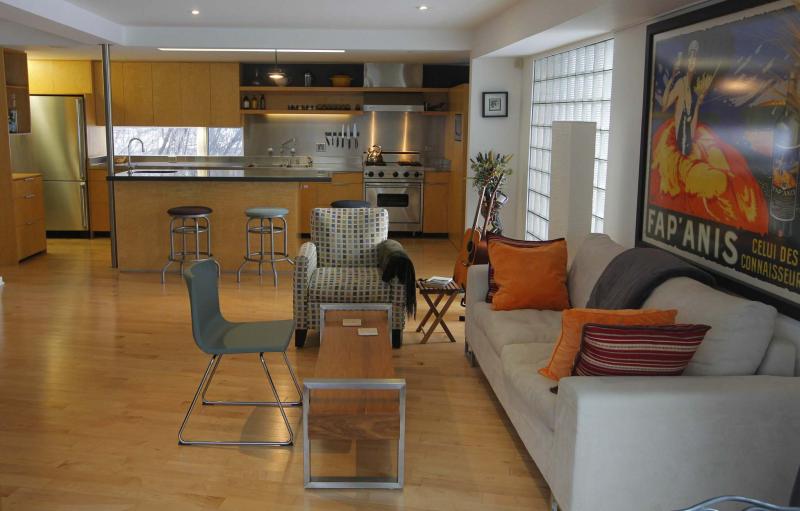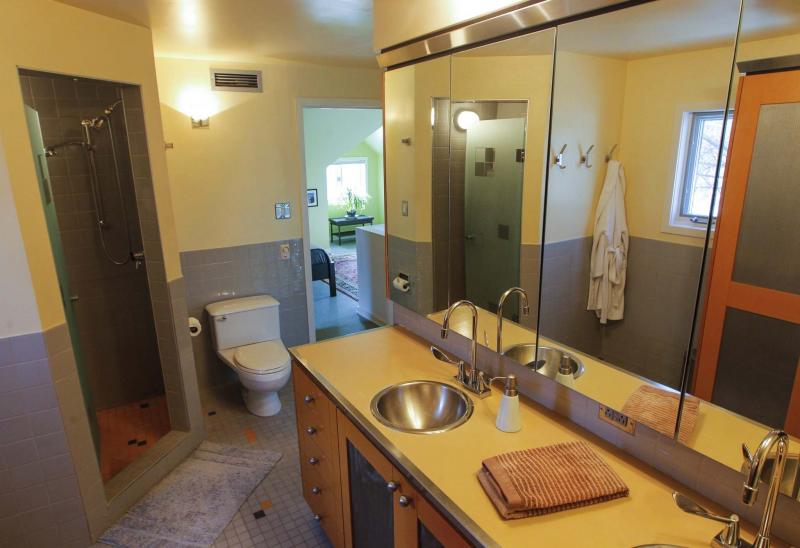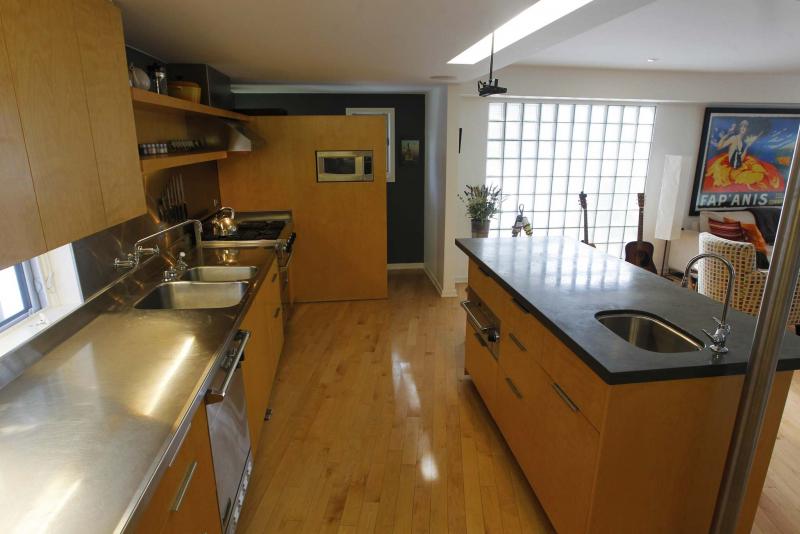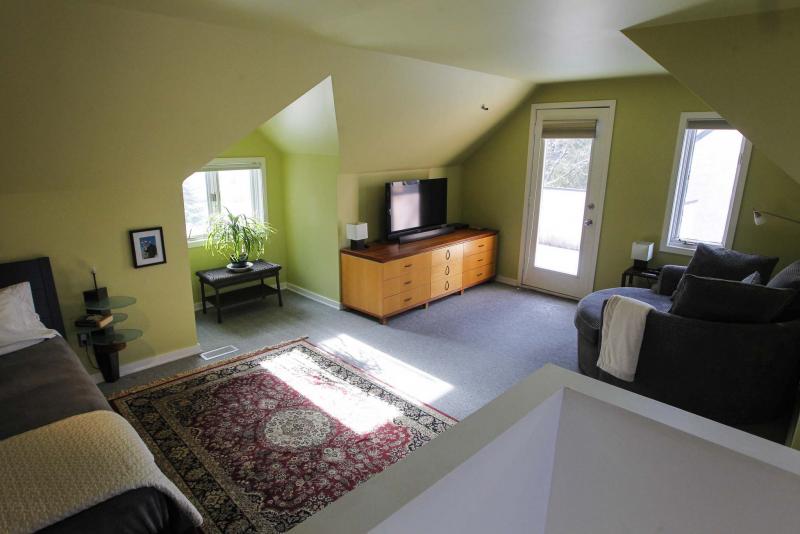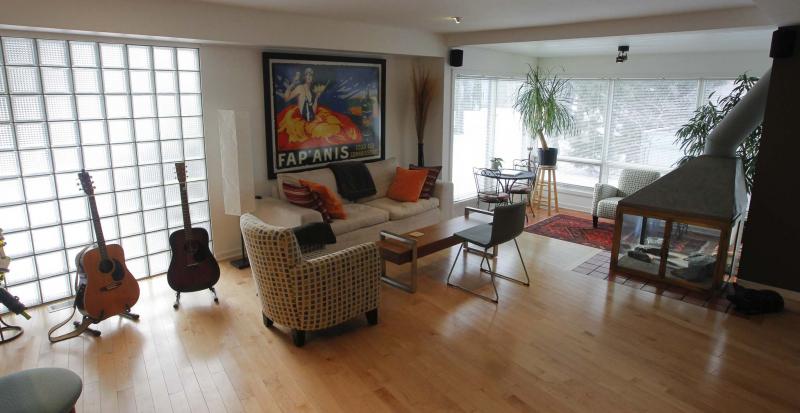 Developed in the mid-1940s Wildwood Park has long been viewed as a unique — and alluring — neighbourhood.
With its absence of front roads and other unique design features — such as central green space, communal walkways and playgrounds and parks — the neighbourhood truly was a ground-breaking project when it was conceived.
Now, roughly 70 years later, the area is regarded as one of Winnipeg's special neighbourhoods with its unique layout, park-like ambience and diverse, character-laden houses. One of those character-filled houses is now up for sale, Century 21 Bachman & Associates' Cole Castelane says.
"The fact that it's situated on a huge 80-foot-by-120-foot lot in itself makes it a rare home — it's one of the biggest lots in the neighbourhood," he says. "And because it's a corner lot, it gets tons of sunshine. At the same time, it's surrounded by mature trees that provide privacy, and keep the home cool during the summer."
One of the most notable things about the two-storey, 1,600-square-foot house is that although it was built in the 1940s, it doesn't feel dated. Castelane says there's a reason for that.
"Basically, the owners just kept updating it and adding on over the years. For example, they put an addition on the rear of the home that created a spacious foyer with a soaring ceiling (which includes a skylight overhead). That really opened up the stairway that leads to the master suite upstairs. And the master suite is just a really cool space."
It's a cool space for two reasons.
First, its front wall was removed, opening it up to the foyer with its skylight and a trio of piano windows that bath it in natural light. Second, an area that once held two bedrooms and a bathroom was converted — masterfully — into a loft-style master suite.
"It's an amazing space," Castelane says. "At one end is a sitting/media area next to a patio door that leads out to a private balcony. At the other end is the bedroom itself, which features all kinds of (natural maple) storage, from built-in dressers, to built-in wardrobe cabinets. The bedroom is also surrounded by three good-sized windows, which let in even more natural light."
He adds that the bedroom holds another special space — a three-piece ensuite.
"You not only get a tiled, low-step-over shower (with frosted, tempered glass door), but you also get a heated tile floor, big vanity with dual sinks and cabinets that offer a linen closet plus an absolute ton of storage space. The master suite is your own bright, relaxing tree-top retreat."
Head back down the rock-solid staircase to the main floor and you find a contemporary, wide-open main living area that — once again — is filled with natural light.
"I just love the fact that the entire area is surrounded by windows," Castelane says. "Everywhere you look, there are windows — a huge glass block window on the side wall that lets in light, but retains privacy, two windows over the (stainless steel) counter to the left of the (double) sink, and five more windows that surround a sunken sunroom off the end of the living room."
Add in a three-sided gas fireplace (with funky, angled stainless steel hood) next to the sunroom, a formal dining area — and natural maple hardwoods that run through the main living area's entirety — and you have an area that possesses an exceptionally high livability quotient.
"Everything just comes together to create an ambience that's livable, relaxing and functional all at once," he says. "You've got tons of natural light, great flow between spaces plus a killer kitchen."
Turns out, Castelane isn't indulging in a spate of hyperbolized realtor-speak.
There's a big island with grey cement countertop, a sink and seating for three, tons of gorgeous natural maple cabinetry, stainless countertops and high-end Ultraline appliances (natural gas range, huge fridge, built-in warming stove, built-in microwave).
For added convenience, there's a separate, dedicated pantry — with slit-like glass block window — off the end of the kitchen behind the wall-mounted microwave.
"It's an area that's just perfect for entertaining," he says. "There's also a four-piece bath next to the kitchen, and the den next to the dining room could be converted back to a bedroom if you wanted to have a bedroom on the main floor."
Meanwhile, the home's lower level is also very functional.
"There's a bedroom, good-sized area that could be developed into a rec room/media area and a huge laundry/mechanical/storage room with high-efficient furnace, newer hot water tank (2014), central vac, laundry sink and plenty of storage space," Castelane says. "The fact that the home's basement is livable is a real plus."
Finally, there's the house's location.
"You're in a gorgeous area that's close to the river, trails, parks and that's perfect to go jogging or cycling down streets lined with stands of mature trees. You're also close to a host of amenities in the city's south end, and you're also close to downtown," he says, adding the house comes equipped with a detached, heated art studio and double detached garage. "It's hard to find a house that combines character, location and livability so perfectly."
lewys@mymts.net
Details
Location: 110 Wildwood Park, Wildwood (East Fort Garry)
Year Built: 1947
Style: Two-storey
Size: 1,600 sq. ft.
Bedrooms: 2 plus main-floor den
Bathrooms: 2
Price: $469,800
Contact: Cole Castelane, Century 21 Bachman & Associates, 204-453-7653