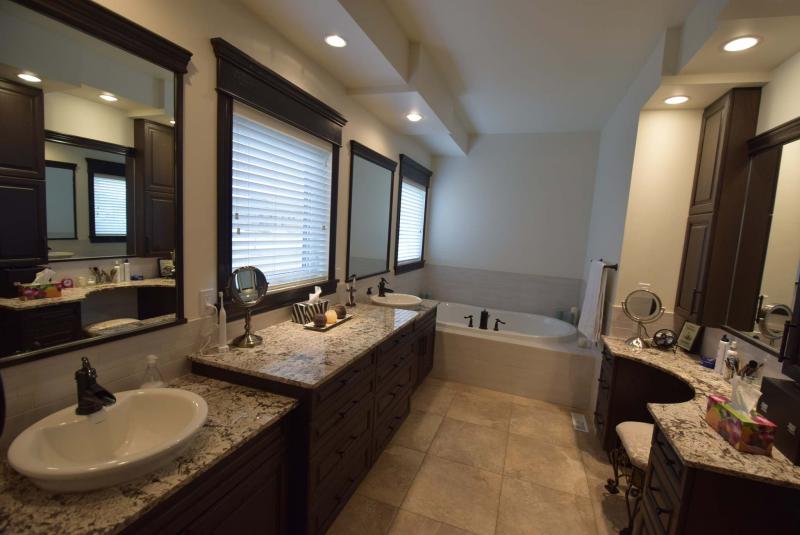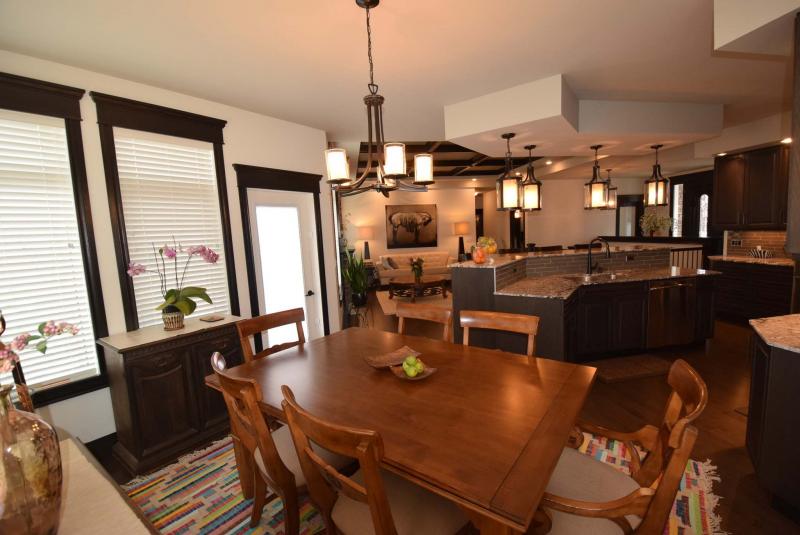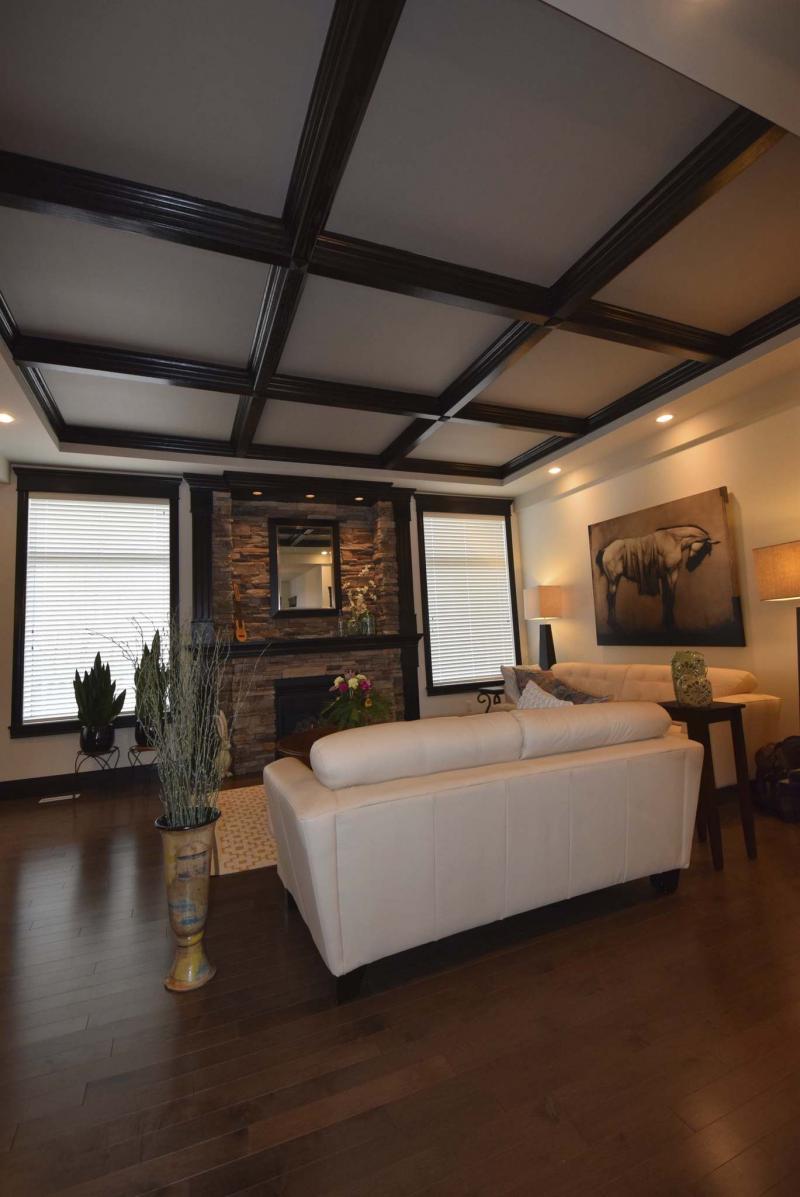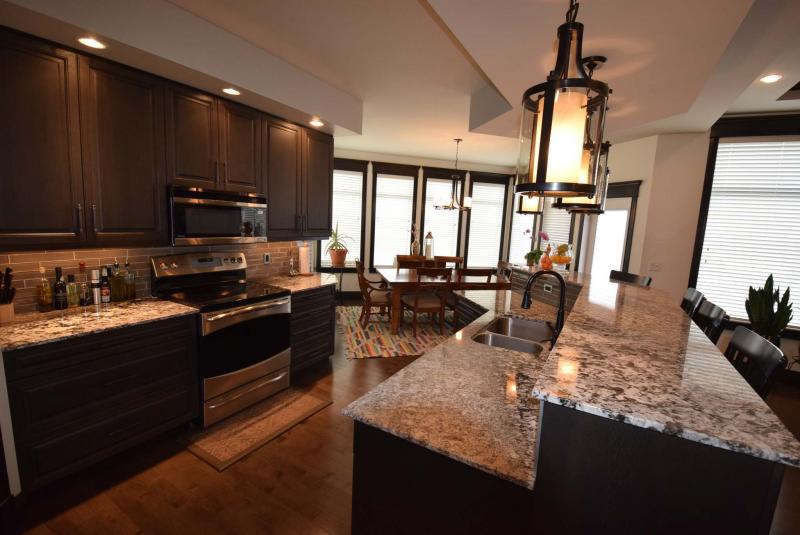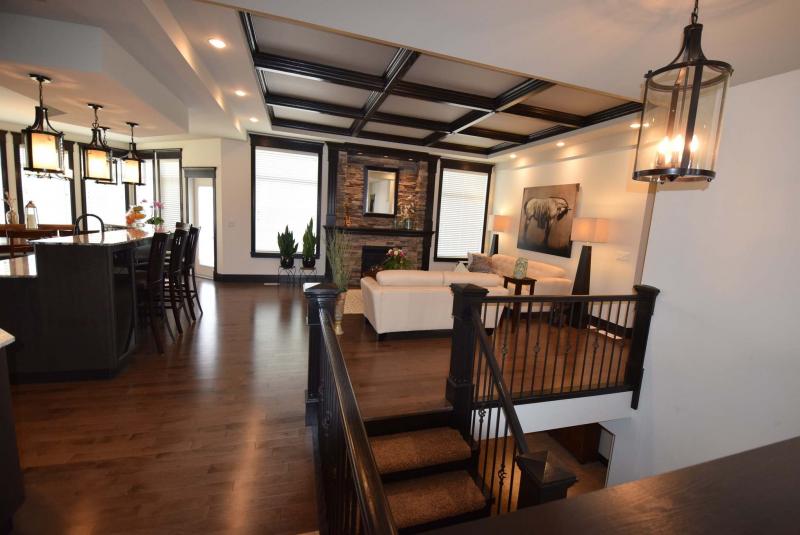 As it pertains to homes, there are instances where it doesn't take long to discern quality.
Turns out, 16 Tanglewood Dr. is one of those instances. Built by Sapphire Homes in 2012, the 2,014 sq. ft. bungalow — which is situated on a huge, 101 x 160-foot lot on the outskirts of La Salle — starts with a luxurious (taupe) porcelain tile foyer, bordered by a one-third, cultured-stone wall with intricate, handmade espresso oak trim and capping.
That's just the beginning of a beautifully crafted home, says Royal LePage Top Producers' Michael Leclerc.
"The moment you enter it, you're just captivated by all the charm and character it possesses," he says. "The attention to detail that you see throughout the home is incredible."
In essence, 16 Tanglewood's design is a breathtaking synergy of yesteryear (early 1900s) and contemporary design. On one hand, there's the open-concept layout, which is as contemporary — and navigable — as you'll find anywhere.
Then, there are the yesteryear touches, which, because they're so well-placed, work wonderfully.
"You just don't see design features such as raised panel doors, doors and windows with lintels, hand-carved stair railing, wainscoting and six-inch baseboards much anymore in homes," Leclerc says. "Another wonderful design feature is the coffered (or beamed) ceilings in both the family room and den/bedroom (the latter also has wainscoting on the lower portion of its walls). They add a special beauty to the home."
No matter where you venture in 16 Tanglewood, you feel enveloped by a rich, cosy feel. Meander into the family room and a cultured stone fireplace with gorgeous espresso oak trim — it's set perfectly between two huge vertical windows — is a focal point that will bring your blood pressure down a notch or two after a particularly trying day.
Angle left toward the kitchen and you find an angled island with raised eating nook for four to five (plus carriage-style pendant lights above), corner pantry, granite countertops, a dark taupe tile backsplash and espresso oak cabinets. Espresso black oak hardwoods infuse the great room with additional warmth.
Train your gaze toward the end of the kitchen and you find another special space, says Leclerc.
"There's a solarium-like dining room (which can seat eight or more) set next to a collection of eight large windows plus a patio door that leads out to a backyard deck. If you look back at the great room and foyer from the dining area, you see an area with stunning decor, from the fireplace to the oak staircase, with its beautiful metal spindles, and of course, the coffered ceiling. You also have a contemporary feature — a main level laundry room — between the foyer and kitchen."
Take a right off the family room and you find a private bedroom wing that's populated by a den/bedroom, well-appointed four-piece bath and two more bedrooms. Not surprisingly, the master suite is the wing's pièce de résistance.
"It's a huge, relaxing space that comes not only with a generous (to say the least) walk-in closet, with built-in storage with espresso oak trim, but its ensuite is absolutely gorgeous, with its heated tile floor, oversized soaker tub surrounded by a beautiful tile backsplash and tile/glass shower, with both rain showerhead and hand-held showerhead," Leclerc says. "The espresso oak/granite vanity, with it's oval dual sinks, is also a thing of beauty."
Meanwhile, the four-piece bath features a pair of spaces on either side of it: a second "spare" master suite and the aforementioned den/bedroom.
"The den could be easily converted into a bedroom if you want a third bedroom upstairs. If you choose to use it as a den/study, it's a perfect space for that purpose, with its wainscoting and coffered (beamed) ceiling."
Thanks to a rock-solid, hand-carved espresso oak staircase, descending to the home's lower level (all 1,400 sq. ft. of it) is a pleasure. As is the case on the home's main level, the rec room that opens up in front of you features a functional design that's at once modern, yet classic.
"The first thing you see is a gorgeous cultured stone (natural gas) fireplace," says Leclerc. "To the left of it and its adjacent sitting/media area is a wet bar, games/sitting area — and an oval door with stone details that leads to a wine cellar."
That isn't the end of the lower level, not by a long shot.
"There are three more bedrooms, a full bath featuring Kohler, Fiat and Pfizer fixtures, plus a huge storage room. In all, the home offers over 3,400 sq. ft. of total living space."
It also offers exceptional quality both inside and out, he adds.
"Construction is all high-tech, with a wood structural floor, an insulated foundation, engineered floor joists and steel I-beam spans. The exterior stonework and aggregate front steps and driveway are not only beautiful and low-maintenance, and you also get professionally landscaped side- and backyards — and engineered stone front entrance with pillars. The home is in pristine condition and will have much to offer its new owners."
lewys@mymts.net
Details
Location: 16 Tanglewood Drive, RM of MacDonald (La Salle)
Year Built: 2012
Style: Bungalow
Size: 2,014 sq. ft.
Bedrooms: 5
Bathrooms: 3
Price: $699,900
Contact: Michael Leclerc, Royal LePage Top Producers, 204-989-6900