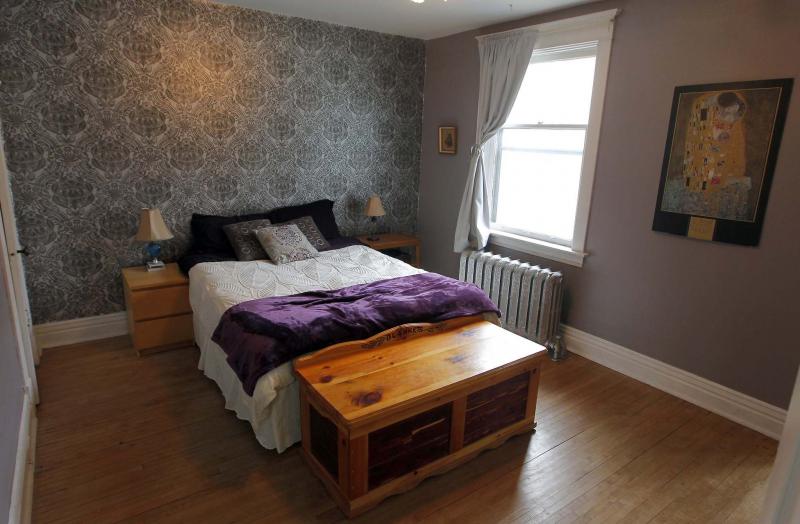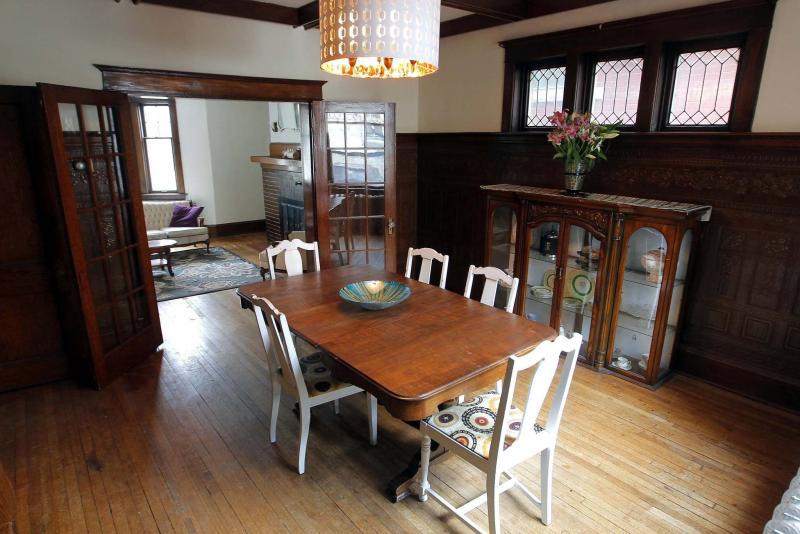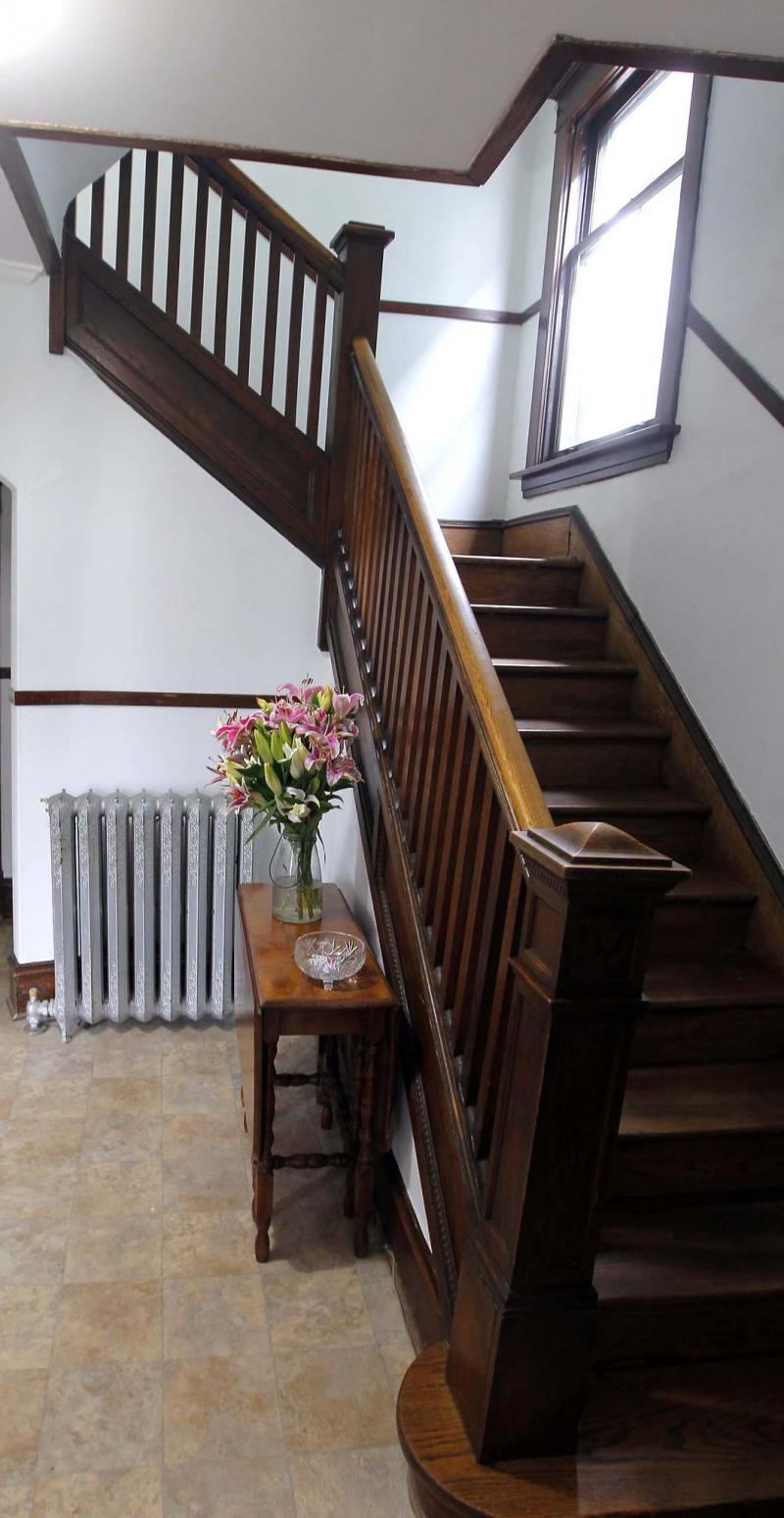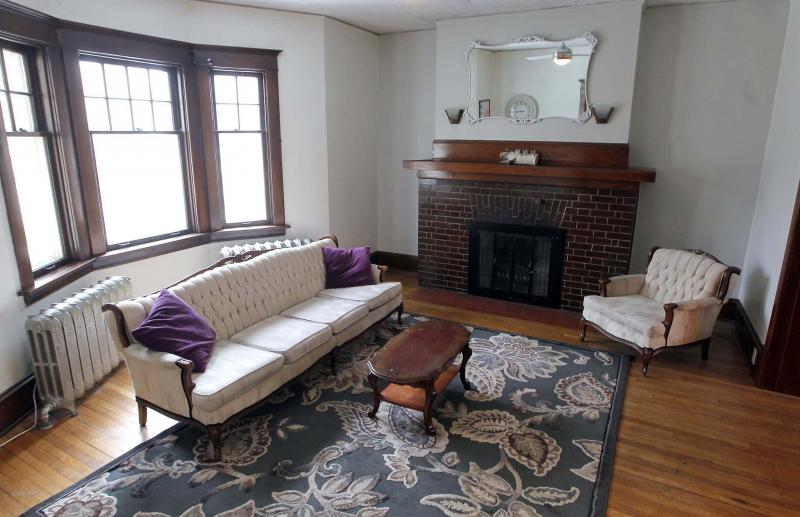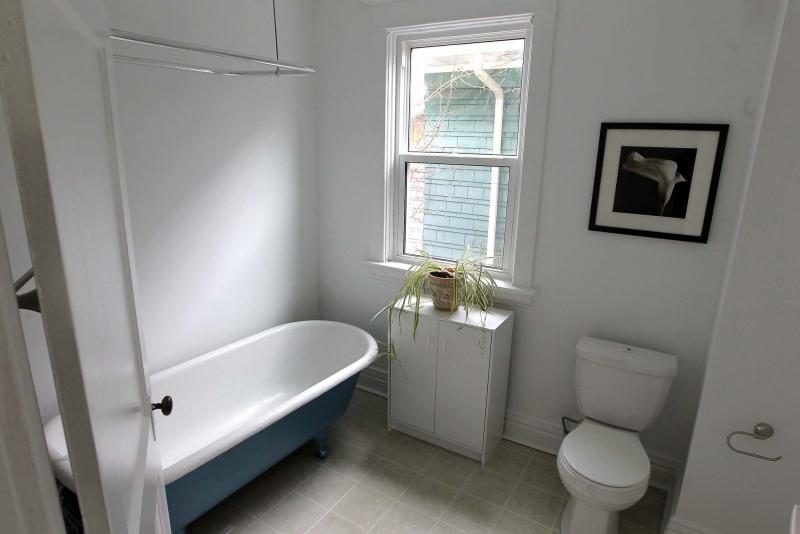 It's a rarity in Wolseley: a stately 2,482 square-foot home bearing a price tag of $339,900.
There's a reason for that, says Realty Executive First Choice's Eric Neumann.
"The home needs some TLC in a few areas, so we've listed it at a reasonable price so whoever buys the home can put $20,000 or $30,000 into the home and get the value of those improvements back right away. For the price, you're getting a lot of space — and ton of classic, turn-of-the century style and quality."
Without question, 32 Purcell — all three levels of it — is a Wolseley classic in every sense. That classic style starts with the home's exterior and then extends seamlessly into the foyer, Neumann says.
"You're greeted by a beautiful exterior stone front with covered porch — a bonus is that the roof was redone in 2016. The wide grand entrance holds an original hand-carved oak staircase, gorgeous woodwork (oak door/window trim, lintels over doors) and a coat closet. Walk a little further in, and you'll see that there's a main floor powder room — a feature that's rare in turn-of-the-century Wolseley homes."
Unlike many Wolseley classics, 32 Purcell's foyer slants to the left, leading immediately in to a living room that's fronted by original oak/glass French doors.
"Walk inside and you find a generous space (14.1 feet by 14.1 feet) that features a huge bay window on its front wall, high ceiling, beautiful brick fireplace, original hardwoods, 10-inch baseboards and an elegant original radiator," Neumann says. "Another set of French doors then lead to a stunning dining room with beamed ceiling, hand-carved wainscoting and oak-trimmed windows with lintels. The character and detail is just incredible."
A doorway at the rear of the dining room leads into a functional kitchen that holds a spacious butler's pantry (with tons of shelving, cabinetry and double sink) that's separated from the cooking area. A wall with a vertical cut-out opens it up to the prep area, while a doorway off to the side links the pantry and prep area in neat fashion.
There's another cool feature set off to the left side of the cooking area, Neumann adds.
"Again, it's something that's rare in Wolseley-area homes — a breakfast nook/sunroom with heated floor and patio door that could lead out to a future deck. You could also possibly knock out or lower the wall between it and butler's pantry to open up the kitchen a bit more. As it is, it's a bright, functional space."
Head upstairs via the ornate, well-preserved oak staircase and you arrive at the house's second level, which features a big, bright landing that's surrounded by three bedrooms and a four-piece bath. Despite the landing's generous size, all three bedrooms are a very good size, as is the bathroom (the latter once again something of a rarity).
"Two of the bedrooms are quite large, so you can either use the one at the front (overlooking the street with its mature trees), or the back, depending on your preference," he says. "The bedroom up front features a bay window and ornamental brick fireplace, while the rear bedroom has a doorway that leads to a heated, four-season sunroom that could possibly be used as a nursery."
Then, there's the third bedroom and aforementioned four-piece bath.
"The bedroom has a closet, so it could be used either as a bedroom, den or artist's studio. All the windows in the bedrooms are huge, so there's also tons of natural light."
Finally, there's the home's uppermost — and final — level.
"It holds another two huge bedrooms," Neumann says. "Not only does it have the two bedrooms — they'd be perfect for teenagers who want their own private space — insulation was recently added to make it more energy efficient. The bathroom is much larger than normal and contains a clawfoot tub that ties in beautifully with the home's classic, turn-of-the-century style."
Meanwhile, the home's basement is functional, offering a laundry area and loads of storage space in the form of two large storage rooms. The amenities don't end there, Neumann adds.
"The backyard features a garage and parking pad for two vehicles, a deck and great views of the beautiful stonework at Westminster United Church behind the home. Best of all, you're in a wonderful, mature neighbourhood."
A neighbourhood that's not only steeped in history, but that's also central and as friendly as you'll find anywhere.
"The neighbourhood just got together to stage an Easter egg hunt — it's a very sociable, tight-knit area," Neumann says. "You can walk everywhere past all the gorgeous trees to shops and restaurants and you're also close to public transit. This home represents a wonderful opportunity to get into a solid, stylish Wolseley classic for a reasonable price in just an absolutely great location."
lewys@mymts.net
Details
Location: 32 Purcell Ave., Wolseley
Year Built: 1912
Style: 2.5 Storey
Size: 2,482 sq. ft.
Bedrooms: 5
Bathrooms: 1.5
Price: $339,900
Contact: Eric Neumann, Realty Executives First Choice, 204-885-8999