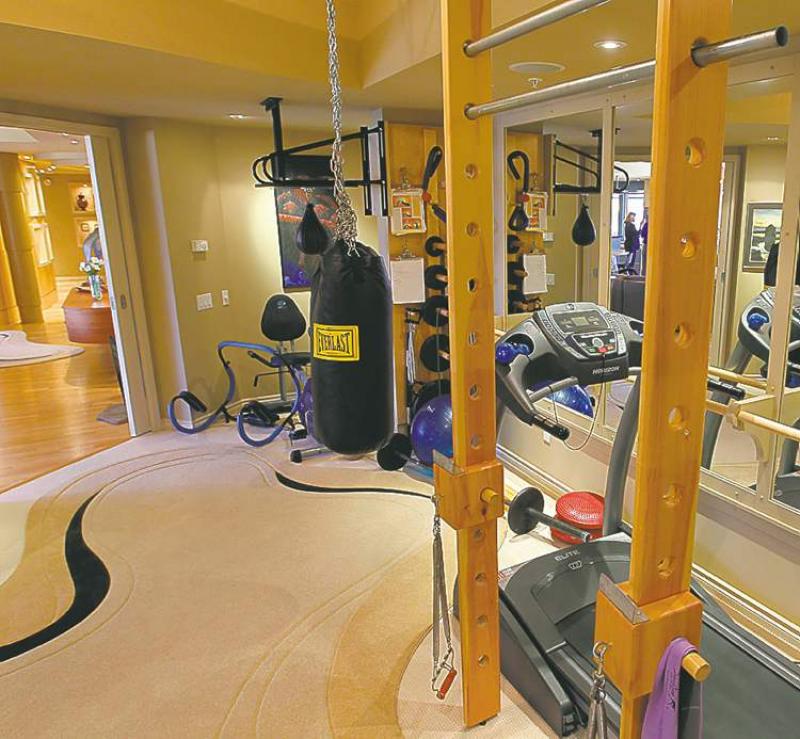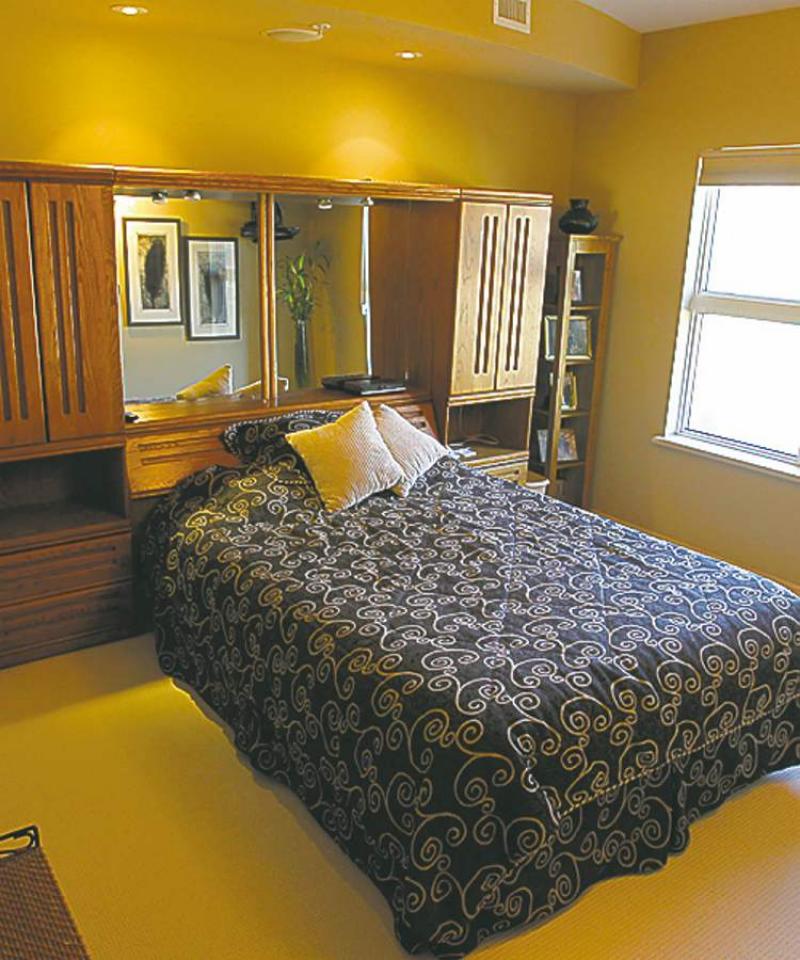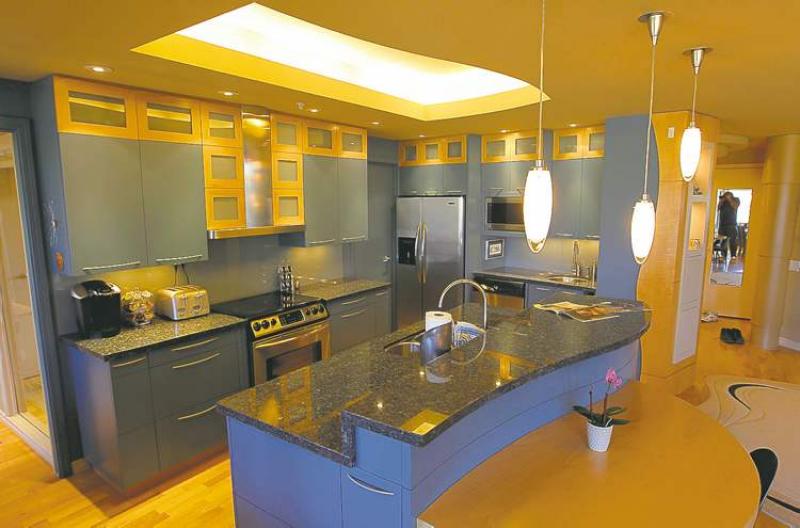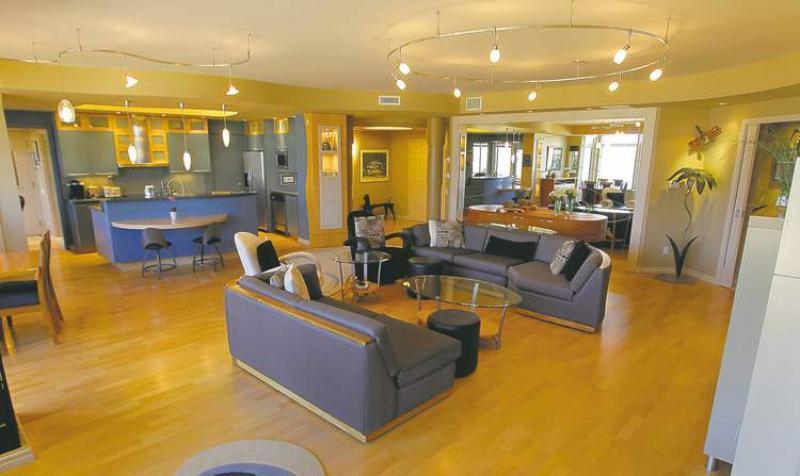 One of the problems in downsizing from a large home into an apartment-style condominium is a lack of space.
After that follows another closely associated conundrum: a lack of storage space. Combine the two, and there's little wonder why folks who've enjoyed living a gracious lifestyle in their 3,000-square-foot-plus home find it difficult to adjust to condominium living.
At the same time, they feel compelled to do it because it means life is going to be more enjoyable due to of the turnkey, maintenance-free lifestyle that comes as part of living in a condominium community. Now, the good news. If you're looking to make the transition to condominium living -- and have the financial wherewithal -- there's a custom-designed condominium on the Red River in St. Vital that might fit the bill.
Suffice it to say, at 3,000 sq. ft. -- and outfitted with two bedrooms, a den, exercise room, four-season sunroom and screened-in porch -- 2104-1960 St. Mary's Road (a.k.a. the Waterfront) is a condominium that feels more like a house for a host of reasons.
"I think one of the reasons why it feels so much like a home is that you're on ground level," said Re/Max Professionals' Michael Dubienski, who's marketing the stunning unit along with stablemate Viktoria Fazekas. "You're not in a highrise looking down. You have access to a yard, your car, everything on ground level. Next, walk into a great room that's exceptionally bright and gives you an immediate view of the river."
Ah yes, the view. A combination of nine windows on the back wall provides a panoramic portal that perfectly captures the landscaped grounds (more about that shortly), trees and river behind the unit. Although you're in the city, you feel as if you're in the country. You also have immediate access to the grounds -- which are essentially your backyard -- through doors from a screened-in three-season sunroom that's fronted by an interlocking brick patio.
"It's like having your own huge backyard," he said. "You can take your dog for a walk along the river, or go cross-country skiing out your own back door. Henteleff Park is just down the way (to the south), as well. This condominium represents a rare opportunity to own a custom-designed unit in Winnipeg's south end, where city life and nature meet in wonderful harmony."
Inside the sprawling unit -- actually two units combined to form one -- fashion and function also exist in intricate, masterfully planned harmony. The great room, with its wall of windows and open-concept floor plan, is an imaginative design that incorporates a highly navigable floor plan and an abundance of light and high-end finishes into its design.
"It's an exceptional design that includes a large living room (an enormous 25 feet by 28 feet), roomy gourmet kitchen (10 feet by 19.3 feet) and a spacious dining area by a bay window next to the kitchen," said Dubienski. 'The dining area is divided from the living room by a three-sided fireplace that's the great room's focal point."
The adjacent island kitchen, meanwhile, is a deft blend of function and fashion. An eight-foot curved island with attached eating area and double sink cleverly hidden by a raised granite ledge has wide aisles on either side for ease of access. With its wealth of blue (maple) cabinets (which feature curved stainless handles), natural maple cabinets (up high, with opaque centres), stainless steel accents and stainless steel appliances, the kitchen is a mix of modern and classic design features.
"I love how the maple cabinets tie in with the maple hardwoods," he said. "There's a massive corner pantry tucked away in the far corner of the kitchen, and a built-in desk (with river view) off the kitchen's left side. This space is further enhanced by the three-season sunroom next to it. There's a cut-out over the desk that allows light from the sunroom to filter into the kitchen, a great feature."
Because the condominium was essentially designed in three quadrants, two distinct areas can be found off the great room: an area (to the left) that holds the four-season sunroom, master suite, exercise room and den; to the right is the third quadrant, which houses a four-piece bath, laundry/storage room, the second bedroom and a den/kids' bedroom.
The design of the sector that holds the sunroom, master suite, exercise room and den is nothing short of masterful. A wall-mounted waterfall and water feature, heated tile floor and wall of windows makes the sunroom an amazing spot to spend time in no matter what the season; it then flows seamlessly into the master suite -- which features another river view, and has a gargantuan walk-in closet.
To the left of the walk-in closet is the exercise room, and then there's the recessed den that features a cut-out in its rear wall to allow light to flow in from the windows in the sunroom.
"This area is an example of the unit's efficient design -- all the space is well-used. Each space is a good size, so room is never an issue, whether it means room to move, or storage space," said Dubienski. "There's tons of storage space throughout this unit -- there's a place for everything."
As artistic and well-finished as the unit is, its functionality may trump it. Storage closets off the foyer provide the storage so many condominiums lack, while the third quadrant -- laundry room, second full bath, bedroom and den/kids' room elevates the unit from being a condo to (very nearly) a single-family home.
The only thing missing is a basement, but additional storage in the form of four storage lockers (in the parking area) effectively takes care of that issue. A lounge, library, exercise room -- and a putting green -- provide the external amenities (along with the "back yard") that, along with its internal artistry and functionality, place it a cut above the rest.
lewys@mts.net