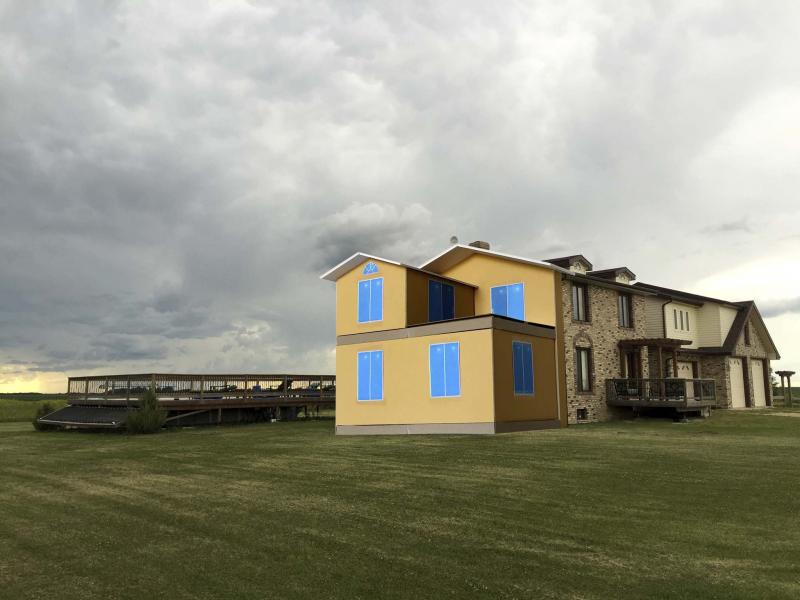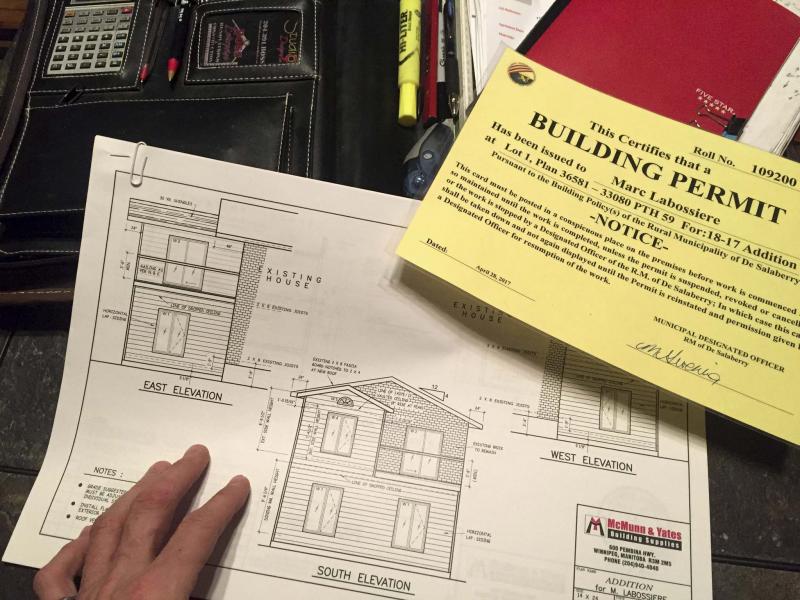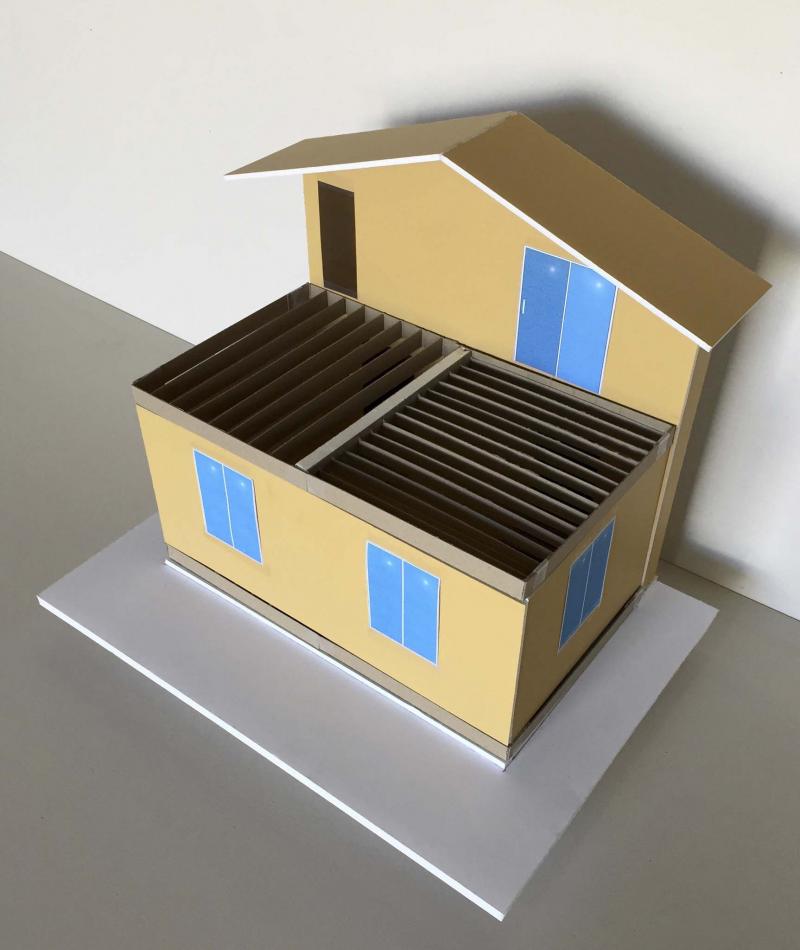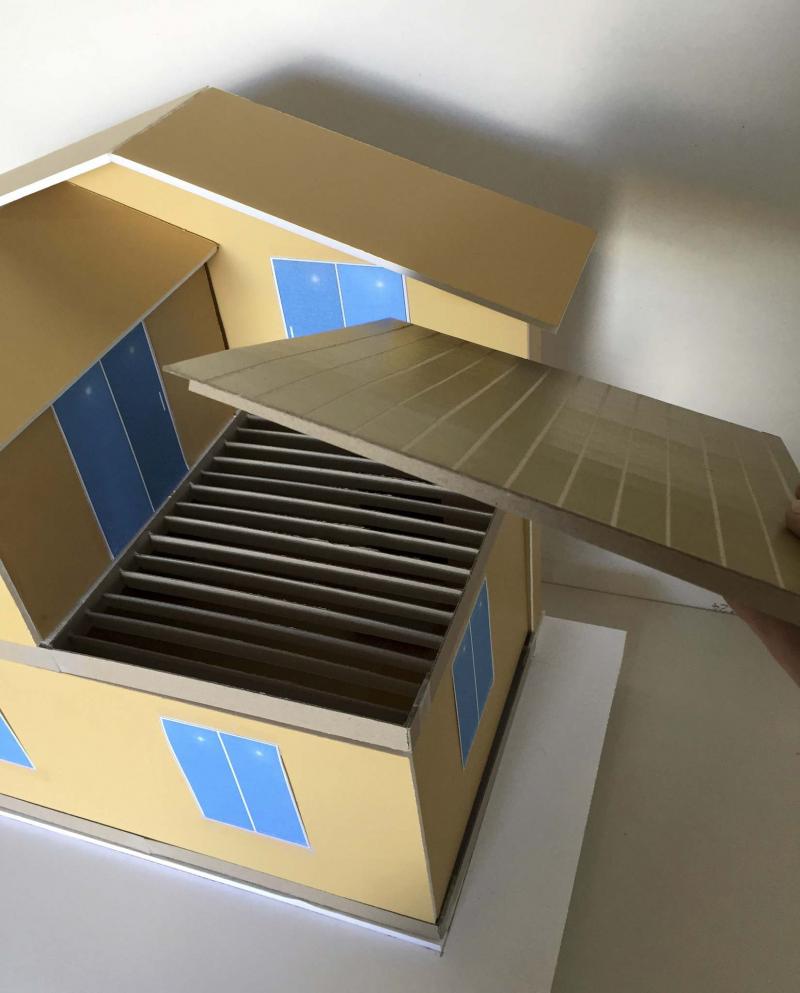 For a few years, I'd been contemplating adding on to my house — renovations-for-hire have awoken my own remodelling juices. Although my house may appear rather large from the exterior, the main floor is only 700 square feet.
The triple-attached garages eat up most of the main floor footprint. An addition to the south side, on both floors, will allow for a sunken dining room and a master bedroom expansion above.
Now, it's unlikely anyone else would go to the trouble, but I've learned that being meticulous is not necessarily a hindrance. So, I elected to create a 1/16th-scale model of my proposed design.
The scribbling and sketching of ideas for the addition began long ago.
It wasn't until recently that the design had been refined to the point where there was a real possibility of moving forward with my plans.
Two features were crucial to the design: a 14-foot-wide sunken dining room, the entire depth of the south side of the house with access from both the existing living and kitchen areas (via doorways, which are currently still windows); and a master bedroom expansion on the back half of the house with sliding patio doors to the front half, which will become a corner balcony. And as a bonus, the window from the spare bedroom will be transformed into a second sliding patio door to the balcony.
Planning such a massive project takes diligence and patience. And although I had considered simply providing my sketches to the drafting department at McMunn & Yates, it was important to me that I had something tangible to display when describing my addition intentions.
I've been calling it my "doll house" for lack of a better-suited term.
With poster board and rigid cardboard, I began my miniature build. A scale of ¾ inches to one foot was determined to be optimal, which translates to 1/16th scale.
As precisely as I could, main and second floor joists were cut to scale, height and length. With the use of carpenter's glue, the framework for both floors was constructed and set aside to dry.
Half-inch poster board was used to simulate the intended footings and crawl space. To expedite the model build, quarter-inch poster board was used for all the walls and rooflines.
After each of the sections were cut to scale, they were also glued together as separate entities, so they could be removed layer by layer for closer inspection.
Using the same scaled process, I digitally created all the windows and sliding patio doors in Photoshop — then affixed them according to the intended layout.
It was exhilarating to see it all come together. In just two days, the scale model of my proposed addition was completed.
With model in hand, I met with my commercial supplier Dave Wyllie at McMunn & Yates, and Mel Clubb from their drafting department also attended the meeting.
Although the sketches I had scribbled together were on hand for review, it was exciting to see the expressions on their faces as I unloaded the model from its box.
Clubb recalls: "To say that Marc was well-prepared for our initial meeting to have plans drawn for his addition would be an understatement. His two-storey scale model — complete with detachable roof, walls, floor and floor joists — was a first for me. My reaction of astonishment was pretty obvious to him."
Clubb told me he usually gets a pencil sketch (seldom to scale) of what a client would like.
"It takes a fair amount of time to fine-tune a pencil sketch into preliminary drawings. (This) scale model eliminated all the guesswork involved in this initial drafting process. As a result, the final working drawings were easily completed in a shorter-than-normal period of time."
And, of course, saving time is in everyone's best interests.
Since that initial meeting, preliminary drawings have been completed. After a few structural confirmations and energy-efficiency revisions to meet code, the final drawings were rendered, stamped by the engineer and in my hands within three weeks. Amazing!
I've since obtained my building permit from the local municipality office, and I'm now planning the build schedule.
Prepping the south face of the house is the first step, because the existing balcony must go.
The concrete pilings, footings, and crawl space comes next.
Once the foundation has been poured, the framing process shouldn't take very long.
With a bit of luck this fall, it is my hope to complete as much of the exterior as possible before the snow flies. With the exterior weather-sealed, the interior can done in stages over the winter months.
I used to think being meticulous was a curse. I now believe it is an integral part of success.
Without attention to detail, things get overlooked, and projects can quickly escalate out of control.
It is a facet in my life for which I am grateful, attributed mostly to the disciplines learned in music — studio work is the breeding ground for meticulousness.
But... that's another column, in another section.
BossEnterprise@outlook.com