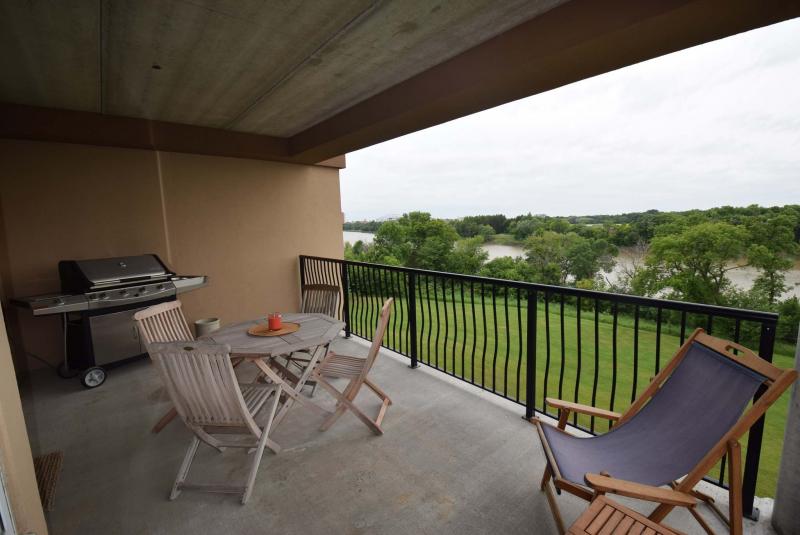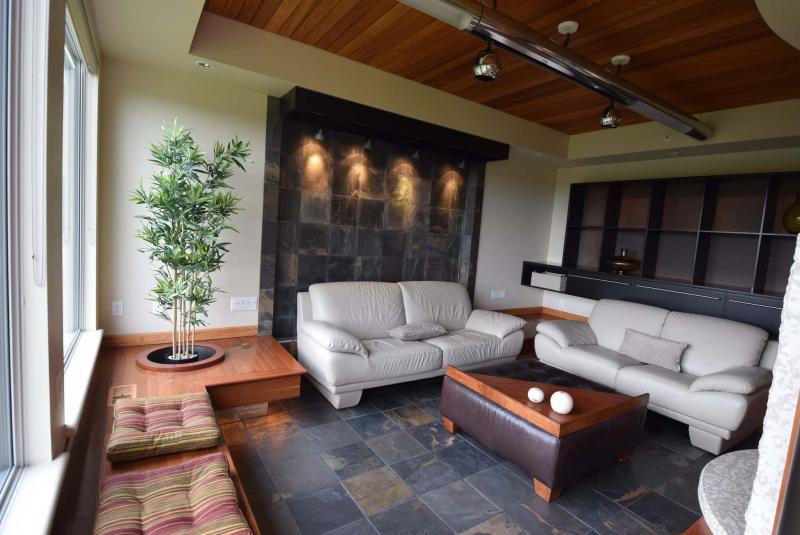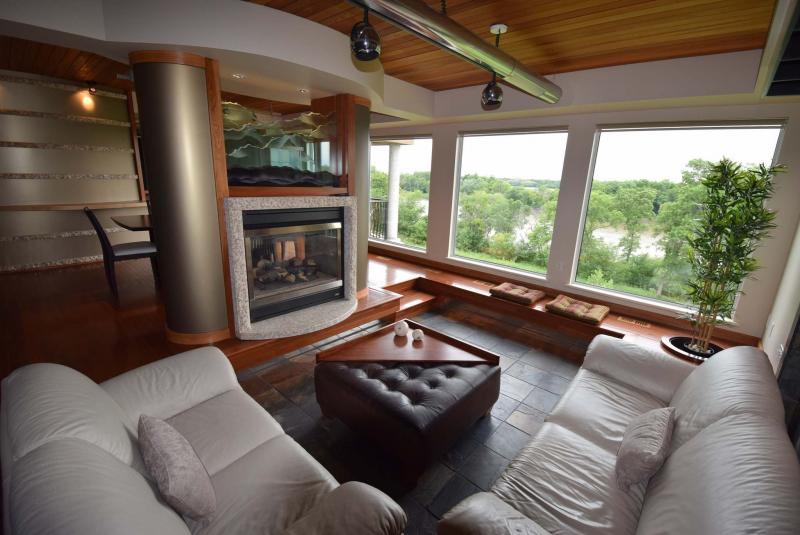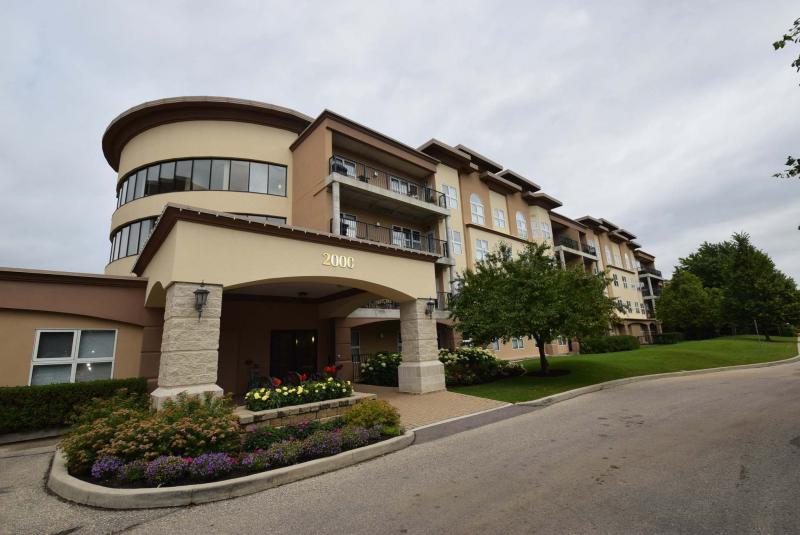 It's a sight seldom seen at the Waterfront Condominiums — a For Sale sign.
There's a simple explanation for that rare occurrence, says Royal LePage Top Producers' Glen MacAngus.
"This is one of Winnipeg's most sought-after condominium complexes because of its incredible design and riverfront location," he says. "Add to that the fact the suites are of such a high quality — many have been meticulously custom designed by their owners — and you have a very low turnover rate. People just love living here; the setting and quality are second to none."
Suite 3402 is particularly special, MacAngus adds. "Not only is it a top-floor suite, but it was designed — and has been lived in — by renowned Winnipeg architect David Goyer. In that sense, it's a very rare find — an ultra-modern design featuring an amazing layout and host of top-end finishes.
"It's a spectacular, one-of-a-kind design."
The moment you set foot in the 1,320 sq. ft. suite, you get the sense you've entered a special world. A tri-coloured slate tile floor curves majestically around an elegant, curved divider that's creatively comprised of taupe metal facing, tyndall stone trim and opaque polymer panels that allows light from the kitchen to shine through into the foyer in a tastefully muted fashion.
From there, you can choose to go left or right. Head left, and you encounter a three-piece main bath with tan tile floor and jetted soaker tub (the space also slickly houses a full laundry room behind a pocket door on the right hand wall) and office/sitting area that features more of the rich, tri-coloured (espresso/tan/grey) slate tile.
The design only gets better from there, MacAngus says.
"Patio doors next to the sitting area — you could also use it as a media area — take you out to a huge, covered balcony that overlooks the river and mature forest. You can also see Investors Group Field. There's also a dinette area for four next to a window that looks out over the river. Then, there's the kitchen."
Defined beautifully by a curved bulkhead above, the galley kitchen — which assumes a horseshoe shape thanks to the curved entry wall to its rear — is a functional work of art.
While the materials used to finish the area — cork flooring, cherry cabinetry, solid maple and stainless steel countertops and stainless steel appliances — are supremely luxurious, and also exceptionally functional.
That function comes from well-placed appliances, tons of cabinets and pot drawers, a built-in gas cooktop set in a stainless steel countertop and maple peninsula that deftly seats two — plus a maple serving area/sideboard on the dining room side.
"The kitchen then flows perfectly into the (centrally-located) dining room, which features two floor-to-ceiling windows, a two-sided (see-through) gas fireplace with tyndall stone trim and hearth, gorgeous oak hardwoods, cedar-lined ceiling, and of course, a spectacular river view," MacAngus says.
"The two-sided fireplace also perfectly separates the dining room from the living room."
Like its neighbouring spaces, the living room is fashionable, yet functional.
Another pair of floor-to-ceiling windows frame the river view perfectly, while letting natural light cascade into the space; meanwhile, a slate tile floor — and slate tile feature wall behind the sofa that houses a waterfall — combine with the fireplace to create a rich, relaxing ambience that's perfect for visiting over coffee and cake apres diner.
"The floor-to-ceiling windows are unbelievable — the suite's design has a definite Frank Lloyd Wright influence (i.e., utilizing large windows to prominently showcase nature views)," he says.
"They not only provide a panoramic view over the river and park, but make for a naturally bright suite."
A quadrant set off to the right of the ornate, yet functional, foyer also features Goyer's considerable imagination. The master suite is preceded by a curved sitting area lined with a host of closets, which provide all kinds of welcome storage space. That space then transitions seamlessly into the master suite, MacAngus says.
"It's an amazing space. Not only does it offer a beautiful three-piece ensuite with five-foot (low-stepover) shower, tons of built-in storage and walk-in closet placed neatly off its rear portion, but it also features a cool dividing wall with obscured glass panelling that allows natural light from the living room to filter through in to the bedroom.
"If you need another bedroom, the den could easily facilitate a daybed for guests, or family."
Not surprisingly, the well-designed complex also offers a host of other amenities, including immaculately manicured grounds, serene pond, walking trails, a gym, recreation room, library, guest suite and underground parking.
"With its creative, functional design, gorgeous finishing materials and incredible location, you won't find anything else like it in the city," he says. "If you're looking for a unique suite in a spectacular riverfront setting, nothing can beat what this beautifully-designed suite has to offer."
lewys@mymts.net
Details
(imageTag)
Location: 3402-1960 St. Mary's Rd. (The Waterfront)
Year Built: 2004
Style: Apartment-style condominium
Size: 1,320 sq. ft.
Bedrooms: 1
Bathrooms: 2
Price: $514,900
Contact: Glen MacAngus, Royal LePage Top Producers, 204-989-6900