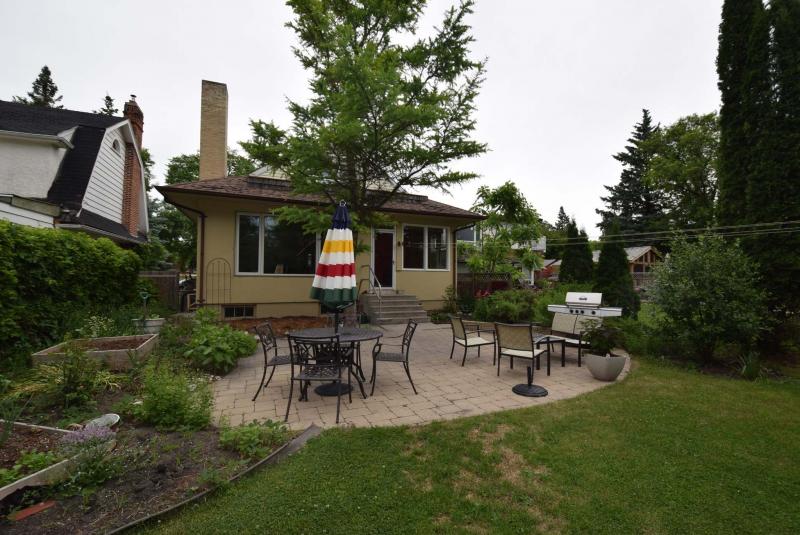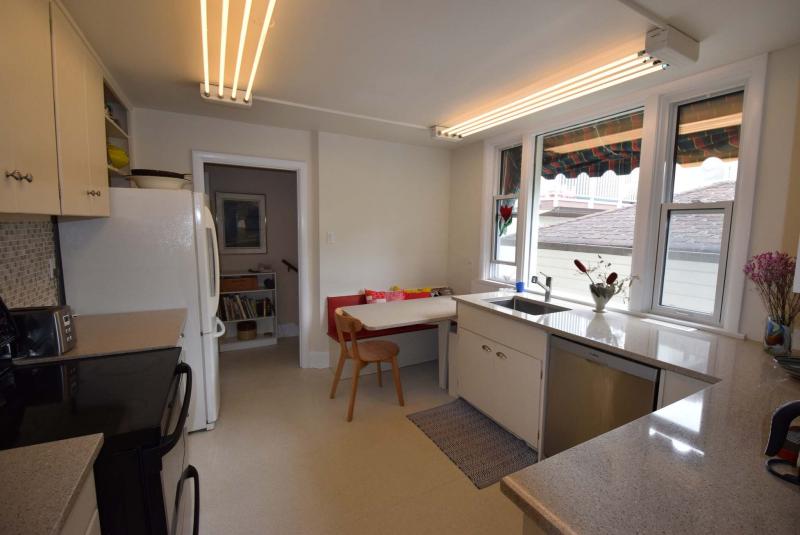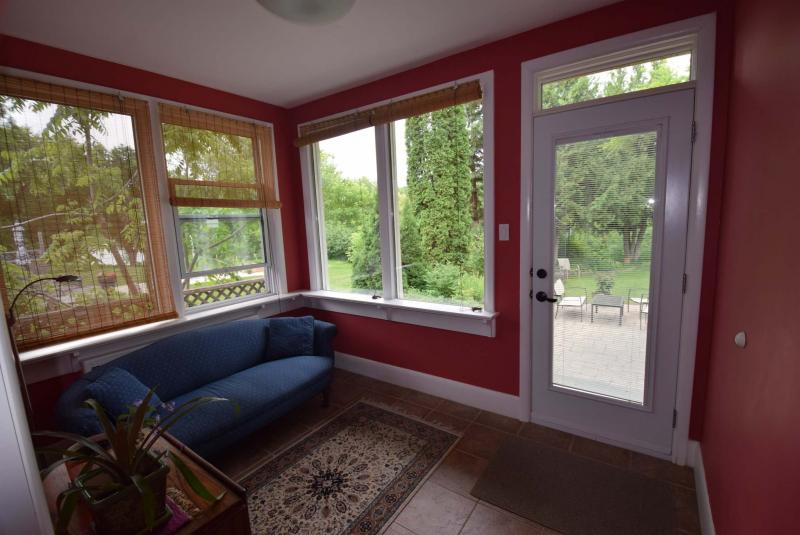 Real estate agent Eric Neumann says 1244 Wolseley Ave. is a rare find.
"First of all, the home was built in 1949, so it has a concrete foundation plus steel-beam construction in the basement. Second, the home sits on a huge, 53-foot by 265-foot riverfront lot — right across from Wolseley School, making it a perfect home for a growing family," he says. "Third, it's very deceptive in terms of how big it looks from the street."
From the street, the home looks to be perhaps 1,200 sq. ft. in size.
"It's actually 2,145 sq. ft. — it's much bigger than it looks. It also looks a bit plain from the front, too. That perception changes the moment you enter the home and walk into the living room," he says.
Unlike many older homes in the area, 1244 Wolseley's main living area (in this case, living room and dining room) features an open-concept floor plan. Consequently, the area is surrounded by windows that let in tons of natural light and river views out back.
"The main living area greets you immediately with stunning views of the gorgeous backyard with its mature trees and, of course, the river," Neumann says.
"Those views come through a huge picture window on the living room's rear wall, a large window off the dining room and a sunroom."
Situated next to the dining room, the sunroom — which can be used year-round — is a sweet treat.
Surrounded by four large windows, it affords amazing backyard/river views and is a great spot to sit and have coffee or read a book, with abundant natural light.
"It also has a beautiful tile floor and the patio door takes you out to the amazing backyard, which features a huge patio, sitting area, fire pit area down by the river and loads of colourful flowers. You feel like you're in a world of your own there — it's your own private paradise, something you might not expect when you walk or drive by the home."
Another thing that might be unexpected is the kitchen. At 12.1 x 11 feet, it qualifies as an eat-in kitchen.
there's so much space that there's a built-in table with bench (it can seat four easily) at the end of the kitchen.
"It's also a very bright space thanks to a huge window over the sink and the owners — only the second owners since the home was built in 1949 — have also updated nicely in key spots.
There are new taupe quartz countertops, a tile backsplash behind the stove, and the (stainless-steel) stove and dishwasher are newer; there's also a newer bottom-freezer fridge," he says.
"The flooring and original cabinets are also in very good shape."
The home's deceptive square footage then comes into play once you head down the main floor's bedroom wing, adds Neumann.
"Both bedrooms are absolutely huge — the biggest is 12.5 x 15.4 feet, while the smallest is still quite large at 11.5 x 12.9 feet. Both have big windows and offer plenty of closet space."
Then, there's the main bath.
"It was updated in 2013 with a heated tile floor, white vanity with (grey) quartz countertop and a gorgeous five-foot shower with tile surround, dual shower heads and sliding tempered glass doors. It's just a beautiful space."
A stairwell off the main level's bedroom wing then takes you up to the home's second level, which is (again) surprisingly expansive.
"First off, you're hit with loads of natural light coming from the three skylights in the office, as well as the oversized windows in the other two bedrooms," Neumann says. "The other two bedrooms are huge and there's also a four-piece bath. The master suite is a special space."
At 15.4 x 14.1 feet, it's a huge, light-filled space that comes with an unexpected yet welcome feature.
"There's a patio door on its rear wall that gives you access to your own private balcony, an area that delivers incredible views.
"You're literally at tree-top level and have an up-high view of the backyard, river and mature surroundings. The backyard just has to be seen to be believed. Its beauty — with the patio, all the beautiful trees and sprawling gardens — is breathtaking."
Downstairs, there's a full basement that hosts a finished rec room with four windows, workshop, laundry room, two-piece bath, storage room with updated boiler and additional storage space.
"This home has so much to offer," says Neumann.
"It's in a great location on a huge riverfront lot across from Wolseley School, the surroundings and views are gorgeous and you're getting a home with a bright, open-concept main living area, four bedrooms, a den and wonderful four-season sunroom. You can move in, take your time making updates to make the home yours — and get a dream home in a central, mature area without paying growth fees."
lewys@mymts.net
Details
Location: 1244 Wolseley Ave., Wolseley
Year built: 1949
Style: Two-storey
Size: 2,145 sq. ft.
Lot size: 53' x 265'
Bedrooms: 4 plus four-season sunroom
Bathrooms: 2.5
Price: $524,900
Contact: Eric Neumann, Realty Executives First Choice, 204-885-8999