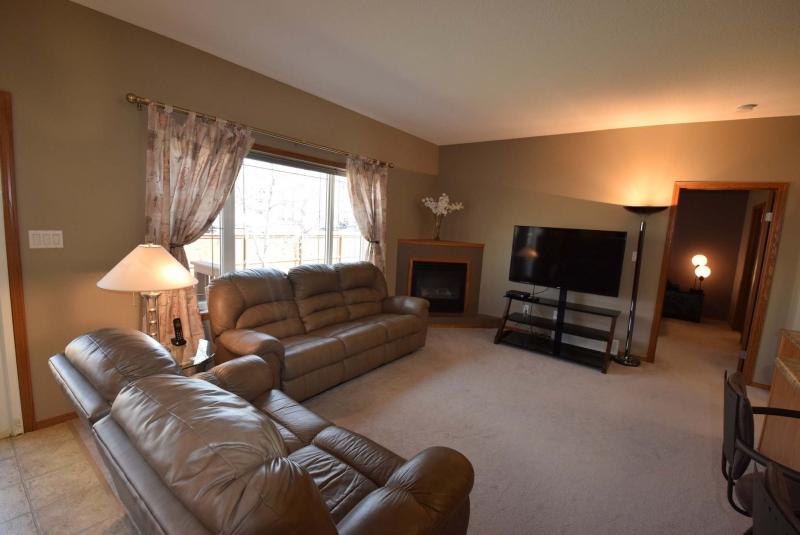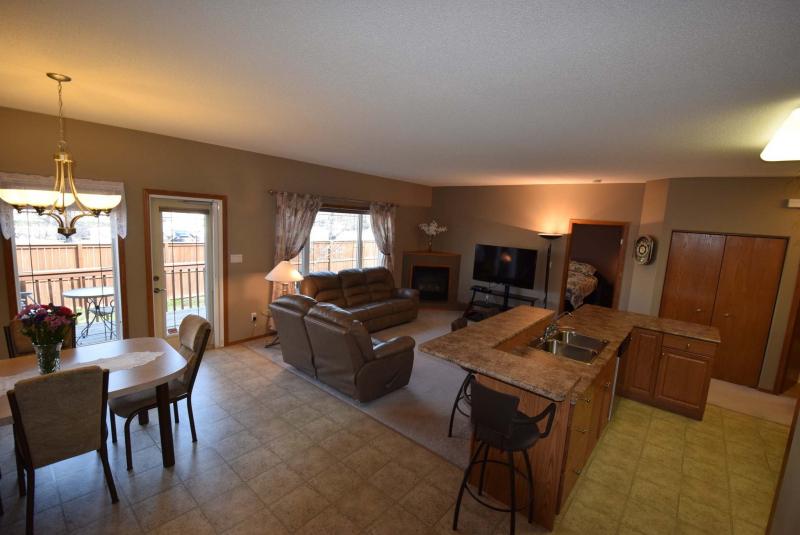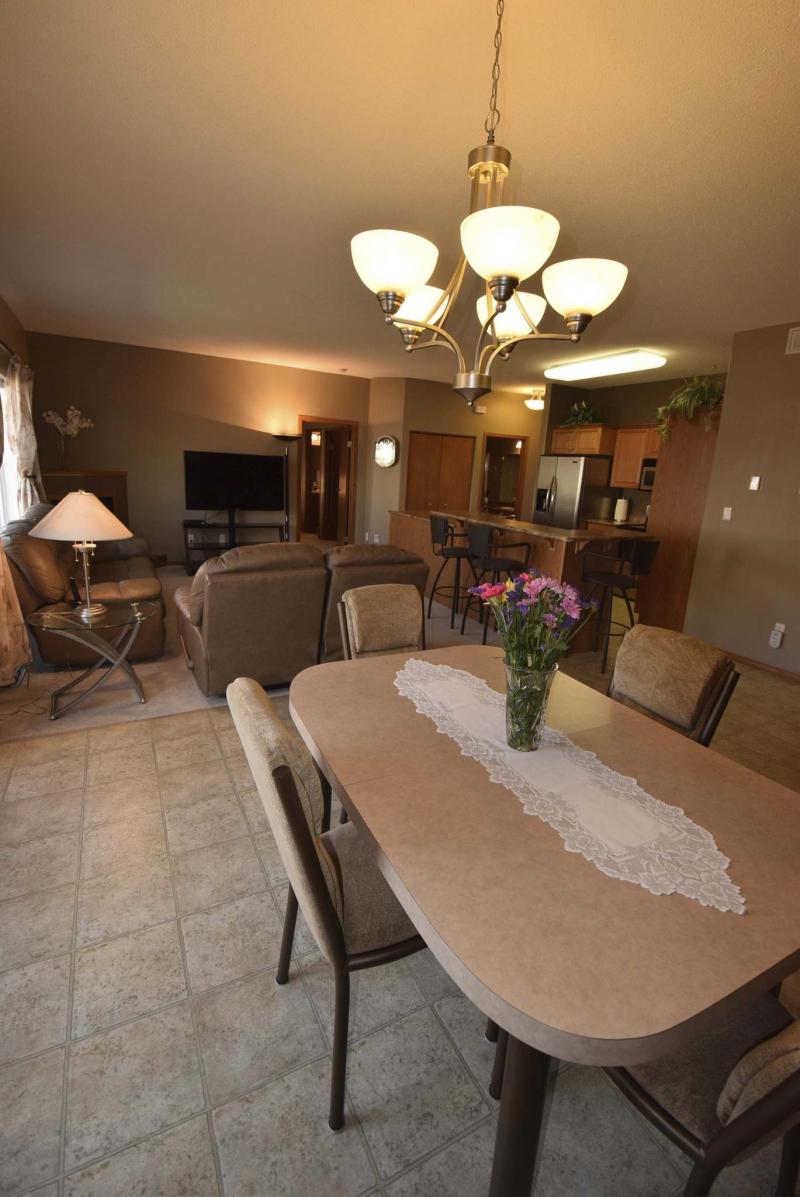 According to Lifestyles Real Estate's Charlene Urbanski, bungalow-style condominiums are a rare commodity.
"Right now, there aren't many for sale in the Winnipeg area — there are about 30 in total including East St. Paul," she says.
"I've just listed such a wonderful condominium-style bungalow at Villas on the Seine in River Park South. It's a well-designed unit that would be perfect for empty nesters, as it will allow an easy transition from house to condo."
There are several reasons why this particular unit will pave the way for a smooth transition from, say, a 2,500-square-foot house to a condo.
First, the house-like unit measures in at 1,219 sq. ft. on the main floor. Add in a huge basement with more than 900 sq. ft. of livable space and you have a home that offers about 2,000 sq. ft. of livable square footage.
Second, there are the amenities that come included with the condo — which is only 11 years old — namely a 22-by-22-foot attached garage that's prefaced by a nice, wide driveway and front yard.
"When you arrive home, you feel like you're coming home to a house," Urbanski says. "There's a front yard, a driveway and, although the condos are attached, the garages provide discreet separation between units. The garage with this unit was also upgraded by the owners, as it's dry-walled, insulated and has built-in shelving for storage. A work bench can also be negotiated into the sale if its an item you'd like to have."
Third, there's the home's floor plan — known as the Spruce — which is quite possibly the best of the four floor plans offered in the development.
"It's a great layout that features a generous foyer and hallway that leads to an open-concept great room with a peninsula kitchen that serves as its centre point," she says. "The peninsula is L-shaped, and so opens up all kinds of room to move around in the kitchen. It also has a double sink and raised eating bar that can seat three, along with a host of cabinets (with big pantry), loads of counter space and a (tan, faux tile) vinyl floor that's in excellent shape."
The great room's other spaces — living room and dining room — are equally impressive. Not only are both areas spacious, but they're also bright.
The living room's rear wall is occupied by a huge picture window, there's a patio door with glass centre between the two areas — and a large, vertical window behind the dining area, which can hold a table that seats six to 12 people.
"Overall, the great room is perfect for entertaining," Urbanski says. "The kitchen is a perfect staging point to serve dinner from, while you can actually turn the table in towards the kitchen so you can add a leaf to it to increase seating capacity without a problem. There's tons of room in the living room for a sofa, loveseat and chairs, and the corner gas fireplace adds a touch of class."
Urbanski adds that another welcome, house-like touch can be found out the patio door.
"There's a big (17-by-eight-foot), raised deck that you can barbecue and put a table and chairs on, plus a large interlocking brick patio down and to the side that can hold more patio furniture. The area features nicely fenced greenspace and there's a bonus feature — a retractable (electric) awning that can cover the deck to protect it from sun, rain or add an extra bit of privacy."
The unit's practical layout extends into a wing placed off to the side of the dining room and kitchen, Urbanskisays.
"It contains a main-floor laundry closet, storage/coat closet and a door that leads to the double-attached garage. It's an unobtrusive, yet highly functional area."
Meanwhile, the home's two bedrooms — situated on the wall opposite the great room along with a big four-piece main bath — are both a good size. The master suite was placed at the rear of the home, making it a private, nicely appointed retreat.
"It's a nice size at 14-by-12 feet that features a large picture window for plenty of natural light, a three-piece ensuite (with five-foot shower) and large walk-in closet with lots of storage space," she says. "The second bedroom is also a good size (12 by 11.8 feet) and could be used either as a bedroom or den."
There's also plenty of potential downstairs, too.
"Depending on your needs — it's already insulated and dry walled — you could put in a third bedroom along with a rec room and bathroom and still have plenty of storage space left over. Or, a couple could partially develop it, leaving plenty of storage space. It comes with a high-efficiency gas furnace with HRV, sump pump, central air conditioning and central vac."
Finally, there's the home's location.
"You're in a nice, quiet spot just steps from trails that run along the Seine River. You're also close to shopping and a host of amenities in south St. Vital, and are just a short hop from the Perimeter, which can take you out to lake country in the Whiteshell, or Interlake.
"Best of all, there's no need for a mower or a shovel — you can just enjoy the carefree lifestyle, and all this well-kept, house-like condo has to offer."
lewys@mymts.net
Details
Location: 43-1185 St. Anne's Rd., River Park South (Villas on the Seine)
Year Built: 2006
Style: Bungalow-style condominium
Size: 1,219 sq. ft., with full basement
Bedrooms: 2
Bathrooms: 2
Condominium Fees: $175/month
Price: $379,000
Contact: Charlene Urbanski, Lifestyles Real Estate, 204-421-7653
Open House: Sunday from 1-3 p.m.