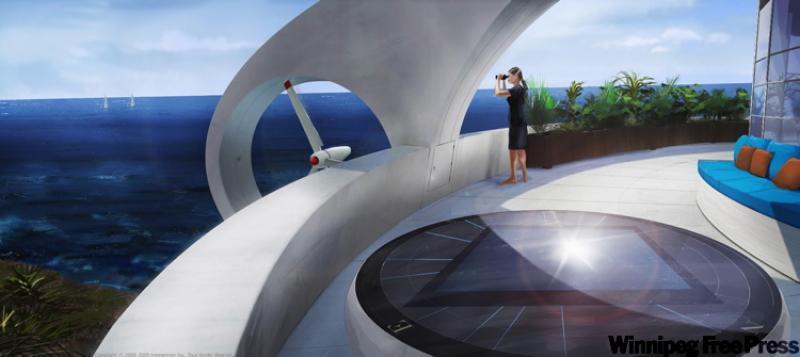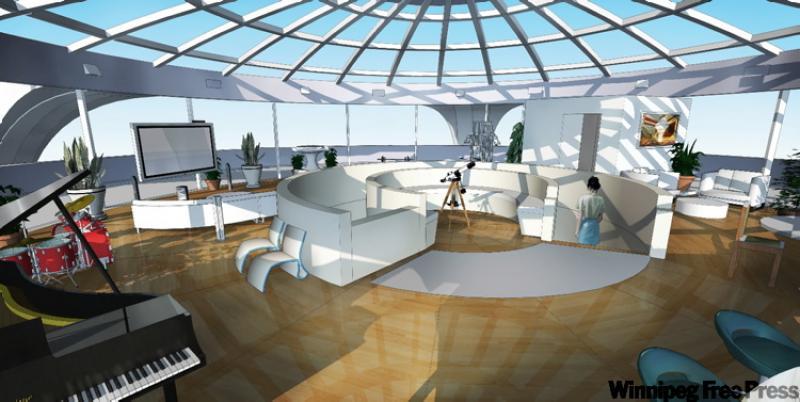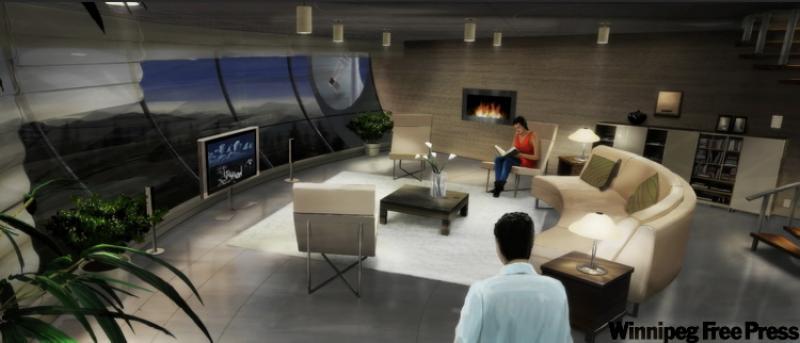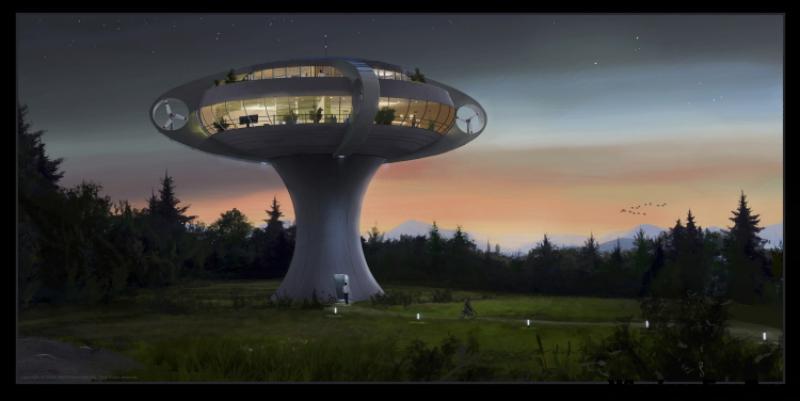 It might be just a couple of feet tall, but Jean-Pierre Desmarais' concept home of the future has been stopping people in their tracks.
That was the response from many in attendance at the recent Cottage and Country Homes show in Montreal. There it stood, around the corner from the new fireplaces, state-of-the-art water purification systems and country property developers, on a large table representing a country setting of treed hillsides and verdant meadows.
Most visitors had never seen anything like it: rising high above the trees, a mushroom-shaped building with an elevator in its steel-framed composite 'stem' and a two-storey, glass-fronted 'cap.'
When built, the single-family home will stand 24 metres high, with four wind turbines integrated into its frame and an aerodynamic shape to capture the breezes. Because of these and a host of other design elements, the house will be completely off the grid, says inventor Desmarais, who brought the concept house to the homes show.
There's an increased interest in waste reduction, recycling and energy efficiency, say the creator and his wife, Kathy Gildart. This single-family home, which Desmarais has named Homerizon, integrates a host of renewable and environmental systems, such as solar photovoltaic panels, windmills, fireplace with wood pellets, hot water and radiant floor heating by thermal solar panels, passive solar design, plumbing generator (electricity), exercise generator (power generator), recovery of rainwater, autonomous drinking water supply system, wastewater treatment and recycling.
But this is no back-to-the-woods concept. By its shape and configuration, Desmarais says, the home offers increased security and comfort.
Its energy saving and renewable systems will be managed by automation, such as power cut-off of unused electrical appliances, shutters that open to capture heat, and air conditioning and ventilation that adjusts to balance the coolness in the rooms being used.
Every level accommodates recycling and renewable energy use. Outdoor parking includes outlets to recharge electric vehicles. The basement has a geothermal heat pump, a generator, a wastewater reservoir and filtration. On the first floor, the kitchen includes recycling apparatus and energy efficient appliances, while the bathrooms have low-flow showers. The next level has a photovoltaic glass dome roof with lightning-rod and communication antenna, and room-temperature-optimizing shutters, while the terrasse features a large glass greenhouse and rainwater recovery gutters.
All of this, Desmarais says, means a judicious use of energy and what he calls "a living awareness" of daily consumption.
And it could be yours, for anywhere from $3.5 to $5 million. "That's the architectural evaluation," said Desmarais, who has spent the last two years developing the idea, but has yet to see a Homerizon home built.
The idea for the home came to him several decades ago, but it was during a work stint as special-effects technician on the film Mummy III that Desmarais met an illustrator who put his ideas on paper. In order to integrate the renewable energy systems, he then went to an architect and designer.
"For many people who see it, it totally makes sense," said Gildart. "The renewal energy technologies are available, and we should be able to integrate them into the structure of our homes."
Many of the people who have viewed the concept with interest have large pieces of land in secluded areas, she says. "They're off the grid and they want to stay that way."
Renewable energy has always motivated Desmarais. Nearly seven years ago, he created L'ecole des energies alternatives in Montreal, which he left two years ago to concentrate on Homerizon.
After 25 years thinking about it, his off-the-grid home is closer than ever to reality. It remains to be seen whether the interested parties will follow through, but as they work to bring together the money and expertise to build the first Homerizon home, the couple lives in the countryside, where they recycle, compost and do their own organic gardening.
"Eventually, we'd like to build one of these homes for ourselves," Gildart said. "When we retire."
-- Canwest News Service