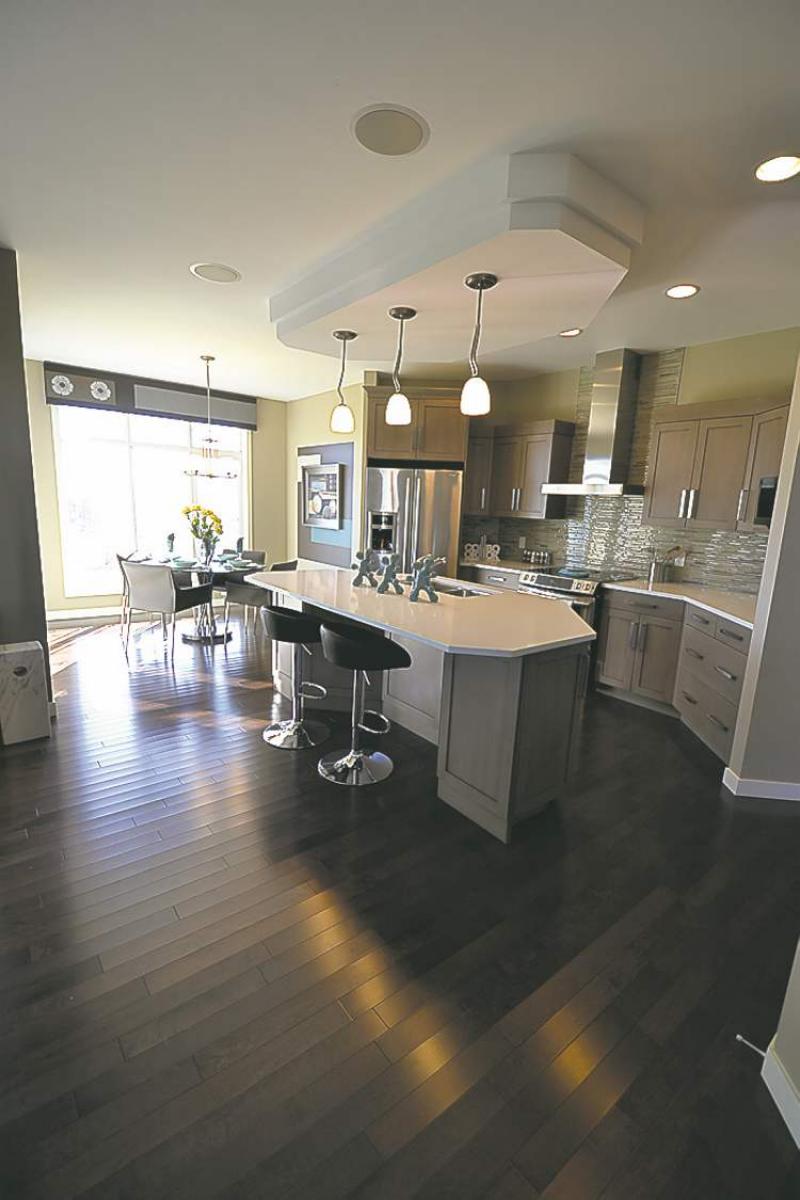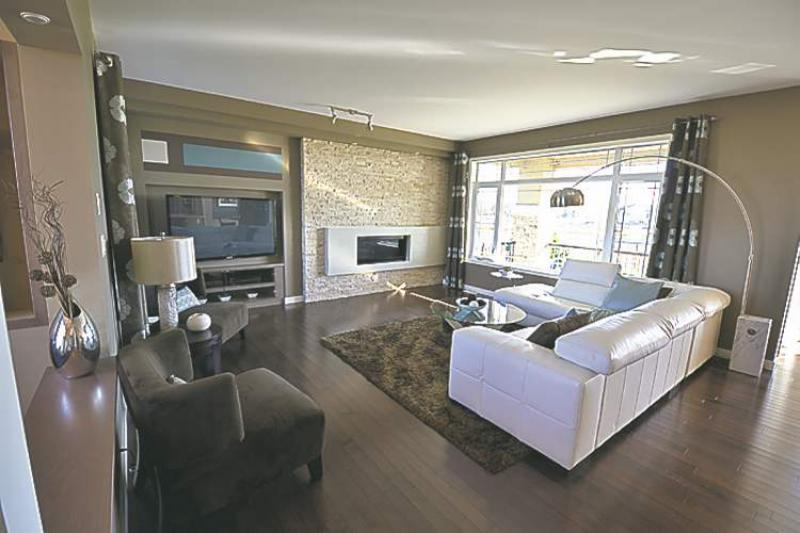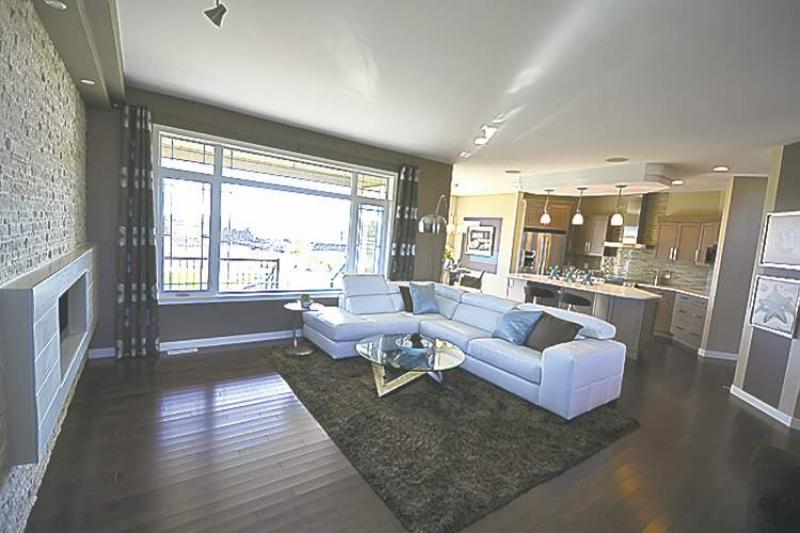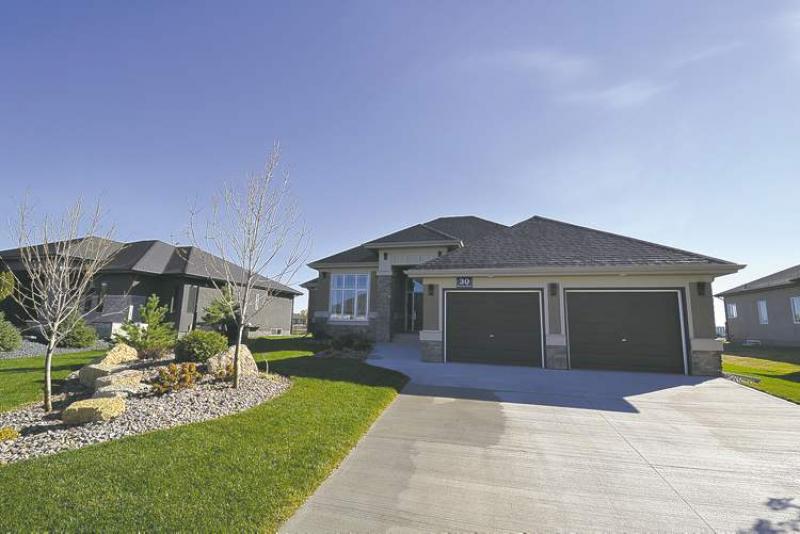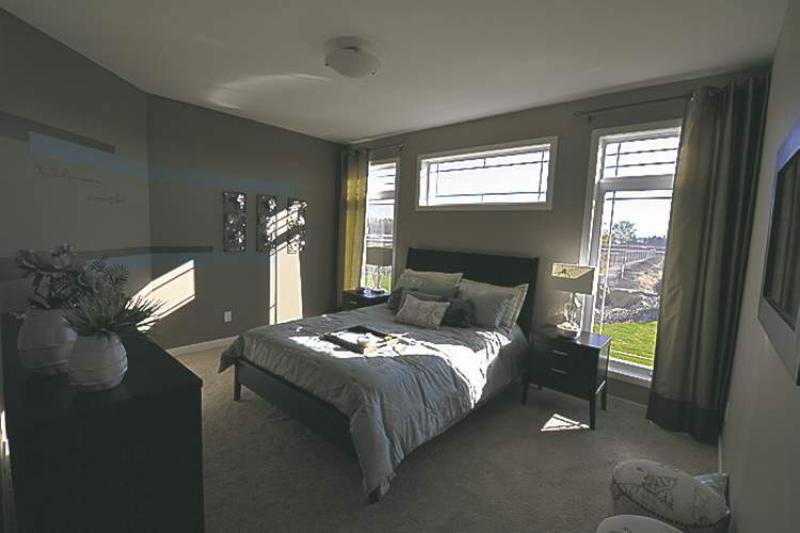 It goes without saying homebuilders have to be a flexible bunch.
After all, they not only have to meet the demands of their customers, but also those of community developers. So when Qualico placed some relatively stringent architectural controls on the homes built in Oak Bluff West, the designers at Randall Homes didn't flinch.
The result was the Oakville, a 1,834-sq.-ft. bungalow situated on an oversized 82-foot-by-140-foot lot at 30 Benson Blvd. in the new community, which can be found just west of the Perimeter Highway off McGillivray Boulevard.
"The home was actually designed to fit the extra-wide lot," said Randall's sales representative for 30 Benson, Bob Baudry. "To meet the architectural guidelines, the home had to be 50 feet wide at the front, and no less than 36 feet wide at the rear. This home is an all-new design and is part of our Classic Collection Series, which features upgraded finishes throughout the home."
Simply put, the extra width and upgraded finishes combine to create one very warm -- and habitable abode. However, as notable as the space and quality of the finishes is, the wealth of natural light that flows throughout the home is what captures your attention the moment you set foot inside.
"Our designer outfitted the home with oversized windows in every room, which is why there's so much natural light," he said. "The windows on the rear wall of both the family room and dinette are absolutely huge, and are primarily responsible for the home's bright interior."
Those windows are only part of the great room's bright, cheery ambience, added Baudry.
"Little touches like an extra window in the corner of the left-hand wall in the family room, as well as another in the dining room -- which is neatly separated from the family room by a one-quarter wall with cut out that opens up the area and allows light to flow in -- make the great room a very enjoyable place to spend time in. Both the dining room and foyer have 11-foot ceilings, which increase the feeling of volume, and light flow."
While the great room area is open-concept in design, the spaces are distinct due to a staggered (almost two-part) rear wall design that first defines the family room, which is directly across from the island kitchen. A jog in the wall then creates a separated, secluded spot (by the previously mentioned huge window) for a spacious dinette area for four that with a door off it for access to a covered backyard deck.
Meanwhile, the adjacent kitchen is opened up by a raised nine-foot by five-foot (beige) quartz island with angled ends that neatly free up room to move on all sides.
"It's just a wonderfully thought-out design," he said. "Even the counters are angled to open up aisle space so you can pull out drawers and still walk by. There's also lots of preparation room by the sink, and there's seating for two on the other side of the island. Finishing quality is exceptional with portobello maple cabinets by Norcraft, a glass tile backsplash, the quartz countertops and dark maple hardwoods."
Finishing quality in the family room is also impressive, with a portobello maple entertainment unit with huge TV niche, a ribbon-style fireplace with a beige tile surround set in tan cultured stone, the aforementioned dark hardwoods (which add contrast and warmth) and a warm taupe colour palette that tempers the great room's inherent brightness.
Due to its ample square footage, 30 Benson is a three-bedroom bungalow. Both secondary bedrooms feature impressive dimensions at 11 feet by 10.6 feet and 11 feet by 10 feet respectively, while the master suite is an expansive 15 feet by 12.8 feet.
"The large bedroom sizes are a product of minimal hallway space, with the master suite being set at the back of the wing all by itself," Baudry said. "The bedroom is flooded with light due to big windows either side of the bed, along with a transom window above. An angled wall with teal and chocolate accents on a taupe background add interest and colour."
Then, there's the four-piece ensuite, a space that has drawn raves from visitors during the Fall Parade of Homes.
"It's received a lot of compliments," he said. "People really like how it functions, with its separate sinks on either side of the soaker tub, and the shower being placed across from the tub. There's lots of room to move and lots of light. A big, obscured window over the tub lets light filter in softly, while maintaining privacy. People also love the heated (taupe) plank tile floor and the portobello maple vanities."
If additional living space is required, the lower level has it in spades, added Baudry.
"There's about 1,600 sq. ft. of space available to develop into a rec room, exercise or theatre room, bedroom/den and a huge mechanical/storage area," he said. "Another great feature is the fact that there are several 24-inch windows around the lower level's perimeter. They let in all kinds of light that creates a naturally bright space that people will really enjoy spending time in."
With over 3,400 sq. ft. of bright, well-laid-out -- and tastefully finished -- space, the Oakville is a new design that promises to be popular for many years to come with its beautiful, yet functional design.
lewys@mts.net
THE SPECS
Builder: Randall Homes
Address: 30 Benson Boulevard, Oak Bluff West
Style: Bungalow
Size: 1,834 sq. ft.
Bedrooms: 3
Bathrooms: 2
Lot size: 82' x 140
Lot price: $146,900 plus GST
Price: $636,900 (including lot & GST)
Contact: Bob Baudry, Randall Homes sales consultant @ (204) 955-3448