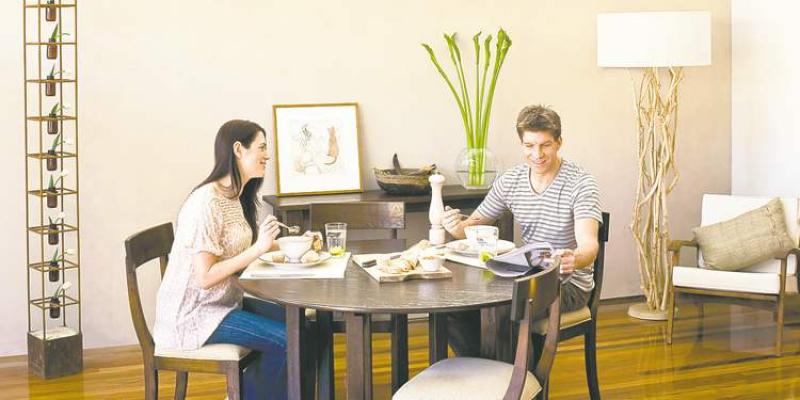 Relax in natural style
There's something about nature that is relaxing and nurturing. In the home, elements from nature instill a sense of belonging and comfort. Including natural elements in the décor is an easy and affordable option.
The young couple in our feature photograph is enjoying a meal in their casual dining area. The room is sparsely furnished but by no means does it feel empty. The small space is well-planned with the inclusion of a few well-chosen, pieces that add both utilitarian and esthetic qualities.
The lovely backdrop of a sand-coloured Dulux Australia textured paint (European Stone) sets the tone for a rich, earthy decor. The specialty paint offers a depth and quality that is hard to achieve with one flat wall colour. The colour is light yet rich enough to provide soft contrast with the dark furniture and cream accents.
Natural elements
The tree branch floor lamp is a stunning addition that provides a natural touch and visual interest. While the lamp is no doubt a designer piece, you may be able to update a plain floor lamp by attaching lengths of driftwood, grapevine or dried branches to create a similar look. The modern drum shade keeps the lamp from feeling too kitschy and provides an element of sophistication.
Balancing the height of the lamp on the opposite side of the room is a unique tall metal display rack. The rough, rust-finished metal is perfect for this style of decor and is visually softened by the inclusion of single bud vases housing fresh tulips. This is a nice juxtaposition of rugged and elegant elements.
On the buffet table, a fish bowl holding tall, fresh-cut flowers provides vertical drama and a splash of lively colour. The antique wicker basket houses hand-carved wooded accents and sitting casually beside it is a sketch in tone-on-tone colours. These three simple accessories provide a huge impact.
The gleaming, natural wood floors add lots of pattern to the space. As well, the wooden furniture has a semi-transparent finish, which allows the grain to show through. Using a solid fabric on the furniture was a good option to balance the strong pattern and dark wood tones. Pattern on the upholstery may have been a bit over-the-top. The inclusion of the loose-weave burlap accent cushion on the cream chair is a nice touch. There is lots of texture in this room, which is fitting because nature abounds with texture.
The choice to use a round dining table with curved-back chairs speaks to the organic shapes found in nature. The round table versus a square table provides visual and physical flow.
The room is flooded with natural light, which is wonderful. Natural light opens up a room and makes the occupants feel good. Keep window treatments light and breezy or forgo them altogether whenever possible to allow the sun to stream into your home.
The asymmetrical layout of the furniture and accessories is pleasing to the eye. There is harmony and balance through a lack of formality. The use of vertical displays keeps the monochromatic palette from being boring. The lack of clutter also provides visual breathing room. The casual way the accessories are displayed is relaxed and unpretentious.
The non-committal style is refreshing. There are no nails in the walls, no focal points (such as a fireplace), to work around, just freedom of movement when the mood strikes.
Casual or formal
You can decorate formally or casually where nature is concerned. A more formal, finished room may contain custom-framed botanical prints presented in a gallery style display whereas a casual space might feature a wall collage of amateur nature photographs.
Inspiration
Decorating your home based on nature can take on many facets. Some may desire the feeling of a sandy beach on a summer day while others may prefer a winter retreat. You may love the rich orange and purple palette of a dessert sunset while others may prefer the soft pale tones of glacier ice. If you're a bird enthusiast you can include decorative birdcages and accessories with likenesses of birds of interest.
The seasonal changes can also be an inspiration for rooms in the home. Warm autumn colours in a family room would provide a cosy atmosphere. The cool blue of a clear summer sky might be a great backdrop for a restful bedroom. Whatever you choose to do, find out what it is in nature that tugs at your soul, then take it from there.
connieoliver@shaw.ca