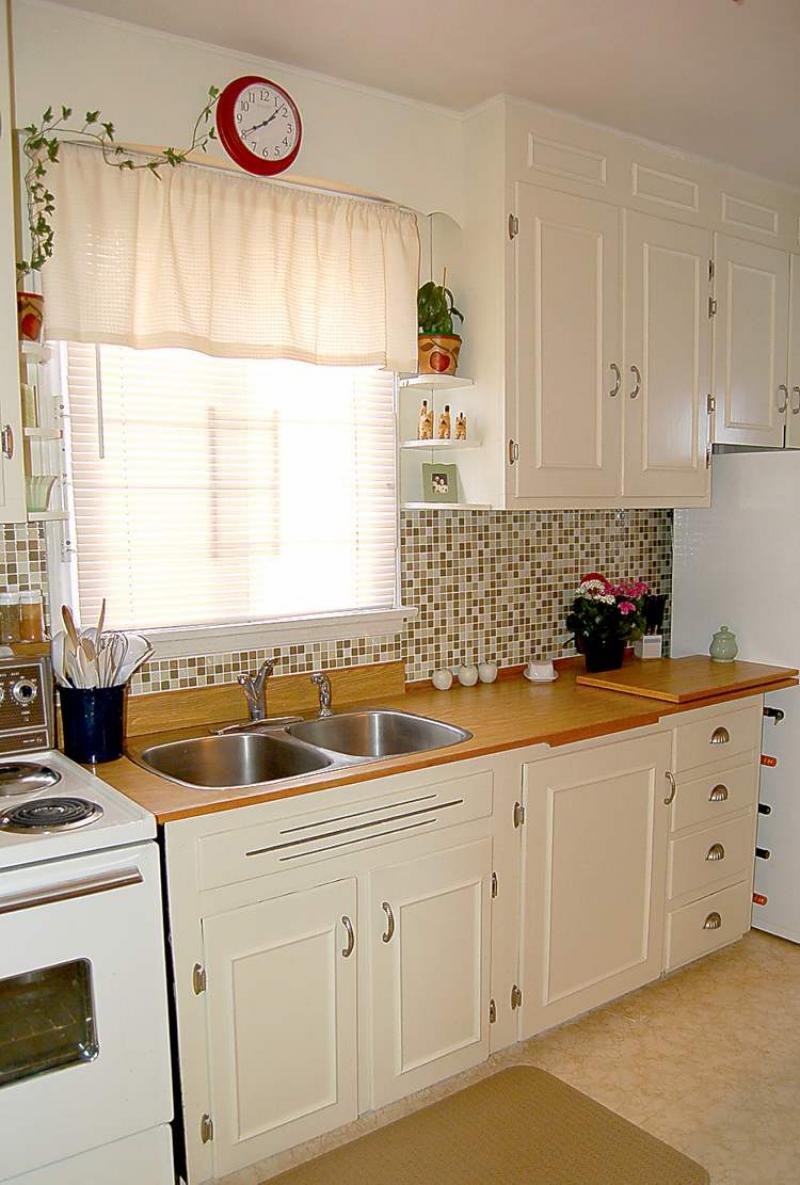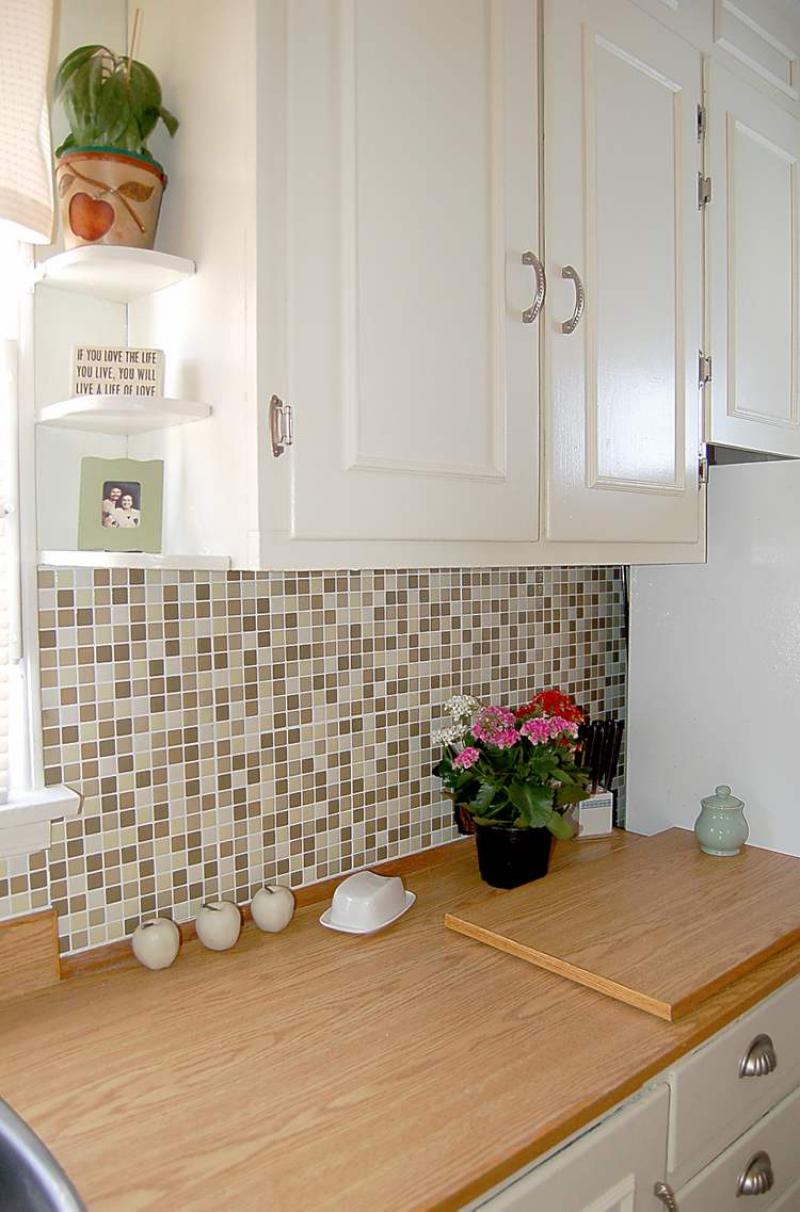 They say a picture is worth a thousand words. When I happened upon a picture of a kitchen that had a similar layout and vintage of my own kitchen, it sparked a desire for change.
Over the years, my 1950s-era kitchen has seen several minor updates. The painted cabinets have been repainted and new hardware has been installed. The countertop was replaced years ago, and the wall colour has been updated every few years. The basic layout has not changed and the original cabinetry remains as it did when it was built in 1948. I did build and install that wine rack not too long ago, which was a great DIY project for under $20.
DIY under $60
The photograph that inspired me to try my hand at another DIY kitchen project was of kitchen cabinets that had been updated with decorative trim. Panels were created on each door and drawer and I honestly thought, at first glance, the cabinets were new. Once I looked closer, though, I could tell it was a clever update to the original cabinets. I also realized this was a simple update I could do myself.
I set out to find the decorative trim I would need for my project. I like to shop locally whenever possible, so I headed to Windsor Plywood to see what I could find. Garth Deleske, the salesman I dealt with, was very knowledgeable and helped me find the perfect trim for my project. He also gave me some handy advice about pre-drilling the trim before nailing it to the cabinets and helped me find the right nails for the job.
Knowing I was going to have to paint the trim to match the cabinets, I opted for a pre-primed trim that would save me a step in the process.
I'm not comfortable with power tools, so I used a handsaw and a mitre box to cut the trim to the lengths I would need for each door and at a 45-degree angle. The cabinet doors were not all the same size, so I kept track of the measurements by drawing a rough picture of the face of the cabinets on a piece of paper and marked the measurements on each door in the drawing.
I numbered each door on the drawing as well. When I cut the pieces for a specific door, I wrote the door-number on the back of the trim pieces so I wouldn't mix them up later on. Each door panel would require four cut pieces and I kept them together with a rubber band, again to keep organized.
Once all of the pieces were cut, I wanted to ensure each panel was as square as possible. I achieved this by placing each matching length back to back to ensure they were exactly the same. When necessary, I (carefully) trimmed the ends with a utility knife (the wood is soft, so this was easy to do) and used a rasp to clean up the ends so I'd have a tight fit when installing the panels.
I pre-drilled holes into the cut pieces in preparation for nailing as Garth had recommended. The trim is not heavy, so there is no need to overdo it with the nails, but you want to ensure the trim lies flat. A very long piece might require three nail holes, but for the most part, I was able to drill two nails holes in each piece. (You may have to putty the nail holes afterward, so the less you have to do the better.)
I did remove each cabinet door so I could lay it on a flat surface to install the trim. As well, once the trim was installed, I used paintable caulking to seal any corners and nail heads that were not exactly flush, then painted over the trim with the matching cabinet paint.
I was able to install the panels, one piece at a time, without using a level or measuring. If you're not comfortable with eyeballing it, you could take the additional time to measure the panel to ensure it sits in the centre of each door. As well, you want to ensure when you look across the flank of cabinets the tops and bottoms of each panel run straight and evenly.
I had planned to trim each drawer's front but in the end, there wasn't enough room around the decorative-shell drawer pulls I had installed last year (which I also happened to purchase on sale at Windsor Plywood). Instead, I installed the drawer panels on the bulkhead to a very satisfactory outcome. Because I had to install these smaller panels on a vertical surface, I decided to glue the panels together ahead of time, paint them, then install them using hot glue. I am confident the glue will be sufficient because these panels are small and are on a stationary surface. So far, no problems.
I absolutely love the way the cabinets look and the project only cost around $55. Well worth the small investment and effort.
DIY under $200
Once the cabinets were trimmed, I knew it was time to update my circa-1990, faux-tile blue-and-white painted backsplash. I loved that project, but it was time for a change. I searched on the Internet for ideas. I really didn't want to install permanent tiles, so it was either paint the plaster wall in one solid colour or find something unique. As luck would have it, I found a DIY product that, I think, will transform the DIY industry.
Smart Tiles are a gel product that look like ceramic tiles and are peel-and-stick. They are easy to install and can be fairly easily removed, which is a big plus. I chose a neutral mosaic pattern that would provide a bit of pattern but would be easy to co-ordinate with in future. The Harmony Mosaic pattern looks wonderful and you can't even tell it's not real tile. It was easy to install and cut with scissors or a utility knife. The project took two hours to complete, not including prep time to clean the walls sufficiently. I absolutely love the way it looks. You'd never know the tiles aren't real and I was able to do the project without power tools or assistance. It was equivalent to hanging wallpaper, but without the watery mess.
A project the size of my backsplash would cost just under $200 before taxes. Compared to the labour and product costs of having a professional install actual tiles, it was well worth the investment. The great part is they can be removed without a lot of fuss when it's time for a change.
Smart Tiles are available at the Home Depot or online at www.thesmarttiles.com. Check out their website for more patterns, ideas, installation and product information.
connieoliver@shaw.ca