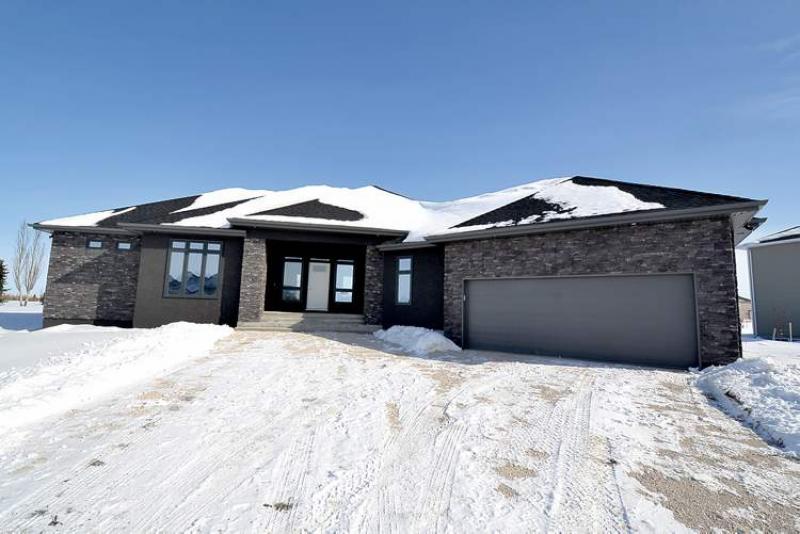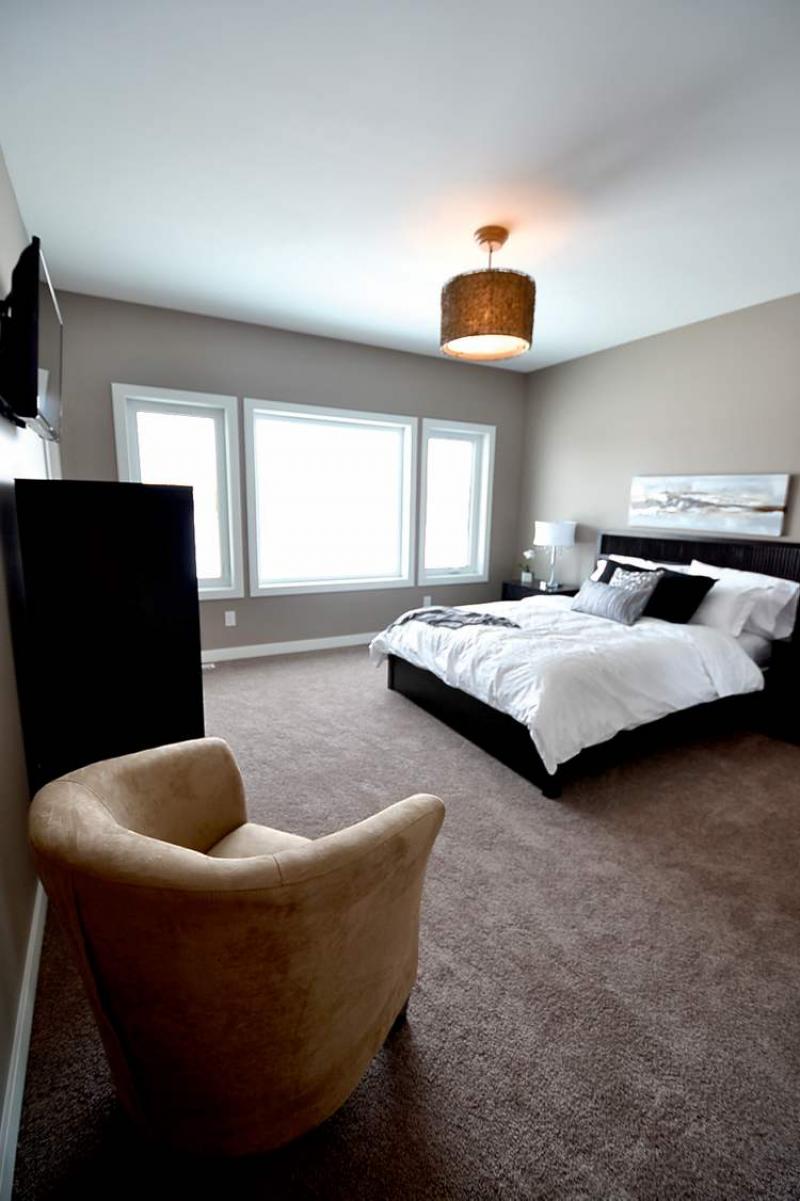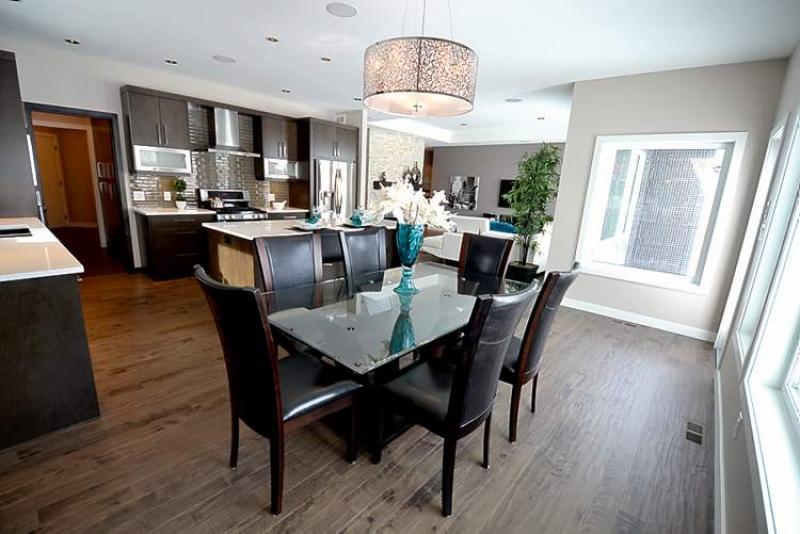 How do you take a proven home design and make it better?
By taking an objective look at its floor plan and tweaking it in several key areas to make an already livable home that much more user-friendly, said Paradigm Custom Homes' Jeff Baertsoen.
"This is the third version of a design we've had a lot of success with," he said, adding previous designs were the Sona Mombasa and Grand Mombasa. "As good as both those plans were, our design team knew we could make them even better."
The modifications to the floor start right at the very front of the home, where a 10.5-foot-wide foyer -- that's defined in style by a taupe (porcelain) tile landing and a two-sided, see-through (ribbon-style) fireplace with beige cultured stone surround -- ushers you into the home in spacious style.
While the grand entrance is impressive, the wings set on either side of it are just as impressive in terms of the functionality they provide.
"In previous designs, we put the laundry room to the right of the entrance along with the mudroom," explained Baertsoen. "This time around, we put in a powder room and extended the tile floor into the area to bring guests into the area in style. Off the mudroom (which is huge with Kiddie Kubbie lockers), we put in a butler's pantry that you can walk right into from the garage. It has a monstrous amount of storage, and can be closed off from the kitchen by a pocket door."
From there, you emerge into a kitchen that does an exceptional job of balancing space, light and segmentation. Space abounds thanks to an eight-foot by four-foot white quartz-topped island that's large enough to provide preparation space and an eating nook for three, but not so big that it dominates the kitchen. Aisles are exceptionally wide at five feet between the counters on either side, making for excellent flow.
Adjacent to the kitchen is a semi-formal dining area that borders on being formal due to its sheer size.
"It's a nice, big area ideal for large gatherings," he said. "It has a built-in hutch, and we placed it next to a group of four huge windows (plus deck door) to provide a panoramic view of the countryside and neighbouring golf course. The view is awesome, and the area has a nice, clean look with sleek lines."
While the great room area is open, each space is a distinct entity. The kitchen is separated neatly from the dining area by the island, while the dining area has an eight-foot buffer of the handscraped birch hardwoods between it and the bright, elegant family room, which is subtly defined by a feature above it.
"We put in a tray ceiling to do three things -- quietly define it, add style and increase the feeling of volume, even though the ceilings are already nine feet high," said Baertsoen. "To the right is a wall of windows that gives you another great view of the gorgeous surroundings, and those windows, along with the ones in the kitchen/dining area make for a main living area that's flooded with a ridiculous amount of natural light."
Finishes in all areas are impressively rich. Dark chocolate maple cabinets, a taupe glass tile backsplash behind the stove and by the kitchen window (the latter a gorgeous touch) and aforementioned birch hardwoods make for a warm interior ambience, while the white quartz countertops add some welcome contrast.
Then, there's the family room, which has far more going for it than the tray ceiling.
"It's a surprisingly large space. That size gave us the width required to separate the two-sided fireplace from the floating entertainment unit and big flat screen TV on the adjacent wall," he said. "The two features don't compete with each other -- or the view -- and the fireplace neatly separates the family room from the foyer, while providing entrances to the wings on either side."
The bedroom wing in The Mombasa III differs markedly from the wings in its predecessors in that it contains two entirely different design features.
"I think the biggest difference is that it's a more efficient design with the laundry room being located right by the three bedrooms. Before, you'd have to walk across the hall to do the laundry, now it's only steps away," Baertsoen said. "The second thing we did was create jack and jill bedrooms with a four-piece bath in between. Both bedrooms are a good size and have double closets and big windows."
Meanwhile, the master suite is a sanctuary of serenity.
"Our goal was to create a space where parents could go to renew themselves," he said. "I think we accomplished that goal; the view -- through a huge three-piece window -- is spectacular, with the golf course and trees out back, and the room itself is nice and big with room for a king-sized bed and lots of furniture, including a reading chair, if you like."
Then, there's the well-appointed ensuite.
"There's a six-foot shower with tempered glass enclosure, custom tile surround, bench, glass tile shower niche and lit overhead rain shower head," said Baertsoen. "A quasi-floating maple vanity with dual sinks set in grey quartz contrasts beautifully with the off-white (porcelain) tile floor, while three piano windows above let in light while maintaining privacy. The area is completed with a big walk-in closet."
With approximately 2,000-sq.-ft. of space to develop in a cavernous basement, The Mombasa III offers over 4,000 sq. ft. of functional -- and tastefully fashionable -- space to enjoy in countrified solitude.
lewys@mts.net
DETAILS
Builder: Paradigm Custom Homes
Address: 33 Tanglewood Drive, La Salle
Style: Bungalow
Size: 2,167 sq. ft.
Bedrooms: 3
Bathrooms: 2.5
Lot Size: 130' x 160'
Lot Cost: $119,900
Price: $692,370 (Including lot & GST)
Contact: Jeff Baertsoen, Paradigm Custom Homes @ (204) 736-4686