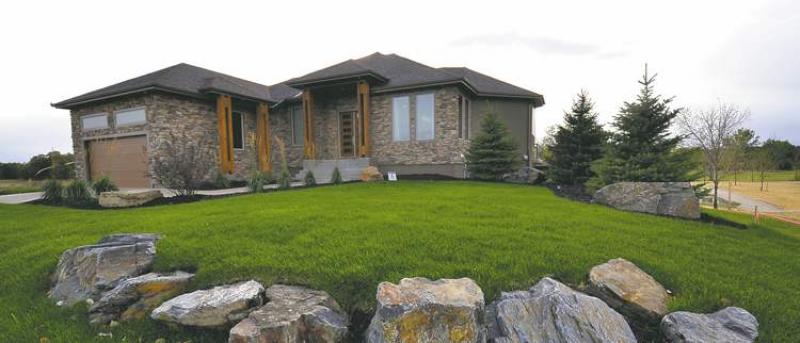 A Manitoba builder has won a prestigious home-design award over four competitors from across Canada.
And the win -- in the custom homes, single detached under 2,500 sq. ft. category -- came as part of Maric Homes' first-ever entry in the Canadian Home Builders Association's National SAM Awards, held March 8 in Lake Louise, Alberta.
Not surprisingly, the winning design was Maric's stunning 2,415-sq.-ft. bungalow at 64 Deer Pointe Drive in Headingley's Deer Pointe Park, a former HSC Lottery Home.
"The feeling is amazing, incredible -- we're humbled and honoured," said Maric Homes' president Dan Rolfe on winning the national award.
"We're pleased with the recognition. It really is a good feeling knowing you're achieving something for the many years our business has dedicated to delivering a superior product and service to the Manitoba market."
Rolfe said the winning ingredients could well have been Deer Pointe's natural beauty -- an inspiration for the design -- and the goal to create a cutting-edge family home.
"I think our team managed to create a look that embraces classic warmth, yet with a twist of rustic modern -- a combination that's hard to pull off. The surreal setting and natural outdoor beauty that surrounded the home inspired the home's design language in every detail of the home, inside and out."
At the same time, the award speaks to the long-standing principles that have kept Maric Homes at the top of the building industry for four decades, Rolfe added.
"Maric Homes has always believed that the most successful structures in business have strong foundations that are built with foresight, attention to detail and never compromising quality. With this SAM Award, we believe that we've achieved all of those things."
Rolfe said the entire Maric team, including founders Steve and Cathie Maric, are extremely proud of this accomplishment.
"Once we were in Lake Louise and saw the sophistication and beauty of the other finalists, we were extremely honoured to be nominees, never mind actually receiving an award," he said.
"We were also proud to represent the Manitoba home-building industry on the national stage. Builders in Manitoba build some of the most beautiful and technically-advanced homes in the country. We're proud members of that fine group."
lewys@mts.net