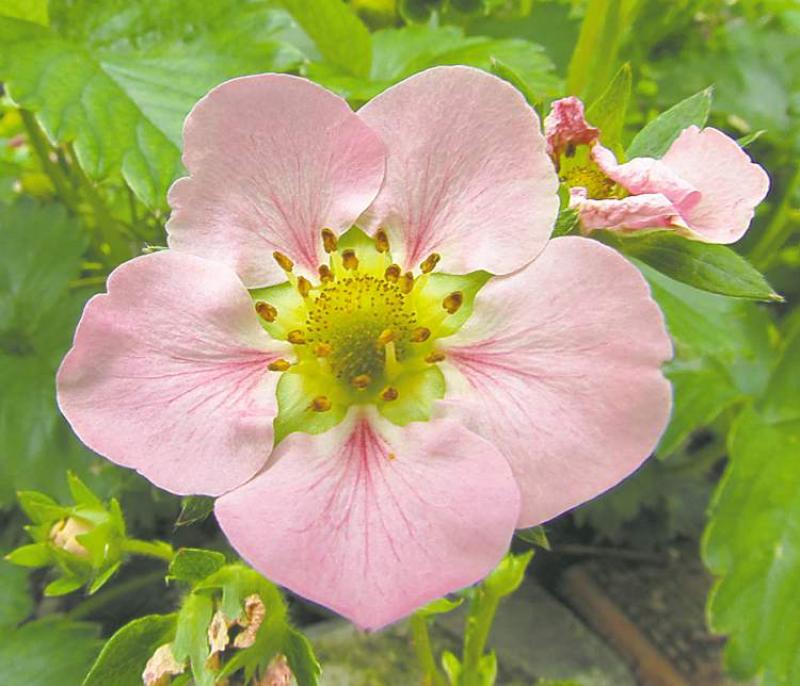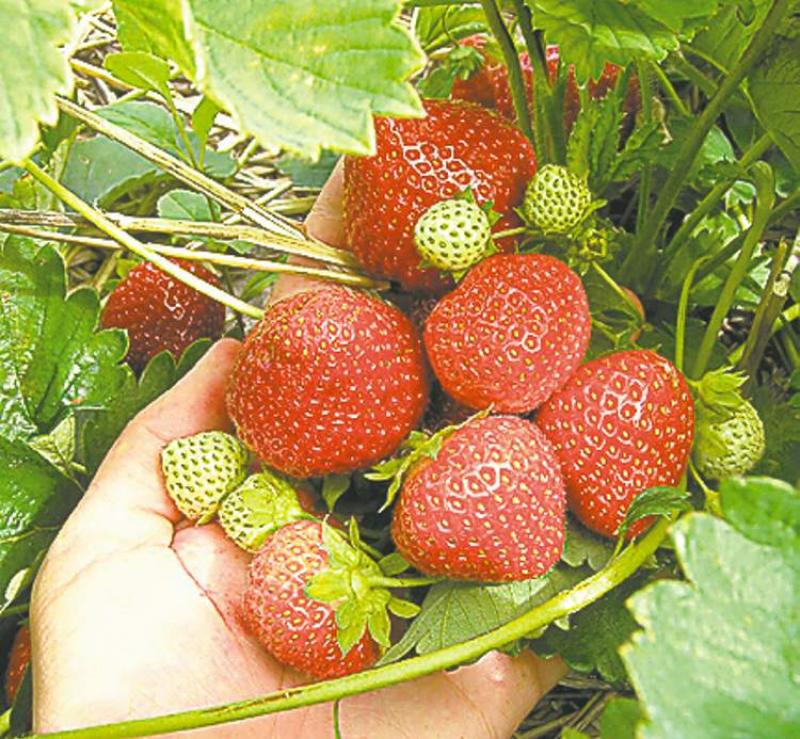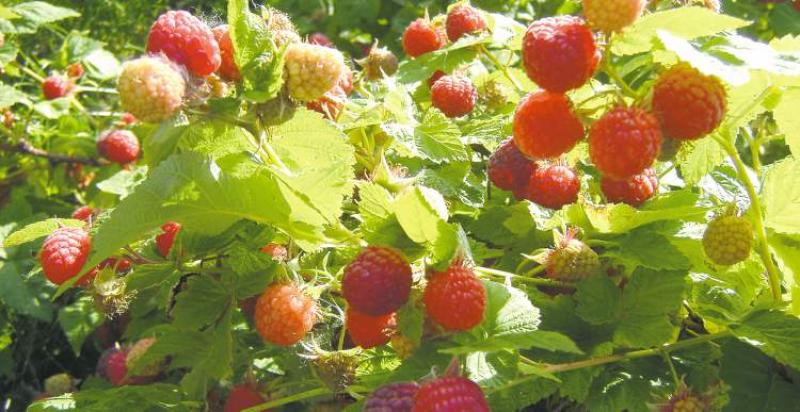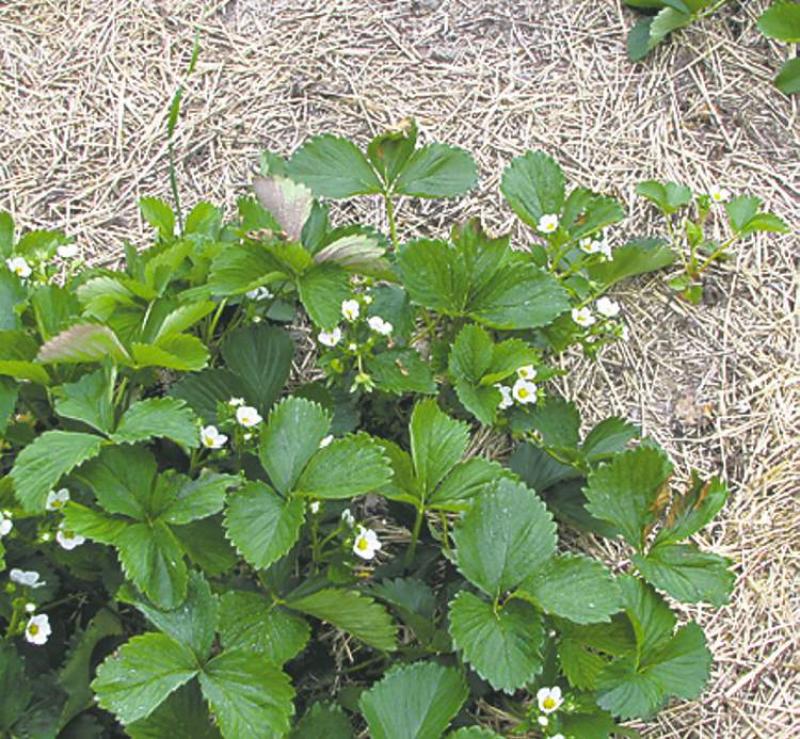 Most of us have picked raspberries or strawberries at some point in our lives. Half of what we pick goes into a plastic ice cream pail and the other half is eaten out of hand. It's all part of enjoying the season's fresh fruit.
Waldo Thiessen, today's contributor, is Executive Director of the Prairie Fruit Growers Association. The PFGA, a non-profit organization, represents all Manitoba fruit crop growers since 1974. Thiessen and his wife Lorna, are also co-operators of Berry Hill Farm -- a U-Pick operation consisting of 8 acres of strawberries and three acres of raspberries located east of Altona.
Interested in growing your own strawberries or raspberries? Teresa Lopata, a master gardener who gardens in East Kildonan, prefers to buy strawberries as fillers for her containers rather than, say, petunias.
"The flowers are very pretty and I can eat the fruit. The rosettes on the end of runners have roots," she says. "I plant some of the rosettes in the garden around the beginning of August. They establish well and by the next spring I have new plants for either my pots or garden."
Talk to your garden centre or nursery to get more details on varieties, planting depth and other questions you may have. Visit www.pfga.com for information on U-Pick Raspberry and Stawberry locations throughout Manitoba.
***
Interested in having fresh grown vegetables? It's as simple as joining a local CSA Farm Share. Contact Bruce Berry at vegetables@mts.net to learn more about how you can have a box of fresh fruit and vegetables delivered to your door all summer long.
***
Agassiz Garden Club welcomes Shirlee Klaprat, Plainview Greenhouse, for a presentation on new plant introductions for 2013. 7 p.m. April 10 St. John Anglican Church Hall, Lac du Bonnet.
gardenfundamentals@gmail.com
Whether you live on acreage outside the city limits, have a garden plot in your backyard or live in an apartment with a balcony, you can enjoy the exceptional taste of Manitoba-grown fruit. With careful management it is possible to grow many different kinds of fruit: strawberries, raspberries, apples, saskatoons, grapes, currants, gooseberries, plums and sour and semi-sweet cherries to mention a few.
The two fruit crops most often found in home gardens are strawberries and raspberries. Over the years it has been shown that certain cultivars are hardier in our cold prairie winters. It is very discouraging to start a nice plot of strawberries and find in spring that they have not survived. There are several things you can do to increase your chance of success.
Strawberries
It's important to make sure you have good soil in which the plants can grow. The ideal soil is a sandy loam that has good water retention ability but also provides good internal drainage. Avoid saline and alkaline soils. Strawberries grow best in soil with a pH of 5.5 to 7.5. You can modify your soil by growing a green manure crop (plow-down mix) the year before planting and adding a good quality mulch or peat moss worked into the top 12-18 inches of soil before planting. If you are planting in baskets or containers, your local garden centre can recommend the best soil.
There are a number of sources for plants. It is not recommended to take plants from an existing plot or field. These may contain disease or insect problems. At some retail operations, the source and variety of plants may be hard to verify and sometimes they are displayed in the open air, or worse, in the sunshine where the plants dry out quickly. A local nursery or garden centre will make sure they are selling certified virus-free plants which have been dug, shipped and stored to guarantee the highest viability.
There are three kinds of strawberry plants. June-bearing strawberries produce one crop a year and will produce for two or three weeks starting in late June or early July. Cultivars that have proven to be winter hardy, tasty and good producers in Manitoba include Kent, Glooscap, Jewel and Wendy.
An everbearing plant produces two crops a year: one in June and another in fall. A good cultivar choice is Fort Laramie. The older Ogallala cultivar is hard to find and although not a heavy producer, is winter hardy.
A third choice is a day-neutral strawberry plant. The plant will start producing in late June and continue producing until the blossoms are frozen by fall frost. The day-neutral plant is not affected by shortening days and so does not shut down fruit production early. I have seen ripe red berries lying on new-fallen snow.
A novel approach my family tried was to plant a hanging basket with three Rosalyne strawberry plants and hang it close to our front door. Rosalyne is a day-neutral plant with very attractive large pink flowers. The fruit is medium-size with a wonderful wild strawberry flavour. The basket attracted a lot of attention and competition to be the first to get the fruit.
Strawberries do not compete well with weeds. Try to choose a weed-free place to plant your strawberries because you want them to last three or more years (I have seen commercial fields that are eight years old and still producing well). A full row of plants is a good start to weed control. Placing weed-free straw or grass mulch around and between the plants can help preserve moisture and also control weeds.
Make sure the plants have enough water. Strawberries have most of their roots in the top five inches of soil, so check frequently to a depth of at least six inches that the soil is moist but not waterlogged. A good soaking with a trickle irrigation line will save water and place the water where the plant can take full advantage of it.
When the runners and daughter plants form, train them into the row by placing a little bit of soil on the runner to anchor it. The daughter plants will not put down roots if the surface soil is too dry or if it is moved around by the wind, so during this time make sure the surface is moist.
When the plants are dormant in fall, cover them with a good layer (six to eight inches) of clean straw or leaves. One way to check if your plants are dormant is to place a one foot square piece of carpet or light plywood on the row. After a few days check the plants under the carpet or plywood. If the leaves on the plants are turning yellow, the plants are not dormant yet.
In spring remove the mulch and place it between the rows where it becomes your weed and moisture control. Mulch removal may be as early as the first week in April or as late as early May depending on snow cover and an early or late spring. If you see a little yellowing of the growth under the mulch, it is time to uncover.
Raspberries
There are two types of red raspberry canes. Primocane fruiting raspberries (also called fall fruiting or everbearing) will produce fruit each year starting in late summer or early fall. The Floricane raspberry (summer fruiting or regular cane) produces fruit on second year growth. Fruit is ripe starting in early to mid-July in Manitoba.
Soil preparation and watering of plants are similar to strawberries but raspberry roots go deeper and will require more water. It's not necessary to mulch raspberry canes but mulch does help to preserve moisture and control weeds.
There are many floricane raspberry cultivars from which to choose. Boyne raspberry, developed at the Morden Research Centre, has proved to be the most hardy to Manitoba's harsh winters. In our commercial production, we find that the Nova raspberry cane produces more than Boyne, but usually freezes back more.
When it comes to Primocane raspberries, it's important to remember that our growing season in Manitoba can be very short. Three cultivars that are suited to Manitoba gardens are Red River, Double Delight and Pathfinder.
A good source of information about raspberries and strawberries is your local garden centre. Visit the Manitoba Agriculture, Food and Rural Initiatives (MAFRI) website which, although geared for commercial growers, can provide home gardeners with a great deal of helpful information: www.gov.mb.ca/agriculture/crops/fruit/index.html. With a little planning and research, fresh berries from your garden, still covered with dew, are a pleasure you can enjoy this summer on your morning cereal.