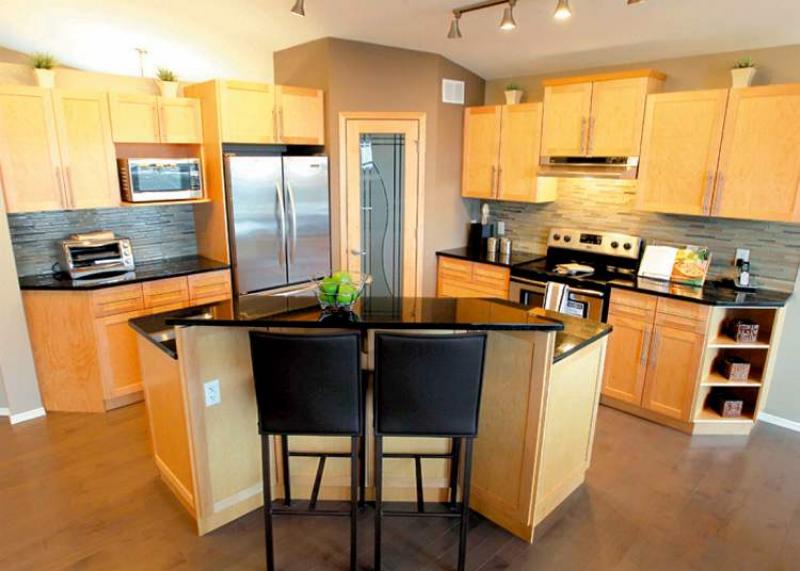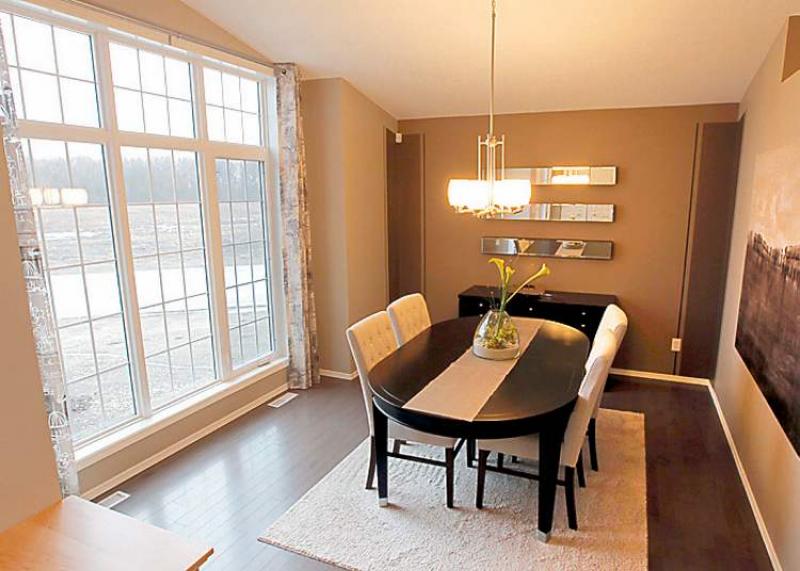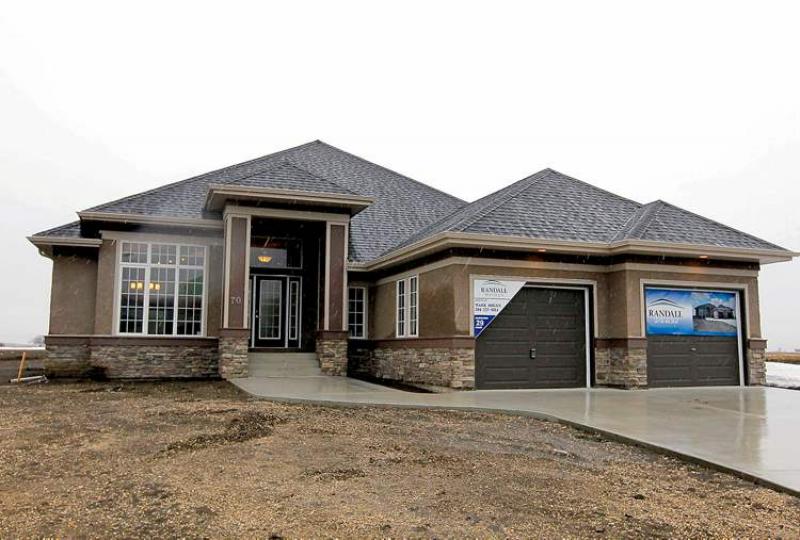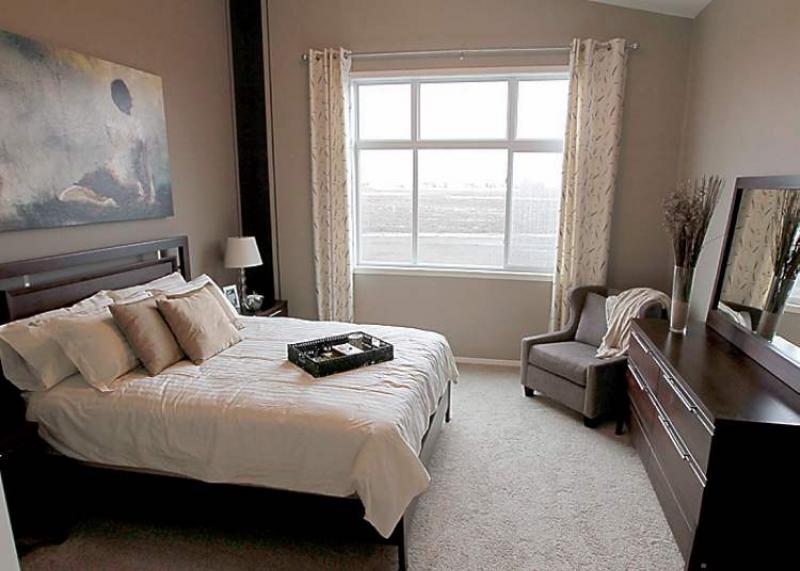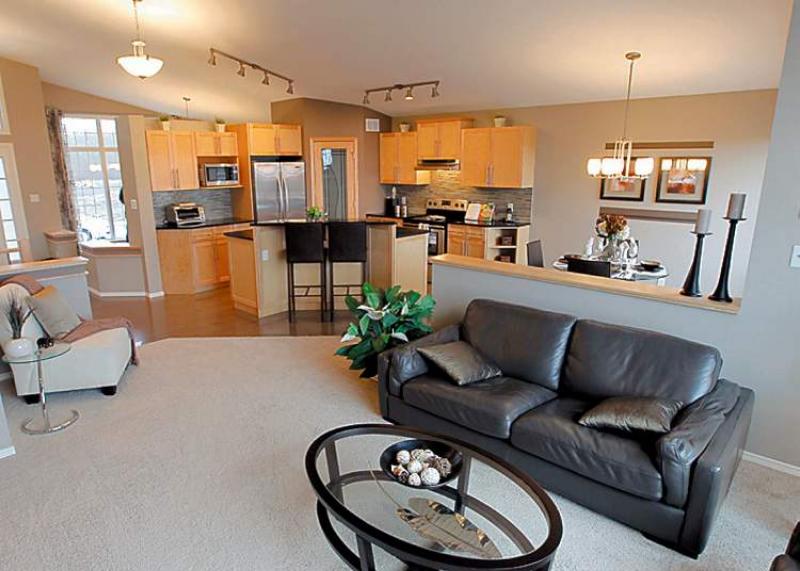 These days, a home measuring in at 1,770 square feet doesn't sound all that big.
Not so fast: Perception of space actually depends (to a great extent) on how the home is configured. For example, if the ceilings are eight feet high and the layout is choppy, a home can feel much smaller than it really is.
That's certainly not the case with the Oakwood A, a charming bungalow found at 70 Medinah Dr. in the countrified confines of La Salle's Kingswood South, said Randall Homes sales representative Mark Kogan.
"The ceilings throughout this home are vaulted in every room -- that feature makes it feel much bigger than it is inside," he said. "When you combine that feature with generous room sizes, the result is a home that has a very spacious feel."
Nowhere is that spacious feel more important than in the great room area. In the case of the Oakwood A, a logical layout amplifies on the sense of space.
"Randall always pays attention to the layout of their homes, and this one is no exception -- the layout works really well in the sense that there's no wasted space," Kogan said. "It's an efficient layout that's open, yet there's segmentation, too. Each space in the great room is well-defined and easily accessible. Flow from the kitchen/dinette area into the family room is excellent, yet you never feel like you're in a big, wide-open box."
As is customary for Randall designs, a one-third (in this case, maple capped) wall with storage/display shelving on the kitchen side elegantly divides the dinette area from the family room. At the same time, an angled island with U-shaped interior and raised eating bar with seating for two on its outer portion not only opens up space in the kitchen, but also provides buffer space between the kitchen and family room.
The kitchen is equal parts fashion and function. Fashion is derived from natural maple cabinets, brown granite countertops and a grey/taupe/tan glass-tile backsplash, while the function comes from ample cabinet and counter space and a handy corner pantry.
A different flooring choice adds even more panache, added Kogan.
"Almost every visitor to the home has commented about the hardwoods. They're maple with a unique portobello stain that has almost a whitewashed look," he said. "They're a nice departure from the dark maple hardwoods you find in so many homes."
An additional bonus is a dinette area set well away from the kitchen that's not only big, but bright.
"I would say it's bigger than most (at approximately nine feet by 11 feet). It's also next to a big window, which makes it a nice, bright space. There's also a door that leads to a deck out back where you can barbecue, or just relax with a hot or cold drink. The one-third wall (with maple capping and storage/display niche) also keeps the dinette area separate from the family room."
Meanwhile, the adjacent family room -- deftly defined from the kitchen by short shag tan carpeting -- is a space ideal for entertaining or simply hanging out with the family. A generous 14 feet by 20 feet in dimension, it feels considerably bigger than it really is due to having been placed underneath the apex of the vaulted ceiling.
That high ceiling makes for a pair of dramatic walls at its rear and far right-hand side, said Kogan.
"The first thing the vaulted ceiling gives you is a great view out back due to a huge picture window. Then, there's a gas fireplace (with taupe-cultured stone surround) on the other wall, along with a natural maple TV niche with shelving on either side. The space, light and finishing materials come together to make it a great space."
Another great space is the front-oriented dining room, an entity unto itself that's defined on one side (from the foyer) by one-quarter maple-capped walls, and on the other by a staggered three-quarter wall.
"Again, it's a big space (at 13 feet by 11.6 feet), and it's also bright due to a huge picture window on the front wall," he said. "The vaulted ceiling makes it feel even bigger and brighter, while the three-quarter wall lets light from the great room flow into the dining room."
The main level is then capped out by an efficient bedroom wing that, once again, maximizes available space.
"Both secondary windows are a good size (at nearly 13 feet by 10 feet apiece), and come with huge windows and vaulted ceilings. There's also a huge mud/laundry room with access to the (double) garage and a four-piece bath with soaker tub and maple vanity," he said. "Not an inch of space has been wasted."
Set away in its own private area in the furthest reaches of the bedroom wing, the master suite is what it should be -- a spacious, secluded retreat with its fair share of creature comforts.
"The bedroom is awesome with its vaulted ceiling, picture window, big walk-in closet and taupe feature wall with chocolate brown accents," Kogan added. "And the ensuite is spectacular with its oval soaker tub (positioned beneath a large, obscured glass window), four-foot shower (positioned in a separate water closet) and maple vanity with brown granite countertop."
Downstairs -- remember The Oakwood A is a bungalow -- there's another 1,400 or so square feet of livable space that spans -- bonus! -- a structural wood floor. Add in two more bedrooms, a media area, games room and tons of storage, and you've got more than 3,100 square feet of eminently livable, well-finished space to enjoy in a quiet country setting.
lewys@mts.net
DETAILS
BUILDER: Randall Homes
ADDRESS: 70 Medinah Dr., Kingswood South
STYLE: Bungalow
SIZE: 1,770 sq. ft.
BEDROOMS: 3
BATHROOMS: 2
LOT SIZE: 213' x 121' x 181'
LOT COST: $98,500
PRICE: $463,900 (includes land & net GST)
CONTACT: Mark Kogan, Royal LePage Alliance @ (204) 227-0714