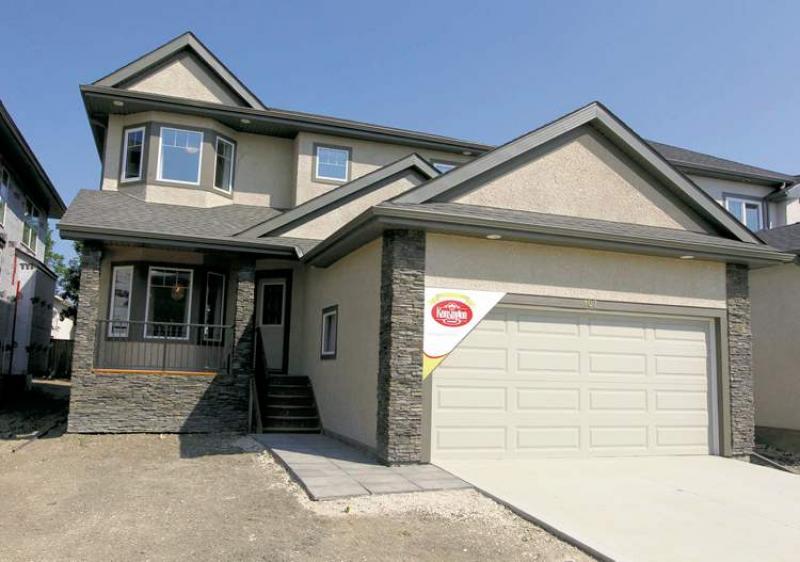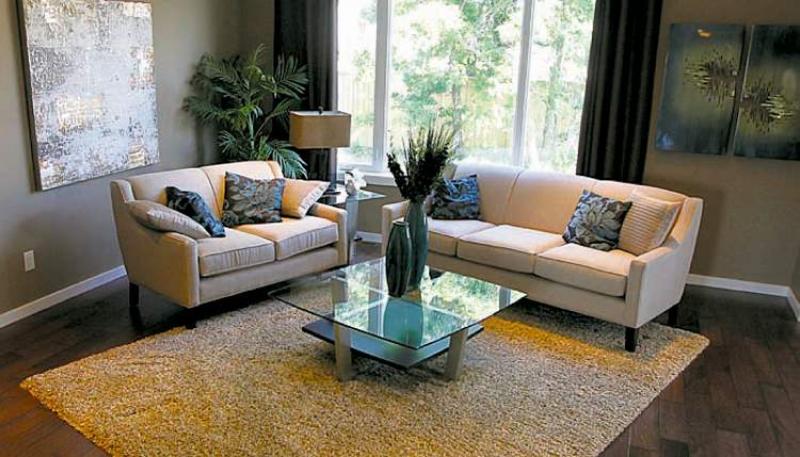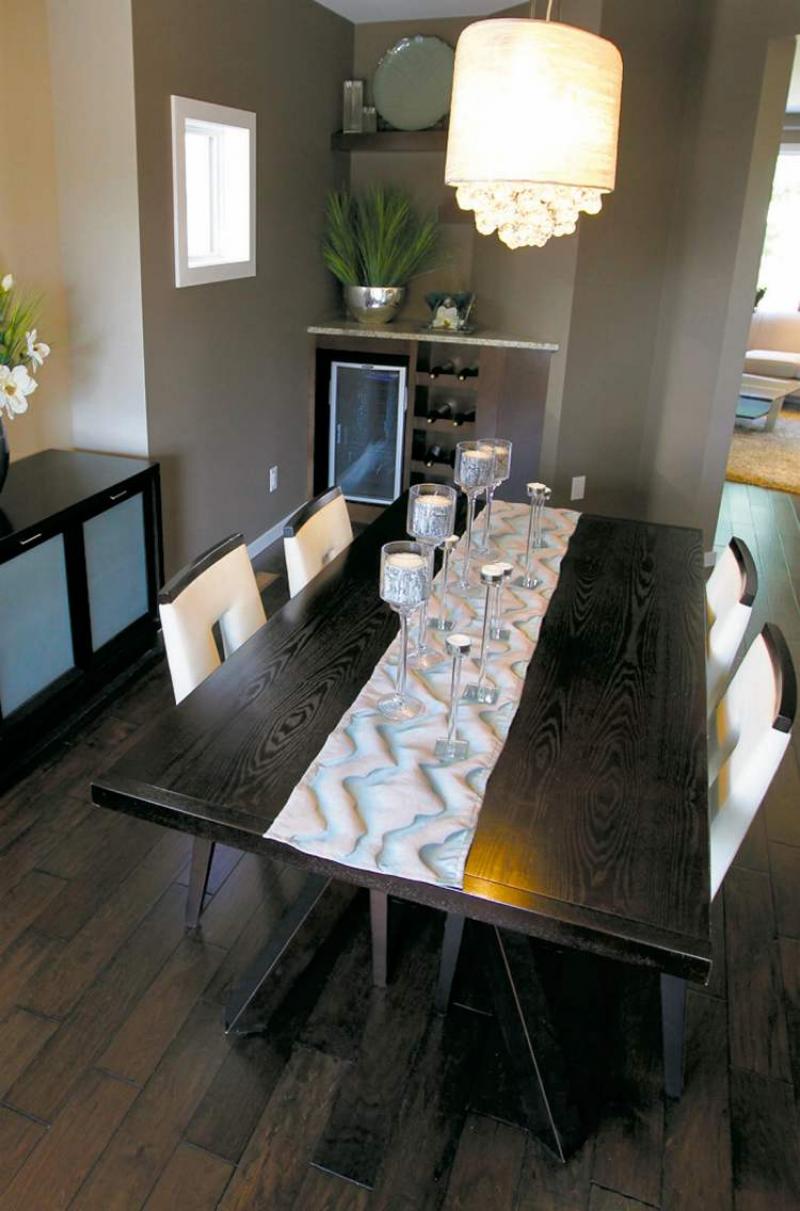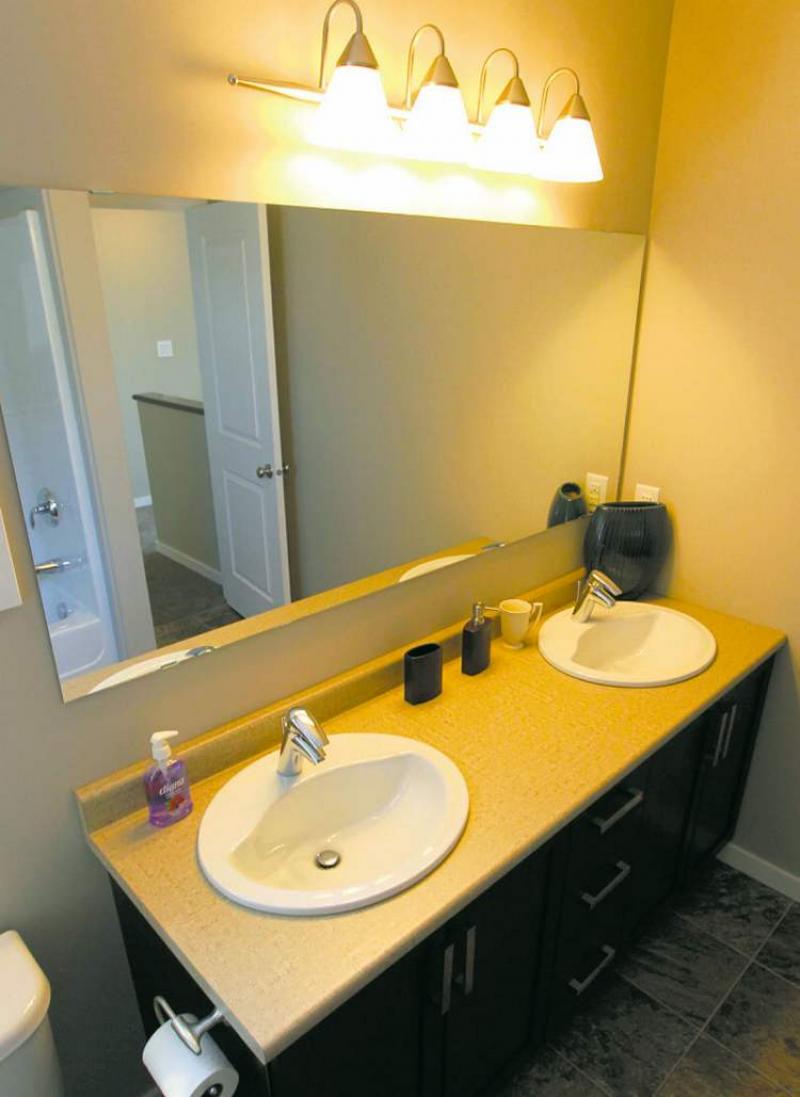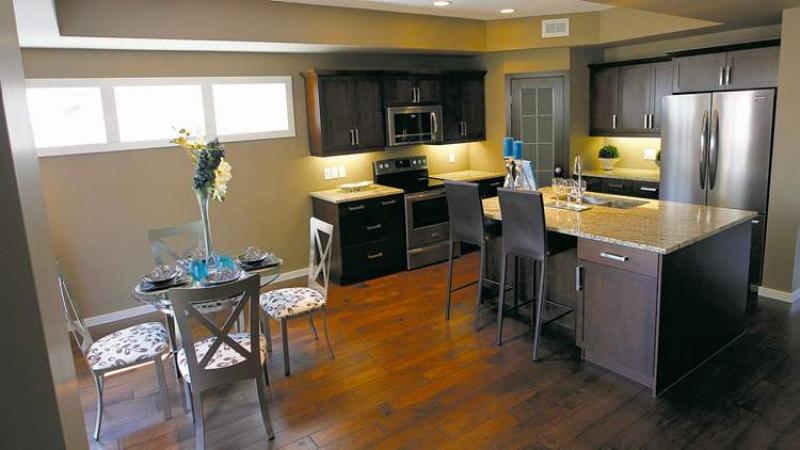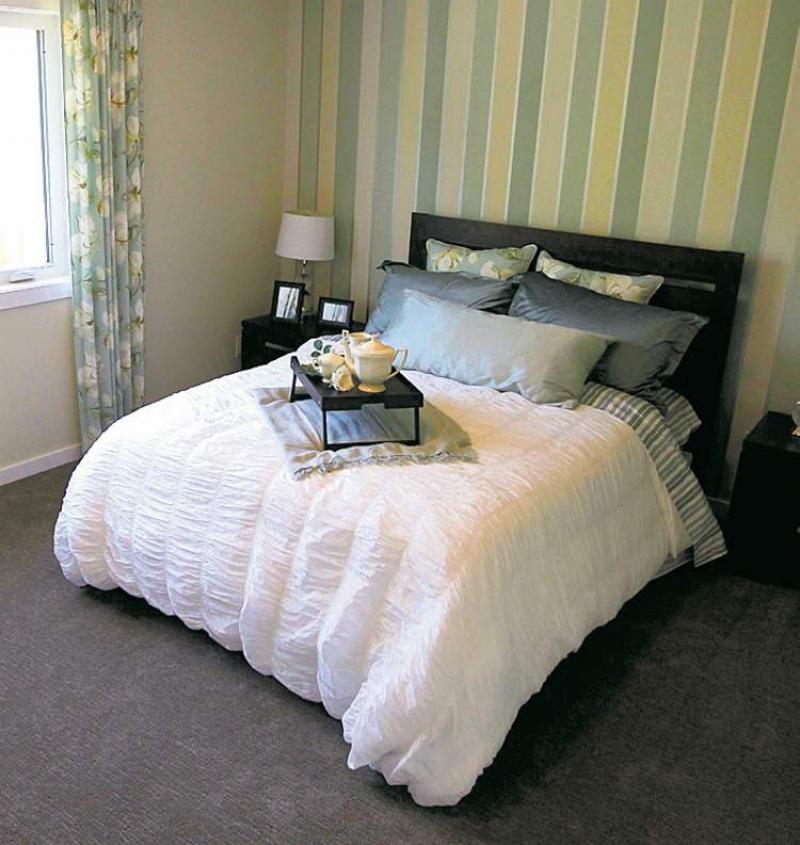 It's amazing how one design feature can affect a home.
In this case, the decision to angle the back wall of a dining room adds style and function to the room and the living room next door.
"Angling the dining room's rear wall really adds to the flow of the great room," said Rene Giroux, Kensington Homes sales representative for 107 Sidebottom Dr., a 2,100-square-foot, two-storey design called the Brisbane. "It also gives you a different look. Not only is the wall angled, but so too is the entrance into the dining room from the living room.
"The other thing to note about the dining room is that it's a large space; it isn't just a token dining room. It can also be converted into a study, or in-law suite, or can be made smaller to add size to the great room."
Kensington's design team uses the space well, Giroux said.
"The angled wall not only adds flow, but it also serves as a perfect spot for a gas fireplace and entertainment unit," he said, noting the mocha (glass) tile surround really sets off the fireplace. "In this case, the maple entertainment unit with floating shelving is optional, as is the fireplace. Still, you can put your flat-panel TV on the wall, and put your own entertainment unit next to it if you're on a budget."
In the case of this dressed-up version of the Brisbane, the final price tag (including land and GST) is $479,900. That price includes options such as the fireplace/entertainment unit, distressed (engineered) maple hardwoods, granite countertops and a deluxe ensuite in the master suite upstairs.
Choose to go with more basic finishes and the Brisbane, with the same square footage and same efficient floor plan, can be acquired for considerably less.
"With basic finishes -- laminate countertops and vinyl flooring in the kitchen, carpet in the living room -- you can get the home for about $410,000," he said. "For that price, you also get a piled foundation, a driveway, tri-pane windows, 30-year shingles and maple cabinets, so the home is not just a shell."
Most clients tend to go with one option: the deluxe ensuite.
"Going with that option takes the home's price up to about $415,000, but it's worth it. You get a tile floor, as well as a corner-jetted tub set in tile beneath two huge windows. It's a great layout with a five-foot shower with tempered-glass door across from the tub, and you also get a maple vanity. If you're not a huge fan of jetted tubs, you can put in a soaker tub, which will bring the price down a couple thousand dollars."
As fetching as the optional finishes are -- the distressed maple floors and tan/taupe brown granite countertops mesh beautifully with the (standard) cappuccino maple cabinets to create a warm, cozy ambience that envelopes the great room -- it's the functional design that stands out above all else.
"I think the kitchen's seven-foot by five-foot (maple/granite) island is the perfect size, it leaves lots of aisle space on all sides," Giroux said. "There's also a corner pantry and the island has an eating nook for two. The dinette area is also larger than normal -- it can hold a table for six quite easily. This home is all about usability and flexibility. A young family could use the dinette as a dining area, which opens up the dining room to be used as a study or play room."
The efficient floor plan extends upstairs, where a large loft (with two big piano windows that let in all kinds of light) has been placed to the left of the stairs.
"It's a great space that people love," he said. "About half of our customers choose to keep it as a loft, while the other half have us convert it into a fourth bedroom. The flexible floor plan provides us with the ability to modify the home to meet families' needs, and with so many large families out there, a fourth bedroom upstairs is a huge feature. Our goal is to get each customer into the home that's right for them."
Bedroom sizes upstairs are impressive, with both kids' bedrooms measuring in at approximately 11.5 feet by 12 feet. Both have double closets and one has a bay window to add style and function. Another nice feature is a spacious main bath that has two sinks, a maple vanity and Kohler fixtures.
Still, it's the master suite that steals the show.
"Tons of natural light comes in from a huge picture window on its back wall and it has some nice style with striped wallpaper behind the bed," said Giroux. "The deluxe ensuite is a space that encourages you to relax, and a big walk-in closet gives parents lots of space to store their wardrobes."
Another 750 sq. ft. of space in an efficiently laid-out lower level takes the Brisbane's total square footage to more than 2,800, making it a functional and stylish family home.
lewys@mts.net
DETAILS
Builder: Kensington Homes
Address: 107 Sidebottom Drive, River Park South
Style: Two-storey
Model: The Brisbane
Size: 2,100 sq. ft.
Bedrooms: 3 plus loft
Bathrooms: 2.5
Lot Size: 42' x 115'
Lot Cost: $110,900 (Not including GST)
Price: $479,900 (Includes land & net GST)
Contact: Rene Giroux, New Homes Sales Consultant @ (204) 930-2914