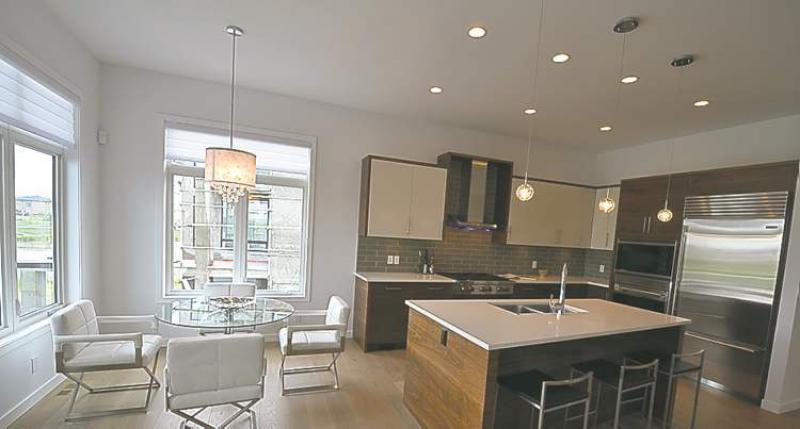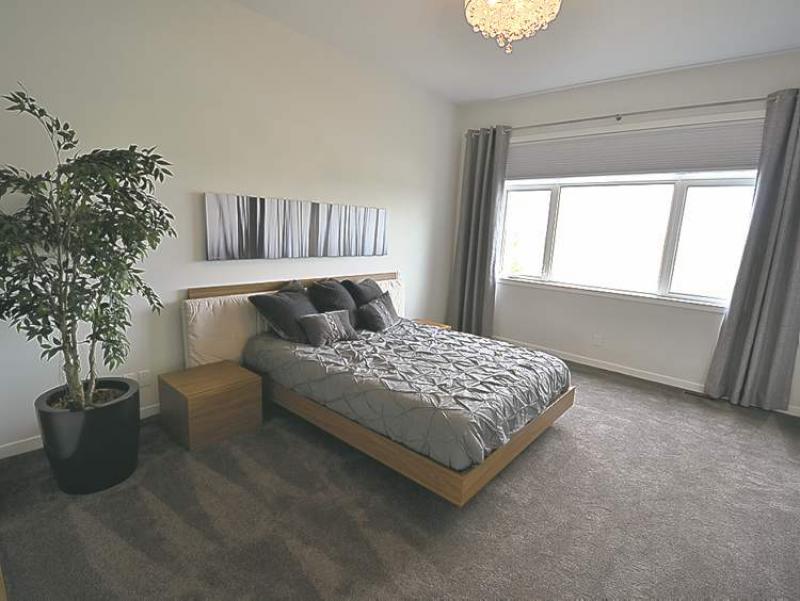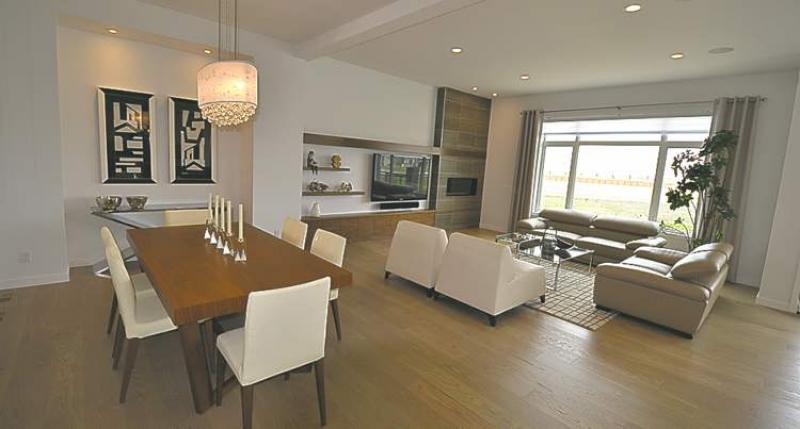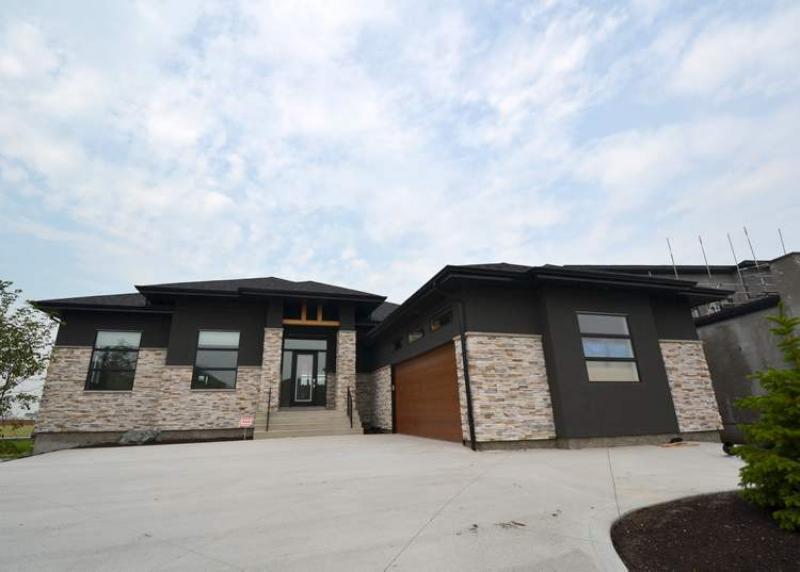 One of two things can happen when you walk into a show home.
You can immediately be blown away by the home's wow factor or it takes a bit of time to appreciate the depth, breadth and quality of the home's design.
This South Pointe 2,174-sq.-ft. bungalow with walk-out lower level resides in the latter category.
"This home has been designed to offer people distinct spaces," said Huntington Homes' Rob Swan of Huntington Homes of 157 Autumnview Drive. "Everyone loves the floor plan, which features the living area (kitchen, dinette, dining room and living room) on one side of the home, the bedroom wing on the other."
Just as the home has been divided into two halves, the great room is made up of four distinct areas.
"The idea behind this design is to have four defined areas that are still open to each other. That allows for excellent flow from space to space, and segmentation. A bulkhead above the dining area defines it, the start of the entertainment unit in the living room defines the border of the living room, and a mid-sized, angled/tapered island (with seating for three) defines the kitchen. There's still plenty of room next to it for a dinette for four next to two large windows."
Two subtle design features elevate the great room's appeal.
"The ceiling is actually 10 feet high, which makes it feel that much larger, and the rear wall is filled with tons of glass," Swan said. "All the windows give you a million-dollar view of the water, yet the feel is very private because of the separation the water gives you from your neighbours."
Meanwhile, the great room's quality is as desirable as the water view. The gourmet kitchen features a striking combination of light and dark tones; a wealth of warm walnut drawers contrast beautifully with white lacquered cabinets (framed by walnut trim) and white Cambria quartz countertops. The island, with its walnut base and white countertop, is particularly fetching, while a taupe tile backsplash adds richness.
"There are tons of drawers for storage, as well as a pantry the size of a small room next door to put all your groceries in," he said. "We also installed wide-plank natural oak (engineered) flooring to add more texture and warmth to the great room (it runs through the kitchen, dinette, dining room and living room). It's also extremely durable, too."
The living room features the splendid water view as well as an entertainment unit focal point.
"I really like how the entertainment unit turned out. We again went with walnut in the form of floating shelving, a row of walnut cupboards below, and a walnut beam that frames the shelving and (large) TV niche above. Next to that is a ribbon fireplace set in taupe tile that simply looks awesome. With the dining room next to the living room and patio door that leads out to an elevated deck that overlooks the water, the great room is ideal for entertaining."
The second half of the main level is the bedroom wing, which is notable for two reasons: Each of the three bedrooms is huge and comes equipped with tons of glass. The wing has a secluded, well-appointed master suite.
"I think it has everything a couple could want," said Swan. "It's private, offers a beautiful water view through a huge picture window, and has a gorgeous ensuite."
A heated grey-tile floor starts things off and is augmented by a huge air-jet tub set in grey tile beneath a large window. A six-foot by four-foot tempered-glass tile shower with rain showerhead and cavernous walk-in closet with (white wood) built-in storage rounds out the ensuite.
"There are two subtle but important features to note -- the tub's faucet is recessed (on the inside), so you don't have to step over taps," he said. "And the shower is both temperature- and pressure-balanced. You can set the temperature to your preference and it will never change; and water pressure will also be constant."
Head downstairs to get more of what's upstairs: great views, loads of natural light, rich finishes and a floor plan that offers exceptional flow encompassed in 1,409 square feet of liveable space.
"The ceiling is full height, there's a ton of glass on the rear wall, and, like the great room upstairs, you get four areas in one in the rec room -- the wet bar area, games area, sitting area and a media area with built-in sound system," Swan said. "Then, there's a separate wing with an exercise room, three-piece bath, storage and two master-sized bedrooms with water views and walk-in closets. The balance between livability, utility and privacy is excellent."
With added features such as a three-zone (master suite, balance of main floor, lower level), structural wood floor and piled construction, 157 Autmnview's design is solid in every respect.
lewys@mts.net
DETAILS
Builder: Huntington Homes
Address: 157 Autumnview Drive, South Pointe
Style: Bungalow
Size: 2,174 sq. ft. with walk-out lower level
Bedrooms: 5
Bathrooms: 3
Lot Size: 58' x 160'
Lot Cost: $229,000
Price: $754,123 (Includes land & net GST)
Contact: Ali Mirza, New Homes Sales Representative @ (204) 949-3878