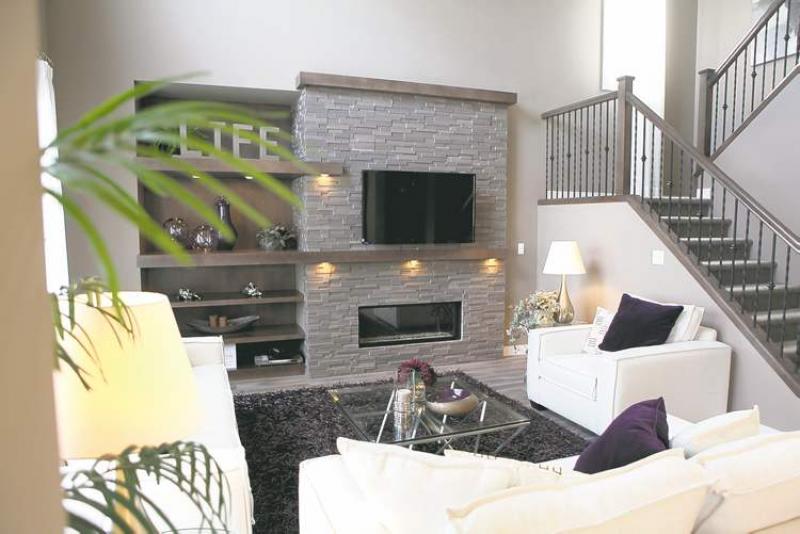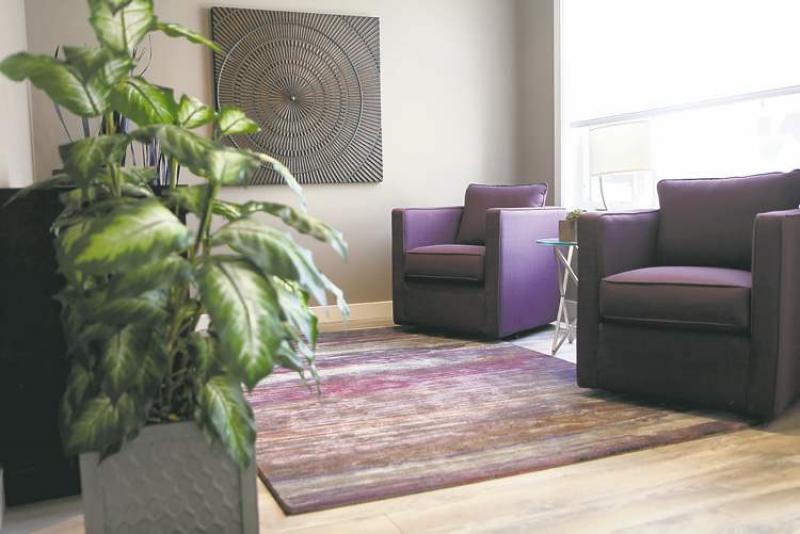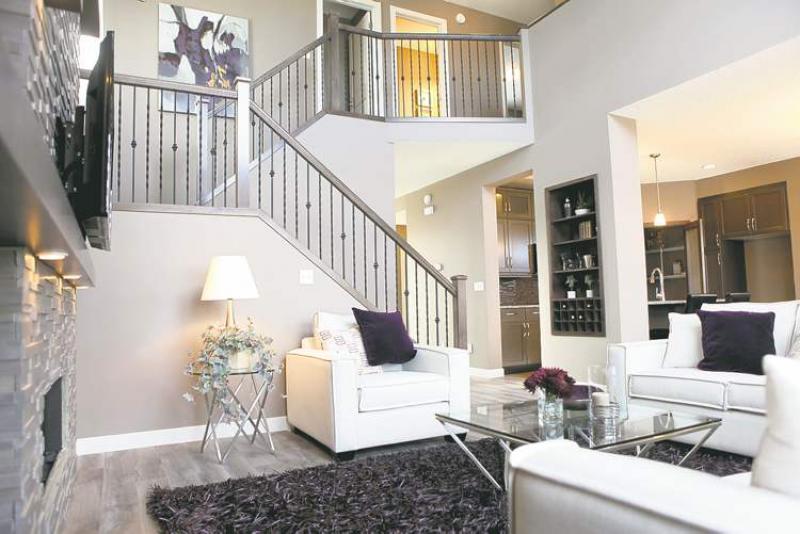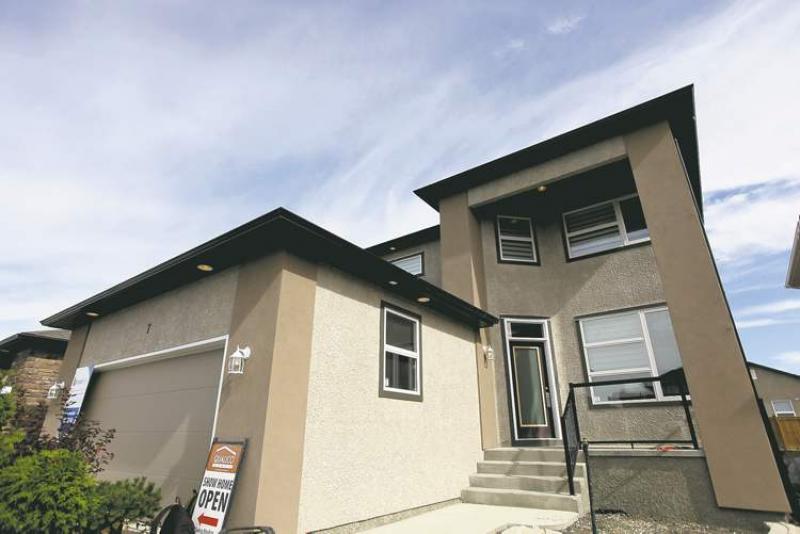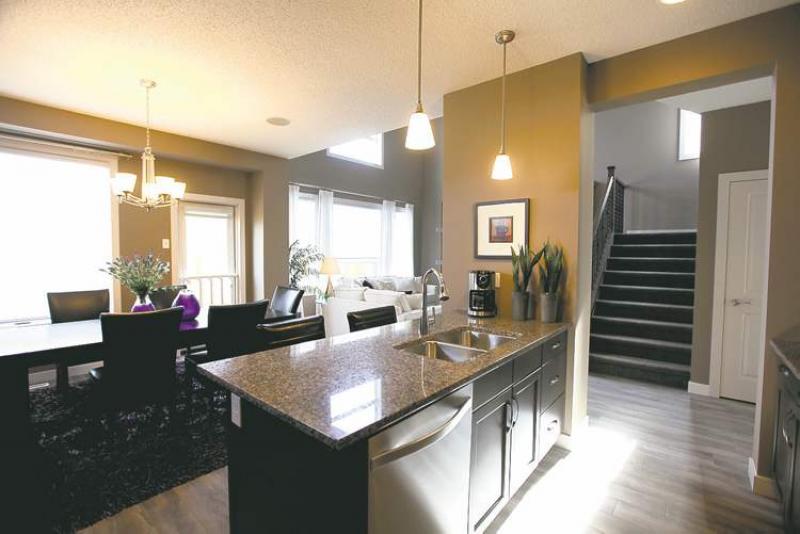 Although it's an expression that's used often to describe things like cars to computers, tools to toys -- and everything in between -- it's one that applies equally to new homes.
That expression is none other than "user-friendly." Depending on the floor plan, some new-home designs are easier to live in than others. A 1,854-square-foot, two-storey home found at 7 Grey Owl Place in Sage Creek (which carries the moniker of The Monteray) would occupy the upper end of that scale, said Broadview Homes' sales representative Debra Mosher.
"It's an easy home to visualize living in," she said. "From top to bottom, the design makes sense. It's contemporary, yet it's warm. Most importantly, it's very functional."
That function starts at the front entrance, where you're invited into the home by an angled foyer. Even though the entrance is plenty wide, it's opened up all the more by a flex room off its right side. Make no mistake, said Mosher: It is a flex room, not a front-oriented dining room that could be used as a flex room.
"The room (which is a good size at 11.7 feet by 10 feet) was designed to be a flex space that could be used as a music room, office or computer room for kids," she said. "It could be closed off, but most of my clients tend to leave it open -- it gives you a real feeling of freedom when you walk in the foyer, and if you use the area as a kids' computer room, it also keeps everything out in the open. There's lots of room to take off shoes and coats and to linger in conversation as your guests are leaving after a visit."
Speaking of lingering, The Monteray's main living area -- a.k.a. the great room -- is a space that encourages you to linger due to a design that perfectly marries function with fashion. The high level of function is derived from the fact each space is well-proportioned.
The kitchen, which was set off to the side, is 13.4 feet by nine feet, and would qualify as a modified galley design. It's accessed via a four-foot-wide entrance off the foyer hallway and, unlike a true galley kitchen, has a wide main aisle and a corner pantry at its end point, which then opens up onto the dining area (more about it shortly).
Hidden for the most part by a four-foot-wide wall with an optional maple wall unit that offers display shelving up top and a wine rack below, the kitchen is private enough to hide dirty dishes, while accessible enough so as to not hamper flow into the dining room and family room.
"It's just the perfect size," Mosher said. "It leaves plenty of space for the dining area, yet it's so functional. It comes with an island (with sink) that features storage and a dishwasher niche on the kitchen side, and seating for two to three on the dining area side. The finishes are also gorgeous -- Thunder (kind of a darker portobello shade) maple cabinets, a taupe/chocolate brown glass tile backsplash and brown granite countertops. The (ash) laminate hardwoods -- which run through the entire great room back into the hallway, foyer and flex room -- give you a rich, textured look that's warm, but isn't too dark."
By opting to go with a compact, functional kitchen, Broadview's design team hit the motherlode in that the two other spaces -- dining room -- are generous in size to say the least. The dining room is 14 feet by 11 feet, while the family room, which has been situated beneath a soaring 17-foot ceiling, is 15/17 feet by 15 feet.
"You can host large gatherings with ease because of the dining room's size -- it can easily hold a table for eight to 10, plus there's the three-person eating nook next to it," she said. "There's a cantilevered area ideal for a buffet, a huge window lets in all kinds of light and there's even a door that leads to a backyard deck. The family room features a huge picture window (with another huge window above it), 17-foot ceiling and (optional) thunder maple/cultured stone entertainment unit."
Upstairs, an L-shaped landing makes for an upper level that's very family-friendly. The two (large) secondary bedrooms and (huge) main bath are on one side to the left of the stairs, while the master suite was placed off by itself down a short hallway to the right of the stairs. Once again, each space is well-proportioned: The master suite is nearly 14 feet by 12 feet, while the secondary bedrooms are 11.2 feet by 10 feet and nearly 10 feet by 11.6 feet respectively.
"The master bedroom is just the perfect size; it's a very relaxing space with taupe walls, textured mocha carpet and is bright and private at the same time due to vertical windows on either side of the bed with a transom window above," Mosher said. "The ensuite is very functional with a five-foot shower, thunder-maple vanity with cultured marble countertop and a large walk-in closet. If you like to soak, there's a deep soaker tub in the main bath across the way."
Add in a lower level that adds approximately 686 sq. ft. of livable space to the home's square footage and you have a flexible family home that offers 2,540 sq. ft. of total living space.
"It's also an affordable home," she added. "With a basic finish package, you can get it for $340,000 to $365,000. You get a lot of home for that; it's value that's hard to beat."
lewys@mts.net