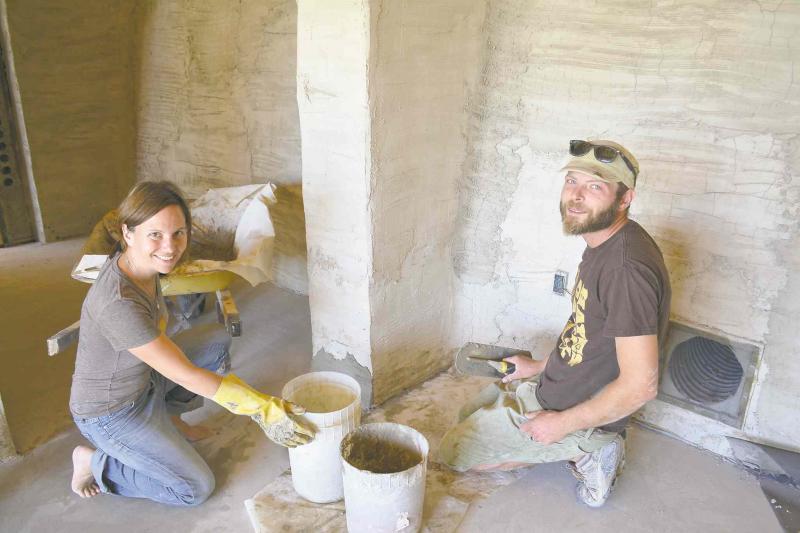 What's the difference between a spaceship and an Earthship?
Aside from the fact one is airborne and the other is earthbound, there isn't much disparity. Both are self-contained, life-support systems that rely on alternative sources of energy, such as solar radiation, to provide heat, electricity, water and food for their occupants.
Though it would be tricky to create a functional spaceship out of recycled materials (never say never), an Earthship can be built by DIYers who have mental fortitude, strong backs and a desire to better the planet by using recycled or natural materials to reduce our dependence on fossil fuels and other non-renewable sources of energy.
Kris Plantz and Nicole Bennett, along with a group of gung-ho volunteers, have been working on the Manitoba Earthship in the RM of St. Andrews for more than a year.
"We were inspired by a documentary called Garbage Warrior about American architect Michael Reynolds who built the first Earthship in New Mexico in 1970," said Plantz, who, with his wife Bennett, embarked on their odyssey by selling their Winnipeg house and purchasing a 66-acre tract of land for $85,000 about 20 minutes north of the Perimeter Highway.
The couple purchased plans for their Global Earthship for $9,000 from Earthship Biotecture of Taos, N.M.
"As neither of us is an architect nor a designer, we played it safe and bought the plans, which have been perfected by over 40 years of experimenting by Earthship Biotecture. We also felt we were supporting a good cause, as well as providing ourselves with more peace of mind," said Bennett, adding the Earthship organization teaches people throughout the world how to build sustainable homes by using local recycled and renewable materials.
Because they purchased the plans, the services of an architect were not required, saving the couple several thousand dollars in professional fees.
Though they had concerns about getting a building permit for their non-conventional building, the process was much easier than anticipated.
Of the four RMs Plantz and Bennett approached, all said they would welcome an Earthship, as long as the couple had the requisite geotechnical and structural engineering stamps. (The City of Winnipeg issues building permits for bio-designs at the same rate as conventional buildings: 35 cents per square foot for residential and 20 cents per square foot for garages, a city spokesman said.)
Before they could begin construction, they also needed geotechnical permit for the recycled-tire retaining wall that supports a large earth berm on three sides of their Earthship.
This could have been a big hassle, but it turns out a co-worker at a Winnipeg engineering firm where Plantz works in environmental division, happened to be a geotechnical engineer.
He became so enamoured with the Earthship that he performed the necessary soil calculations for the recycled-tire retaining wall and stamped the project. (If you're having trouble locating a geotechnical engineer for a non-conventional building, contact Tim Krahn at Biosystems Engineering at the University of Manitoba .)
"Finding a structural engineer to OK the roof was not a problem because the metal and timber structure is quite conventional," said Bennett, adding it's made up of more than 40 rough-cut, Douglas fir, 4-inch by 12-inch beams, each 28 feet long and sourced in B.C. by Brown & Rutherford for about $200 each.
With the engineering stamps and building permit secured, the couple still required financing and home insurance; this endeavour became a catch-22.
Said Bennett, "Financing could not be obtained without insurance and getting insurance was, to say the least, a test of our resiliency, as we approached and were rejected by 25 companies before an agent with Co-operators insurance took up our cause, providing us with a policy."
Because they were eager to begin building, they applied for a mortgage at the Sunova Credit Union in Oakbank, knowing big banks were not interested in "financing off-the-grid residential buildings."
After several meetings with Sunova, including the submission of letters of approval from their insurer, the Selkirk building and planning division, and assurance CMHC would finance them, the credit union agreed to back the couple, with one caveat: they had to provide a detailed project plan with costs delineated by construction phases.
In the end, Sunova agreed to finance the purchase of the land as well as approve an owner-builder construction mortgage for about $220,000.
"We had to put down 20 per cent, but we had the money from the sale of our house in Winnipeg," Plantz said.
With the red tape more or less wound up, Plantz and Bennett got down to the gritty business of collecting old tires and pounding them full of earth. (This is not topsoil, which should never be used, but, in this case, it is a natural mixture of rock, sand and clay excavated from a pit dug about 100 yards from the building site.)
"Fountain Tire was a good source at first, but, as we got pickier about the size of tires required, we found that local landfills offered a greater selection," said Plantz,
Each tire is filled with earth using a shovel, and the loose material is pounded or rammed firmly into the side walls with a sledge hammer.
An experienced rammer continues to work around the tire, adding gravel until the entire tire is full and tightly packed; a double layer of cardboard prevents the fill from leaking out of the bottom.
"Pounding is arduous labour, taking an experienced person from 30 to 60 minutes to fill and level a single tire," said Bennett.
In August 2012, the couple held an Earthship building workshop that attracted a large crowd of volunteers willing to learn the craft of tire pounding.
Once full, the pounded tires are stacked in alternate courses like bricks to a suitable height.
As they rise, each row is set back 11/2 inches from the previous course so that, for safety reasons, the completed wall leans back into an earth berm that covers the tires, sloping back about 40 feet from the north side of the building; less on the east and west sides.
"Our team of volunteers spent 21/2 months filling about 900 tires to build the retaining walls," said Plantz, adding four inches of recycled, rigid-foam insulation was inserted several feet below grade where the first tires were laid, continuing upwards to the top course of the retaining walls.
Thousands of recycled tin cans were used as fill in the walls, saving cement as well as ridding the planet of one of the most ubiquitous sources of garbage.
The building's foundation is comprised of earth-filled tires and 10 inches of clean, compacted gravel topped off with layer of rigid foam, a grid of rebar and a thick layer of concrete.
Because an Earthship is designed to be a heat sink, the concrete floors are left bare or covered with ceramic tile, never carpet or wood, said Bennett.
The building is divided into two sections: one is a long hallway with a south-facing exterior wall built of double-pane windows.
Two deep, narrow trenches connected by below-level pipes are dug into the floor close to the interior side of the windows, extending nearly the entire length of the building.
"This part of the Earthship is called the greenhouse. It's integral to the building as the trenches are filled with rock, sand and topsoil in which flora that thrive in warm, moist environments are planted," said Bennett, adding the vegetation can be a source of food or just decorative.
The troughs also act as a water-purification system.
Grey water fed by gravity from sinks and showers enters the underground pipes and irrigates the plants and is, in turn, purified to be reused for such things as flushing toilets.
The greenhouse is also part of the solar heat/thermal mass collection system regulated by ceiling vents that can be opened or closed to control the interior temperature.
The second section of the house consists of living areas separated from the greenhouse by glass walls that transfer solar radiation into the rooms, contributing heat to the Earthship's massive structure.
Rooms have open pipes at the bottom of the north wall that run through the tires and under the berm for a distance of 40 feet.
The pipes (small culverts) allow cold air to enter each room, setting up a natural convection current that circulates the air, creating a comfortable living environment.
"This is the most extreme northern climate where an Earthship has been built, and this winter I expect the temperature inside the building to remain at 8 or 9 Celsius without any source of back up heat," said Plantz adding standard electric AC-baseboard heaters will be installed to satisfy local codes.
Direct current (DC) electricity will be generated by solar panels mounted over the south-facing wall and will operate a fridge, lights and pumps to circulate water throughout the structure; a propane-powered stove will be used for cooking.
Two 1300-gallon cisterns under the berm will collect snow melt and rain to supply all of the couple's water needs; black water will be pumped into a conventional septic holding tank required by the municipality.
Bennett said she and her husband hope their example will inspire other people to create Earthships because the buildings require a minimum consumption of fossil fuel or hydro-generated energy to operate, and they help clean up the planet through the use of recycled and natural materials.
As Earthship architect Michael Reynolds puts it, "We are running out of oil and water, our population is growing, we don't have time, and we need to be doing something now."