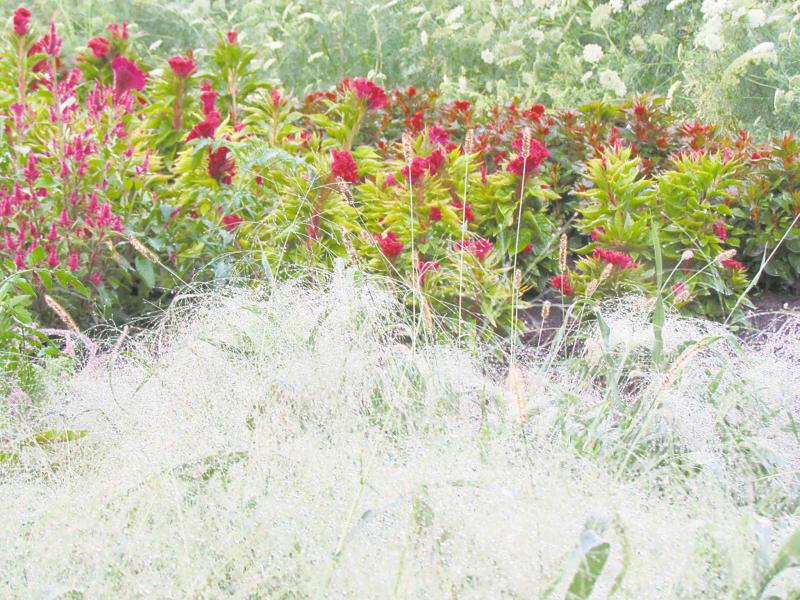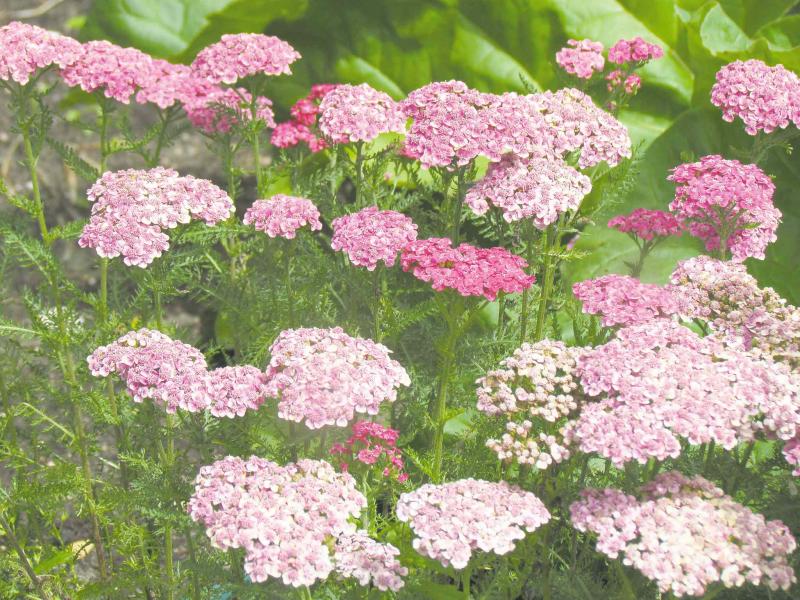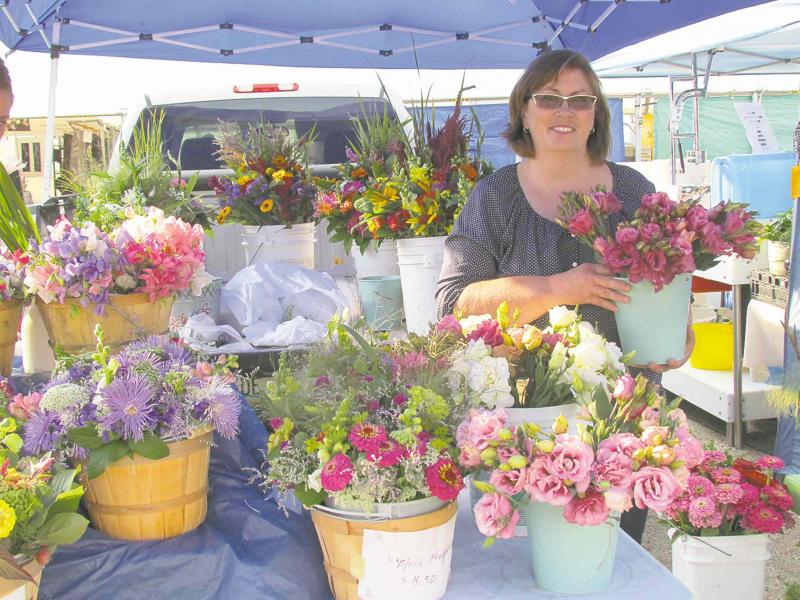 Colour is one of the main reasons for planting a flower garden. Perennials, depending on their bloom period and planting scheme, can provide glorious splashes of colour and intoxicating scent outside your door from spring to fall.
It's a challenge in springtime to resist the urge to buy one of each variety of plants at the garden centre, though it's perhaps easier with annuals which often come in cellpacks of six or eight.
But a block of the same colour and type of plant instantly directs the eye and visually expands the size of any plot, large or small. Now, expand that to a half-acre or more, to what you might find in a large-scale cutting garden, and it becomes an unsurpassed sensory experience.
Apart from the visual effectiveness of a mass display of a single plant, there are many lessons to be learned from a cutting garden of any size. Simply put, the more you cut, the more blooms you will have. Most gardeners devote some time during the growing season to deadheading faded or spent blooms. It can just be another garden chore on an as-needed basis, or a last-minute cleanup activity before a visitor to the garden arrives.
The cutting garden, though, requires the systematic, aggressive cutting back of a flowering plant at the height of its glory. It's not an easy thing to do for most gardeners who prefer to have every bloom last as long as possible in their garden, almost as if the garden is part of a still photo.
Have you ever visited a friend's garden and asked if you could cut off the stem of an exquisite flower -- and witnessed the immediate alarm in their eyes? And yet, the reward for picking flowers regularly is a far more bountiful supply of blooms. Compare it to cutting your hair or nails -- the more you cut or trim, the more often it is required. Without deadheading, seed will set and blooms will be exhausted.
Think your perennials, such as delphiniums and phlox, will only provide blooms over a two- or three-week period in July? Cut them back and enjoy a second flush of blooms later in the season. Annuals will continue to bloom plentifully right up until the first frost in fall if they are cut back regularly.
The sole purpose of a cutting garden is to provide an ongoing, ready supply of fresh-cut blooms for personal use, as a gift or even as part of an enterprise to provide fresh, locally grown flowers for weddings and other events. A cottage or English garden is decoratively or randomly planted with a colourful mix of flowering plants, sometimes including fruit, vegetables and herbs. The cutting garden, on the other hand, while also containing a mix of flowering plants and possibly herbs, must be planted in distinct rows for the purpose of production and easy access to specific groupings of plants. Appearance is secondary to grouping plants together with similar needs for water and light.
Succession planting also ensures a steady supply of flowers until the end of the growing season. Most cutting flowers have long stems, so staking is essential unless the garden is in a very sheltered location and protected from strong wind.
Carol Bergmann (carolbergmann.blogspot.com) maintains a one-acre cutting garden on her three-acre property in Glenlea where she has lived for about 36 years.
"I used to make bouquets of flowers from my perennial garden for my church on Sunday mornings," Bergmann said. "One day, my daughter Marianne, who was nine at the time, suggested that I start selling them at a farmer's market,"
Bergmann, who also works at Bartmanovich Greenhouses, sells fresh-cut flowers right until the first frost.
"Zinnias are susceptible to a little bit of frost -- the edges will get brown," she said. "Rudbeckia, lisianthus and snapdragons are more tolerant, and calendula is especially frost-tolerant."
Bergmann starts seeds for some of the plants in early spring in greenhouse space provided by Bartmanovich. Some of the plants, such as zinnias, are planted directly in the ground. Others, such as amaranthus (or Love Lies Bleeding) and cosmos, are allowed to self-seed.
"The sweet peas are the very first plants I plant in the spring because they tolerate cold soil," Bergmann noted.
Gordon and Helen Eidse operate Strawberry Lane (www.strawberrylane.snappages.com), a one-acre cutting garden located on their 17-acre farm about eight kilometres north of Morris. Helen also grows sweet peas for sale, picking them the evening before putting them out because they lose their scent if picked too early.
"People buy sweet peas because they are nostalgic -- they remind them of their grandma's garden", she said.
Knowing the best time to cut plants, where to cut them and how to care for them after cutting, is critical to keeping customers coming back, Eidse added. At the Strawberry Lane cutting garden, flowers are picked weekly and stored in a cooler that is kept at 8 C. Zinnias must be picked the day before they are sold at market or made into a bouquet for a wedding or special event.
She said the most important tip for long-lasting cut flower arrangements is to cut off another 1/8 inch from the stem after removal from the garden. "The flower's natural tendency is to close up the stem for moisture. But you want the flower to drink up the water -- otherwise it will wilt."
In response to the growing demand for fresh-cut, locally grown flowers, Kelly and Roland Tellier started their one-acre cutting garden, Lily Stone Gardens (lilystonegardens@yahoo.ca), about two years ago. Located between Rosenort and Morris, it has been planted with a mixture of perennials and annuals, as well as more than 2,000 bulbs including gladiolus, lilies and dahlias.
"Glads are very labour intensive," Kelly said. "Thrips, a tiny winged pest, are a major problem. It does help to dust the corms (with a copper- or sulfur-based fungicide) after they are lifted."
The Telliers store the glads for the winter in a crawlspace area that stays at about two to four degrees.
Popular cut flowers include gomphrena, statice, snapdragons, celosia, cosmos, batchelor buttons, lupines, lavender, hollyhocks and globe thistles. Bergmann specializes in lisianthus, which is very popular with brides. There is also a strong demand for Bells of Ireland (Moluccella laevis), also known as shell flower. An apple-green coloured spire with bell-shaped calyxes, it is a must-have in any bouquet.
Queen Anne's lace 'Ammi visnaga' grows two to four feet tall and produces large cloud-like clusters of pale green to white flowers and feathery, fern-like foliage. Bergmann also makes effective use of 'Frosted Explosion' Panicum elegans, a frothy, self-seeding grass that lends an airy look to bouquets.
Putting a cutting garden to bed for the winter involves some of the same basic steps that most gardeners follow. At Strawberry Lane, Helen Eidse cuts some of her perennials down and leaves others standing to catch the snow.
"I mulch tender plants with leaves and straw," she said. "Wheat straw can be mulched in the spring. It might cause some wheat to come up in the garden -- just pull it up. Flax straw has to be removed because the fibres don't disintegrate."
The Telliers keep the heads on the cosmos, calendulas, batchelor buttons and Bells of Ireland in order to harvest the seeds. Perennials are mulched with leaves.
Bergmann leaves her perennials standing for the winter, but cuts all of the annuals to the ground using a tractor. A mower then chops up and collects the debris. Next, manure is added and the garden is tilled. Another tilling in the spring is done to prevent weed growth.
Many of next summer's brides-to-be will include visits to these and other local flower farms this fall as part of their advance planning for the big day. Green weddings are a growing trend and consistent with the desire for products that don't have to be flown in from a great distance. Sitting down with a local grower well ahead of time to discuss colour and texture preferences ensures that their choices will be readily available for that special occasion.