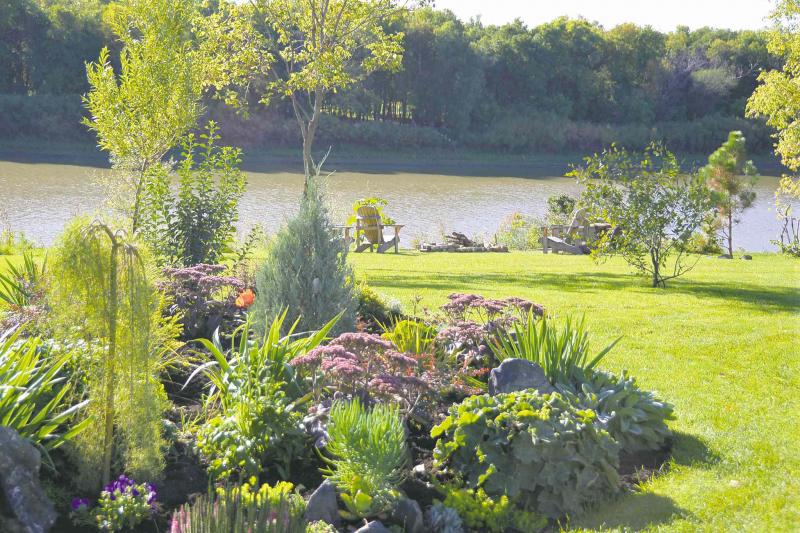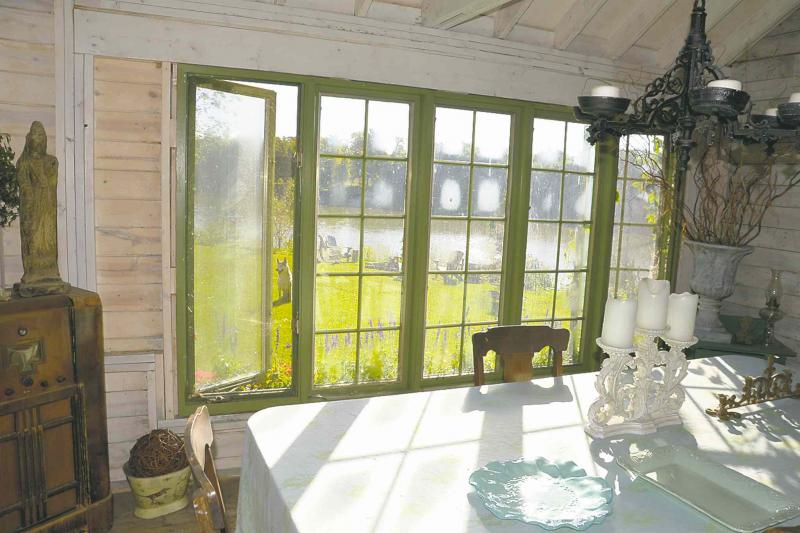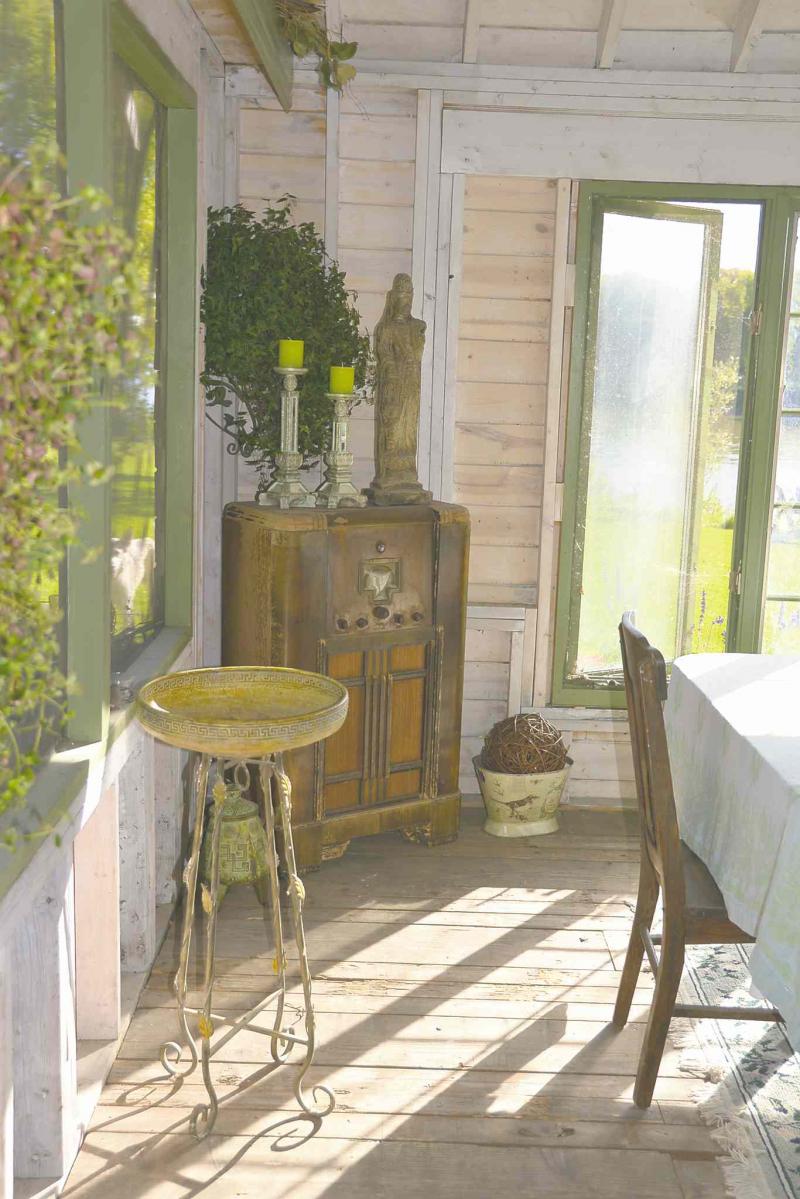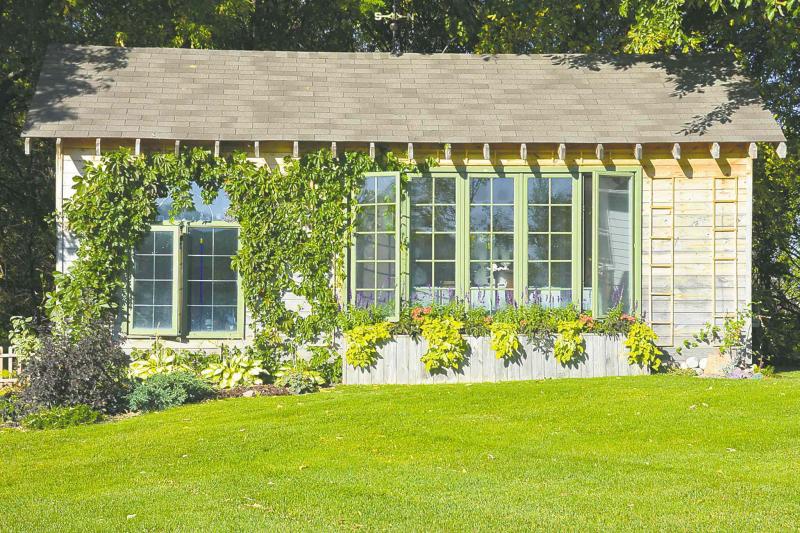 If you enjoy watching old movies as I do, you may have seen at some time a late-night rerun of a 1959 movie called, A Summer Place. In 1960 Percy Faith recorded a popular version of the movie's theme song which remained at the top of the Billboard record charts for more than nine weeks and earned a Grammy.
Both the movie and song paint an ideal picture of a tranquil summer place. The instant I glimpsed the summer house belonging to Bill McDonald and Avis Gray situated on their river property in St. Norbert, I was reminded of the opening refrain of the song's lyrics, "There's a summer place, Where it may rain or storm, Yet I'm safe and warm..."
The wide windows and expansive deck of the McDonald/Gray home, purchased in 2006, face onto a gently sloping backyard and a spectacular view of the Red River. They enjoy entertaining guests who naturally gravitate to the outdoors whenever the weather permits so they can enjoy the view and the vivid colours of the developing landscape.
Driven inside on more than one occasion by Winnipeg's changeable weather, Gray and McDonald began to envision an outdoor dining room where they could entertain in comfort on late summer evenings. Outdoor dining rooms can take on many forms -- under the shade of a leafy-covered pergola or market umbrella or even in the wide open under a ceiling of sky. McDonald's and Gray's preference was for a free-standing enclosed structure some distance from their house, facing onto the river, where they and their guests could dine in comfort, rain or shine.
Many projects start out as a germ of an idea and then, as creativity and inspiration take hold, evolve slowly but wonderfully into something even more exciting. This unique, personal space created by McDonald and Gray has achieved exactly that.
In 2009, McDonald (who is the CEO of the Winnipeg Humane Society) began the project by constructing a concrete slab foundation with concrete footings near a large and healthy mature elm tree. His brother Ray then set to work on building the structure, using a number of recycled materials. The wooden exterior of the summer house, its peak pointing directly north with a copper heron weathervane perched on top, is finished in tongue-and-groove pine siding that will weather naturally and frames a wide, deep bank of mullioned windows facing directly east for a million-dollar view of the river. The wood-framed windows painted in a medium soft green were a fabulous find at Habitat for Humanity's ReStore at 60 Archibald St.
The north side of the summer house is screened and faces the deck of their home which is directly opposite.
The ReStore produced another great find -- an enchanting half moon window purchased for only $60 and which now sits above the screened window.
Long, low window boxes were attached to the north and east side exteriors. Gray has filled the north-facing window box with shade-loving plants such as spider plants (Chlorophytum comosum), Setcreasea pallid Purple Heart, Sansevieria trifasciata or Mother-in-law's tongue, Peperomia and German ivy, all of which are overwintered indoors.
The east-facing window box is planted with sun loving plants such as sweet potato vine in chartreuse and black (Ipomoea batatas Sweet Caroline and Black Heart varieties), and bright orange geraniums with tall blue salvia repeating throughout. Fast-climbing Virginia creeper (Parthenocissus quinquefolia) sprawls luxuriously against the east-facing outer wall, adding a timeless quality and brilliant crimson colours in the fall.
Inside, the concrete floor has been covered with cedar planks salvaged from a family member who was ripping out his old deck.
"The boards were stained," said McDonald, "but we turned them over so we could use the natural side."
Gray had some ideas for designing the interior of this private retreat but the real inspiration came from a visit last summer to Provence where she and McDonald stayed in a 12th-century villa in a small village on the east side of the Rhone Valley.
"There were so many places where as many as 12 people could sit and relax and enjoy one another's company and that really appealed to Avis," said McDonald. He and Gray love history. Every detail of the interiors they toured in France and Spain had a story to tell. Gray came home inspired by the French Country style and saw an opportunity to design something completely different from the contemporary interior of their house.
"We stayed at a lovely bed and breakfast in Provence where the walls were done in a soft pale yellow," recalled Gray. "The dishes were blue and white with a floral motif," adding, "The colours in a French Country home tend to be softer."
Gray proceeded to whitewash the interior walls of the summer house for a vintage look. A weathered length of driftwood, found submerged in a cove in Storm Bay at the Lake of the Woods, now serves as a mantle on the south wall. On the opposite wall, directly beneath the half-moon window located above the screened window, sits a narrow ledge filled with sundry accents such as dried blue lavender, antique book and a gargoyle in keeping with a French Country theme which emphasizes natural textures and rustic, old-world adornments.
Old World charm is further emphasized with accessory pieces such as a Tiffany lamp and a 1940s wrought-iron chandelier discovered in a small collectibles shop on a recent trip to Halifax. Vintage furniture surrounds the main feature of the summer house -- the dining room table and chairs that originally belonged to Gray's mother when she was first married and lived on a farm near Cromer. A wool rug sits on the floor beneath.
As someone who loves to entertain, Gray collects dishes. "I usually use my modern white Wedgewood china, Fitz and Floyd china and some French Country dishes in an ecru colour with a little swirl," said Gray, adding she likes to accessorize with soft turquoises. The summer house will set the scene for a Thanksgiving dinner and perhaps a repeat of last year's Halloween-themed setting which featured a centrepiece of white pumpkins and a table decorated with black chargers, black goblets and dark grey twigs.
Just outside the door of the summer house sits a vignette of plants and tall candlesticks that hold turquoise-coloured candles. Although the summer house has recently been wired for electricity, Gray prefers the ambience of candlelight indoors as well.
"I don't plan my dinners around the lunar cycle but sometimes there is a full or partial moon that reflects off the river," said Gray.
There is no indoor heat source although it may happen in the future if plans for the addition of an adjoining kitchen materialize. Gray is also tempted by the idea of a more authentic finish for the interior walls, although the project may depend on her brother-in-law's assistance.
"In France, often the walls are plastered with a thin coat of plaster and then painted white," says Gray.
For now, Gray and McDonald are concentrating on their landscape which they have been gradually developing with herbaceous perennials, trees and shrubs since taking possession seven years ago.
"The summer house is easily viewed from our deck," said Gray, "but my goal is that as the trees and shrubs grow, you will hardly see it. I want visitors to be curious about what lies beyond".
With ample space to roam about for their two nature-loving dogs, Cassidy, a husky Lab cross, and Dundee, an Australian shepherd, the focus now is to extend the garden by enhancing the sloping riverbank with steps and terraced layers of limestone.
The natural backdrop will set the stage for many hours of entertaining guests in a French Country-designed summer house.
"It's nice to challenge the Winnipeg notion," said McDonald.
Colleen.Zacharias@gardensmanitoba.com