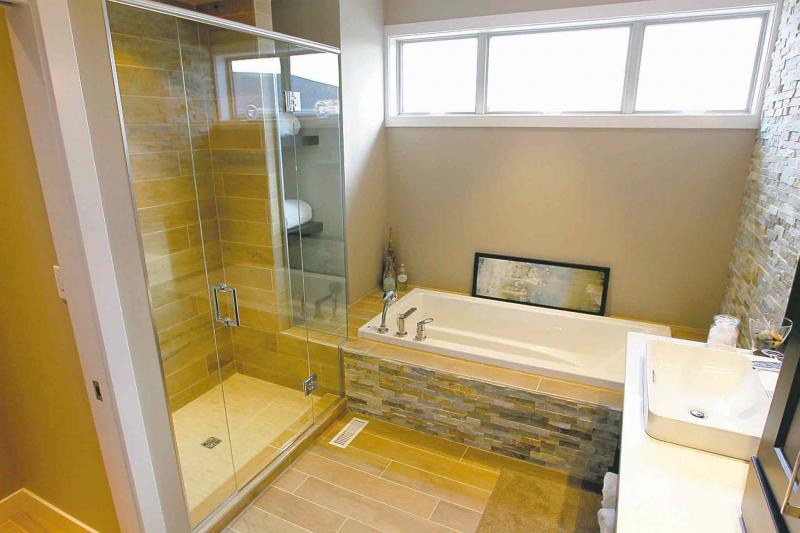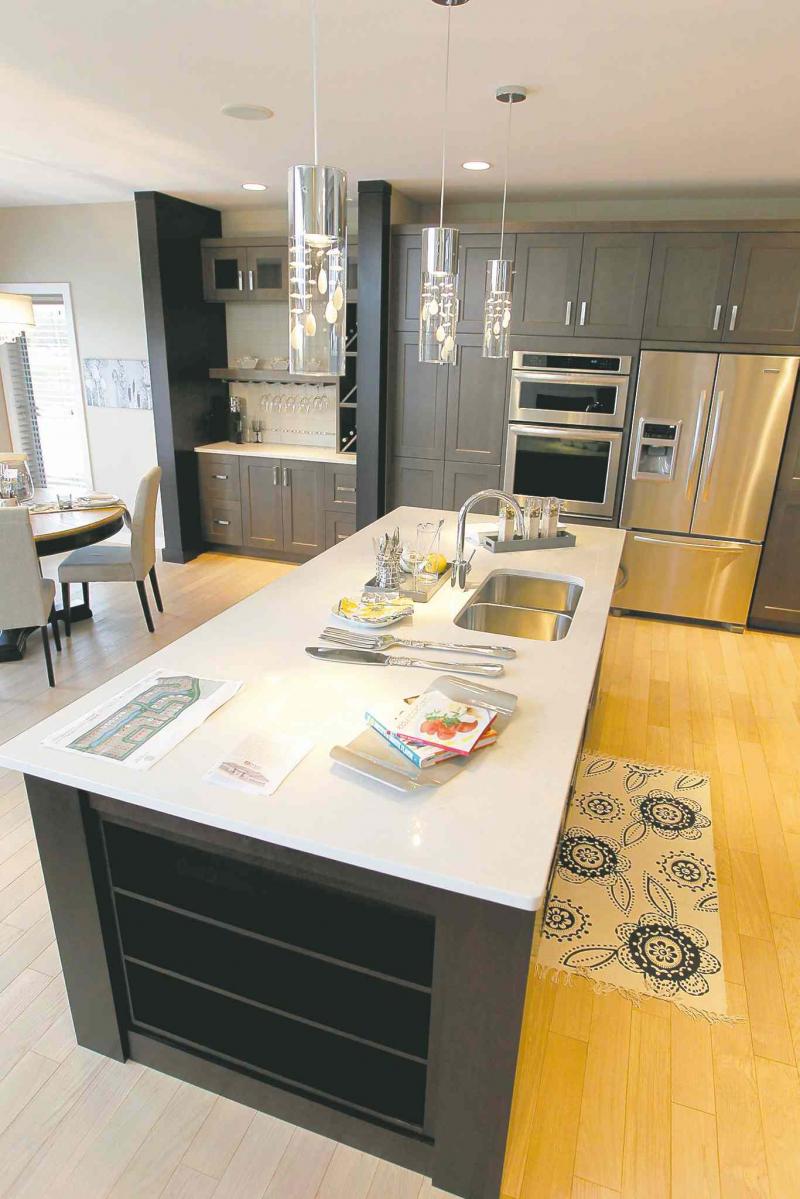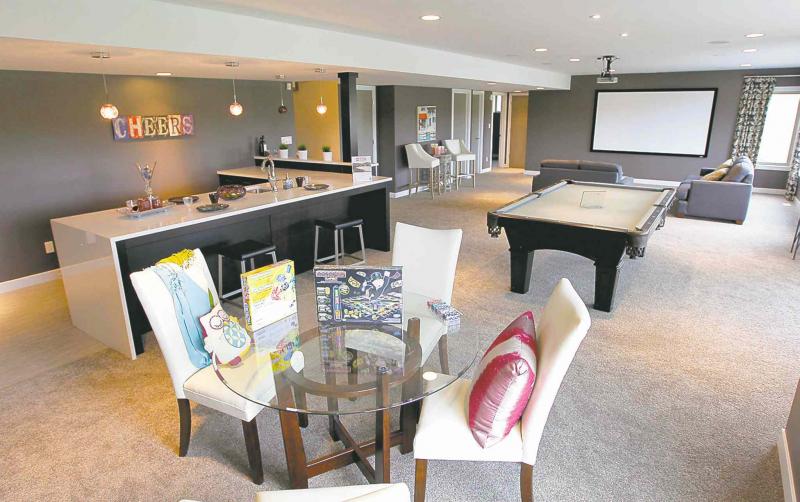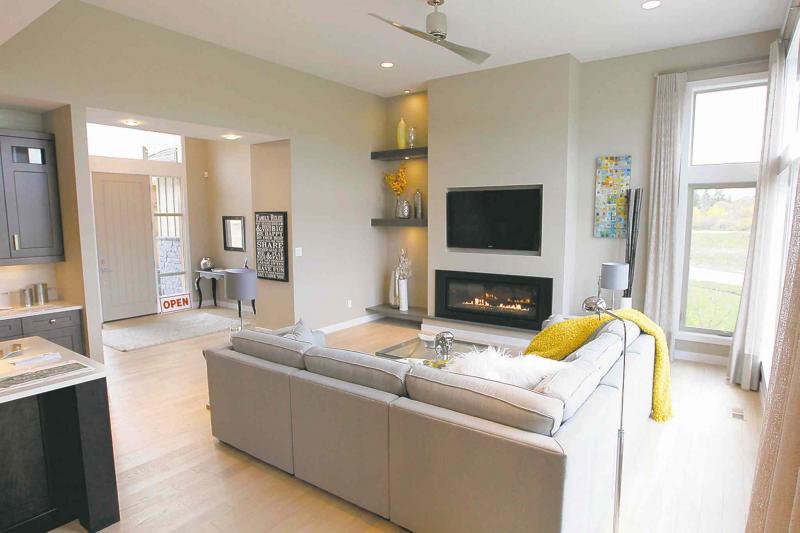 There are times when the wow factor is right there for all to see.
Then there are times when it's subtle and kind of creeps up on you. You know, the more you walk through a show home, the more its design, cosmetically and ergonomically, appeals to you.
That's the case with 8 Willowside Bend, a 1,900-square-foot Irwin Homes-built show home in East St. Paul's newest community, Countryside Crossing. The moment you step into the wide, welcoming foyer, you're not overwhelmed by what's in front of you. It's a home you could live in with the greatest of ease.
"The first thing we ask ourselves is: 'Could our family live here?'" said Irwin Homes' front man, Andrew Koop. "The driving force behind the creation of this home was to create a livable design. Of course, you want it to be elegant and modern, but the most important thing is for the home to be livable."
That livability starts in the foyer. It's 12 feet wide and nearly 10 feet deep. The width and depth allow visitors to enter the in unencumbered fashion, while a double-wide entrance (at least eight feet wide) ushers you seamlessly into the home's great-room quadrant.
Although there's undeniably a lot to take in the first time you walk into any house, especially a show home you think you might buy if all the features pass muster, the first thing that strikes you about 8 Willowside's design is the bright interior.
"That was one of our first goals -- to create a nice, bright open interior," Koop said. "To do that, we put huge windows along the home's rear (west-facing) wall -- in the family room and dining area. There's also a deck door next to the dining area that not only provides access to a backyard deck, but lets in even more light."
The infusion of light is increased even more due to another intentional design feature. "We surrounded the front door with glass so the light coming in there would flow through the extra-wide entrance into the great room, creating a crossfire of light," Koop said.
You're greeted by a wide-open great room that not only offers a cheerfully bright ambience, but excellent flow and sufficient segmentation.
"It's an efficient area," said Koop. "Because of the home's generous square footage, there was enough room to design spaces that flowed well, yet were separate.
"There are two dedicated eating areas in the kitchen -- a dining room and eating bar (for three to four), a 10-foot by four-foot island that offers all kinds of function, and a huge family room."
The surroundings complement all the inherent function with plenty of fashion. Instead of dark hardwoods, Koop and his design team went with whitewashed oak hardwoods, which run throughout the great room. The kitchen's island and countertops are white quartz, while the cabinetry is stained a dark portobello shade to contrast with the countertops and beige tile backsplash.
The neighbouring family room's focal point is two-pronged: a ribbon-style fireplace with flat-panel TV in its own niche above, and the water/countryside view afforded by the picture window.
Head downstairs to the walk-out lower level and there's another 1,700 square feet of livable space to enjoy. Like the great room, it's a bright, wide-open and well-finished space.
"Eight windows along the rear wall let in the view and all kinds of light, and the rec room was laid out so the owner could use it in the way they felt it suited them best," Koop said. "It's a simple yet functional design that's very livable."
With an open media area (with 100-inch screen set next to four huge windows), centre-oriented games area, an eating/games area next to a ribbon-style gas fireplace and a recessed, foyer-like area with two windows and a door that leads to a covered patio out back, the rec room is ideal for entertaining or family life.
A private wing houses two large bedrooms (one with a water view) and a full bath. It's an area suited for teens or guests. Space, light, style and function are omnipresent.
"People who've viewed the home have pretty much all come down here and said, 'Whoa!' There's a lot more home here than they thought," he said. "There's over 3,600 square feet of space to enjoy. The walk-out lower level doesn't feel at all like a basement."
Upstairs, in the home's other key space, is the luxurious master suite. "It's a huge space that's bright, provides a beautiful water view and offers an ensuite that has a rustic theme," Koop said.
"It's fronted by a barn door that gives you privacy and a different look," he noted. "There's a six-foot soaker tub set in plank-style ceramic flooring, a six-foot shower and a massive vanity with dual sinks and a centre storage tower set in a cultured-stone feature wall. We also put a three-part transom window above the tub (instead of a standard obscured glass window) to let in light, yet retain privacy."
The deceptively simple yet fashionable design of 8 Willowside proves less can indeed be more when it comes to designing a home that's as functional as fashionable.
lewys@mts.net