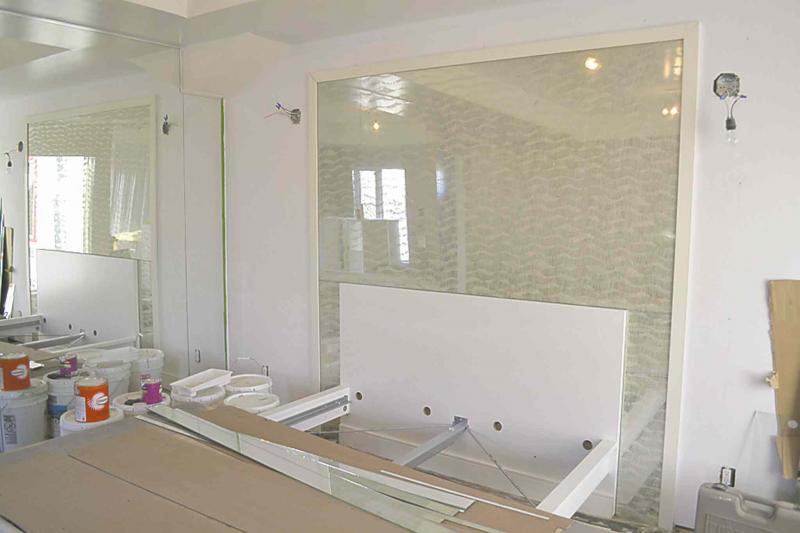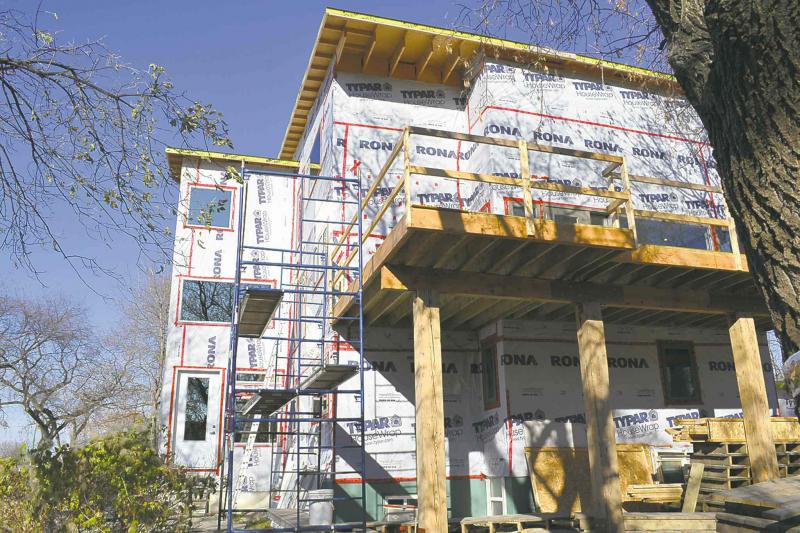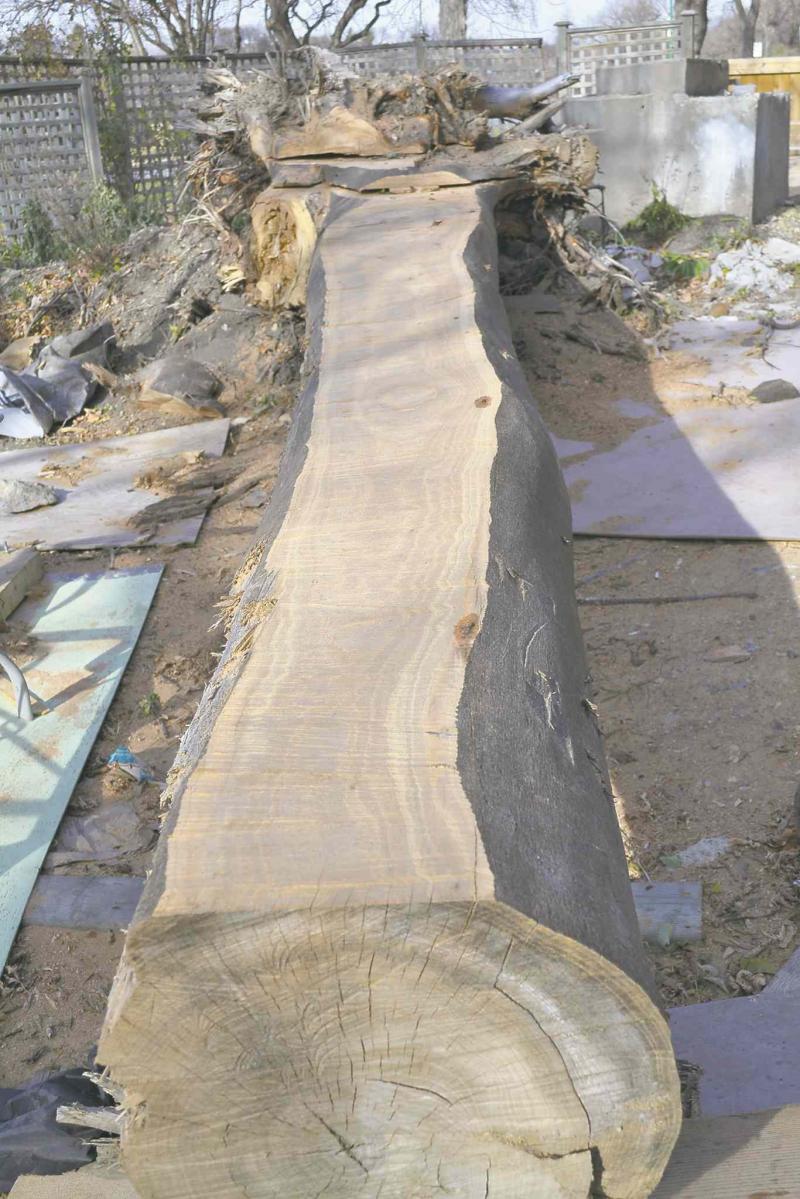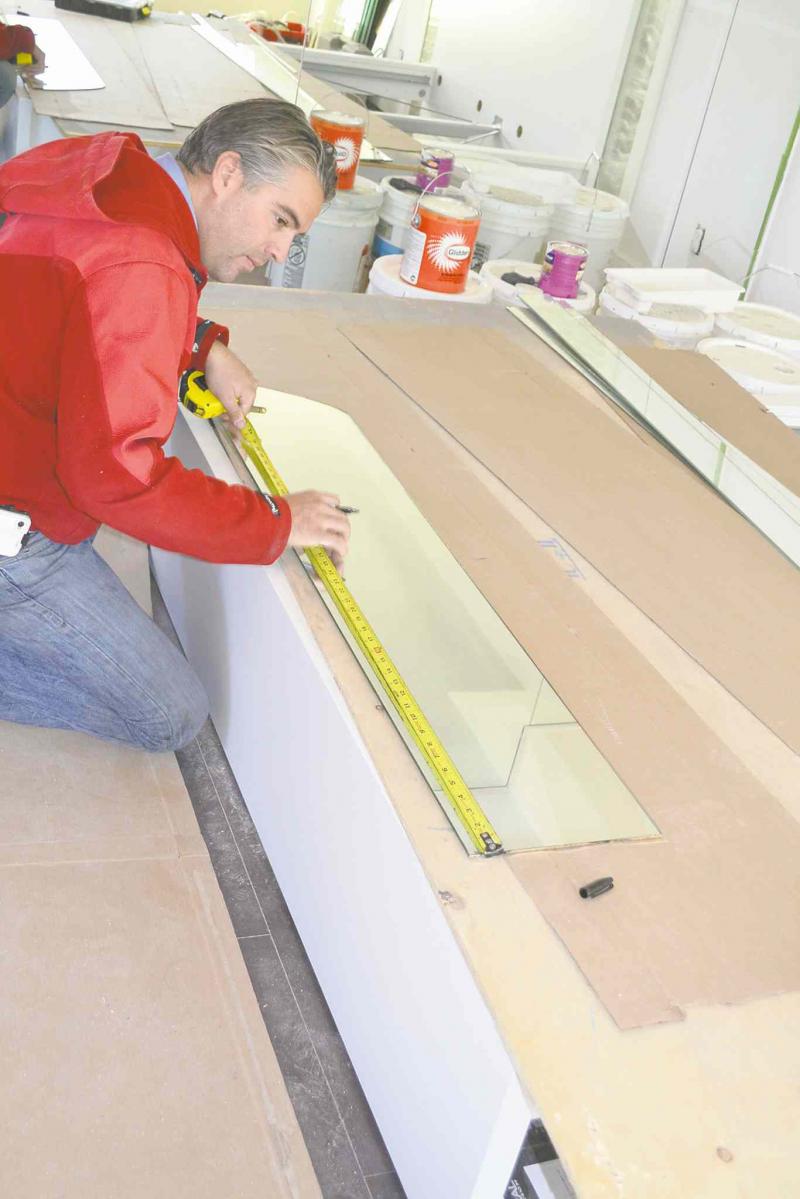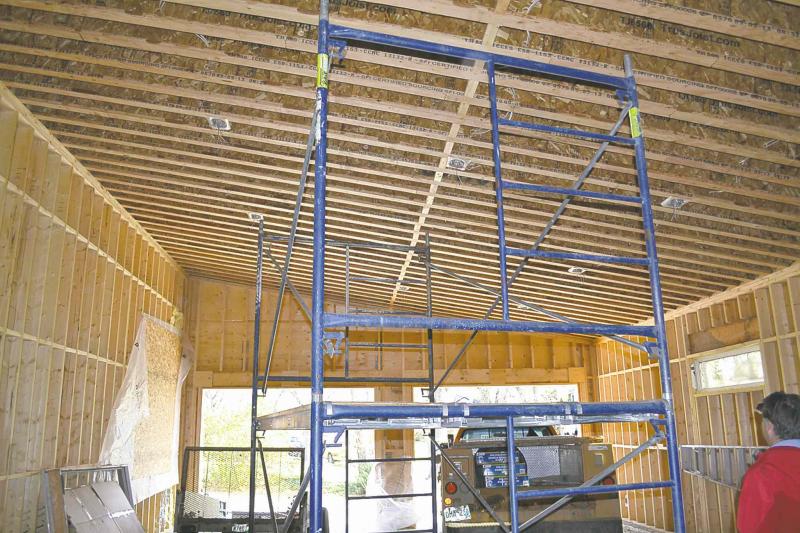 Turning a storey-and-half house in old Tuxedo into a four-storey (including basement) ultra-modern mansion is not a job for the faint of heart or weak of limb. But Steve Thomas and his wife Dr. Rashmi Nigam have made remarkable strides with their renovation since I visited their home at the end of August.
Since then, a garage with room for six cars and sufficient overhead space for a hoist has been erected in the backyard; the walls will be covered with oriented strand board (OSB) and finished with polished aluminum sheets, commonly used on the exteriors of top-of-the-line trailers because the metal resists corrosion and rust.
"I like to do my own vehicle maintenance," said Thomas, who recently purchased a Hummer from the U.S. Border patrol in Texas. "I plan to use it to haul a large trailer filled with building materials. It will save money because deliveries from retailers can cost $300 to $400 per pop."
The large garage is attached to the house by an insulated room that may serve as an art studio for Thomas and his wife.
Loops of pipe were laid in the concrete floors of the studio and garage as Thomas believes in-floor heat is one of the most efficient methods to keep an area warm and comfortable.
He owns and operates Thomas Fine Interiors, a custom design and building company that caters to people who are looking to create a home that is more visually interesting than run-of-the-mill, multi-development houses.
Thomas said he likes to use recycled materials whenever possible, consequently his predilection for glass, mirror, OSB and various metals, all of which are made with a percentage of reusable components.
OSB primarily consists of renewable wood chips; new glass and mirror contain a fairly high percentage of recycled glass, while stainless steel and other metals almost all have a recycled component.
Though glass and mirror are initially more expensive to purchase than drywall, Thomas said by the time drywall is taped and painted the cost difference is negligible.
(Every ton of waste glass recycled into new items saves about 700 pounds of carbon dioxide from being released into the atmosphere during the creation of new glass, according to a recent university study.)
Indeed, a tour of the Thomas/Nigam house reveals an abundant use of glass, mirror stainless steel and wood.
Thomas is in the process of recycling an elm tree in his front yard that was pushed over by a bulldozer because the roots were interfering with his home's foundation and the tree was dying of Dutch Elm Disease.
"I'm going to slice the tree into boards with a chainsaw so I can use the planks to build a dining table," said Thomas, adding that it took him an entire day and the use of two chains to make the initial rip-cut along the face of the elm. "That is some hard wood!"
The interior walls of the entranceway are covered with panels of painted glass in different colours divided by thin lengths of mirror.
The main staircase is a wood frame with tempered plate-glass covering the treads and mirror placed over the risers; a wall of painted glass and mirror disguises a door that opens to reveal a closet under the stairs for coat storage.
"The area under a stairway is usually dead space, so my wife and I decided to turn it into something useful," said Thomas. The closet will also house high-tech machinery that will generate hydrogen from water and electricity, producing enough green fuel to power a small car or other hydrogen burning devices.
A waterfall that will cascade down a 14-foot stainless steel channel from the dining room to a pond in the atrium below is nearly completed. Pre-heated water in the closed circuit system will help to heat the area; the combination of flashing steel and rushing water will be enhanced by an overhead chandelier with 600 cut-glass, faceted balls lit by over a dozen LED bulbs.
A powder room on the second floor features a mirror surrounded by silver filigree that glows when the door is closed.
A stairwell that starts on the first floor at the rear of the house and rises about 24 feet to the roof where a window illuminates the entire area is in the finishing process. The walls are covered with sections of glass painted luminescent silver and, like the entranceway, divided by slender strips of mirror.
The top floor has room for an office, a state-of-the-art bathroom and a master bedroom with a large window that overlooks the Assiniboine River.
The inspiring view is like that of a painting that changes colours and hues with the four seasons. Sometimes included in the picture are people walking their dogs, riding their bikes or cross-country skiing or skating on the frozen river. "No matter what season, it's an exhilarating sight," said Thomas.
The master bedroom's custom built bed features a headboard made of mirror covered by lace protected by a plate-glass cover.
Thomas said one of his favourite new pieces of furniture is a lip chair, a crimson love-seat covered in fine wool and shaped like a pair of human lips.
The piece will be located in a prominent space on the top floor where it will welcome visitors with its sassy grin, he said.
"Every time I look at that chair I smile," said Thomas.
The top floor will also have a niche for a washer and dryer, a simple yet effective convenience for people who do not want to run up and down flights of stairs to wash or retrieve clothes.
Cabinet space on the top floor has been well designed to include white acrylic cabinets that slide easily out of recesses or hang by clips attached to floor-to-ceiling posts. Thomas said that he and his wife are determined to be living in their renovated home (they currently live in the basement) by Christmas.
"I believe that deadline is possible," said Nigam. "At the end of each day, Steve and I sit down over a glass of wine and discuss the day's progress, as well as talk about the design process. I think we're on schedule."
Indeed, a rough drawing on a wall on the top floor created by Thomas and his wife during one of their recent planning sessions would suggest the couple has reached the renovation's summit