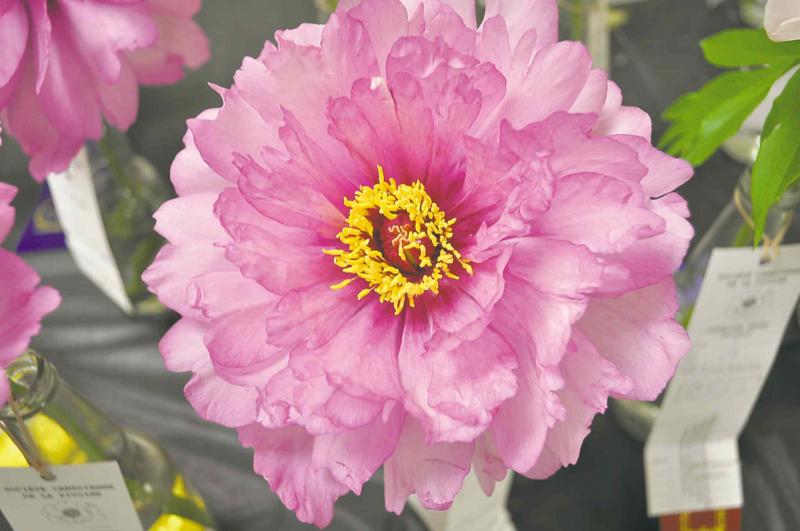 June 13 is National Garden Day with gardening activities and festivities across the country. There is good reason for local gardeners to celebrate this year. Winnipeg will play host for the first time to the Canadian Peony Society's Annual Show and Sale June 14 and 15 at the Assiniboine Park Conservatory.
Envisioning your grandmother's peonies and their supporting peony rings? Think again. The best and newest peonies, herbaceous, tree and a relatively new class of peony, the intersectional peony (or Itoh as it is called), will be on display in all their glory.
The most familiar type of peony, herbaceous, is valued not only for its hardiness and longevity but also the exquisite beauty of its large, full blooms.
The genus Paeonia, however, is not restricted to only the herbaceous or lactiflora types. Tree peonies have been cultivated for centuries by the Chinese. Their woody stems in a shrub form are more like deciduous shrubs and can grow to a height and width of one metre.
Intersectional peonies are a more recent development. Named after Japanese nurseryman Toichi Itoh who created this new class by successfully crossing herbaceous garden types with woody tree types in 1948, Itoh peonies produce very large blooms in gorgeous colours.
My Sarah Bernhardt peonies, an older herbaceous variety, are beautiful, but a single rain or strong gust of wind can quickly scatter their heavy, fragrant blooms onto the ground. The large blooms on the strong stems of tree peonies and intersectional peonies, however, remain upright even after a heavy rain and require no staking whatsoever.
Naomi Wiebe and Sandy Venton, both peony enthusiasts, have gone far beyond a single, requisite purchase of these more rare and exclusive types of peonies.
Wiebe started with Magical Mystery Tour, purchasing it as a bare root plant. An Itoh hybrid peony, it has large semi- to double-blooms that open creamy yellow with a flush of lilac pink and then age to ivory white with pink edging. Colour change is characteristic of the Itoh peony as the blooms mature, resulting in multicoloured blooms on a single plant.
Wondering about hardiness, pests or ease of growing?
"The Itoh peony is friendlier to grow than roses and far and away superior to the herbaceous peonies," said Wiebe.
"The foliage looks so great all summer long even when they aren't in bloom. What really impresses me is that they are so strong. They never, ever need support."
Wiebe adds that the bloom period of the Itoh peony lasts about three weeks. She has added several new Itoh varieties to her Winnipeg garden since her first purchase, including Kopper Kettle, Singing in the Rain, Cora Louise, Yankee Doodle Dandy and Morning Lilac, and she states unequivocally they don't seem to have any pest problems.
Wiebe leaves the stems standing for the winter, cutting them down in the springtime. She recommends gardeners choose a reputable supplier. If ordering from an online source, the method of shipping and packaging is important.
Sandy Venton, a member of the Canadian Peony Society, grows both Itoh peonies and tree peonies.
"The tree peony has a graft so you have to bury them and make sure the graft is below the soil surface, otherwise you might get the graft sending out shoots, which can overtake the peony," said Venton.
Less expensive than Itoh peonies, tree peonies are also not as hardy. Worth growing for their masses of blooms in late spring, Venton gives them some extra attention in the fall in order to overwinter them successfully.
"The tree peony sends its buds out from the woody stalk as opposed to the herbaceous peony, which sends out its buds from the ground so you don't want those buds to freeze," said Venton.
Covering them with a wire basket or cage and filling it with leaves and peat moss works well.
Joe and Hazel Cook grow more than 600 varieties (4,500 plants) including species, tree, herbaceous and Itoh peonies in the fields surrounding their nursery near Peterborough, Ont. It must be a sight to behold. In preparation for the Canadian Society Peony Show at the Assiniboine Park Conservatory, they began collecting dozens of examples in the last week of May, and these will be displayed as cut flowers.
Peonies make some of the most gorgeous cut flowers and amazingly, once in bud, can be cut and then kept in cold storage for several weeks before a special occasion. The secret is to cut them when the blossom is still in the marshmallow stage (still closed but soft to the touch). Once the stems are placed in cold water, the buds will bloom within a matter of hours.
Hazel Cook says the single blooms open faster than the doubles.
Cutting the buds before they are open also eliminates the problem of bringing uninvited guests indoors such as ants, because they can simply be brushed off the bloom when it is still in the bud stage.
What about the level of difficulty in planting and growing peonies, especially some of the more exclusive varieties such as tree peonies and Itoh peonies? Growing tips vary depending on the type of peony, but planting them at the proper depth is particularly important or they may not flower. Follow the information for correct planting depth on the tag that is provided. The crown buds of herbaceous peonies, for example, should be planted no more than two inches below the soil surface.
David Maltby, vice-president of the Canadian Peony Society will provide a planting demonstration at the show, which will include information on how to divide the various types of peonies, and Hazel and Joe Cook will also be presenting. There will be plenty of opportunities to ask questions. Check out complete show details by visiting www.peony.ca
Jordan Hiebert of the Lacoste Nursery says they will be providing 80 Itoh peonies for sale (about a dozen varieties) at the show including Magical Mystery Tour, Bartzella, First Arrival and Sequestered Sunshine. There will also be some unique choices in a five-gallon size.
I've already made up my mind to line up for Scrumdidleyumptious but this new hybrid variety created and introduced by Donald Smith, a renowned American Itoh breeder, is on the list of many other peony enthusiasts. Envision a massive number of creamy, light-coloured silken petals on large double blooms with a hint of pink shading.
Expect prices for the Itoh peonies to be in the range of $45 and upwards. Expect also that these rare and exclusive but hardy beauties will be available only in limited quantities.
For now, prepare to enjoy the peak season for the early-blooming fern leaf peony (Paeonia tenuifolia). Ed Krueger, Driedger Nurseries, Brandon, specializes in growing fern leaf peonies. Up until seven years ago, the Driedger family owned Patmore Nursery in Brandon until Krueger sold the retail portion and launched Driedger Nurseries, a wholesale nursery.
Krueger credits his father-in-law, Jake Driedger, with helping to grow the popularity of the fern leaf peony.
"At the time he took over Patmore Nursery in the 1970s, there were only a few being sold," recalls Krueger. Part of this had to do with the difficulty in propagating the fern leaf peony. By assisting home gardeners in dividing their mature specimens, Driedger was able to gradually increase his stock. Today there are only a limited number of sources for the fern leaf peony, however, demand continues to be strong.
What is the secret to successfully growing the fern leaf peony? Krueger stresses the importance of well-drained soil. "Fern leaf peonies don't like their feet to stay wet," cautioned Krueger. A full sun location and adequate moisture levels will benefit the fern leaf peony, which can be very long-lived. Mature specimens that have been growing in one area for some time, possibly competing with grass and trees, will benefit from the addition of bone meal.
A prolific bloomer, a mature fern leaf peony can produce up to 60 or more blooms. Krueger recommends a mild fertilizer with a 1-1-1 ratio in early spring prior to the bloom period.