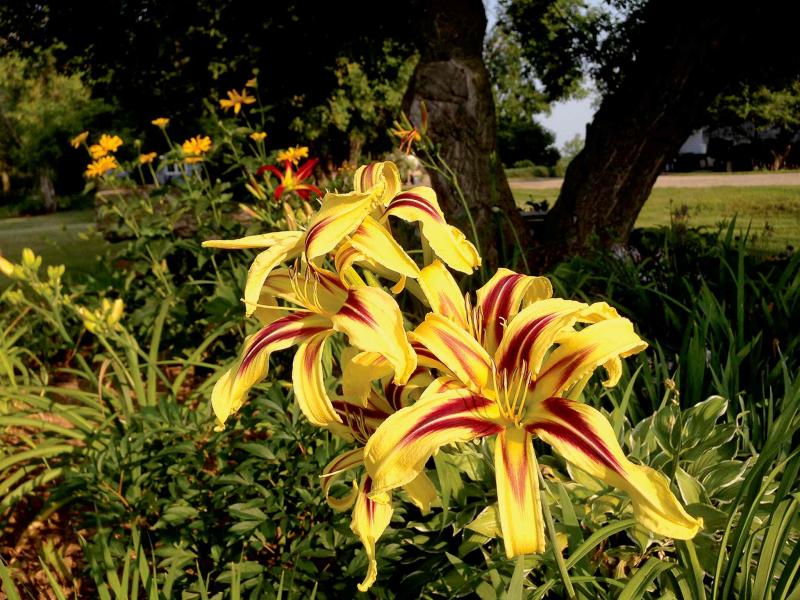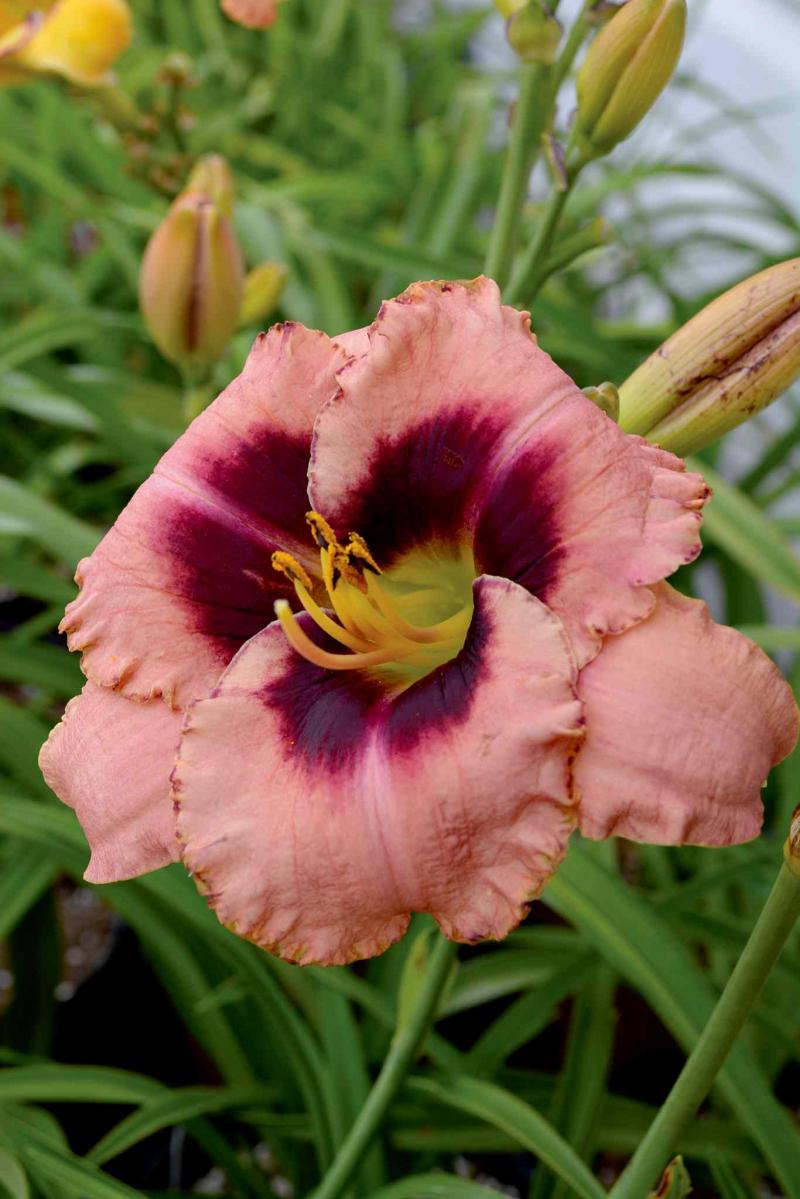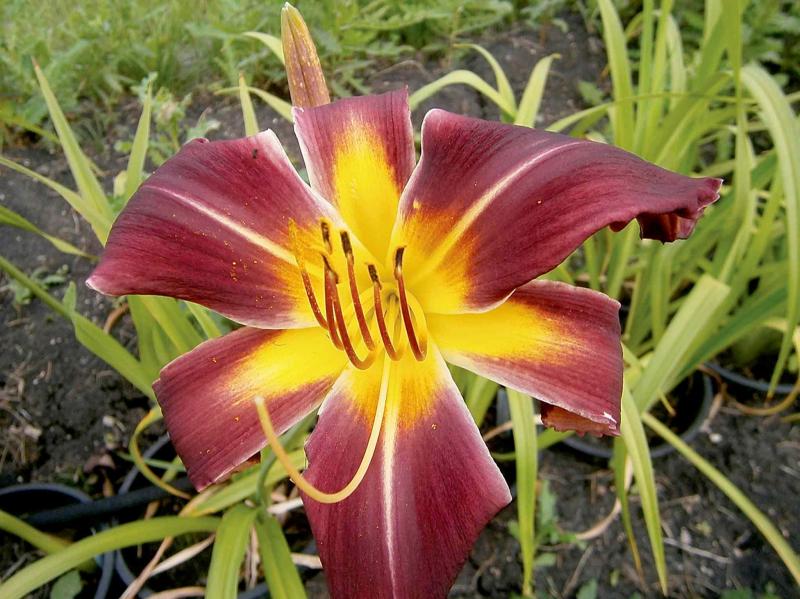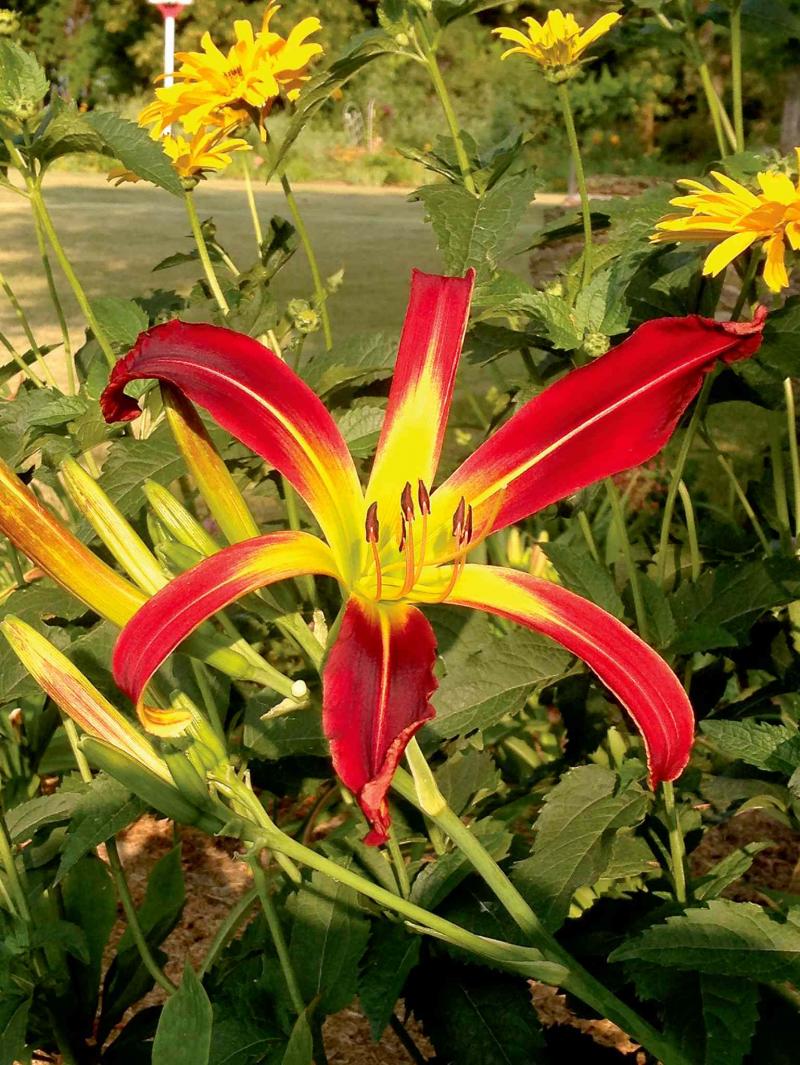 Satisfied with just one bite of a delicious dessert? Or do you wish the taste sensation could last, one spoonful after another? After all, extending the enjoyment is what makes it so good.
For some gardeners, daylilies are enjoyable, but only to a point. They can't possibly be satisfying because the bloom lasts only a single day. A nice companion, but hardly a favourite dance partner.
Collectors of daylilies know differently.
Brenda Newton's Brandon-area 4.5 hectares garden overlooks the Assiniboine Valley. Newton grows more than 3,000 different perennials in her garden, including 587 named varieties of daylilies. Newton maintains an extensive database, recording bloom time, bloom size, breeder information and more. Her website, valleyrimgirl.com, includes photos of about 350 varieties that she grows in her garden.
Daylilies belong to the lily family (Liliaceae); however, they are not true lilies. And, the red lily beetle, the scourge of lilies, has no interest in eating daylilies.
For more than 2,000 years, the Chinese used the daylily -- native to China, Siberia, Mongolia, Korea and Japan -- as a food source.
Providing pesticides have not been used on the daylily, the buds and flowers are edible and can be used in soups and stews.
The inner stalks are tasty in salads or steamed. Perhaps one of the more desirable aspects of the daylily is that it is relatively long-living, sometimes sticking around for 10 years or more.
Depending on the variety, daylilies produce blooms as early as June, up until the first frost. The earliest bloomer is Flava Major, a fragrant lemon yellow heirloom daylily registered in 1908.
With straplike foliage, a mature daylily clump can have 20 scapes (hollow, leafless reedlike flowerstalk). Each scape can produce 20 or more flowers. Blooms come in almost every colour, except white and true blue, with bloom size ranging from five to 25 centimetres.
The daylily's colour patterns and and forms, though, are truly exciting. Most gardeners are familiar with Stella de Oro, one of the most popular and longest-blooming varieties. A reliable performer, its golden yellow, trumpet-shaped bloom is a common sight in many gardens.
Why not mix it up with an assortment of contrasting daylilies? Varieties with richly coloured throats (centremost section of the bloom), ruffled blooms, doubles, unique markings, and above all, varieties with different bloom periods create many different opportunities in the landscape.
Newton loves diversity, designing flowerbeds with a distinctive confetti look, achieved by planting a different perennial every 30 cm, allowing for enough room for the leaf spread of neighbouring plants. She pairs her daylilies with companion plants such as hosta, heuchera, sempervivum, iris, speedwell (Veronica), and peonies.
Newton's recent acquisitions include Defining Moment, a blood-red daylily with a green throat and gold filigree edge from renowned daylily hybridizer Karol Emmerich, who owns Springwood Garden Daylilies. Newton has travelled to Emmerich's garden, located just outside of Minneapolis, on two occasions in search of unique specimens to add to her collection.
Two others, Intelligent Design, featuring a 15-cm bloom and a mature height of 91 cm, and fragrant rebloomer, Turn the Other Cheek, both bloomed spectacularly in August. Newton knows from experience that with each passing year, the blooms are ever more beautiful.
Another favourite haunt in the Minneapolis area is Gardens with a Northern Exposure, owned by hybridizer Gary Schaben. Newton isn't deterred by the eight-hour drive. It's all part of her quest in the search for the most beautiful or unusual hybrids.
Award-winning North Wind Dancer, for example, is classified as a spider bloom or unusual form (UFO), so called for its narrow petals whose length is four times the petal's width. A late-season bloomer, North Wind Dancer grows to a height of 106 cm. Compare that to Stella de Oro's mature height between 30 to 45 cm and you begin to see the different dimensions that daylilies can add to your landscape.
Like Newton, Ted Sobkowich is also a daylily collector, casting his gardening net beyond our provincial border. His collection of more than 90 varieties, though, is limited exclusively to the unusual form of spider daylilies. With an eye for dark red and black-purple UFO daylilies, Sobkowich grows specimens with heights of up to 182 cm. His favourites depend on petal colour, shape and pattern. The darker and more heavily patterned the better.
A tall man, Sobkowich wants something 'in his face' so that he does not have to bend down far in order to look at the bloom. Both Newton and Sobkowich recommend Hawkvalley Hemerocallis Haven in Ayton, Ontario, owned by Joe Hawkins, as an excellent source specializing in unusual forms.
Many of the daylilies sold at garden centres today are grown by tissue culture. Field-grown daylilies, though, according to Newton, result in a much higher-quality bloom. Soon The Lily Nook (www.thelilynook.com) in Neepawa, renowned across North America for its true lilies, will increase its supply of daylilies.
Nigel Strohman, owner, will make them available by mail order as bare root plants in peat moss.
Carol Bender, co-ordinator of the Beausejour Daylily Gardens, which has 700 daylily cultivars on display, says that there are more than 72,000 registered varieties of daylilies.
Although the evergreen varieties freeze to the ground in the same way that the dormant varieties do in our cold climate, Bender says that unlike some of the southern states, we are fortunate not to have the problem of daylily rust, an unsightly fungus that attacks the leaves and scapes.
While daylilies can vary significantly in price, from less than $10 to more than $500 for rare collectibles, there is tremendous ease in dividing clumps. Spring or fall division is quite successful. No one knows this better than Bender, who each fall sells divisions from the Beausejour Daylily Garden. This year's sale will take place Sept. 20.
Concerned that your daylily is not blooming as prolifically as it did the previous year? Newton suggests that it could be time to divide. But unless your daylily has 30 or more fans (i.e. individual unit of a clump containing leaves, crown and roots); it may just be that your daylily needs more moisture.
A lack of moisture, says Newton, results in fewer blooms and smaller flowers. Newton mulches with flax to conserve moisture. She also fertilizes with manure sourced from various cattle and horse events at Brandon's Keystone Centre.
"When the stalls are cleaned out," said Newton, "the fresh manure is transported to an old airport north of Brandon and composted on a tarmac."
Increasing the number of daylilies in your garden does not depend solely on dividing clumps. Sobkowich admits to not deadheading spent blooms. By allowing the plant to develop a seed pod, which he removes before winter and brings indoors to store in a cool dark place, he is able to plant the seed in spring.
Both Newton and Sobkowich hybridize their own daylilies by cross-pollinating for the sheer pleasure of creating totally unique cultivars with the kind of desirable traits they are looking for.
Tetraploid daylilies have four sets of chromosomes and diploid daylilies have two sets. A rule of thumb is that a tetraploid can only be crossed with a tetraploid and a diploid can only be crossed with a diploid in order to produce seed.
Newton grows her seedlings in a separate area, borrowing space in her vegetable garden. Each Saturday she brings about 100 different varieties of plants to the Brandon Farmer's Market and always sells out of the daylilies.
Newton has created copper name tags for every one of her perennials. Using copper tooling she buys in a 3 ft. by 1 ft. roll, she uses metal scissors to make a nametag, indenting the copper as she writes the name. Coat hangers are used to make a small hook that the tag is attached to and then pushed into the ground behind each perennial.
Newton admits to having more than enough daylilies but also to wanting more. Like dessert, they are irresistible. And so easy to share with friends. Why not become a connoisseur of daylilies? Check out www.daylilies.org for more information.
Notice:
Interested in becoming a Master Gardener? Plan on attending an orientation, Aug. 28 from 7 p.m. to 9 p.m. at 87-1313 Border Street. Visit www.mgmanitoba.com for more details.