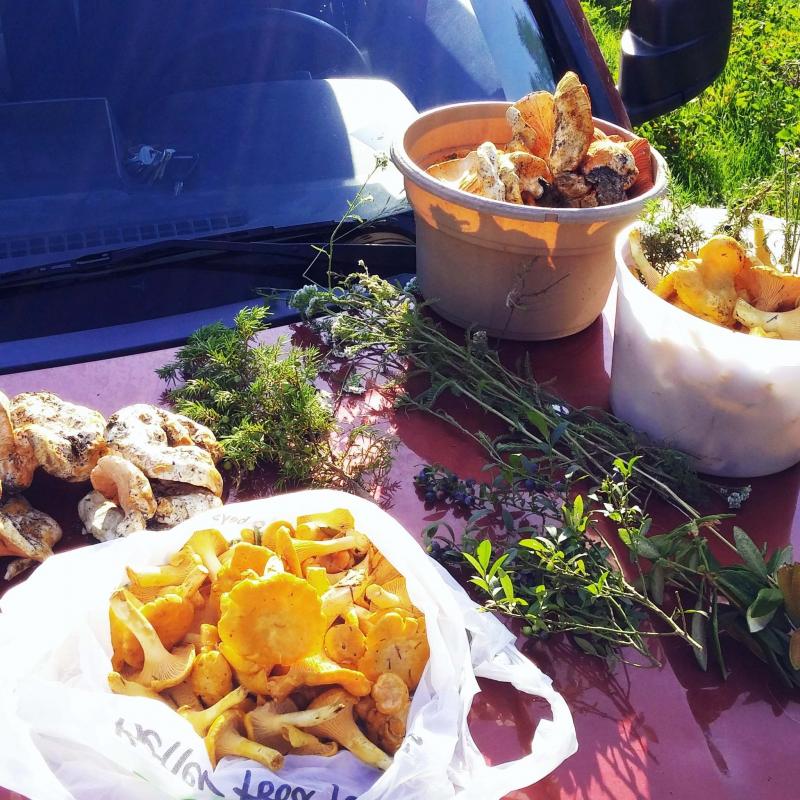 Eating is one of life's greatest pleasures. Some do it better than others. With a knack for selecting and sourcing the freshest ingredients, matching flavours with an intuitive and skillful touch, the food artisan elevates the foodie experience.
Does any canapé, main course or dessert taste as good without the accompaniment of a delicious drink? Whether cocktails or mocktails are on the menu, this summer's garden parties will be enhanced by refreshing drinks made with a combination of botanical ingredients such as fresh homegrown herbs, edible flowers, foraged fruits and preserves. A drizzle of syrup or a hint of spices and balsamic vinegar creates sweet or savoury infusions.
The confidence to experiment defines the art of mixology. On June 15 the Winnipeg Art Gallery will host the first of three rooftop mixology parties as part of its summer rooftop pop-up series. On display will be the sheer artistry of talented local innovators who will provide instruction and inspiration on how to craft classic, custom cocktails.
Should your favourite concoction be stirred, muddled or shaken? In addition to cocktail tutorials, drinkable works of art, alcoholic and alcohol-free, will be available for sampling. The WAG's Rachel Baerg says that guests will also have the opportunity to mingle with friends in the gathering place of the rooftop sculpture garden, listen to live music, and between sips, participate in fun and inspiring activities in the WAG's exhibition galleries.
Josey Krahn will do the honors at the first mixology party. Krahn, bartender at Forth, 171 McDermot Ave., plans to make three classic cocktails — daiquiri, negroni and an old fashioned — and will be demonstrating ways to mix and match ingredients.
Krahn says he will show why these drinks are classics and how to make them properly and gracefully.
Krahn likes to use fresh edibles in his recipes such as mint, basil, rosemary and thyme, as well as nasturtium or pansy as a garnish. He grows many of these in a small rooftop patio garden at Forth.
At the second mixology party on July 13, Chad Cornell and Nancy Hall from Hollow Reed Holistic will be mixing exotic elixirs with locally grown ingredients. Hall, an aromatherapist, says her elixir recipes are a natural extension of her aromatherapy practice, which uses ethically harvested plant materials and essential oils to promote well-being.
"Most people are seeking a sensory experience when they imbibe," says Hall, who subscribes to the belief plant essences have individual vibrations.
Hall grows wild botanicals in her garden and likes to use flower components in her beverages, such as violet, lilac and rose petals, but also draws on the flavours and intensity of forest essences such as Chaga mushroom and sweet grass. Spices such as cardamom, fenugreek, clove, black pepper, star anise or ginger impart another flavourful yet subtle dimension.
Hall and Cornell will share information about options that are safe and easy to use, and how to integrate them into your favourite drinks. Dave Hanson, owner of Sage Garden Herbs will be joining forces with Hollow Reed Holistics and selling herbs to take home.
Joel Carleton will showcase his artisan skills at WAG's July 27 mixology party. Owner of Bee's Knees Bar Services, Carleton is also president of the Manitoba Bartenders Guild and a competitive mixologist. As part of his business, Carleton creates his own unique brand of cocktails for large corporate events as well as intimate gatherings in clients' living rooms and backyards.
An enthusiastic gardener and wild-plant forager, Carleton says behind every concoction is a story, and he delights in sharing it. Take his Caesar cocktail with a garlic extract, for example. Using garlic from seeds planted in his garden, Carleton makes a tincture from overproof rum. Fermenting homegrown chili peppers with Demerara sugar for eight days, he prepares a hot sauce by combining the peppers with vinegar and reducing in a pan. Garden fresh celery leaves are muddled in the base of the glass, releasing the vibrant flavours of bitter greens to contrast the savoury cocktail. For garnish, Carleton uses pickled green beans, also from his garden, marinating them first in a mix of herbs and spices.
Cocktails may be shaken, stirred or muddled. Using a twisting motion and a muddler with a blunt end, essential oils, flavours, essences and/or juices are released from herbs and fruit.
In one recipe, Mexican strawberry balsamic margarita, Carleton drizzles fresh strawberries with lime juice, sugar and balsamic vinegar, and then roasts them in the oven. "Roasting complexifies the sugars and slightly caramelizes the fructose in the berries," says Carleton, who next mashes the strawberries and makes a strawberry sorbet which he steeps for 48 hours. After straining, the mixture is ready for use in cocktails.
For those who would like to try their hand at making their own homegrown cocktails, I asked Hanson to recommend some of his favourite mixology-friendly plants.
"Pineapple sage (Salvia elegans) is a classic," he says. "Its fruitiness and delicate flavour lends itself to so many types of summer drinks, whether alcohol is added or not." Gently bruising the leaves between your fingers to release their aroma instantly infuses the surrounding air with a delicious, pineapple scent.
Pineapple sage pairs well with a cocktail recipe that includes tropical fruit juice and vodka. "Keep it simple, don't mix too many metaphors," says Hanson. Pineapple sage has a delicious sweetness that accents many types of summer drinks and goes perfectly with punch or iced tea. To make an infusion, simply pour boiling water over the herb and let it steep for about half an hour, he says.
Highly ornamental, Pineapple sage grows to 60 centimetres and produces scarlet-red blooms. Try growing the variety known as Frieda Dixon in a patio pot for easy access and spontaneous, in-the-moment entertaining. Although tempting to just pluck the leaves, harvest instead by cutting the stems to encourage rapid regrowth. Both leaves and flowers can be used in herbal drinks and fruit salads.
Scarlet Tangerine sage is similar to Pineapple sage, but with a more melon-like flavour that would pair well with a drink that has a tropical vibe, such as Malibu rum, says Hanson.
Anise hyssop with its licorice scent and flavour is always popular as a beverage accent. Golden Jubilee, hardy to zone 3, has great chartreuse colour and big purple bloom spikes. Hanson suggests muddling a few leaves in your favourite tea. Both the flowers and leaves are edible and can be used fresh or dried.
Hanson reserves his highest praise for lemon verbena. Bruise it gently and you instantly feel the essential oils on your fingers. Versatile, lemon verbena marries itself well with other flavours. Try it in martinis or drinks with a tropical theme.
Originating in Cuba, mojito mint has a spearmint flavour with a twist and has many uses from mojitos to mint juleps to herbal teas. Morocco mint has a deeper, more intense spearmint flavour, whereas berries and cream mint has a fruitier taste. Hanson says that chocolate mint is an excellent garnish for desserts and would work well in an after-dinner cocktail. During the growing season, prune back mint regularly, but cease harvesting or pruning after late August.
Golden-lemon thyme may be best known as a lemon-scented mat-forming perennial, but its clean lemon flavour, says Hanson, combines simply and easily with vodka and ice. Ten shakes and it is ready to serve.
Lavender flowers add a mysterious accent to a summer drink, says Hanson. For an attractive presentation, try using a flower stem as a garnish.
Add flowers such as viola, pansies, borage or nasturtium to an ice cube tray filled with water, placing them upside down, and freeze.
Again, Hanson reminds us to keep it simple and not combine too many different flavours. Consider the character of the herb you are using and whether you are looking for a sweet or bitter quality. When selecting herbs to create your own signature drink recipes, rub a few leaves between your fingers to release their aroma. If the aroma doesn't stimulate your senses, choose another.
Bergamot, for example, has a distinctive citrus aroma. Its edible leaves add spicy flavour to wine, tea or fruit drinks.
Strawberries go with everything. Hanson recommends Strawberry Mignonette, a dainty wood alpine strawberry with intensely sweet flavour, perfect for dropping into a glass of sparkling champagne, or combining with licorice-flavored Corsican basil in your favourite Mojito recipe.
To learn more about the art of mixology, plan to attend the WAG's rooftop garden parties this summer. Visit www.wag.ca for more details.
colleenizacharias@gmail.com