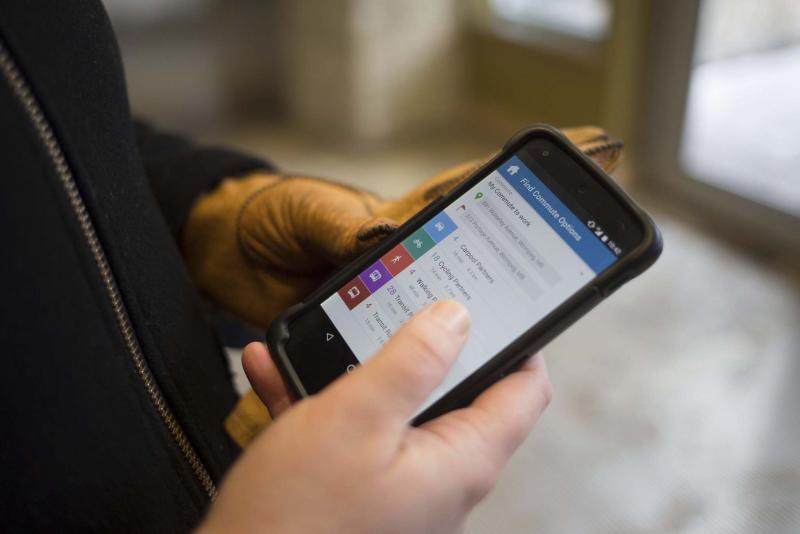 If the City of Winnipeg wants to prove it's a good environmental steward, then it needs to show citizens it cares about providing quality public transportation, Elizabeth Shearer says.
But with rate hikes coming to Winnipeg Transit, she worries those higher fares could ultimately be bad for the environment and for the city.
"If we see rate increases, we will see more people move towards using their own vehicles for their commute, and ultimately that will lead to an increase in greenhouse gas emissions," Shearer said.
"Public transportation helps to reduce overall greenhouse gas emissions from people commuting to and from work, so it's crucial we have a system that is accessible, affordable and meeting the demands of the citizens."
In her role as the commuter challenge co-ordinator for Winnipeg-based environmental organization Green Action Centre (GAC), Shearer advocates for people and workplaces to think about sustainability and their environmental impact when they look at how they travel to and from work each day.
"I promote and enable workplaces and individuals to make more sustainable commuting part of their everyday commute," Shearer said.
Shearer also makes sure to practise what she preaches, as she either takes a bus, walks or cycles to her downtown workplace every day. She also buses, walks, cycles or carpools to the majority of her appointments or events outside of work.
Shearer believes the number of people using public transportation in any city can be directly related to the quality, accessibility and affordability of the service being offered. But when it comes to public transportation, Winnipeg currently gets a failing grade, she said.
"The current system is not meeting the demands of Winnipeggers," Shearer said. "And it's time to evaluate that.
"Winnipeggers want options, and if they are not given the options to take sustainable transportation, they will seek other ways of getting to work, and that often will mean driving themselves in their car."
According to the 2016 census, 72 per cent of Winnipeggers drive for their daily commute, with the vast majority driving alone.
"I feel like there are legitimate barriers to taking transit that we have to consider if 72 per cent of Winnipeggers are driving alone on their daily commute," Shearer said.
And she has no doubt that the high number of single-occupancy vehicles on the road is ultimately hurting our environment.
According to a 2011 City of Winnipeg report, approximately 5.4 million tonnes of greenhouse gases are emitted every year — just in the city.
With Shearer already having concerns about Winnipeg's public transit system and its direct effect on the environment, she said those emissions could now rise even higher now that bus fees are increasing.
On Tuesday, as part of the City of Winnipeg's latest budget, councillors approved a rate hike for Winnipeg Transit.
The hike will add an additional 25 cents to the current $2.70 fare for adults, or approximately $10 more on monthly bus passes.
"I think Winnipeggers want options, and I think if we raise fees to the point that Winnipeggers don't think public transit is a viable option, we simply won't use it as often," Shearer said.
Although many at GAC are worried about the ways that Winnipeggers commute, they are also taking their own steps they hope will help commuters find more sustainable and environmentally friendly ways to get to work.
Last summer GAC introduced GoManitoba, a free website and mobile app that actively lets users from across Manitoba find others who travel on similar routes.
The system allows users to connect and set up things such as carpooling, times to cycle together, and even ways people can help others navigate Winnipeg's public transit system.
"GAC really wants to promote ride-sharing and carpooling because, for some people, transit is not accessible to them. So if you are already going in the same direction as someone else, it's a way you can reduce costs and reduce emissions by finding someone that you can get to work with," Shearer said.
Although GoManitoba works to promote ride-sharing and carpooling, Shearer said it goes beyond that and also looks to connect Winnipeggers to help them find a number of sustainable transportation options.
Shearer said those who use GoManitoba can also use the system to find both transit mentors and cycling mentors who can "offer and share skills on getting to work."
Shearer said she has heard from many Winnipeggers who said they don't usually take the bus because they can feel intimidated and confused by Winnipeg's public transit system.
GoManitoba allows commuters to find a mentor who may take a similar route, and that person can help others navigate their first few rides on the bus through the city.
Cycling mentors can also be found through GoManitoba to show those who are interested in travelling on their bikes some of the easiest, quickest and safest routes to get around the city.
"Anyone can log on and create a profile, and they can put in the different commutes that they take regularly. So you can put your commute to and from work, one that you know you take to the grocery store every Saturday or to church or sporting events," Shearer said.
GoManitoba can also be used by those who live in rural areas to find ways to commute within their communities or to other communities.
Anyone looking for more information on the GoManitoba website and mobile app can visit gomanitoba.ca.
Although Shearer said she is discouraged by the transit rate increase that became official Tuesday, she is also encouraged by the reaction of many Winnipeggers who stood up against the hike and publicly protested outside Winnipeg City Hall on Monday.
"People from all walks of life and income levels should be able to access these kinds of services," she said.
"It's a service that should continue and grow, and meet the needs and demands of Winnipeggers, not a service that should be seeing cuts and rate hikes.
"There is definitely an appetite for improvement."