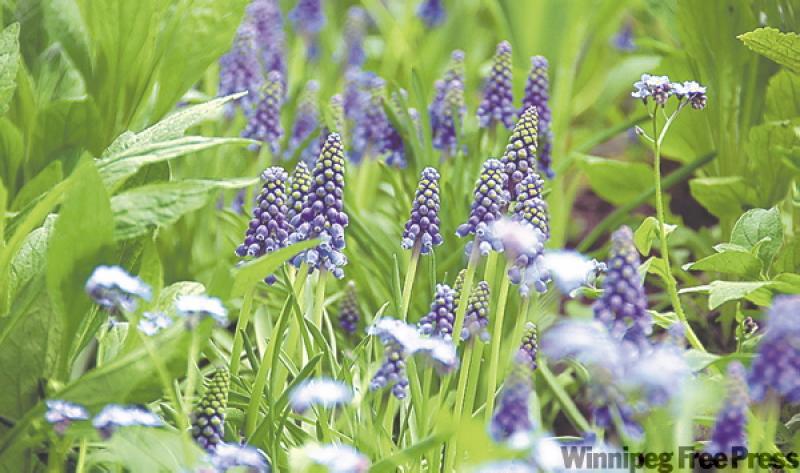 Thank goodness we got to revel in the past four weeks of summer weather during September when the tomatoes seemed to ripen all at once and that last little bit of enjoyment could be squeezed from the garden. But, the party is over now that fall has arrived and winter is on its way.
Next spring, you'll be grateful for anything you get accomplished now before the snow flies. The window of opportunity to clean up the clutter can be short before winter sets in. Fall is also a great time to plant any trees, shrubs and perennials and get hardy bulbs into the ground. Seeding bare patches of lawn is best done during cool, moist fall weather.
Don't be too quick to cut back perennials as the stems can encourage snow to accumulate and insulate the plants during the worst of winter. Do discard any diseased or decayed plant material. Drain the hoses before storing in the shed or garage and clean and sharpen garden tools. Bag fallen leaves and last lawn clippings and add to the compost or drop off at a City of Winnipeg Leaf It With Us location.
If you are bringing in plants from the patio, be sure to thoroughly inspect them for insect pests and treat accordingly. Keep an eye on them for the first few weeks indoors as eggs can go unnoticed and once they hatch, new vigorous colonies of pests can proliferate.
***
The effort and expense of planting spring-flowering bulbs and hardy lilies in the autumn is worth it for the payoff of early spring blooms the following year. In addition to the more familiar tulip, daffodil and giant allium, I also recommend some of the minor bulbs such as crocus, scilla, muscari, chionodoxa and puschkinia to add to the early spring border because of their tendency to naturalize and come back to bloom year after year.
Follow the planting instructions according the bulbs you buy. Generally speaking, larger bulbs such as lily, tulip and large dafs can be planted eight inches deep, while the smaller bulbs should go four inches or so. Planting in clumps or drifts of six or more of the same kind and colour of bulbs makes for a more pleasing show of blooms rather than spotting the bulbs singly here and there or mixing up colours and varieties. By digging a trench, you can position multiple bulbs at once. When digging individual holes, it's OK to use one good-size hole to plant a large bulb or two with several smaller understory bulbs (for instance, a daffodil bulb with several grape hyacinths).
Most bulbous plants prefer full sun, though not all. A site that is shady in fall may be sunny in spring before shrubs and trees have leafed out.
The pointy end of the bulb is generally the top. The bottom, or basal plate, is generally a flatter, darker area from which the roots will grow. On some bulbs, especially the smaller ones, it's not always easy to tell which end is which, though bulbs will usually right themselves underground as the roots begin to grow. After planting, water the spot to settle the ground and stimulate rooting.
Soggy soil rots bulbs. Avoid planting where water collects such as the base of hills, near downspouts or in low-lying depressions. In garden beds, work plenty of organic matter such as compost, well-aged manure or peat into the soil, mixing it in deep enough to provide drainage at root level.
You can also plant bulbs in grassy areas or on slopes. Use a spade to flip back a patch of grass, loosen the soil to create a pocket underneath. Place bulbs inside the pocket, then reposition the grass to cover them up. Now tamp down. On slopes, try to position your bulbs to achieve naturalistic swaths of colour following the flow or topography of the land.
Planting a lot of bulbs can be made easier, especially in tight spots, if you make use of a bulb auger that can be attached to a power drill.
You don't have to plant the whole garden with bulbs in one fell swoop. Investing in a few dozen new ones each fall can become an annual tradition.
***
Once the snow flies we'll be yearning for the warm, sunny days such as those of September past. Why not sign up for an exotic excursion to the tropics this winter? Greg Klassen, Royal Winnipeg Ballet's director of marketing and communications, is leading the tour titled Mystical Bali Gardens and Gamelan, to Indonesia Jan. 9-24, 2010 as part of the fundraising efforts of the RWB.
You'll visit ancient Hindu temples and water palaces, search for the ultimate rice paddy, shop colourful crafts markets, explore lush tropical gardens, try a traditional yoga class, take a cooking class or just plain relax in paradise.
Priced from $3,295 per person (based on twin occupancy from Winnipeg plus C$280 taxes), the package includes:
* Return economy class air ticket to Denpasar (Bali) with Eva Air via Vancouver & Taipei.
* 14 nights hotel accommodation with twin occupancy with hotel:
* Five nights at Ubud -- Kamandalu Resort (www.kamandaluresort.com)
* Nine nights Bali -- Sofitel Seminyak Bali (www.sofitel.com)
* Daily breakfast at hotel.
* Transfers from Denpasar Airport to Kamandalu, Ubud/Sofitel Seminyak/Denpasar Airport.
* Six exclusive RWB activities and tours
For more information on this tour, go to www.rwb.org/trips or contact Carlson Wagonlit Travel, Skywalk Level, 444 St. Mary Ave. Ph: (204) 944 9900. Toll free: 1-800-661 3193.
linda.stilkowski@freepress.mb.ca