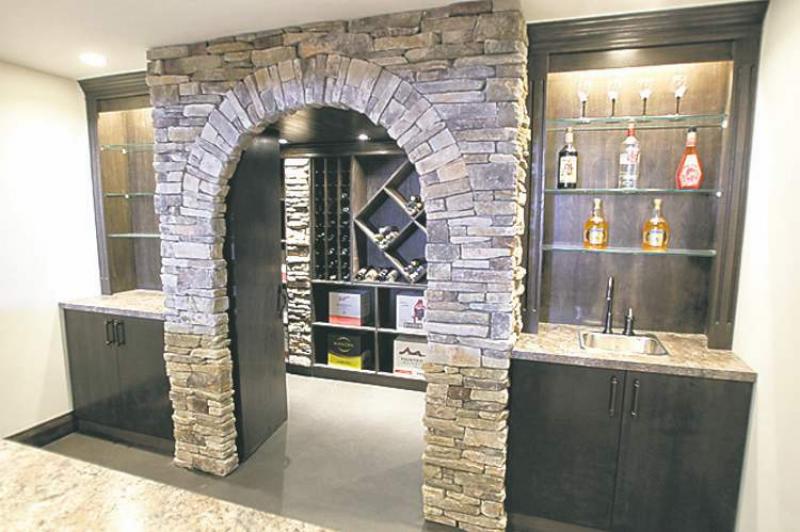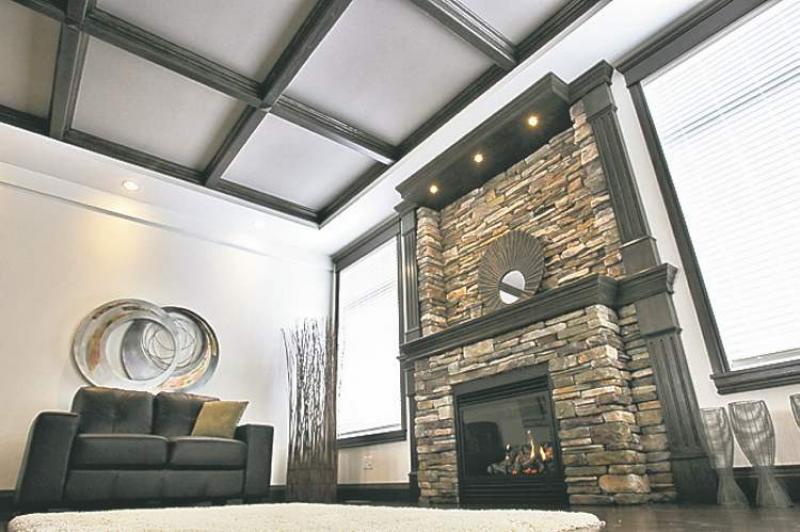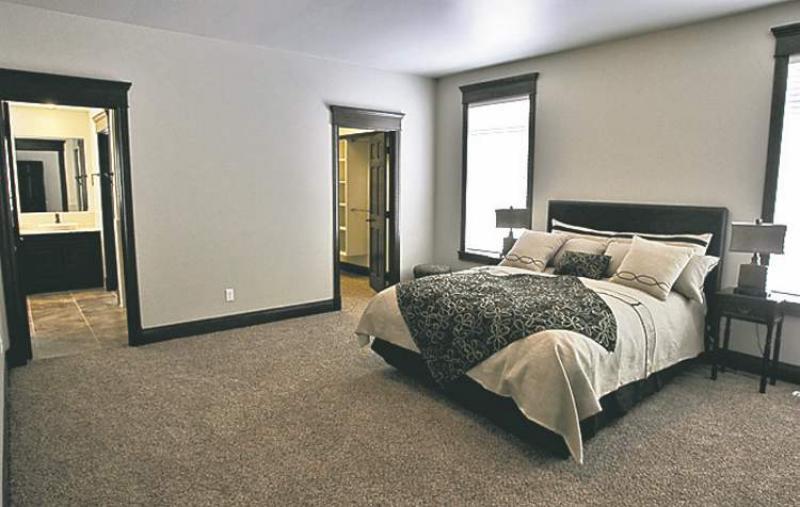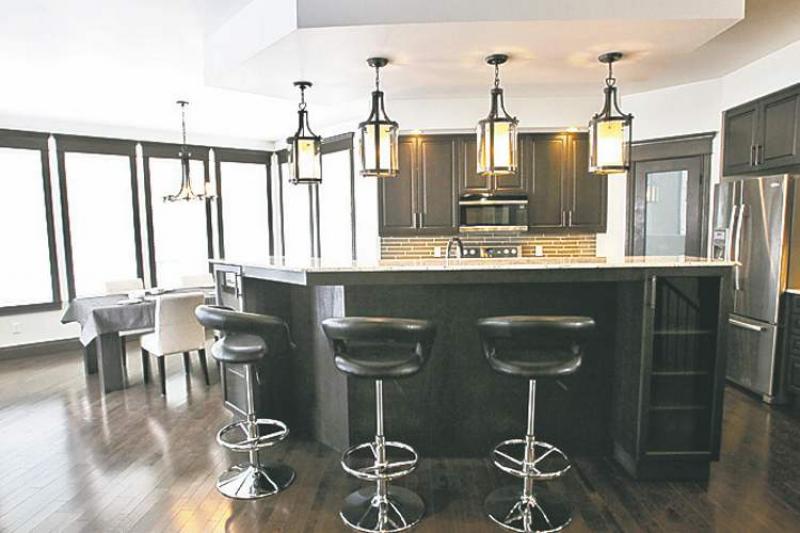 The moment you set foot in the foyer, you feel like you're standing in a classic River Heights home thanks to gorgeous woodwork.
But you're in Sapphire Homes show home at 12 Augusta Drive in La Salle's Kingswood South.
"If you gravitate to features such as raised oak panel doors, six-inch baseboards, beamed coffered ceilings and handmade staircase pillars, this might be the home for you," said RE/MAX Performance Realty's Jeff Stern, representative for the 2,014-square-foot bungalow.
"This home is all about the details: both the ones you see in key areas, and the ones you don't, such as the woodwork in the closets."
The first hint you're in for something different is the L-shaped foyer, where you're greeted by a cultured stone (one-third) wall with dark oak capping and handmade oak pillar. A taupe ceramic tile floor adds richness, while a space to the left transports you back to the turn of the century, when woodwork was king.
"Wes Geddert, Sapphire Homes' owner, is a cabinetmaker by trade, so his love for wood is evident in every home be builds," Stern said.
"You can see that in the main-floor den. It has gorgeous (dark oak) library panelling on the walls and an absolutely beautiful beamed (dark oak) coffered ceiling. The raised oak panel doors and wall sconces, along with the dark oak hardwoods, just add to that yesteryear feel of richness and, above all, quality."
But it's modern, too.
"This feature is as modern as you get -- a huge main-floor laundry room with a tile floor, with a big window, sink and a wall of solid (dark) oak cabinets above. I love the burnished copper handles. They look different, and go with the old-time feel. That said, the door off the laundry room takes you into a cutting-edge space -- a massive three car garage, something no turn-of-the century home has," he said.
It has a floor plan that maximizes gracious living. While the great room is filled with fabulous finishes, its design maximizes ease of movement, the flow of natural light and a feeling of volume.
"That feeling of volume comes from nine-foot ceilings, plus a 10.4-foot ceiling in the family room," Stern said.
"An open-concept layout promotes flow, while some subtle design features provide segmentation and style at the same time."
Those subtle design features come in the form of a beamed, coffered oak ceiling that neatly defines the family room from the kitchen; an angled island that not only provides seating for three at a raised eating bar, but whose angled posture opens up ample aisle space into the dining area; and a six-foot-wide aisle between the island and espresso (oak) cabinetry and countertops (light grey granite with black and copper flecks) across the way.
"There's not only all kinds of room to move, but there's also all kinds of light," he said.
"No fewer than eight windows surround an oversized dining area that easily holds a table for six to eight. When you add in a deck door, light just spills in, making for an incredibly bright area. Yet, it's still warm due to the warm finishes, most notably the dark oak hardwoods, espresso cabinets."
In the family room, that balance of warmth and brightness is near perfect, the product of framing a gas fireplace with cultured stone. A dark oak mantel and trim increase the rich ambience, while huge windows on either side ensure the space is sufficiently bright.
As much of a masterpiece as the great room is, the master suite matches its deft combination of style and functionality. At a generous 16.7 feet by 14.8 feet -- with a walk-in closet the size of a child's bedroom -- it's a serene space with its earth tone walls, dark six-inch baseboards, door trim, doors and windows (with lintels above, as is the case with all other doors and windows in the home) and plush taupe carpeting.
The ensuite is equally serene, added Stern.
"It's a big space that contains a six-foot (oval) soaker tub set in the same gorgeous porcelain tile as the five-foot shower (with rainshower head above)," he said.
"The taupe tile floor, dual vanity with all kinds of drawers, granite countertop and oval sinks, as well as a make-up vanity with curved centre (matched by a curved bulkhead overhead), make it a wonderful spot. Two huge windows let in tons of light, as well."
The lower level adds 1,800 sq. ft. of liveable space to the equation in the form of two large bedrooms, a flex space and rec room.
"There's another gas fireplace set in cultured stone, plus a large, curved wet bar with arched door behind it defined by more cultured stone and shelving on either side," he said.
"There's actually a wine cellar behind, a beautiful, functional touch. This home is not only gorgeous and functional in every way, but it's built for life. Wes's mission is to build high-quality, finely detailed homes that make his customers happy due to the quality and care he puts into each one."
lewys@mts.net
DETAILS
Builder: Sapphire Homes
Address: 12 Augusta Cove, Kingswood South
Style: Bungalow
Size: 2,014 sq. ft.
Bedrooms: 4 plus main-floor den and lower-level flex room
Bathrooms: 3
Lot size: Irregular pie-shaped
Price: $749,900 (includes land and GST)
Contact: Jeff Stern, RE/MAX Performance Realty @ (204) 946-5333