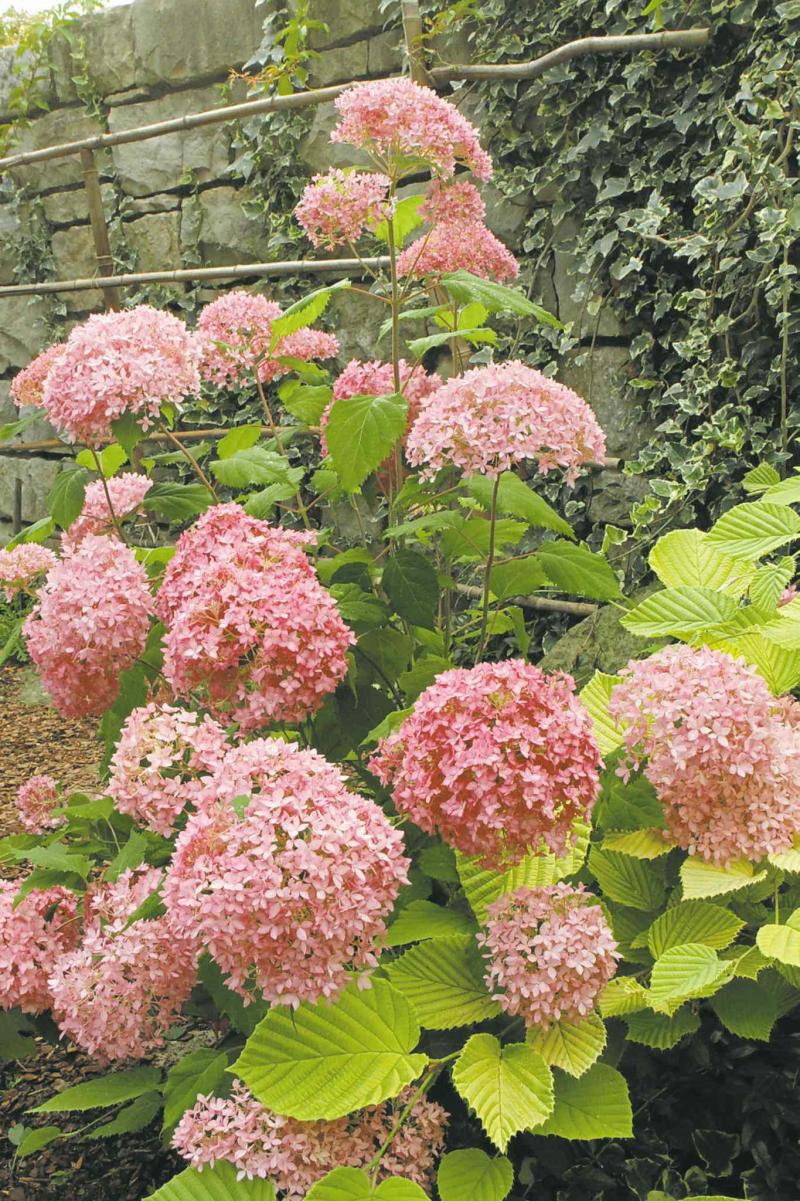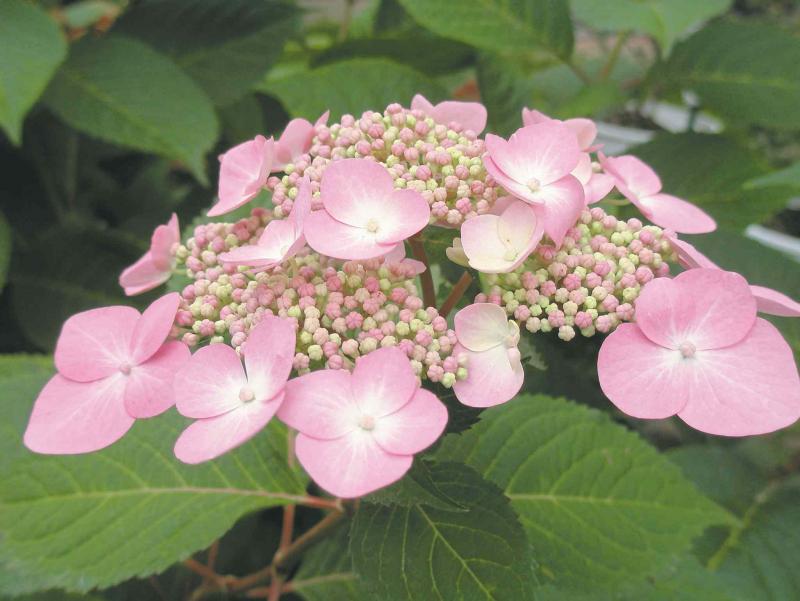 Come October, we may no longer be eager to open our gardens to close inspection by visitors. For all the beauty of fall-coloured leaves, the garden takes on a ragged appearance with the sight of spindly stalks of herbaceous perennials long past their prime, their blooms a summer memory. It can be a reminder to plant more perennials and shrubs that really shine in the late season.
Unlock the garden gate by growing hydrangeas, the ultimate shrub for fall with the showiest of blooms. October, prior to when the ground freezes, is a great time to plant hardy hydrangeas in your landscape. With cooler temperatures, there are few worries excessive heat may stress new plants.
The diversity of hydrangea cultivars affords numerous applications in the garden landscape. In addition to providing layers of colour throughout the growing season, there are sun tolerant or shade-loving hydrangea varieties in a range of sizes suitable for the front of the border, middle of the planting bed or as background plants.
By utilizing hydrangea varieties that are early blooming together with ones that bloom in mid-summer as well as those that provide colour in the late summer landscape, the result is a breathtaking succession of blooms and changing colour.
Quick Fire hydrangea paniculata blooms one month earlier than other cultivars. As summer progresses the multitude of white blooms fade to a dusty rose, maintaining their rosy colour well into October. Perhaps even more floriferous, Limelight hydrangea comes into its own in August, its creamy lime-tinted, panicle-shaped blooms ripening in late September to a rosy colour. Limelight still looks fresh and vigorous in September when other plants are preparing to nod off.
At any given time, hydrangea blooms may show various stages of colour. Little Lime hydrangea paniculata, for example, exhibits mostly rosy coloured blooms at this time of year but it's not uncommon to see a few stems with newer blooms in creamy white.
In a couple of gardens I visited this September Twist-n-Shout was sporting glorious lacecap flowers. The foliage can only be described as sheer perfection, flawless right up until the first frost.
Part of the Endless Summer series, Twist-n-Shout is the first re-blooming lacecap hydrangea macrophylla. In my garden, the unique blooms have admittedly been in limited quantities, perhaps due to a late start to the season after spring frosts and possibly some winter injury. The rest of the Endless Summer Collection includes three other macrophylla varieties, The Original, Bloomstruck, and Blushing Bride, each with their signature mophead blooms. While Blushing Bride is a white hydrangea, the other types in the collection are capable of pink or blue blooms, depending on the desire of the gardener and willingness to acidify our alkaline soils with yearly additions of aluminum sulfate.
In our zone 3 climate, Endless Summer varieties of bigleaf hydrangea are fussier to grow than paniculata varieties. And yet they are a breeding breakthrough, representing the first hydrangeas to grow on both new wood (current season's growth) and old wood (previous year's growth). Endless Summer's capability of producing mophead blooms even in northern gardens has had a profound effect on the hydrangea market.
The unique variety was spotted in 1998 by Dr. Michael A. Dirr while visiting Bailey Nurseries in St. Paul, Minn. A world renowned plant breeder, Dirr has been instrumental to the phenomenal success of the Endless Summer collection. Since its introduction in 2004, more than 24 million plants have sold, Dirr said in a recent phone interview.
Dirr said hydrangea macrophylla really can't be compared with paniculata varieties. They are two different species. "We're not quite there with the hardiness but we're trying," he says. At the same time, Dirr says that failure to bloom in macrophylla varieties is likely not the result of low midwinter temperatures but rather the result of hard frosts in early fall before stems and buds have a chance to harden. All is not lost as Endless Summer also blooms from buds along the branches and near the crown of the plant but also on new wood of the current season. Mulching these more tender varieties of hydrangea is essential.
Plants should be protected as well from late spring frosts. It is important, too, to maintain consistent moisture but do not overwater. Fertilize in spring with a slow-release fertilizer.
Dirr says that his company, Plant Introductions Inc., recently sold to Bailey Nurseries, has made crosses with macrophylla and paniculata species with a view to increasing the hardiness of macrophylla but also incorporating pigments into paniculatas such as Limelight at the outset of their bloom period rather than waiting for them to appear as the bloom matures. Although this has been done scientifically but not yet commercially, it's something breeders dream about, says Dirr.
Dirr's goal over the years has been to incorporate attributes into hydrangea species that go beyond just blooms. These include disease resistance, compactness, as well as fall colour, stem strength and stem colour. Bloomstruck, for example, has striking reddish stems.
With the race by other breeders and nurseries to replicate the incredible success of the Endless Summer series, some hydrangea varieties are being marketed as reblooming when they are not. Dirr calls this marketing hooey.
In addition to macrophylla and paniculata varieties, the love affair with hydrangeas extends to arborescens varieties, the most famous of which is the beloved creamy-flowered Annabelle. Bella Anna was created as the first pink Annabelle but in Dirr's words, it turned out to be a calamity.
Another Hydrangea arborescens variety that has proven disappointing, says Dirr, is Invincibelle Spirit. Approximately three-quarters of a million were sold however reviews have been poor. Pink flowered Invincibelle Spirit II, an improved second generation version, will be available in spring 2016.
Dirr says Annabelle remains the gold standard for arborescens. It is wonderfully hardy for zone 3 gardeners. Don't care for the weak stems? Try planting Incrediball arborescens. Some local gardeners are reporting magnificent large blooms on sturdy stems. Patience is recommended as the shrub's true beauty comes with maturity.
Each spring gardeners are tempted by waves of new hydrangea introductions, not all the result of rigorous testing and hence, not all worthy of our attention.
Dirr is blunt in his assessment of the multitude of new hydrangea varieties saturating the market each spring. "Good is the enemy of great," says Dirr. "We've got a lot of good plants," he adds, "but we don't have very many great ones."
This year Vanstone Nurseries in Portage la Prairie completed its first hydrangea trial. Owen Vanstone, co-owner, said that the trial was comprehensive, including nearly all of the varieties that are locally available. The results of the trial found that there is a lot of duplication with some varieties nearly identical, just with different names.
Two hardy paniculata varieties, Quick Fire and Fire & Ice, for example, said Vanstone, are virtually identical once mature. The trial demonstrated little difference as well between two other hardy paniculata varieties, Vanilla Strawberry and Fire Light, apart from height differences. In assessing the two, Vanstone prefers Fire Light which he says has outstanding multi-coloured blooms ranging from creamy white maturing to pink by mid-summer and deepening to a very intense dark maroon in late fall.
Vanstone concurs with the poor reviews of Bella Anna saying that it demonstrated little vigor in the cold, exposed, non-irrigated trial. He looks forward to seeing the second generation of Invincibelle Spirit which promises to be stronger and bigger. As for Incrediball, his trial showed significant vigor as well as bigger blooms than those of Annabelle hydrangea.
Limelight really shone in the trial, says Vanstone, who calls it the gold standard of paniculatas. Little Lime, a compact hydrangea with masses of blooms, is one of Vanstone's top sellers.
Disappointment is huge when a hydrangea doesn't perform. Vanstone advises gardeners to be patient, keep the plant well-watered, and allow time for the roots to establish. Remember, plant tags depict photos of plants in their ideal habitat after three or four years.
I'm waiting for Invincibelle Ruby which should debut sometime next year. Touted as the first red-flowered Hydrangea arborescens, flowers are said to have two-toned ruby red and silvery pink flowers.
I'm also interested in trying Phantom, a large flowered paniculata from Michael Dirr's breeding program at Plant Introductions. A new release in 2015, white flowered panicles are up to 45 cm in length in August, darkening to pink in September.
colleenizacharias@gmail.com