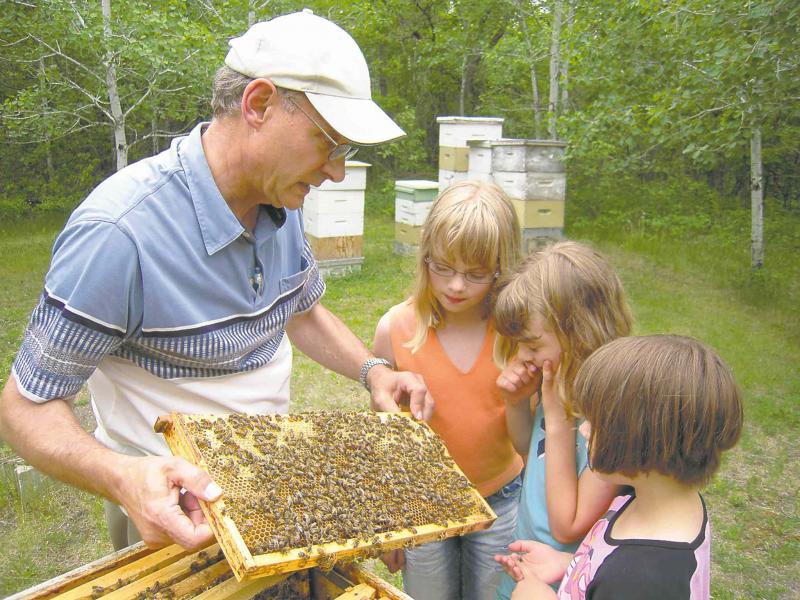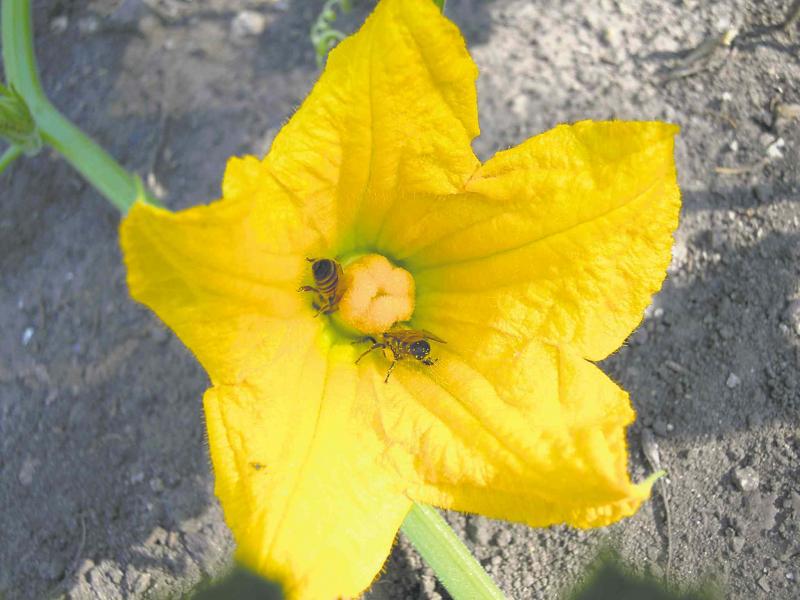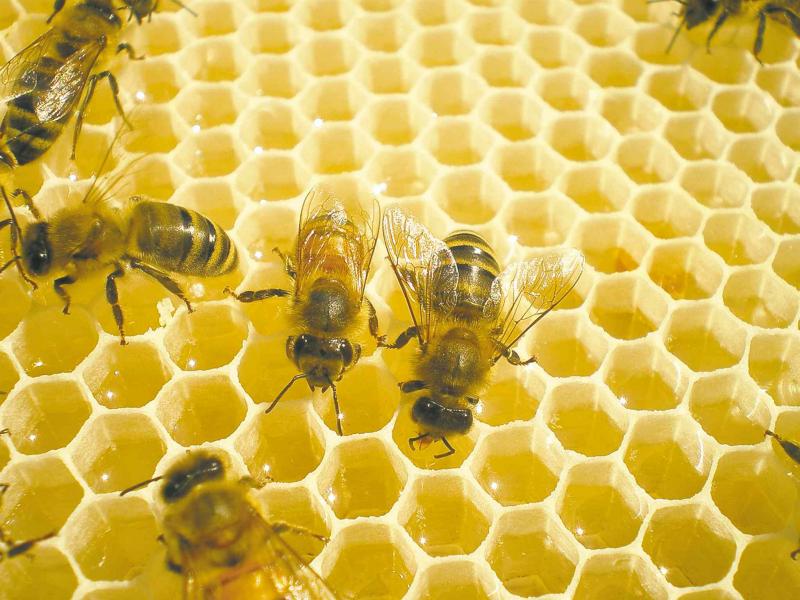 This time of year, even a swath of dandelions stretching the entire length of a median strip might be a welcome sight to winter-weary gardeners. Then again, maybe not.
But to a bee, biding its time in a winter shelter with a rapidly dwindling supply of food, dandelions would be the next best thing to a garden full of nectar and pollen-producing plants.
Gardeners and bees have always enjoyed a mutually beneficial relationship. In fact, the one is dependent on the other. Do your plans, for example, call for increased fruit or vegetable production this year? By transferring pollen from flower to flower, bees fertilize plants, which results in seed formation, essential to fruit set.
These are not the best of times for bees. Decades of rampant chemical and pesticide use have threatened their habitat; the nasty Varroa mite is spreading disease while colony collapse disorder is a worst-case scenario for some beekeeping operations that have suffered the mysterious disappearance of all of their worker bees.
Charles Polcyn, artisanal honey-maker and president of the Red River Apiarists' Association, calls it a triple threat but has an important message for gardeners: Plant a variety of flowering ornamentals with bloom times that span the growing season from early spring to late fall and reduce pesticide use. "Fully one-third of our food supply is dependent on pollination," said Polcyn who, in addition to his honey-making hobby over the past 40 years, has advocated unsuccessfully before city council in favour of urban/suburban beekeeping.
Polcyn, a native of Fort Garry and owner of Scott's Hill Apiary, maintains 30 healthy hives in the Whitemouth area. An electric fence deters marauding bears who, given the chance, would feast on a dinner of bees sooner than the stores of honey or sugar water that sustain bees in their hives until winter finally breaks. Dandelions, willow trees and spring-blooming crocus all provide an early source of pollen for hungry bees who will exit the hives at the first sign of spring.
James Campbell, also an active member of the Red River Apiarists' Association, lives on a five-acre parcel of land between Stonewall and Stony Mountain. Like Polcyn, he has been keeping bees for 38 years and has more customers for his jars of Stonefield Honey than he can satisfy. He describes his beekeeping operation as small and yet his goal is to have a quarter million bees or 60,000 bees per hive, ready for July 1.
Campbell has also been very fortunate with a healthy survival rate of his bee colonies and credits this to the number of different options for pollen sources available on his property and in the neighbouring area. "I have a lot of wildflowers and trees on my property," said Campbell, "and an alfalfa field that is a quarter of a mile away. Boonstra Berry Farms is about a half-mile north. The bees go wild when the strawberries and raspberries are blooming."
Bees are able to travel long distances in search of forage. Campbell checks regularly to see what kind of pollen his bees are bringing back to the hives. "The colour of the pollen differs depending on the types of flowers the bees are visiting," said Campbell. "Early in the springtime, bees visit wild crocuses and return with white pollen. Later on in the summer when the California poppies are in bloom, the pollen they collect is very dark, almost black."
Campbell feels optimistic about a healthy future for bees. "I think that people can help with the situation," said Campbell, adding that is one of the reasons beekeepers today are advocating for backyard beekeeping. "More and more people are interested in growing their own food, whether that is in a small plot in their garden or in a container on the verandah and bees are integral to the success of what we grow."
Wade into the debate on urban beekeeping and the legal status of bees and reactions will range from alarm about dangers to public safety to property concerns and the potential for neighbourly disputes. In Winnipeg, it is a debate that still rages on while other urban centres such as Vancouver, Calgary and Toronto are buzzing with backyard and rooftop bee populations. City ordinances and nuisance laws together with a booming interest in hobbyist beekeeping courses such as the one offered at the University of Manitoba strive to ensure do-it-yourself beekeeping equates to responsible management.
Who will be the next generation of beekeepers? Exempt from the city's bylaw restrictions on urban beekeeping, the University of Winnipeg, under the guidance of 30-something Melissa Dupuis, is home to two active hives on the campus roof. "Seven student volunteers joined me last summer in taking care of the hives and extracting the honey," said Dupuis, a U of W staff member who lives in an apartment in the city but also maintains a hobby bee operation in St. Norbert.
While some of the students will graduate this year, Dupuis expects most will continue on for this summer. "They are all generally concerned with our environment and our interaction with nature," said Dupuis who acknowledged much of the surging interest in urban beekeeping stems from concern for food security and the desire for more locally grown food.
Chris Kirouac, of Bee Project Apiaries, is part of the new generation of beekeepers advocating for urban beekeeping. With close to 50 hives in the St. Norbert area, he urges gardeners to consider an attitudinal change toward the use of pesticides.
"Spraying for pests," said Kirouac, "hurts a lot of native pollinators -- bees, butterflies and birds. What is bad for the bumblebee is bad for the honeybee as well because we can't manipulate the bumblebee population commercially in the way that we can for the honeybee."
What can gardeners or landless farmers do to protect the humble bee?
Campbell stresses the importance of providing fresh water in addition to pollinator-friendly plants and reduced use of insecticides that are lethal to bees. "Start out small," recommended Campbell, "and create a welcome habitat by providing protected areas for visiting bees. This can be as simple as a small pile of leaves or soil for nesting or a bird bath or small dish with fresh water. No one has ever been bothered by my bees because either they are looking for pollen or a fresh water source."
A common buzzword these days is mason bees. Typically this term describes solitary bees, the lone rangers of the bee world. Although they differ from communal bees, such as honeybees or bumblebees, and do not produce honey, they are pollination workhorses. Brock Wolfe, who builds a range of creature habitats in his St. Norbert workshop, began building mason bee houses in response to requests by gardeners for a way to encourage bees to linger longer in their gardens.
Similar to a bird house, mason bee houses primarily consist of a piece of wood with a series of tiny drilled holes measuring º inch or .63 cm in diameter.
"If you put these houses in your garden next to your vegetables, perennials or fruit trees that you want pollinated," said Wolfe, co-owner of Braecrest Designs, a perennial presence at the St. Norbert Farmers Market, "then you are drawing in the bees and providing them with a source of habitat to lay their eggs. The result is a symbiotic relationship between the bees and the gardener because both benefit."
According to Dr. David Suzuki, cultivating solitary bees in your garden can nearly triple the yields of fruits and vegetables in a single season.
Bee habitats can be aesthetically pleasing hotels or a practical use of scrap materials. Dave Nickarz, a handyman who lives with his partner, Laura Rawluk, in the Spence Street neighbourhood, drilled eight or 10 holes in pieces of discarded wood, created an awning of sorts for a bit of shade by adding a piece of cedar fence board, and mounted three bee houses on his fence this summer.
"It is the easiest thing you can do to provide habitat for pollinators," said Nickarz.