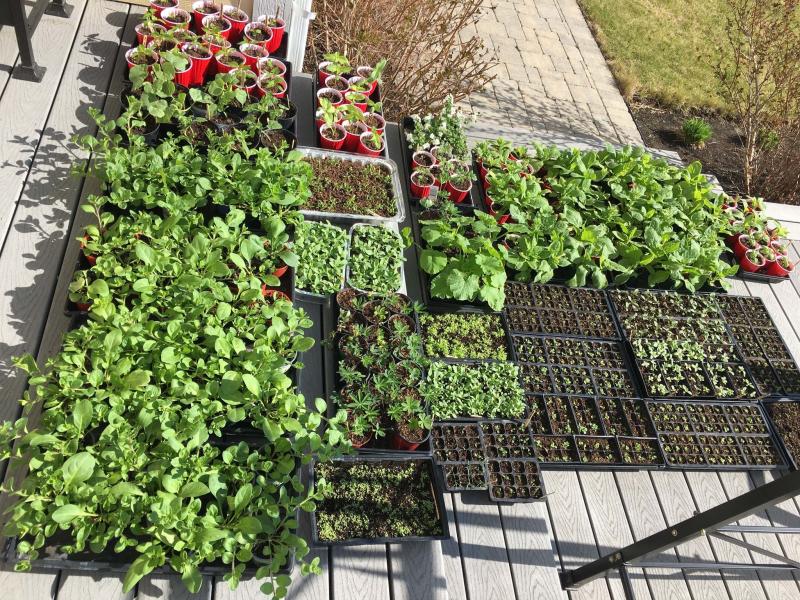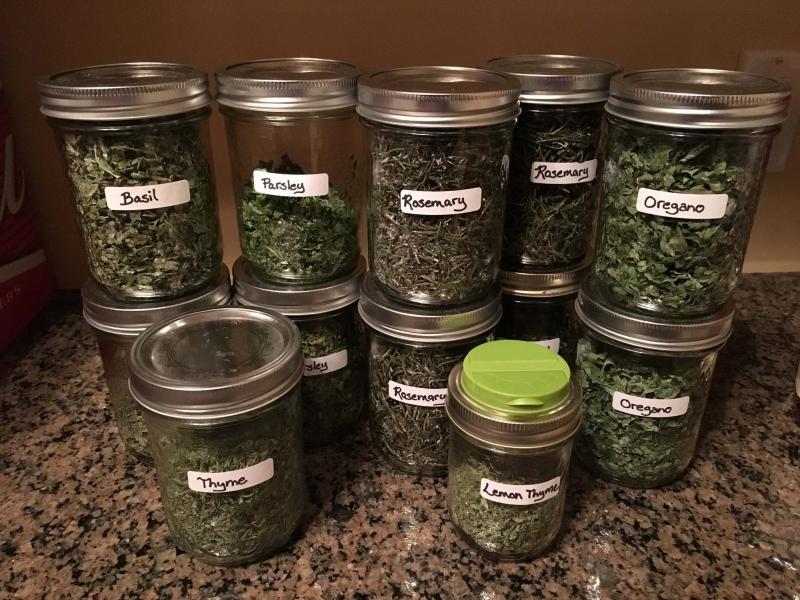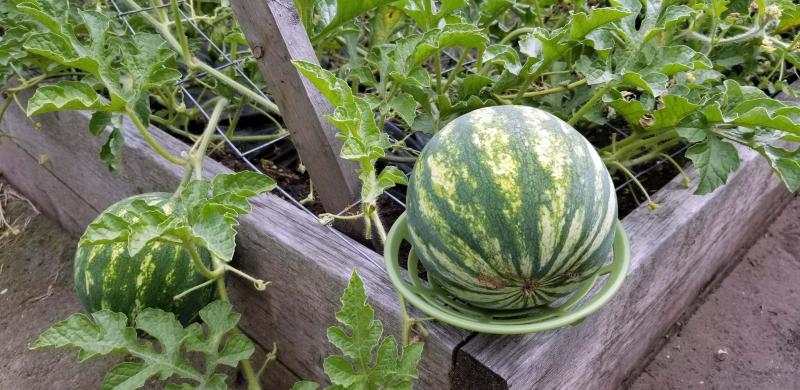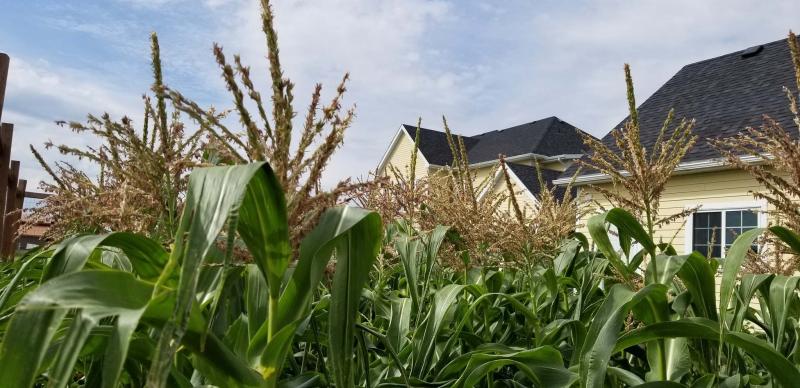 Growing up on a farm with a large vegetable garden to tend, the age-old system of learning by doing taught Michelle Soenen many valuable life skills. From seed collecting in the fall to starting seeds in spring and nurturing plants until harvest, Soenen learned not only the techniques of how to grow her own food, but also what to do with it from jam making to freezing, winter storage and sharing the garden's rich bounty.
Soenen lives on five acres in the extreme southwestern corner of Winnipeg. She and her husband are self-described do-it-yourself homeowners, who nine years ago built their large house with its broad, deep front porch. Developing the spacious landscape with its unhindered views of the open sky is an ongoing project with the installation of trees and shrubs, more trees and shrubs, flower beds, a welcoming patio area and pathways.
It is in the vegetable garden, though, where life happens and everyone likes to gather: Soenen, her family, friends, neighbours and visitors. There is something for everyone on the menu.
A sizable square-shaped space that is accessed by a metal farm gate and framed by tall, four-by-four wooden posts with mesh attached to deter grazing by deer, edibles are grown in straight rows as well as in raised beds. Soenen has increased her amount of growing space by growing some of her vegetables, such as squash, on slanted trellises.
Sowing success in the vegetable garden starts with the soil. For Soenen, who was used to the crumbly texture of the friable loam soil on the farm in Graysville where she grew up, nothing less would do when she set out to plan her vegetable garden. Prior to his passing, her father suggested she use some of the soil from the farm.
When creating the vegetable garden, she and her husband dug down close to 60 centimetres, then filled the area with a load of soil trucked in from her dad's farm. It is readily apparent that the grey-coloured, velvety smooth soil is very unlike heavy clay, both in its colour and texture.
"Every time I come out to my vegetable garden," Soenen says, "I think of my dad."
Soenen likes to try new varieties, but often the varieties planted are the ones her family has enjoyed the most. Last year, she grew Sugar Baby watermelon, a round, dark-green skinned melon that is only 20 cm across. This has been an excellent year for watermelon, Soenen says, who hand-pollinates each plant. She starts the seeds indoors in spring using seed that she saved from the crop she grew last year.
To encourage the early growth of her watermelon as well as to protect against moisture loss, Soenen lays plastic mulch on the soil surface in the raised bed where she grows watermelon. She uses a black plastic garbage bag and cuts a small opening through which she inserts the transplants started indoors, taking care to ensure that the stems are not in direct contact with the plastic. She can't believe how effective the plastic mulch is at conserving moisture.
"This has been a great year for cantaloupe, too," says Soenen, who is looking forward to a bumper crop. She started seed from the cantaloupe variety she grew last year: Hale's Best Jumbo, a flavourful, drought-tolerant heirloom variety. Soenen protects her melon crop from the risk of rot with plastic cradles that elevate the melons and promote good air circulation. The cradles are supported in the ground with a 9-cm spike and can be reused each year.
"Depending on the weather," Soenen says, "some things in the garden do better and some do worse." Peas, which are a cool-weather crop, have suffered somewhat in the high heat. They are still bountiful, but haven't grown as tall as they have in previous years. Fresh peas are enjoyed by all of her family when they are sitting on the dock at the lake on weekends. If there is a rare surplus, Soenen shells and freezes them for winter.
Soenen is noticing some differences in her corn crop from last year and is curious to see the outcome.
"Our rule has always been that the corn should be knee-high by the fourth of July," Soenen says. "But this year, with the extended heat, the corn has grown faster than it ever has compared to previous years." On my visit to her garden last week, some of the corn plants (Bicolour Peaches and Cream variety) were already more than 160 cm tall and setting their colourful, red silks.
Soenen is observing uneven heights of the corn plants. In addition, during the extended dry spell, the plants rolled their leaves to protect against excessive plant moisture loss. The need for supplemental irrigation due to low soil moisture has been more of a necessity this year than in previous years.
Once the corn is ready, we eat it all, Soenen says. "It is so much tastier than anything you can buy."
She plants her corn in a block of four rows. Corn is a heavy feeder and quickly depletes soil nitrogen. Soenen side dresses with nitrogen at the beginning of the growing season. Peas, on the other hand, fix nitrogen and help build soil fertility. Soenen routinely rotates her corn and peas. She also keeps a record each year of where everything is planted so that she can plan her rotation of different vegetable crops.
Soenen also grows her own popping corn. A vigorous stand of Robust corn is planted on one side of her house, a good distance from her sweet corn plants in order to prevent cross-pollination, which can result in tough kernels for the sweet corn.
Soenen's raspberry patch, which started out three years ago with only 13 canes, has multiplied considerably and produces loads of raspberries. She has already made 35 jars of jam.
Nearby, in a generous-sized stone raised bed, Soenen grows numerous culinary herbs. She likes Mammoth basil because the large leaves are easy to pick and dry for use in recipes during the winter months. Soenen grows bay leaf for use in rice pilaf, stews and soup recipes. Lemon thyme is excellent with chicken, fish and roast potatoes. Mojito mint is great for muddling. She also grows strawberry mint, oregano, dill and rosemary.
To attract pollinators to her vegetable garden, Soenen collects seeds each fall from the waves of petunias, zinnias and nicotiana that she grows in hanging baskets on her porch and in flower beds and containers. She collects the seed late in the season and ensures it is completely dry before storing it in small glass jars, which she labels. Drought-tolerant, compact Zinnia Zahara Raspberry Lemonade mix is a favourite variety.
She creates her own 40-cm baskets, to which she adds a potting soil mix with polymer gels to increase water-holding capacity. For extra absorption, Soenen lines the baskets with incontinence pads.
Soenen begins each day with a visit to her vegetable garden. "It gets you out in the morning," she said.
She strolls through and makes a checklist of what needs to be done — after, of course, a breakfast of fresh-picked raspberries and Saskatoon berries.
colleenizacharias@gmail.com