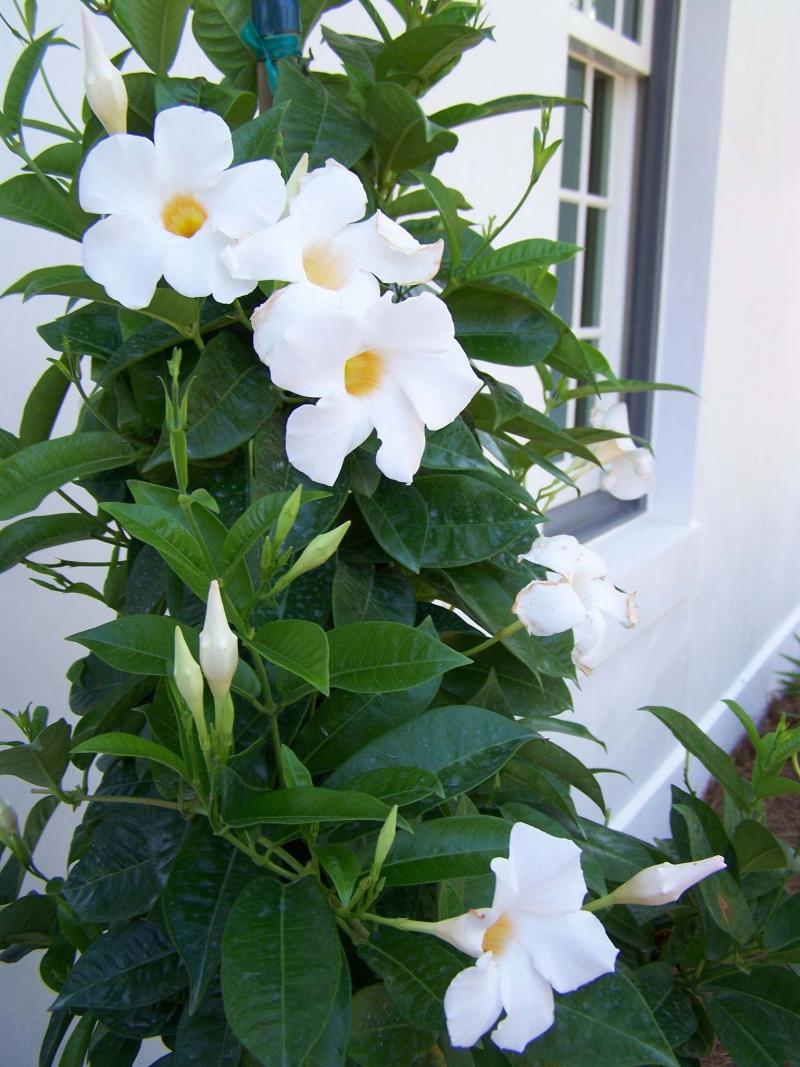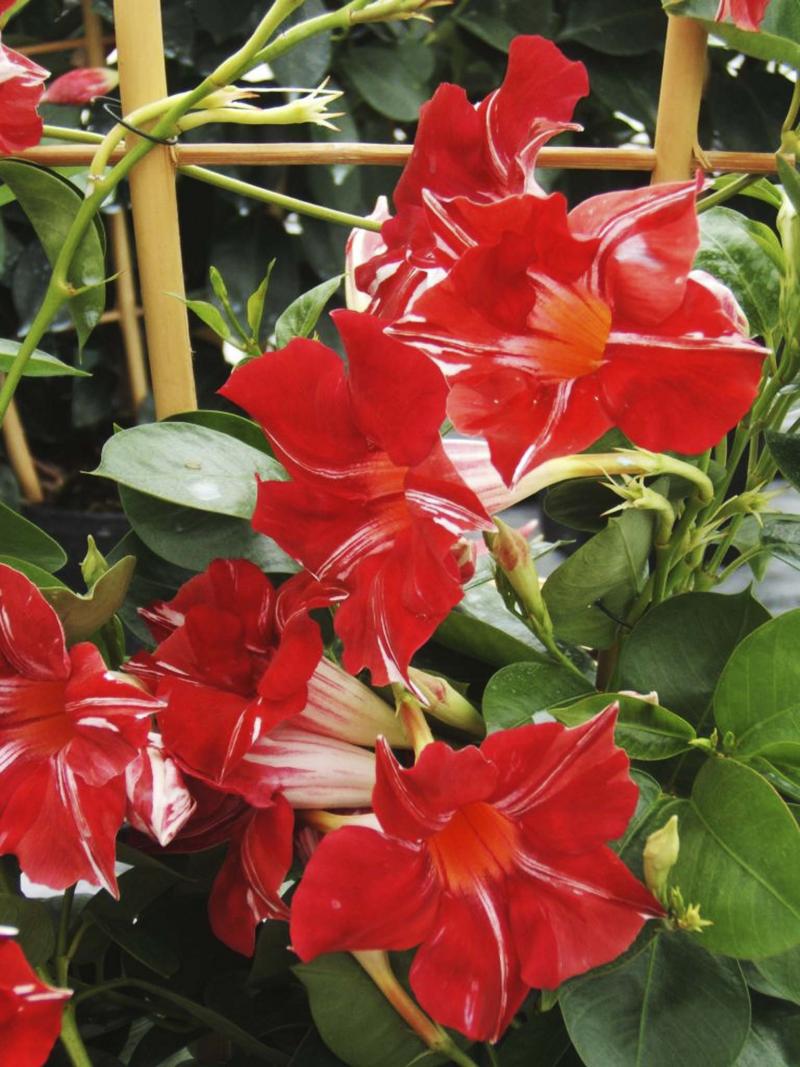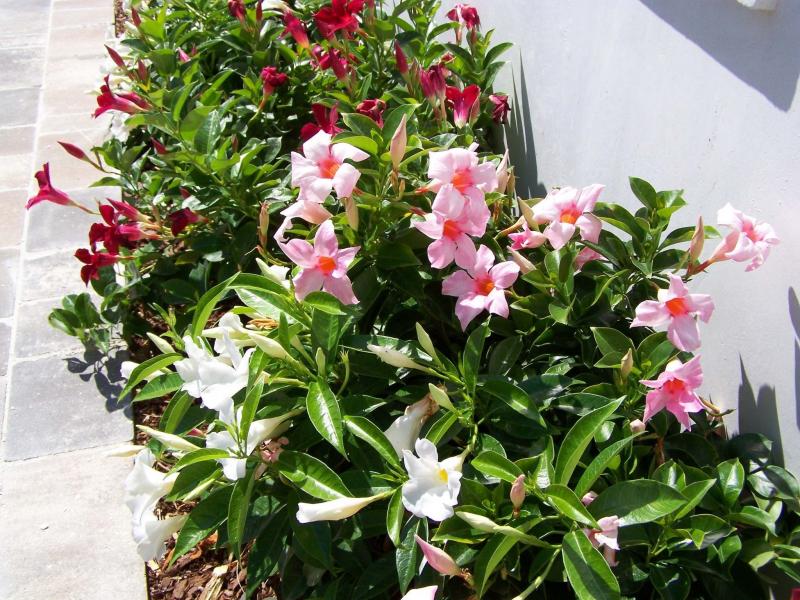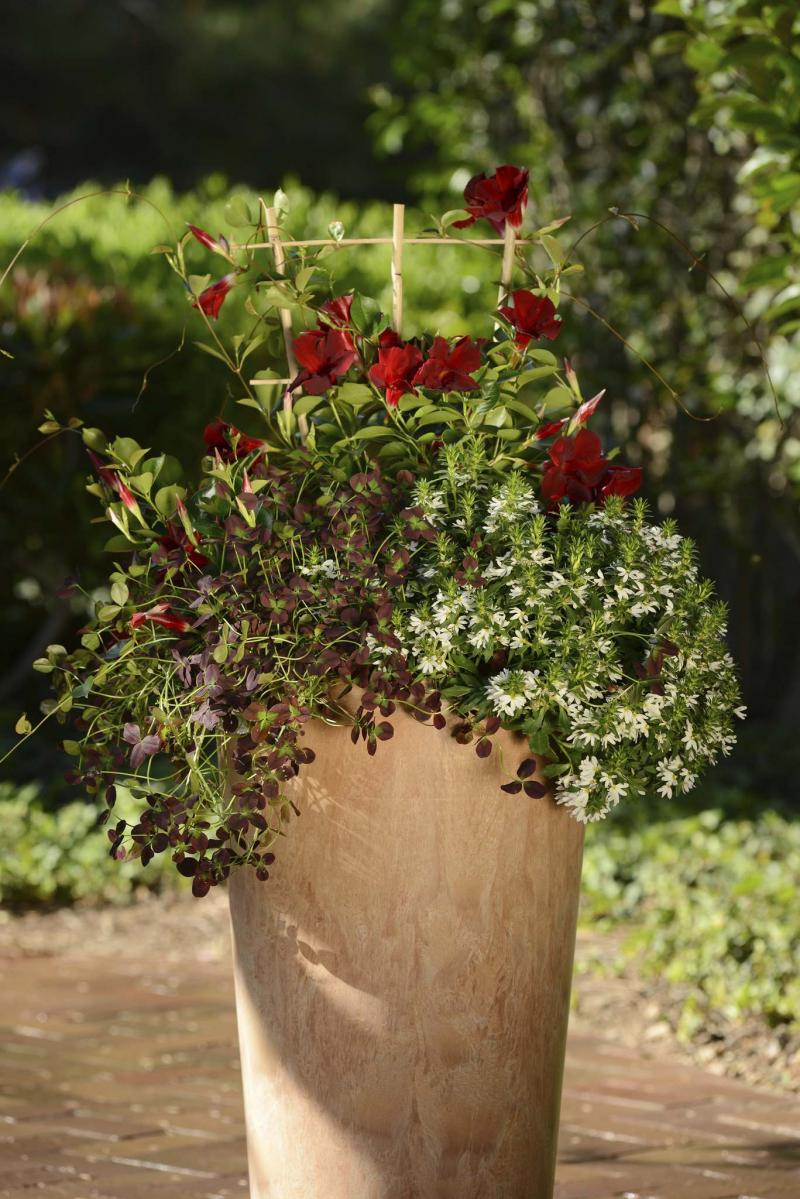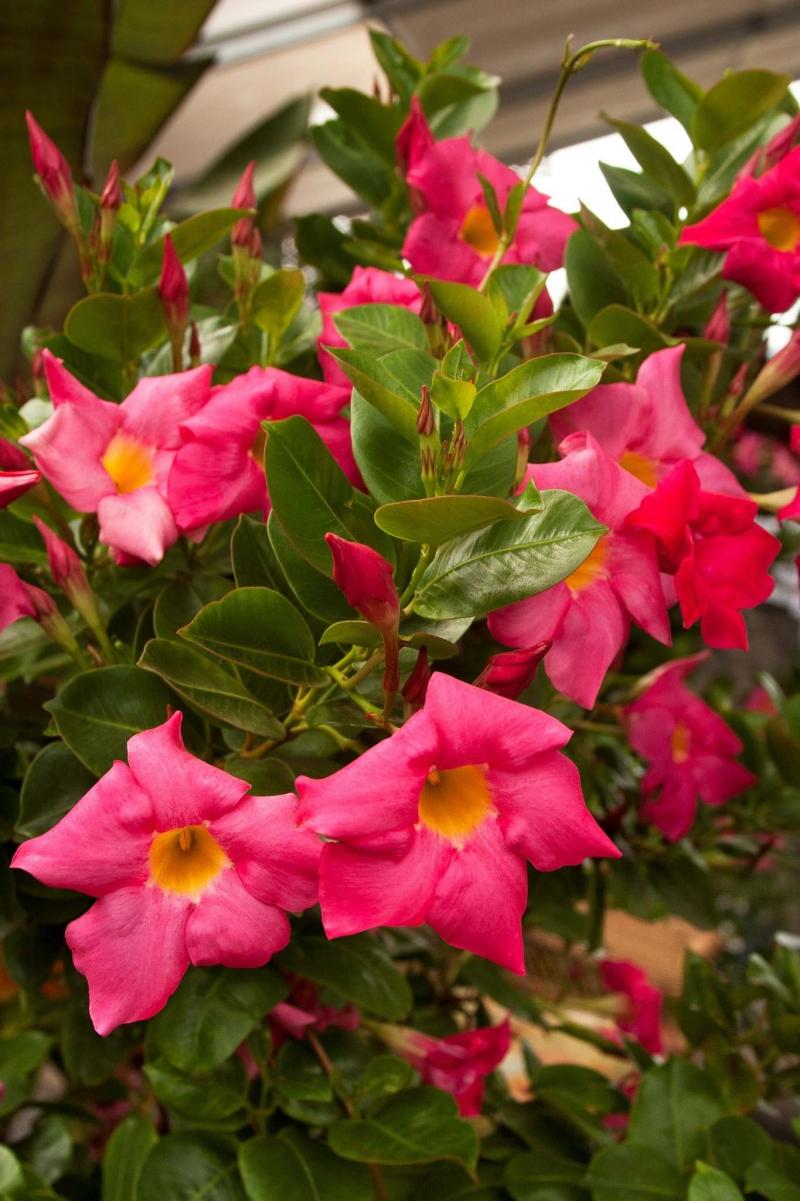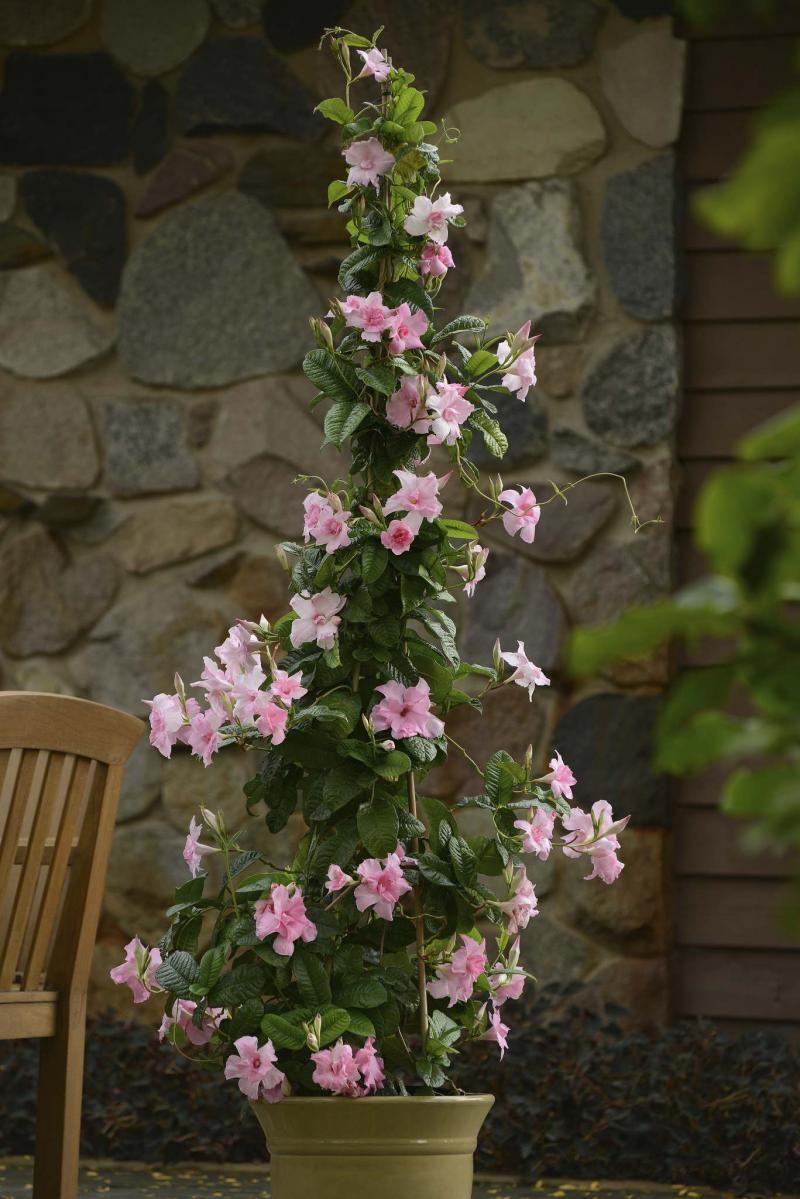 Plant breeding innovations in mandevilla have changed forever the way we look at it in our gardens. A genus of tropical flowering vines native to south and Central America, mandevilla is instantly recognizable for its climbing, twining habits. An annual garden stalwart, it's often grown on a trellis, arbor, pergola or obelisk and makes a brilliant statement in the landscape with clusters of showy funnel-form, five-petalled flowers most commonly in red, pink, or white. The substantial, dark green leaves of older varieties are oval, rough and slightly puckered, with smooth edges for a sturdy, paddle-like appearance.
Alice DuPont is a classic mandevilla variety that grows up to three metres or more and produces showy 10 centimetre pink blooms. Widely available this variety continues to find its place in North American gardens and patios. I've yet to try it.
Mandevilla, though, or at least some form of it, has my full attention this spring. The new collection of low-growing, bushy mandevilla hybrids are so well suited to beds, patio pots and window boxes that they should be considered a must-have annual.
What are some of the attributes?
To start with, compact size, an important requirement in our shrinking garden space. Coupled with constant production of medium-sized blooms that hold their rich colour and form in even the most wilting sun, the new bush form mandevilla hybrids have glossy, deeply green, satiny smooth leaves ending in a pointy tip. Perhaps the greatest assets of these compact varieties are their heat and cold tolerance, as well as excellent resistance to pests and disease that allow plants to flawlessly breeze through summer, continuing to look spectacular through fall right up until the first frost.
Here, though, is where it gets a bit confusing. Not all breeders are agreed on what to call these new hybrids.
Depending on which one you choose, plant tags may refer to dipladenia or mandevilla hybrid. Fernlea Flowers (www.Fernlea.com), an Ontario-based horticultural grower of flowers and bedding plants, uses the trademark name of Rio for its line of dipladenias. Dipladenia, for example, is native to Rio de Janeiro. Fiona Longtin, Fernlea's marketing manager, says Rios are available this spring at Walmart garden centres in Winnipeg.
Many of the retail greenhouses in Manitoba will be carrying Suntory's Sun Parasol line.
Delilah Onofrey, license manager for the North American division of Suntory Flowers, a plant breeding company from Japan, says the Sun Parasol varieties consist of crosses between mandevilla and dipladenia, a member of the mandevilla family classified as Mandevilla sanderi.
Dipladenia has a distinctly bushy habit. You won't find the name of dipladenia, though, on Sun Parasol's plant tag, which instead makes reference only to mandevilla hybrid.
Regardless of how it is being marketed, Onofrey describes this new revolutionary plant category as a true winner.
"It is especially easy to grow," she said, adding it doesn't like wet feet and is more suited to being on the dry side. Mandevilla hybrids also perform well in partial sun which provides for even more design possibilities, said Onofrey.
There are four different groups including the Originals, Giants, Pretty and Garden. Stars & Stripes and Burgundy belong to the Original group. Stars & Stripes is a beauty with red, star-shaped petals, white stripes and a yellow throat.
The Pretty group is said to have the highest flower count. Onofrey said this group combines the best of dipladenia characteristics with mandevilla growth. Foliage is glossy and more vining. Varieties include Deep Pink and Deep Red in a shade darker than crimson.
The Giants are the classic mandevilla with an aggressive growth habit and large flowers that span up to 12 cm. Shelmerdine is carrying a large selection of mandevilla, both bush form and climbing vine.
Arbo Flora, opening this weekend at its location on St. Anne's Road, will have Mandevilla splendens Red Riding Hood Pink. Roger Appelmans, co-owner of the family-owned garden centre that has been in business since 1970, said Red Riding Hood starts out with a compact shape but produces long tendrils as the season wears on. For a tidier look, these can be easily snipped but on the other hand the slender vining as it extends outward and upward only adds to the plant's personality.
Recently, at Vanderveen's in Carman, I picked up Sun Parasol Garden Crimson, the first bedding plant mandevilla for use in landscapes and beds. Naturally compact, it has strong branching with low breaks. No trellis is required although at the time of purchase plants are trained to a small trellis. Try massing Sun Parasol Cream Pink in a border planting in the landscape.
In addition to Rio dipladenias and Sun Parasol mandevilla hybrids, look for the Summer Romance series this spring.
Kevin Roethle is the head of new product development for Ball Ingenuity, a division of Ball Horticultural, North America's leading horticultural distributor. One of the first crops Roethle began working with about five years ago were mandevilla and dipladenia varieties. In a recent phone interview, Roethle said the growth in the use of mandevilla and dipladenia is rapidly on the rise in Canada, the U.S. and Europe.
"In terms of the nomenclature," said Roethle, "the market is still figuring it out. The low-growing variety with a bushy habit is still new to the market and there are some differences of opinion among growers as to what to call it."
For now, Ball continues to refer to dipladenia to help differentiate the various types.
Roethle says Ball's Summer Romance series, available in Easy Pink, Vining Scarlet and Vining White, comes from a family-owned breeding company in the south of France. Roethle says the future is bright for dipladenia because it meets so many of the criteria of busy homeowners.
What's on the horizon? Expect to see double-flowering pink and yellow in 2017, said Roethle, and beyond that, more tropical colours including bright orange and neon rose.
According to the National Oceanic and Atmospheric Administration, October 2015 was the warmest on record worldwide. In recent years, fall has largely been an extension of summer's warm temperatures. Annuals that fizzle out by the end of August, losing their stamina in heat and high humidity, are poor value for the consumer.
Having the confidence and satisfaction of these new mandevilla hybrids with their velvety flowers and proven ability to withstand periods of heavy rainfall and our sometimes wildly fluctuating spring and fall temperatures make them a sure thing, extending our enjoyment of the patio season.
Last year, in my garden, I planted Mandevilla Sun Parasol Crimson by itself in a container. This year, I plan to combine Crimson in a large container with another sun-loving tropical, the Majesty Palm. I may underplant with Mezoo Trailing Red (Dorotheanthus bellidiformis) and tuck in a few Diamond Frost Euphorbia for a spray of tiny white flowers.
Compact mandevilla would also look striking in a window box with Vanstone's Noblessa yarrow which gets covered in dainty, double white flowers. Similar to baby's breath but less likely to flop over, Noblessa is available this spring at Sunshine Greenhouse in Steinbach. While mandevilla is an annual, Noblessa is hardy to zone 2 and can be transplanted to the garden in the fall.
Classic mandevilla vine can be overwintered indoors and so can the smaller bushy types. Prior to the first frost, it is recommended to cut the plant back by about one-third. Take care when cutting the stem as the mandevilla species contains a white sap that can be a skin irritant. Plant into fresh potting soil in a container that is not too large and store the plant in a cool room with indirect sunlight. Water sparingly, about once a month, so that the plant's tubers do not dry out. Do not fertilize until the plant starts growing actively again in the spring.
There is plenty of time to decide if you will bring any of your plants indoors for the winter. In the meantime, plan to include this new take on mandevilla on your shopping list this long weekend.
colleenizacharias@gmail.com
Notices:
Today is the Beausejour Daylily Gardens Spring Plant Sale. Surplus of daylilies and other perennials. Beausejour Daylily Gardens, 1st St. North, 9 a.m. to 1 p.m.
Charleswood Garden Club's annual plant auction sale takes place Wednesday, 6:30 p.m., at the Westdale Community Club, 550 Dale Blvd. For more details email info@charleswoodgc.ca.