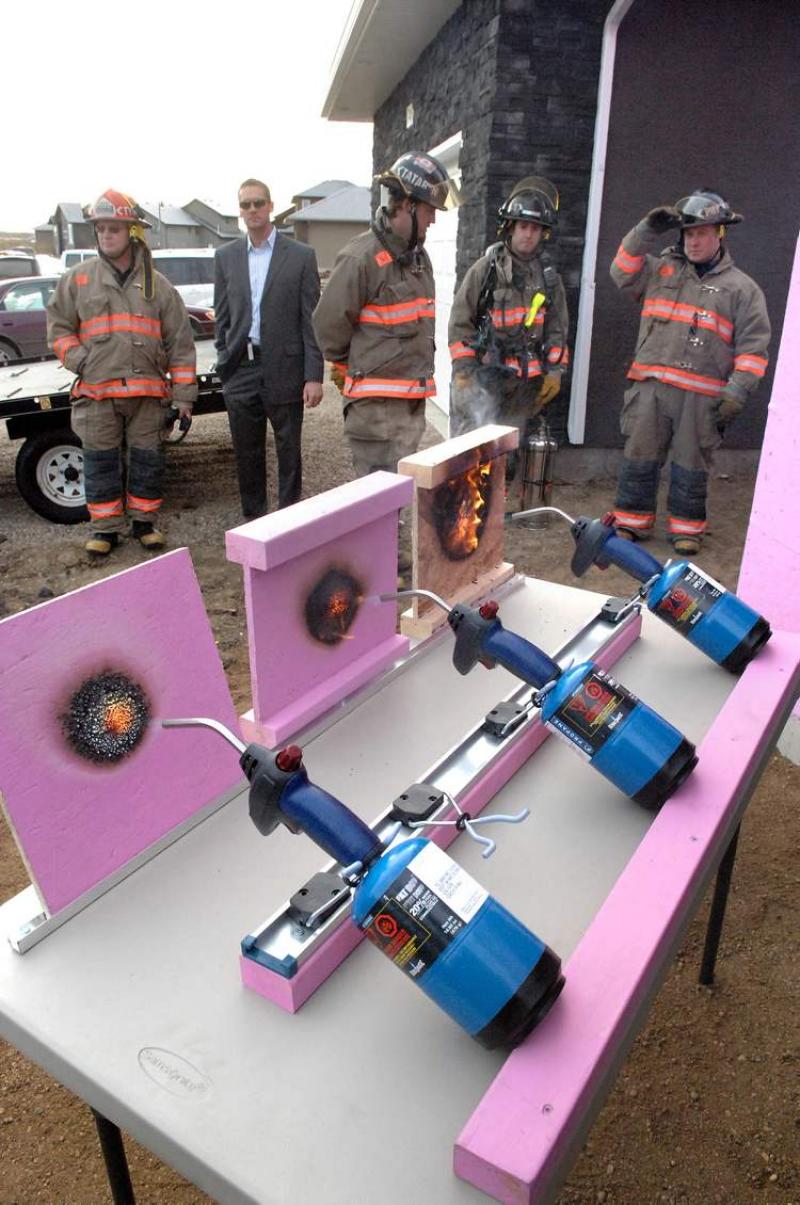 It's hard not to notice. One of the newest show homes in south Saskatoon is pink. Very pink. For now, anyway.
The homebuilder constructed the frame of the house -- including i-joists and sheathing -- earlier this month and decided to leave it exposed. That's because it's highlighting a new product, PinkWood.
Blair Nutting, vice-president of the Calgary-based company PinkWood, "says it uses a coating called PinkShield, which is an intumescent paint."
PinkShield, the company says, is "a revolutionary, factory-applied coating process, designed specifically to provide a visible and effective barrier against fire, mould, fungus and rot."
"In addition to the protection, PinkShield is non-toxic and environmentally friendly."
A recent demonstration by PinkWood at the home in the suburb of Stonebridge confirmed just how fire resistant it is. With firefighters on guard, three gas torches were pointed at coated and uncoated joists. Within 20 minutes, fire had burned entirely through the unprotected wood; the coated joist only had a burn mark.
Campbell Homes owner Jason Campbell, a former firefighter himself, knew the value of safety PinkWood would provide as well as its enduring qualities. The home is the first in the city with its frame built entirely with PinkWood.
"Homebuilders in Saskatoon are always trying to build the best product possible and constantly improving standards," Campbell says. "When I first heard about PinkWood, I was very interested in it."
The pink product also made Campbell think of breast cancer funding. So he approached the Saskatoon City Hospital Foundation and a campaign was developed, which would see suppliers donating goods used in the construction of the pink house. The amount of money saved from those donations would then be given to Saskatoon City Hospital's Breast Health Centre.
Saskatoon City Hospital Foundation board chairman, Glenn Wig, started the campaign with one of the first donations from his company, Flo-Essence Plumbing, Hearth & Decor. Since then, more than a dozen suppliers have donated materials worth more than $30,000.
"We're hoping to raise $50,000 in total," Campbell says, noting the home serves two purposes. "It's demonstrating the use of a great new material, but at the same time, we're giving back to the community."
"We first expected to raise just a few thousand dollars from the campaign," says Saskatoon City Hospital Foundation's CEO Steve Shannon, noting the hospital's happiness with the overwhelming response.
PinkWood also donates to breast cancer research in Canada, giving back one cent for every linear foot sold. In just a year, it's donated more than $20,000.
For more information, visit campbellhomes.ca
-- Postmedia News