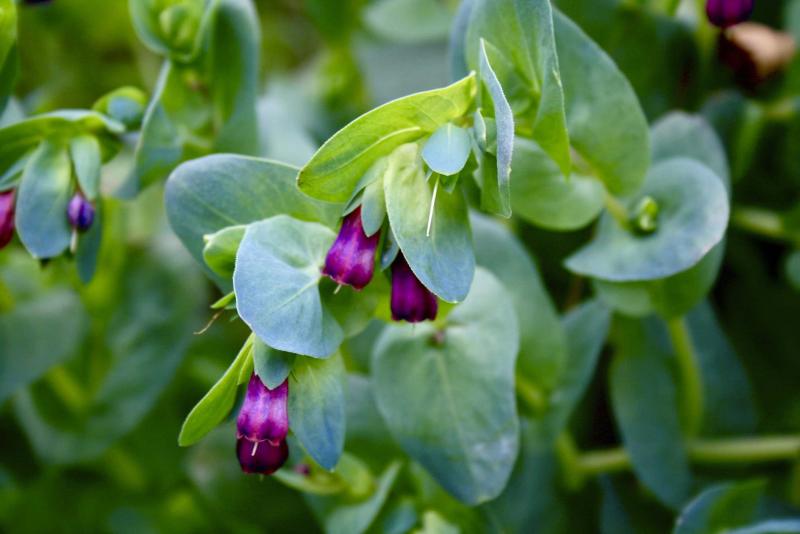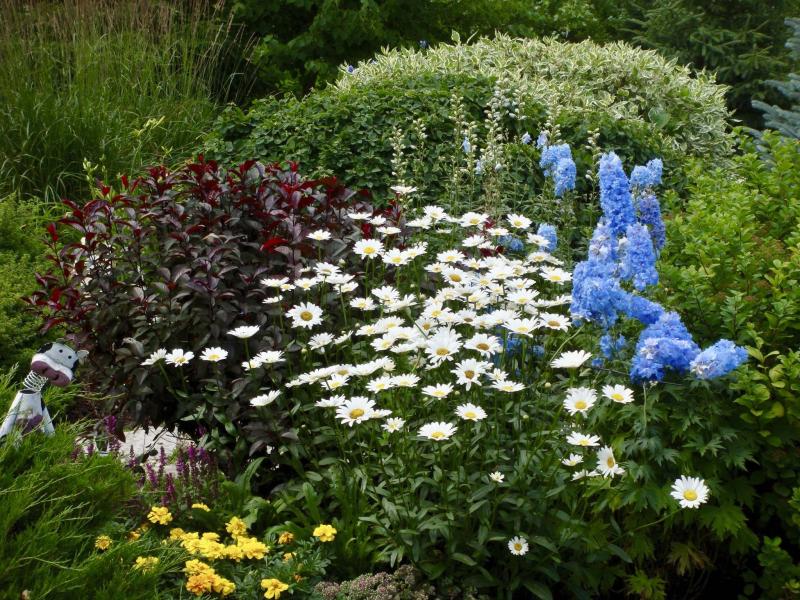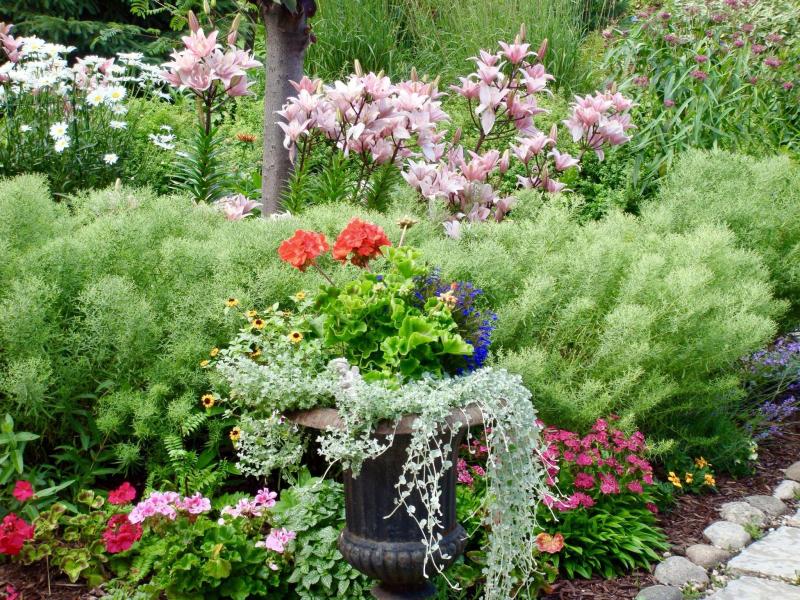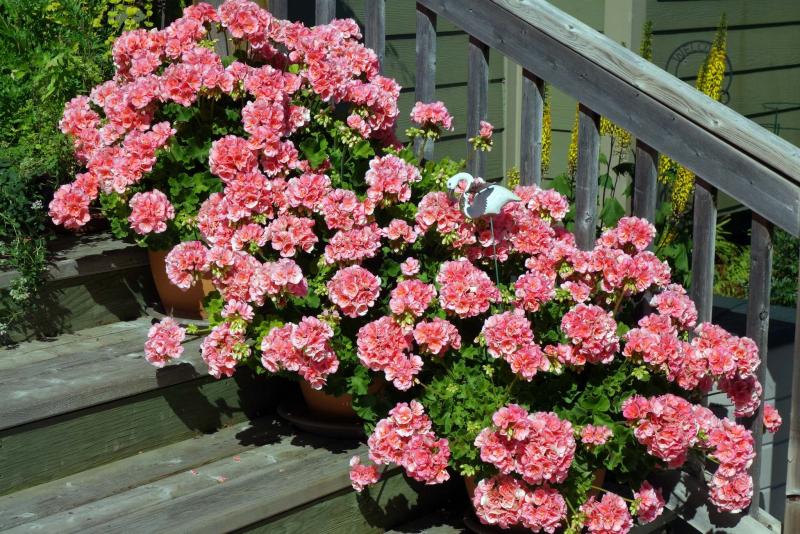 When you step into Cheryl Geske's lakeside garden in Gimli, you discover a palette of textures and rich colour extending to the water's edge. The breezes off Lake Winnipeg bring movement to the landscape, which is planted with tall flowering perennials and ornamental grasses.
Temperatures in fall, Geske says, can be warmer and milder compared to temperatures in Winnipeg. That said, early lake-effect snowfalls caused by the combination of warm, moist air rising from the lake and cold, dry air overhead are not uncommon. As autumn approaches, Geske's focus is starting to shift to collecting and storing seed, taking vegetative cuttings and lifting and storing bulbs, all propagation techniques that she uses to increase her stock of favourite plants.
Geske starts most of her plants from seed. Her English heritage informs her plant choices, many of which are traditional cottage garden flowers grown from seed purchased during visits to England. A favourite plant is Bellis perennis, an English daisy that abounds in English gardens similar to our dandelions that pop up everywhere each spring in Manitoba lawns. Geske considers Bellis perennis one of her prize plants not only because of its connection to England, but because this pretty, carpet-forming perennial with its button-like flowers surprised her with its resilience after a harsh winter.
Verbena bonariensis is another favourite plant variety. Geske bought the seeds in England several years ago. The tall, slender, square-shaped stems topped with purple flower clusters are a presence throughout her flowerbeds. They seed themselves readily along with other prolific species such as blue-flowered Apple of Peru (Nicandra) which grows alongside Nicotiana and the delicate white flower cluster of Queen of Africa (Ammi majus). A low border of Lemon Gem marigolds sits in front like a bouquet.
Cerinthe major Purpurascens is an uncommonly pretty flower that also self-seeds in Geske's garden. A native of the Mediterranean, Cerinthe major Purpurascens is also known as honeywort. It has bell-shaped purple flowers that droop or hang in abundance from leafy stems that are silvery-grey with blue-green tones.
Geske says that normally she would start Cerinthe from seeds that she had collected in the garden and purposely chill the seeds, a method called stratification, in order to remove internal barriers to germination. Last fall, however, Geske did not get around to collecting seed from her Cerinthe plants which instead self-seeded outdoors in areas of the garden that receive full, direct sun. The self-seeded Cerinthe plants grew well and bloomed readily although they were not as large nor as floriferous as those in past years that were started indoors, Geske says.
This is not a wildflower meadow, however, where plants are allowed to self-seed indiscriminately. The flow and structure of Geske's garden is the result of a thoughtfully orchestrated effort. The naturalistic planting scheme includes luxuriant drifts of tall plants such as Russian Sage and Karl Foerster grasses. Double herbaceous borders are separated by pea-gravel pathways. A backdrop of Dwarf Korean lilac, peonies, Alaska Shasta daisies, delphiniums, and roses provide a succession of blooms.
The juxtaposition of colour is breathtaking. At the edge of one border, like a sentry, stands Amaranthus caudatus, a tall bushy plant with dangling tassel-like ropes of ruby-coloured flowers. Geske starts the seed indoors in early March. In another section of the garden, a sweep of Blue Globe Thistle (Echinops ritro) and Verbena bonariensis is punctuated by yellow-orange Calendula officinalis (interchangeably called English marigold or just plain pot marigold).
Also included in the front border are Dwarf Rhone asters which are preparing to bloom shortly.
They have a mounded shape and very fine leaf texture with small star-shaped lavender blue flowers that have yellow centres. Asiatic lilies, mostly pink-flowered, are planted behind the Rhone asters.
This was the first year that Geske encountered the red lily beetle in her garden. Nearby an architectural weeping crab sweeps the ground with its cascading branches.
Joe Pye Weed, with its showy rose-coloured flower clusters, towers above all the rest and yet, despite its tall stature, Geske says that it is about 60 cm shorter this summer as compared to previous years.
Geske's many perennials work in tandem with one another to attract pollinators such as butterflies and hummingbirds.
This lakeside haven has been home this summer to three nests of Baltimore orioles. Bald eagles and snowy owls can be seen perching on the uppermost branches of a 100-year old Ash tree that grows near the lake edge.
In the fall, Geske observes great blue herons catching and eating frogs. In order to protect visiting wildlife, no pesticides are used in the garden, Geske says.
Geske decorates both her front and back porches, the latter of which faces the lake, with layers of colourful containers brimming with geraniums and coleus and other annuals such as licorice plant (Helichrysum petiolare) and mahogany splendor maple-leaf hibiscus, all of which are propagated from cuttings taken each fall.
Geske roots hundreds of new geraniums. The cuttings are taken at the spot where the current season's growth begins.
Using clean scissors, stems are cut at a slant just below a node. The bottom leaves are removed and the stem is dipped into a small amount of rooting powder. The stems are then planted into fresh potting medium.
Geske also grows many different types of tomatoes. Varieties include gardeners delight, lemon boy and chocolate cherry.
In fall, once the tomatoes are past their peak ripeness, she collects seed from her tomato plants, cleans off any remaining pulp and allows the seeds to dry out thoroughly. The seeds are then stored in containers in a cool, dry, dark space. In the first week in April, she starts the seeds indoors for a new season of tomatoes.
Geske donates 400 to 600 tomato seedlings and many of her geraniums to a fundraiser held every May long weekend. All of the proceeds are donated to Evergreen Basic Needs, Gimli's food bank.
Tender varieties are well-tended in Geske's two-car garage, which is kept at a balmy 18 degrees Celsius. Succulents such as the Mezoo trailing red that is widely used in containers and hanging baskets, spend the winter in her garage. The cars sit on the driveway.
In February and March, Geske starts many of her annuals from seed, such as Happy Trails Mix Portulaca grandiflora, a spreading, early to bloom annual variety.
This summer, two types of portulaca — Happy Trails and double-flowered Yubi Rose — spilled over the edges of a shallow, round fire pit which doubled as a giant saucer.
In early spring, Geske also starts the seeds for Duchess Mix Aster (Callistephus chinensis), a late-flowering annual China aster with large, incurved light mauve flowers that resemble a cross between a peony and a chrysanthemum. Duchess Mix Aster grows on tall stems (60 cm).
Coleus and zinnias are clear favourites in Geske's container designs. Coleus is easy to propagate by taking cuttings of fresh growth. They root very quickly in a soilless medium. Geske also starts coleus from seed in mid-April. This year, seed-grown varieties included Chocolate Cherry, Chocolate Symphony, Wizard Mosaic, and Premium Sun Watermelon with cherry-red leaves that have a green edge.
colleenizacharias@gmail.com