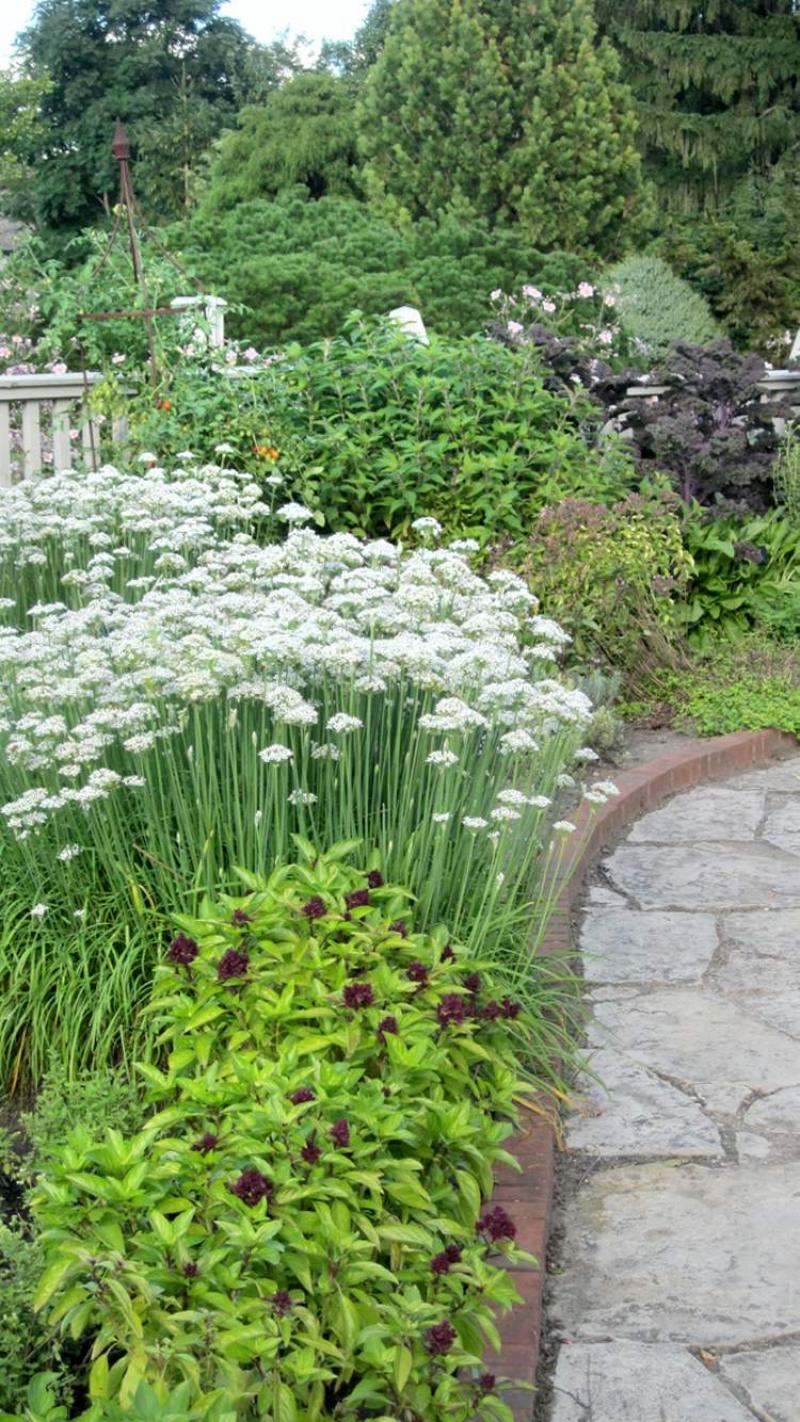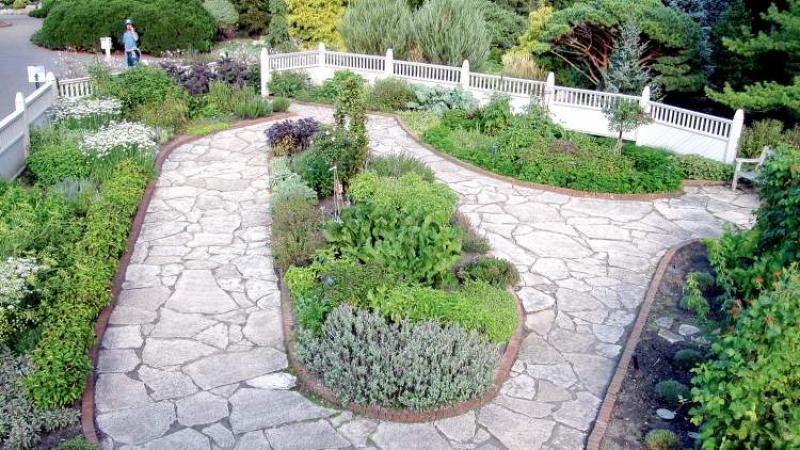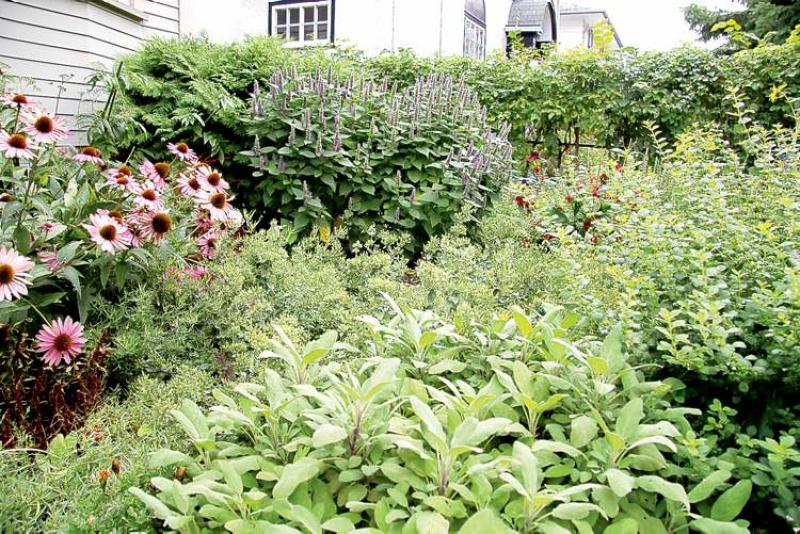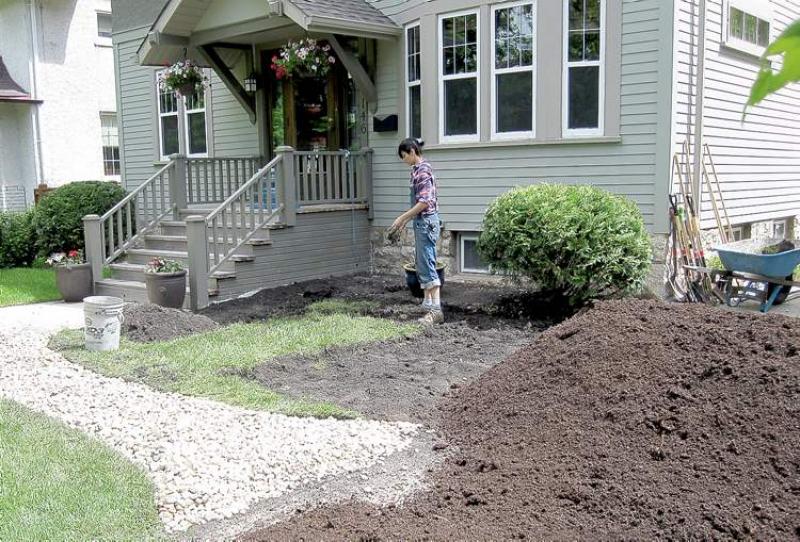 Medieval roots
Incorporating edibles into the landscape is a growing trend but one that has its practical roots in gardens dating back to the Middle Ages, when monastic gardens grew culinary herbs alongside flowers.
Raised beds made their debut in Tudor gardens in the 1500s and contained plants prized for their medicinal and culinary value. These utilitarian kitchen gardens were generally situated behind high walls, hidden by vines, shrubs, trees and herbaceous plants.
In the 1700s, Lancelot "Capability" Brown left his mark on landscape design when he grassed over formal gardens, replacing them with vast expanses of lawn.
But now, with our smaller landscapes, it isn't only ecology-minded homeowners who recognize the benefits of using available space for a more practical purpose by integrating vegetables and herbs alongside flowering perennials and annuals. Shallow-rooted vegetables such as lettuces, young cabbages, tomatoes and strawberries can even be grown in window boxes.
Today's article is by Naomi Audia and Paolo Riva, worker-owners of Urban Eatin' Gardeners Worker Co-op, a Winnipeg gardening company that provides design and installation of edible landscapes -- a diverse and decorative alternative to lawn! Check them out at www.urbaneatin.com.
Colleen.Zacharias@gardensmanitoba.com
In our spacious Prairie metropolis, living in a detached dwelling usually means one has some expanse of space on at least one side of the home, also known as a yard. The default groundcover is typically a luxuriant, evenly mowed natural carpet -- a lawn.
Why is an expanse of lawn generally the homeowner's primary landscape option? Some reasons could include its neat and tidy appearance, apparent ease of maintenance (and availability of lawn-care services), and its versatility as a play area. In all likelihood, the main reason for a lawn instead of something else is pure habit, a sort of traditional badge of civility. It may even hint at a certain aristocratic taste in its adoption, that is, a space that's meticulously maintained simply for appearances.
Here we will compare the lawn to some alternative uses of this precious outdoor living space. We will offer alternatives to replace some, if not all, of that monotonous carpet with attractive and productive elements that give more than just the bland two-dimensional plane we're used to seeing in the traditional yard.
With smaller properties, privacy is becoming more important, so why not add a living fence of cherry shrubs or an espaliered apple tree? Their white blossoms will be a welcome attraction in the spring, soon to be followed by lustrous foliage and ripe red cherries or delicious apples. Or if the yard is too sunny, how about a pergola coming off the back wall / patio area? Growing a grape or kiwi vine in a sunny spot will offer some shade to relax in and create a porous mini-room outdoors. The foliage will also shade the home in summer, yet allow the sun to shine through in the winter months.
So you see, if we start to think of the yard as a living space with three dimensions, there are many elements that can be used to create an outdoor home. Think summer kitchen or hammock reading area or perhaps a living salad bar stocked with arugula, parsley and baby bibb lettuce. Sunflowers and corn add a vertical dimension to the garden, and provide food for humans and birds alike.
A lawn can also be seen as a type of crop, albeit one where the yield typically costs you time, effort and money, but with no real return. So often the only yield is garbage bags full of clippings to be hauled away. The same space could instead be a regularly cut bed of fresh greens such as chard, red mustard and mizuna. Rampant growers such as raspberries are another good way of occupying a larger space.
If we are spending money in the yard-space, why not see some yield for our efforts? A yield can be thought of in different ways: a food, material, shelter or even an aesthetic yield. And why stop at one yield? Compound them and you will be rich from your efforts.
For instance, one could replace the very front metre of lawn with strawberries. They are an aggressive groundcover as well as being attractive. Even five square metres could easily provide all the berries a family would need. Installing a patio that includes raised beds that incorporate benches all along their perimeter provides both a sitting area as well as room for plantings of your choice.
Annual or perennial vegetables can provide the dual yield of aesthetic and culinary delights. Consider bulls blood beets for purple foliage, surrounding the emerging glory of asparagus, which then leaves you with gorgeous ferns up to 2 metres tall!
Other handsome choices are red Russian kale with purple veins and lobed leaves, cucumber vines providing a luxurious wall of leaves and hanging fruits, and silvery fir tree tomato with its finely serrated leaves, quite unlike other tomatoes.
A pasture of wildflowers and clover could replace a lawn and provide an aesthetic yield as well as food for beneficial (pollinating) insects and birds, while still serving as a private outdoor space where family and friends gather to play and feast.
Any yard space will require maintenance in the form of time, effort or money. While a lawn may seem to be the cheapest type of element to maintain, that may not be the case. Although the initial installation of elements such as a pergola or raised bed carry a cost, maintenance of a well-designed functional space can be enjoyable (read: not gas-powered!)
The main economic factor is a diversified yard with lots of edible plantings can shave a large chunk off your grocery bill, and deliver a product that rewards your efforts with the utmost quality and flavour. Plus, a fully functioning diversified yard allows for all-inclusive involvement by the whole family, not just the lawnmower and the one who operates it.
If this perspective seems to attack the lawn outright, that is not the point - rather, the point is that lawn should not be synonymous with yard. The lawn is one element of our landscape and there has been a tendency to exaggerate its use.
The combination of perennials, trees, shrubs and vegetable beds as well as built elements such as pergolas, trellises, even earth ovens, can greatly change the dynamics and uses of a space while also providing substantial yields that can make your yard productive as well as a visual delight.