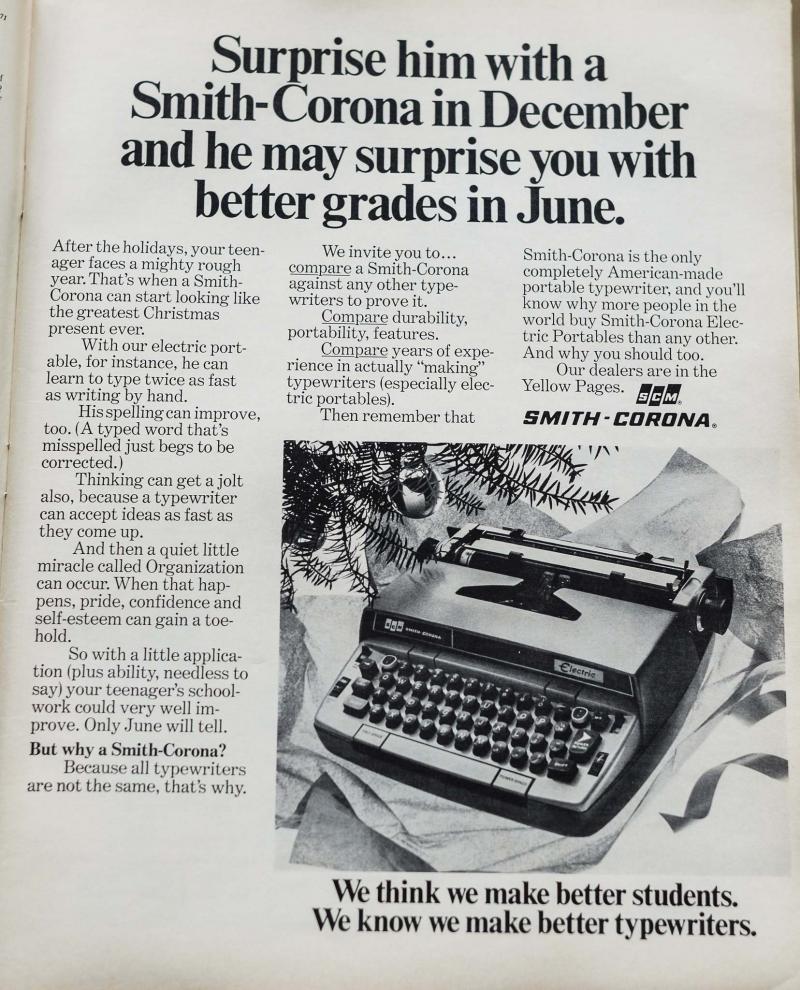 Your average home is a MUCH different place over the next month.
I mean, consider the food and drink intake alone. As Dr. Phil says, "You choose the action, you choose the consequences."
That has me wondering about what I might weigh a month from now.
Mind you, you do run some of that off prepping for all of this, in particular, Christmas shopping.
For example, what do you buy a teenager these days?
It seems to me, that back in pre-computer days, Christmas shopping was a much easier mission to undertake. There were fewer options back then, and the theme — at least in our humble abode — was "practical." Socks, underwear, even those magical transistor radios did not have to bounce off a satellite to be able to work.
Back in the mid-'60s, I was thrilled to get a fluorescent desk lamp from my Grandma Lyle that I used like crazy for years, and in fact, still have today — the original fluorescent tube still works. That was practical. And talk about value for your dollar!
Earlier this week, while browsing through a winter 1971 Saturday Evening Post I have in my library of cool old stuff, I came across another practical suggestion being pushed by merchandisers of the day.
It's a full-page advertisement directed at parents, the goal being to lure them into buying their teenager a Christmas gift that might improve their academic standing.
Yes, a nifty new electric typewriter. This gift is definitely more for the parents than the kid.
Back in my teenage years, all I wanted was something "cool", like maybe a guitar — pretty much anything that would make me more attractive to teenage girls.
The lamp was OK, you've got to be able to see to cram for 10 hours straight the night before an exam — but a typewriter, gimme a break.
Interestingly, the sell was aimed pretty much for teenage sons out there. Trying to expand the typewriter market perhaps.
Like most teenage guys back then, I had absolutely no interest in learning to type, which is why, to this very day, I am still a two-finger typer. Slow, yes, but twice as fast as a one-finger typer. It's a good thing I didn't grow up to be a writer!
But Christmas shopping — that's one thing I got smart about. Rather than run around in frigid weather to packed malls, I do all my gift buying in summer at garage sales.
Hey, if you shop wisely, most of the time you can hardly even tell the stuff is used.
And bravo to you people who shop online at home. I don't think I have the computer skills for that.
Back to what teenagers DO want for Christmas these days. Definitely something they never have to look up from.
Google knows, of course, so here are a few of their top Christmas gifts for teenagers for 2018: an Apple iPad Mini 4, an emoji smiley plush cushion, a Plinrise dinosaur-shaped cellphone stand, a Fire HD8 tablet with Alexa — the list of items I had no idea existed goes on and on.
The one I think you can't go wrong with is the Polaroid Snap Instant Digital Camera.
People of all ages love taking pictures. Perfect. Done. Look at the time I've saved you. Maybe this will allow you more time at home with the family, gaining weight.
Home sweet home for Christmas. What could be more heartwarming than the whole family sitting around Christmas dinner, no one talking, everyone staring at their phones, texting their fingers off.
At least typewriters weren't allowed at the table.
Comments or feedback, love to hear from you!
lmustard1948@gmail.com